Like a strange love child between Egon Schiele and Salvador Dali, artist Kent Williams' work has a style that is chaotically charged. Figurative by nature, and playing with the complicated relationship between representational and abstract, Williams' work creates a world that is ambiguous and still familiar, "both real and unreal," he says. The works are hypnotic expressions that could pass for strange surrealistic fantasies. His core strength that carries throughout all his works—whether graphic novel, oil painting or graphite drawing—is the delicate yet uncomfortable balance in playing with highly representational elements and abstracted aspects to find a tangible place for the human experience to live in and be absorbed perfectly. Though his work has evolved and morphed into different series and styles over the past 20+ years, Williams' work has a very specific quality that is unmatched.
Williams has been an inker, a colorist and an illustrator for hundreds of comic books since the early 1980s, including Hellblazer, The Sandman, Akira, X-Men, Batman, Wolverine, Vertigo, and other Marvel and DC comic books. His comic creations are unique and expressive, and feels like fine at, regardless of the form it comes in. Some of his more notable graphic novels include the 2005 novel The Fountain with Darren Aronofsky, Blood: A Tale with J.M. DeMatteis and Tell Me, Dark from 1992 with Karl Edward Wagner and John Ney Rieber. The influence of the graphic style of his work onto his fine art has become more apparent in recent years, with his most recent works finding an interesting space between expression and representation.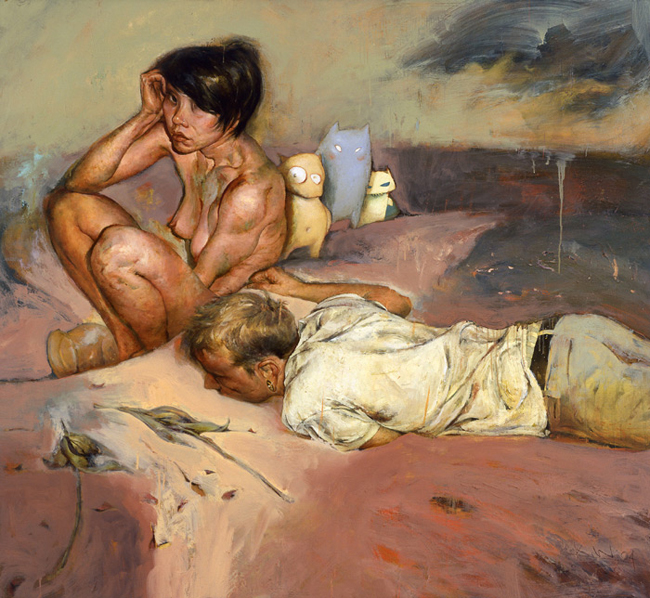 Williams says he is fascinated by artists like Willem de Kooning and Gerhard Richter. de Kooning for his intelligence, depth and compositional sensibilities and Richter for his breadth of disparateness throughout his career. The visceral quality of his process is visible in each piece. Standing in front of one of Williams' paintings, the viewer is transported to a seemingly real moment, inside the painting itself. The movement and significance of every brush stroke, every line, every dot or dollop of color, pushes and pulls the viewer to a place of understanding, of experience; the kind of quality you see when you are standing in front of a Van Gogh or a Mark Rothko.