Issue 37, the 9th Anniversary Issue of Beautiful Bizarre Magazine, with Henrik Uldalen's powerful and emotive painting "Relapse" on the cover, is on sale now! Contact one of our Stockists or Shop Online, but don't miss this special issue.
We feel Henrik's painting represents our contemporary times and the shared trauma over the pandemic, the eroding of women's rights, social and political unrest, and of course, the climate crisis. Can you relate?
Inside this issue, we dive into the work of Natalia Fabia, who has elevated the nude. Her female subjects do not meekly reflect the male gaze – they own their bodies and identity! Natalia's subjects are confident, playful, and not afraid to get dirty. They are unashamed in their skins as they interact with one another and their surroundings. These strong women shine bright through the bubblegum pinks and the pretty sparkles, and we see them for what they are – unafraid to exist authentically, to love themselves and share gestures of tenderness with one another. A rare peek into what real sisterhood can look like!
We also learn about the fantastical worlds of Daniel Merriam, whose genre of fantasy has no limits. There is a seamless mixture of baroque, art nouveau, and surrealism in Daniel's pieces and his mastery over colour provides an almost ancient lens that offers the audience a comforting serenity.
Inside this issue we also speak to Julie Heffernan, whose quixotically mythical, visually incandescent worlds invoked by the painter are so prodigiously detailed, so hyper-saturated, so heartbeat-thumping, and so alluringly strange that everything dragging us down in our mortal realm instantly falls away. It's almost as if we're gazing at the artistic version of the Northern Lights given the degree of unbridled awe that her spectrally dynamic imaginings conjure within us.
Cover artist and 2021 Beautiful Bizarre Art Prize, Traditional Art Award 2nd Prize Winner, Henrik Uldalen has not allowed himself to be constrained even by the medium he uses to share these universal human experiences, with murals and now digital and video art creating other avenues for us to appreciate how he is able to bring us to the very heart of what it is to be human. Emotions are front of stage in every work that Henrik produces, with the central figure emerging, most often from a darkened background, and then transformed with what can only be described as emotion given physical form in oil paint, from hazes of ecstasy or uncertainty, to harshly riven expressions of sadness, fear, and self-doubt.
Experiences of healing through art can remind us of the significant effect that creativity can have. In this issue's Artist + Artist conversation, artist couple Hayley Welsh and Andy Faraday delve into the topic with their hearts on their sleeves. To see how they have both used art to heal and process is an uplifting and fascinating read. That need to just create, without a dominant end goal, is a pure form of creativity which not everyone can easily tap into.
Let us next step inside the Beautiful Bizarre Magazine curated exhibition Interconnected, which opened on May 13 at the New England Regional Art Museum (NERAM) in Armidale, New South Wales. It is the second Museum exhibition by Beautiful Bizarre Magazine, and the first to be held in the magazine's home country, Australia. To celebrate this exciting event, read our interview with the Director of NERAM, Rachael Parsons, and the Editor-in-Chief of Beautiful Bizarre Magazine, Danijela Krha Purssey.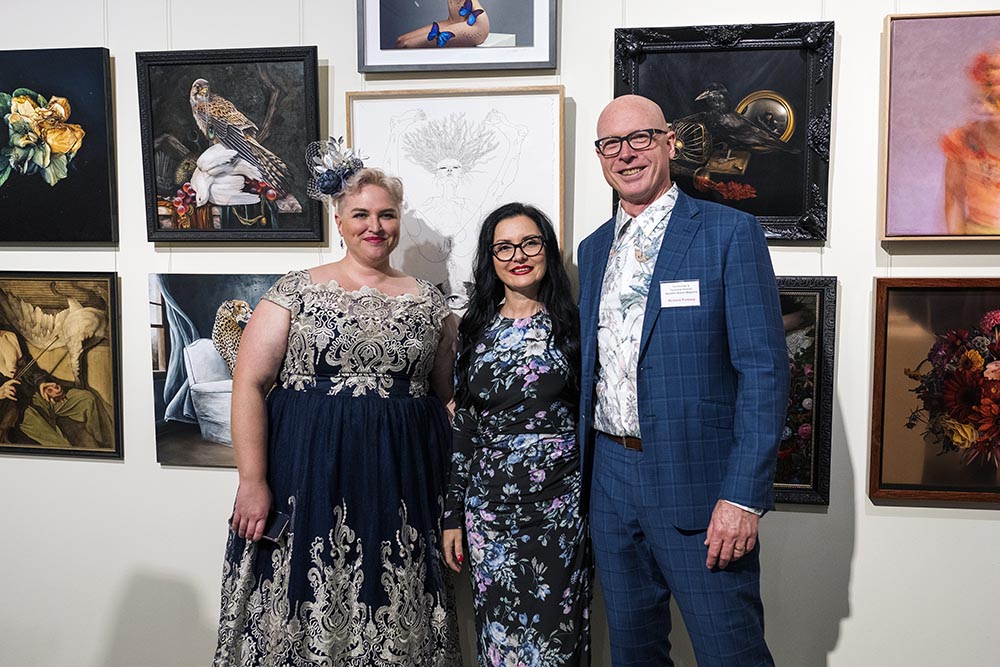 We also delve into the practice of the 2021 Beautiful Bizarre Art Prize, Traditional Art Award, 3rd Prize Winner, Lavely Miller who uses her fingers to create her unique and haunting portraits. Some artworks are clean, with fine lines and crisp brushstrokes that mimic a photograph. Others can be faded, with blurry swatches concealing details in a dreamlike fugue. Not often do the two mix, but when they do, the result is something rather extraordinary, something Lavely has accomplished expertly. Her technique in distorting the canvas with wrinkled paper provides the perfect amount of noise to give an impossible age to the paintings.
We also look at Daantje Bons' self portraiture which doses us with sexuality, sensuality, humour, and provocation. She has even came up with a slogan to describe her style and creative process: rebellious by heart, seductive by art. "The rebellious part is a side of me that loves to explore and push boundaries, especially the ones that are limiting gender and sexuality".
Additionally, we learn what Kathie Olivas, Contemporary Narrative Artist and Curator of Stranger Factory, would like to add to her personal collection, in this issue's Curators Wishlist.
Through intricacy and illusion of movement, Spanish sculptors Joan Coderch and Javier Malavia – commonly referred to as Coderch and Malavia (members of the 2022 Beautiful Bizarre Art Prize Jury Panel), create their own artistic legacy where tradition and contemporaneity exist in the same realm. They work with bronze, the noble material excelled with by Ancient Greek sculptors, yet which, in their hands, grounds them inside our environment by creating their own aesthetic rules and symbols.
Travel further into issue 37 and watch as you are transported through an interdimensional portal that leads directly into the alternate universe of Peter Ferguson's wildly outlandish imagination. Unabating anomalies do indeed play out in this Canadian artist's world, including leviathan-sasquatch sightings and air assaults between massive ape-devils and far more diminutive but still frighteningly tentacled ghosts.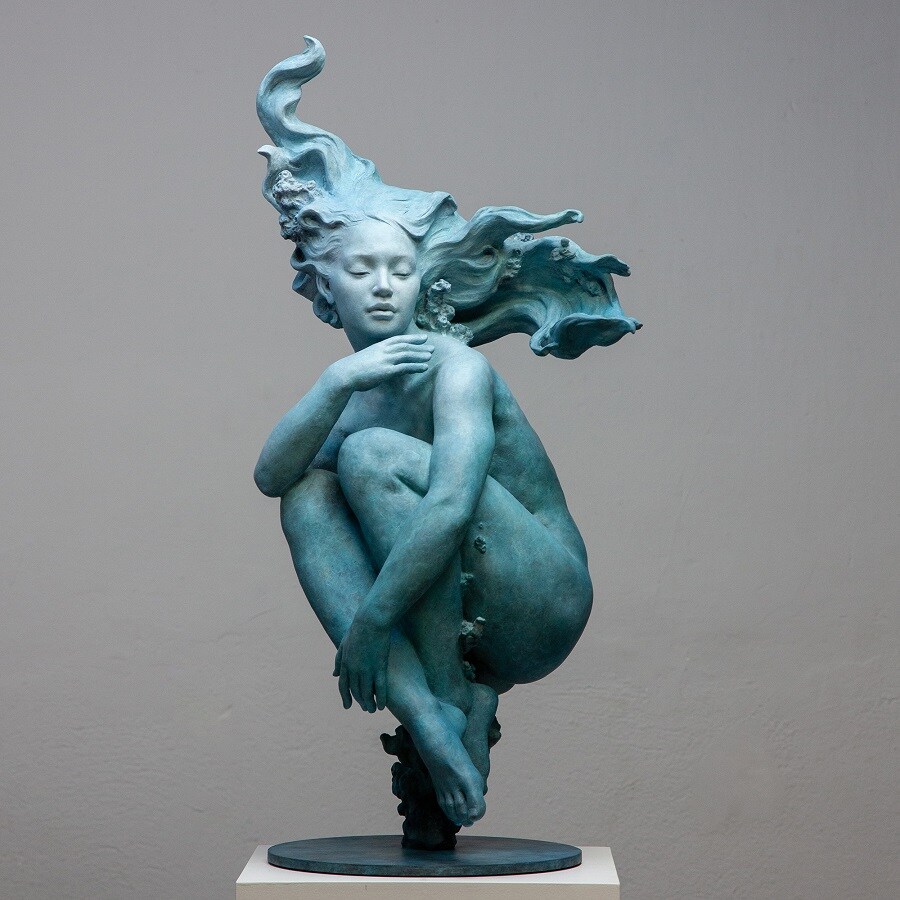 As well, in this issue of Beautiful Bizarre Magazine, we take a closer look at Amber Cowan's glass sculptures that celebrate a certain eye-catching aesthetic of phantasmagorical busyness, creating a never-ending visual display of delights. Having worked with glass for over twenty years, this American artist has ample experience in twisting glass to her own advantage.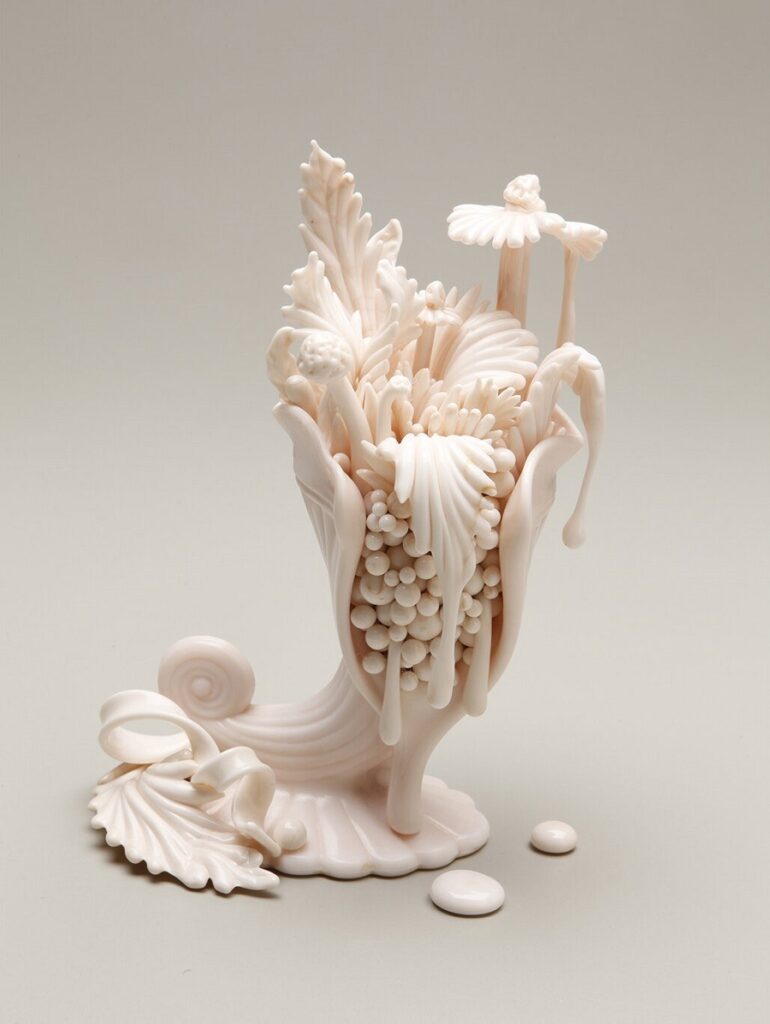 With magical scenes of childhood innocence, we immerse ourselves in the imaginative depths of Italian artist Millo, who predominantly regards himself as a street artist, more so than a studio artist. As an architect and human, Millo is troubled by the blandness of modern town planning. We should know better, but we constantly design and build soulless cities for ourselves which repress our humanity, crowding out creativity and concreting-out nature: uninspiring urban cityscapes which stifle our mental well-being, leaving us feeling lost in the enormity of what we have built for ourselves.
We also enjoy Calvin Laituri's fascinating collection of black-and-white etchings, whose work is defined by the wilderness – arcane backcountry – that is secluded and unforgiving but nonetheless sublime. It is also the home of beasts, human or otherwise, and can be described as the playground of metaphysical hunting games to satisfy the persistent hunger of something not yet found but always sought. This feeling of pursuit, the endless hunt, lurks in Calvin's works created with ink and blade.
In our Snapshot series, we ask six artists: Maya Fuji, Robin Whiteman, Erica Rose Levine, Ryan Pola, Nicolas Roa, and Lix North the same quick questions:
What does success as an artist look like for you personally?
How do you silence your inner critic?
What are the things you wish you knew when you started out?
Do you think art can help people connect to vital issues about our world?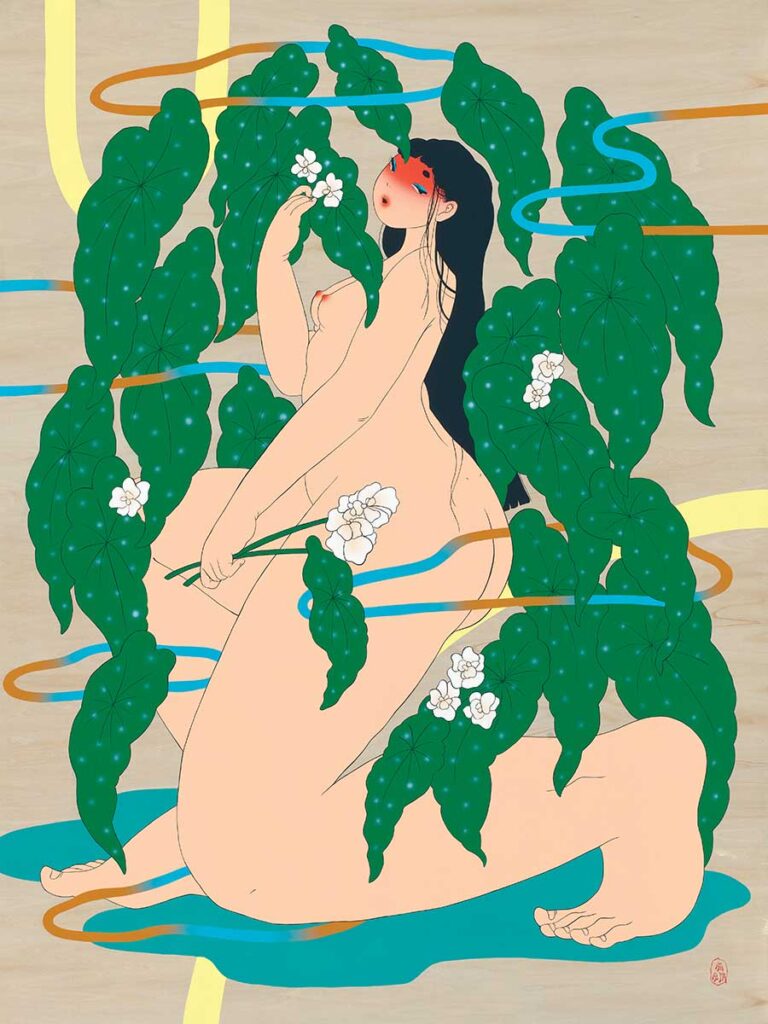 In her inspiring Letter from the Editor, our Editor-in-Chief, Danijela Krha Purssey shares her thoughts and moments of gratitude. She reminds us that despite how difficult these last few years have been for us all, that we are not alone, and how important it is to take a few moments to reflect on the things that we are thankful for each day. Remember, what we think becomes our reality!
We also highlight more of the wearable art designers that have caught the eye of our Deputy Editor and Editor-in-Chief, in this Issue's Some of our Favourite Things editorial.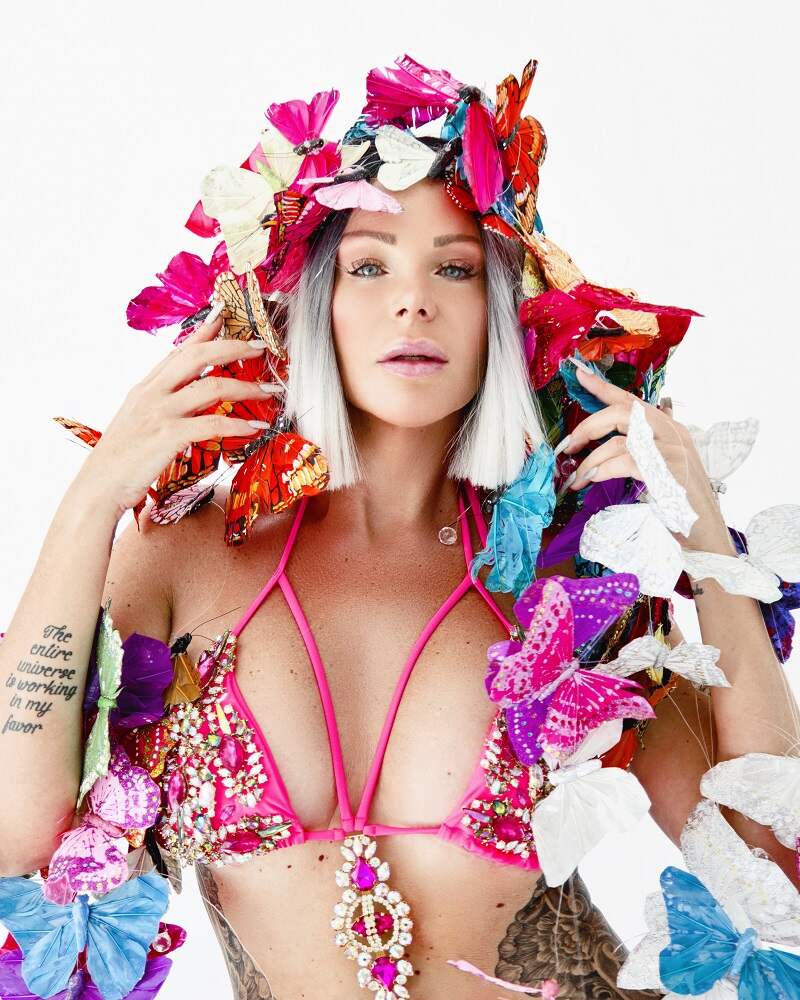 And last but not least, enjoy a collection of the amazing hash tagged #beautifulbizarre artwork from our social media community of over 1 million followers!
All this inside Issue 37 // June 2022, which showcases some of the best and most inspiring emerging and mid-career artists of our time.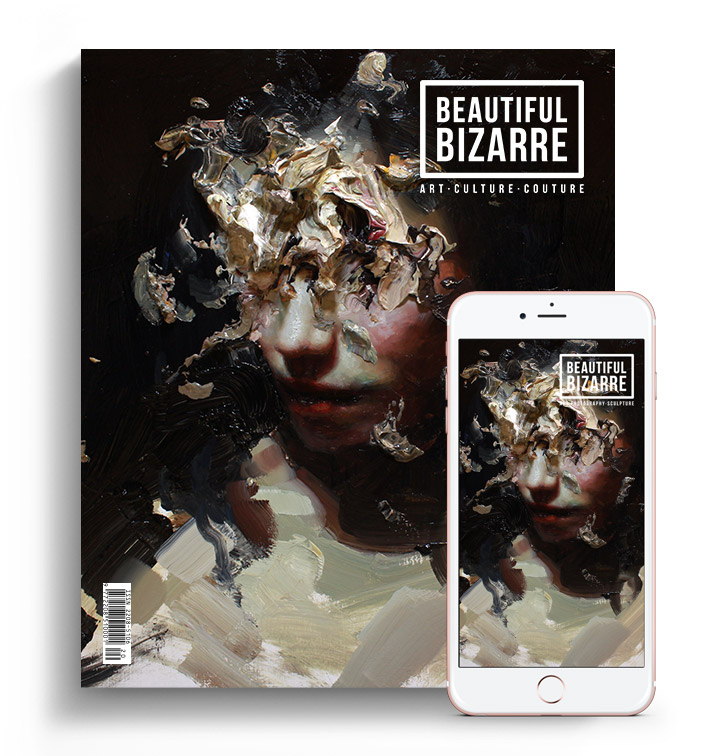 Visit our online store and enjoy Beautiful Bizarre Magazine Issue 37.