Artist duo Kai & Sunny's latest collection pushes expert linework further down the rabbit hole of optical illusion. You find your body seemingly moving as much as your soul as you stare into the colourful abyss. Drawn into the waves, these calming abstract lines form the pathways for multiple journeys. Welcome to Future Seasons, soon exhibiting at Corey Helford Gallery.
Kai & Sunny: Future Seasons
Opening Reception: May 14, 2022 | 7-10 pm
Exhibitions Dates: May 14 – June 18, 2022
Corey Helford Gallery
Gallery 2, 571 S Anderson St (Enter on Willow St)
Los Angeles, CA 90033
(310) 287-2340
https://coreyhelfordgallery.com
Visiting Hours: Thursday-Saturday, 12:00 pm – 6:00 pm
Please note: Masks continue to be required for everyone, regardless of vaccination status, until further notice.
For inquiries, contact the gallery via [email protected]
About Kai & Sunny //
Kai & Sunny are a UK-based artist duo. They both graduated from the Epsom School of Art in Surrey, United Kingdom, with degrees in Art and Design. Since then, the duo has created line bending landscapes internationally, exhibiting in venues including Haunch of Venison, Stolenspace Gallery, Corey Helford Gallery, the Southbank Centre, Pertwee Anderson & Gold, Subliminal Projects LA; Jonathan LeVine Gallery, and Colette in Paris. They have won numerous accolades, including a 2012 D&AD Design Award, a 2015 LIA award and a 2019 Addy award. Impressively, Kai & Sunny have even been included in the Victoria & Albert Museum Print Archive Collection. They have also collaborated with many big names including Alexander McQueen and Shepard Fairey!
Their works are created through deep thought and planning, combined with the painstaking method of hand-painting each line to create the feeling of dynamic movement. The process is a methodical building of thin, intricate lines, one upon the other. It creates the sense of lines pushing and pulling from each other amidst the flow. With the use of subtle space and varying thicknesses, Kai & Sunny create powerful and energetic works which harmonize perfectly through their use of colour, while simultaneously keeping an organic feeling to their paintings. The whole effect only further deepens the soothing emotions triggered as you stand in front of their larger-than-life paintings and murals.
Prepare to take a step away from your everyday life and enter the kaleidoscopic flow of Kai & Sunny. These works exist to be seen in person.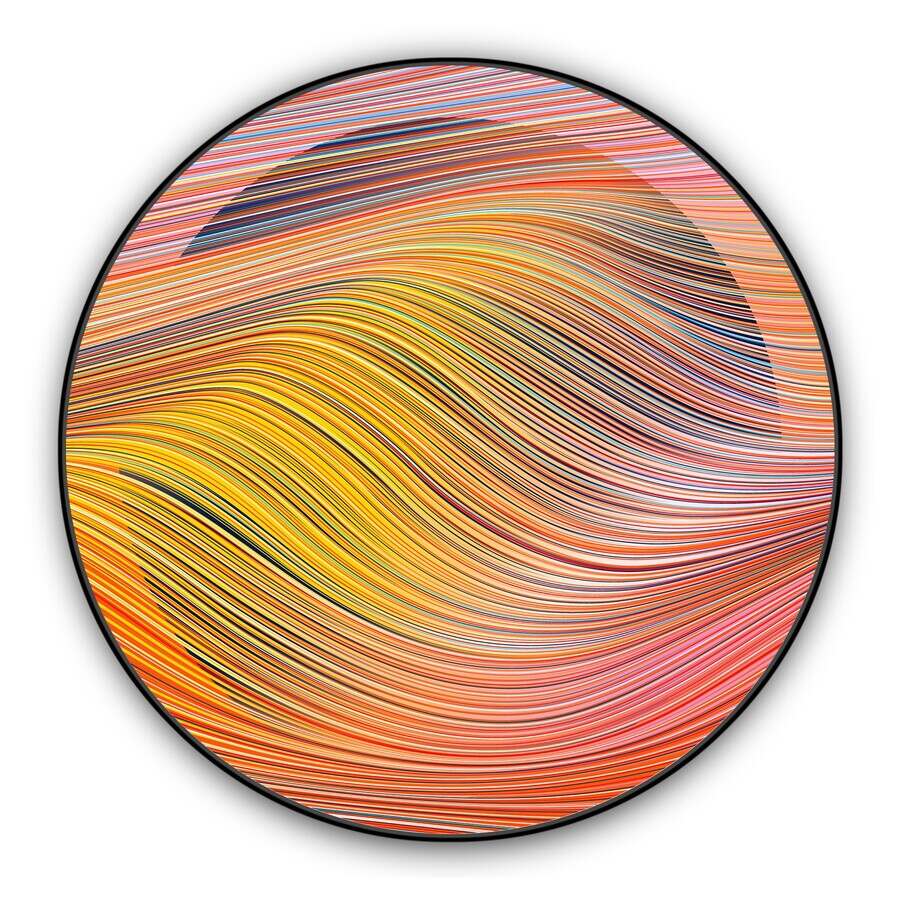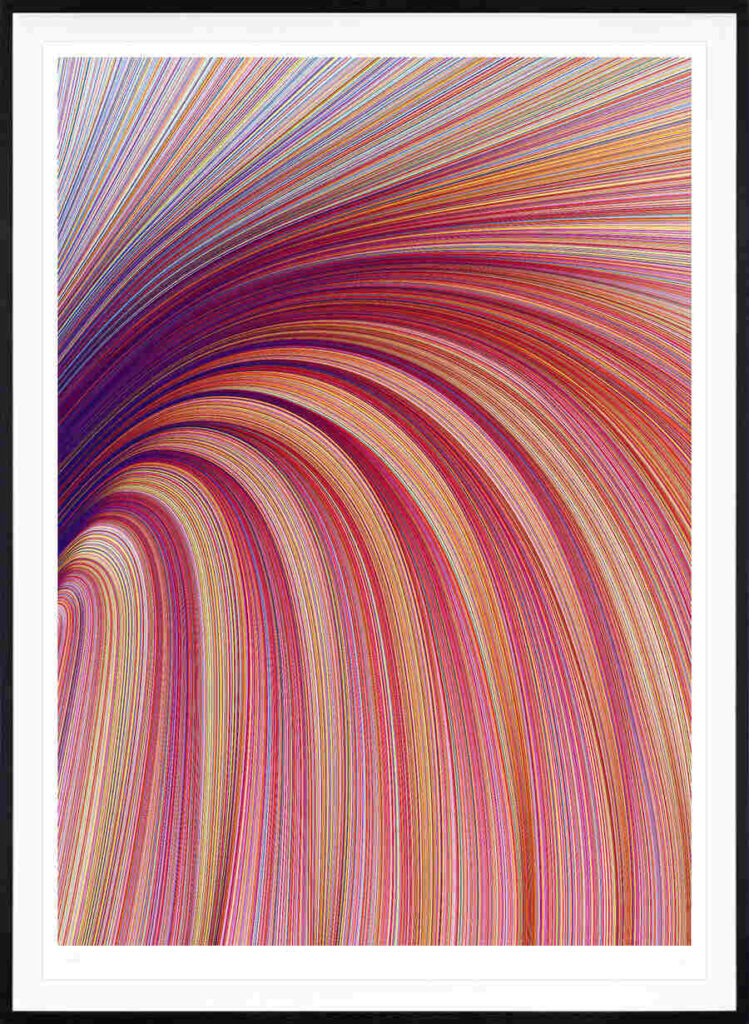 Press Statement
Debuting on May 14th in Gallery 2, this new body of work from Kai & Sunny showcases their uniquely distinguishable compositions of acrylic paintings on linen canvas and archival ballpoint pen drawings on paper. Featuring 17 original pieces, Future Seasons marks Kai & Sunny's third solo at CHG (following 2020's The Great Curve and 2019's In The Drift) and is the duo's most ambitious exhibition to date with the largest canvas measuring 79" x118".
Regarding their upcoming show, Kai & Sunny share:
Future Seasons explores the changing seasons through the yearly cycle and how our connection to this creates dynamic mood shifts within us. The collection draws on our dependence with nature, for our health and happiness, in times of future uncertainty. The space, movement, and transference of colour in the works create an atmosphere of how one feels when subjected to the force whilst surrounded by nature.
"The mesmerizing lines in each piece push and pull as if caught in a state of flux, creating infinite movement and naturalistic rhythm, appearing both serene and ominous at the same time. In areas of the paintings, the lines possess a tension twisting and distorting the form, whilst in other areas, the lines are free and flowing."
Future Seasons opens Saturday, May 14th from 7:00 pm – 10:00 pm in Gallery 2, alongside an international touring group exhibition, entitled I Don't Wanna Be, I Am, in the Main Gallery. Curated by Ink and Movement (IAM), I Don't Wanna Be, I Am explores the concept of identity by bringing together a selection of artworks by Okuda San Miguel, Elian Chali, Franco Fasoli, Martí Sawe, Misterpiro, Nano4814, Sabek, Sixe Paredes, and Spok Brillor.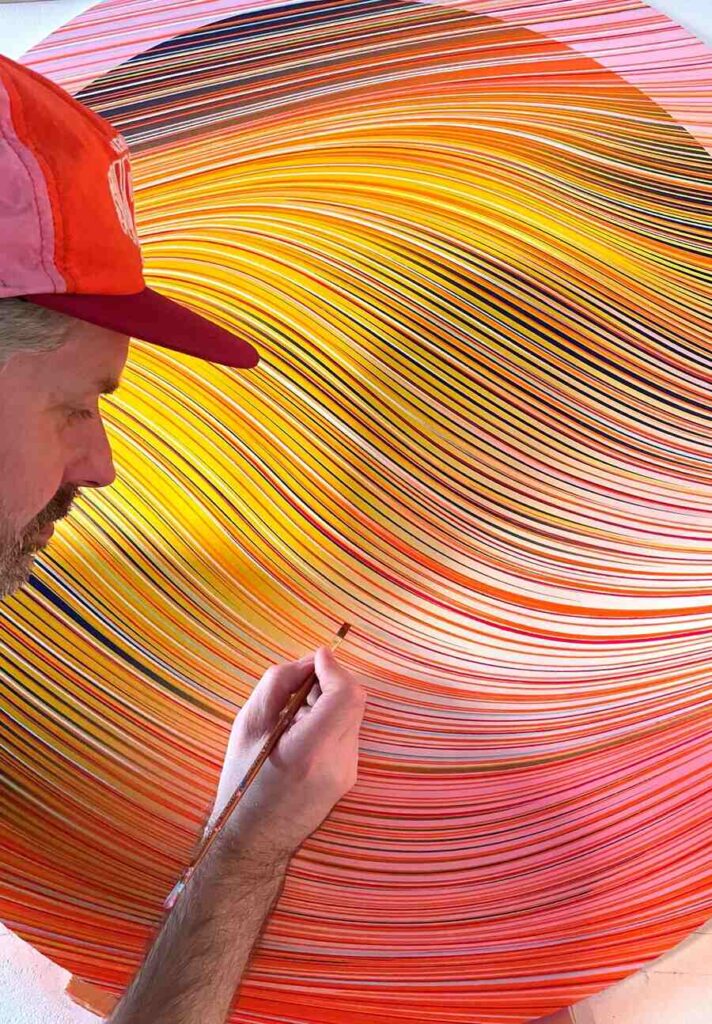 Kai & Sunny Social Media Accounts
Website | Facebook | Twitter | Instagram
Corey Helford Social Media Accounts