It's not just about winning; plenty of Beautiful Bizarre Art Prize finalists have also enjoyed a boost to their careers!
Each year, the Editor-in-Chief of Beautiful Bizarre Magazine and team review all entries submitted to the Beautiful Bizarre Art Prize, and a short list of 110 finalists [25 per Award category: Digital Art, Photography, Sculpture; 35 for the Traditional Art Award category] are selected. The esteemed Jury Panel, which changes each year, then reviews each Finalist's work and practice, and casts their vote. From these votes the Winners in each Award category and the overall Grand Prize Winner are selected.
The Finalists, as well as being celebrated on our social media and website, are also automatically entered to win the People's Choice Award. This is the chance for you, our amazing community, to have YOUR say, and vote for the work you feel deserves to win this prestigious Award.
Many entries and of course the Finalists' works are shared on the Beautiful Bizarre Magazine socials and website over the year – so don't miss your opportunity to get your work in front of our Editor-in-Chief and see it shared with our 1 million + social media community – enter today!
US$57,000 in Cash & Prizes to be won in the 2022 Beautiful Bizarre Art Prize + plus receive global exposure for your practice!
Previous Beautiful Bizarre Art Prize Finalists have shared their progress stories with us, and we want to celebrate these achievements. So settle down with your favourite cup of tea or glass of wine, and read ahead to find out what some of the Finalists have been up to.
"Since winning the Beautiful Bizarre Magazine People's Choice Award, I have held a solo show in the UK. After being spotted on Instagram by Crystal Dynamics and Square Enix, the creators of Tomb Raider, I was asked to paint an original gold leaf panel featuring Lara Croft in the 'Angel of Darkness' box art. This artwork will be auctioned to raise funds for the GirlsMakeGames charity to support the next generation of female game developers."
"I so appreciated the huge career boost that becoming a finalist in the 2021 Beautiful Bizarre Art Prize gave me. Since then, I have sold all but one of the 13 original paintings from my Australian Goddess series – and I've almost sold out of my limited edition print releases too! So thank you."
"We are both huge advocates of Beautiful Bizarre Magazine and its annual Art Prize – we love and appreciate the work that Beautiful Bizarre Magazine does. Since we were finalists, we've been busy! We've actually launched our nonprofit gallery/creative co-working space 380.co – it's just opened on Friday 4th March 2022. We'll both be showcasing our finalist works from the 2021 Beautiful Bizarre Art Prize ("Amphitrite" from Beth and "Koobor" from Josh), along with new art that each of us has created."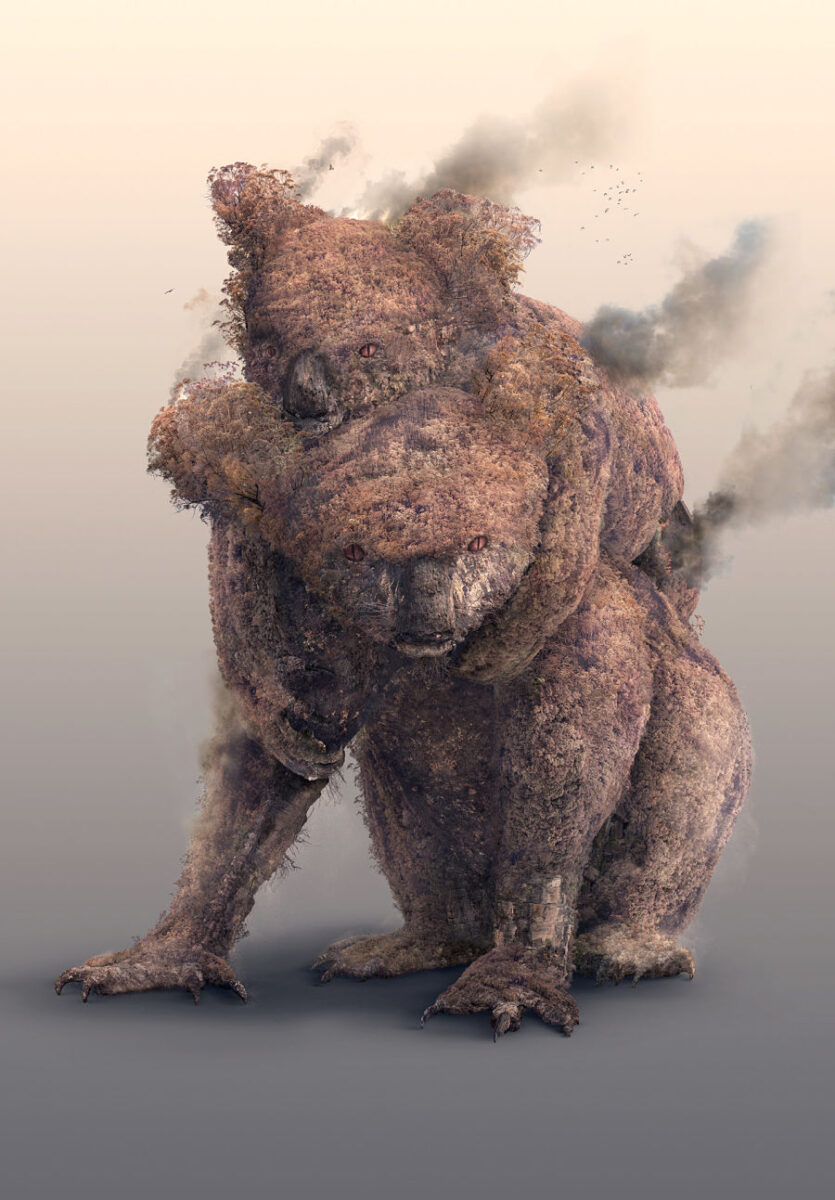 "After being one of the 2021 Beautiful Bizarre Art Prize finalists last year, my exposure has increased significantly. The drawing posted here was selected as one of the finalists for the ModPortrait International Competition 2021 and traveled to Spain to be in two upcoming shows this summer. I was awarded Honorable Mention for the Strokes of Genius Competition by the Drawing Magazine. And I showed my work at Arcadia Contemporary Gallery, New York, "Art on Paper Fair", New York, and the Los Angeles International Art Fair. BIG thank you, Beautiful Bizarre Magazine!"
"1. I seem to have established a fantastic relationship with Modern Eden Gallery in San Francisco, who continues to include and sell my work in shows every few months.
2. I have had the two best years selling art privately from my studio that I can remember, as well as from my Toronto gallery Thompson Landry. I've sold to collectors in Canada and the US primarily, but also some in Germany, and will be part of an upcoming show in Belcastel, France.
Overall, I'd say the biggest change has been how collectors are contacting me directly for works, more than galleries looking to do a show. I still show in group shows mainly, but I feel like I don't need the help of galleries at this stage – although that can change at any time."
"After 'Molt' was selected as a 2021 Beautiful Bizarre Art Prize finalist, it received a lot of love, and has found a good home. It's always exciting to see where my art ends up being displayed. I have also recently exhibited 'Genesis' at the Bedford Gallery using wood from the city's natural landmark, the 325 year old oak tree. Just like all things come to an end, there is always a new beginning or a second chance at life."
"Since we were a 2021 Beautiful Bizarre Art Prize finalist, and another piece won the 3rd prize of the 2020 Beautiful Bizarre Art Prize, we collaborated with dozens of artists from all around the world. Our most recent collaboration was with the truly inspiring Ukrainian artist Polina Verbytska (1, below). We also launched our second hardcover coffee table book entitled 'Dark and Dystopian Post-Mortem Fairy Tales' in which we pay tribute to the many muses that incited our unsettling and eccentric dreamworld. Last but not least: We had two immersive solo exhibitions in Belgium!"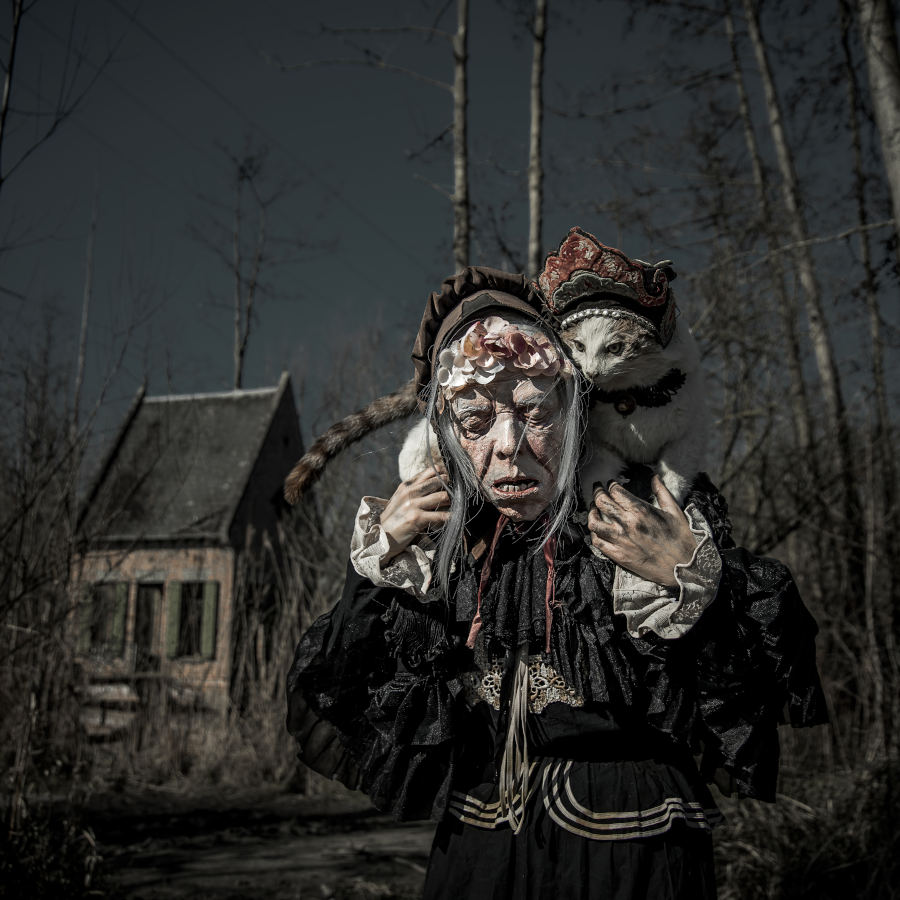 "I had the great honour of being one of the headliners at ArtLife Fest 2021 in Moscow and was fortunate to have my work also grace the cover of the annual ArtLife Magazine. The 7 day exhibit featured works from 64 artists from 23 countries and was attended by over 35,000 visitors. I also had the pleasure of being featured at Adobe Max and Adobe Creative Cloud's YouTube page after an AR collaboration with Adobe Aero."
"The months after the award (as a finalist of the 2021 Beautiful Bizarre Art Prize) were very intense and rewarding! I connected (and sold my work) to art collectors across the globe, got invited to group exhibitions, featured in more art magazines, live interviews and art podcast, and now I am pondering a couple of offers for a solo exhibition… And, of course, I have been painting non-stop!"
Interested in joining the Beautiful Bizarre Art Prize Hall of Fame?
The Beautiful Bizarre Art Prize is administered by Australian based, international contemporary art magazine, Beautiful Bizarre Magazine.
Entries Open: 1 February 2022
Entries Close: Midnight 17 July 2022 [Los Angeles, USA time]