Mythical, mystical and oh so fantastical…let your imagination take flight in the beauty of Peca's otherworldly creature compositions. Casting a spell like a lovebird sonnet, immerse yourself in this seven painting exhibition that captures your attention ardently and pulls your heartstrings, one by one.
In case you didn't hear the news, this past weekend Modern Eden Gallery celebrated the opening of Peca's exciting solo, "Migrations & Synchronicities". Bursting at the seams with artistic character development, and sure to leave you feeling inspired, there's still plenty of time to see this stunning new collection that is truly mesmerizing!
Press // Modern Eden Gallery is pleased to present the gallery debut solo exhibition of Argentinian artist, Peca. In this series of seven oil paintings, the artist explores the concept of migration and cosmic energy. Through Peca's charming and alluring bird characters, the artist examines the synchronicities that occur between beings who share the same spirit.
About the Artist // Born in Argentina and based in Barcelona, Peca is a painter, illustrator and stop-motion movie maker. She graduated in Visual Arts at the University of Fine Arts of La Plata, Buenos Aires, Argentina.
Modern Eden Gallery
1100 Sutter Street | San Francisco, CA 94109
Wednesday–Saturday, 12–5 pm
For press inquiries or sales, please contact Modern Eden Gallery Director Kim Larson at [email protected]
General Information, please email [email protected]
In this series of 7 oil paintings, I have wanted to get closer to the concept of migration of cosmic energy that materializes in image and I have also been thinking about the synchronicities that occur between beings who share the same spirit. The series talks about migratory birds that come from afar and find their synchronicity.

Peca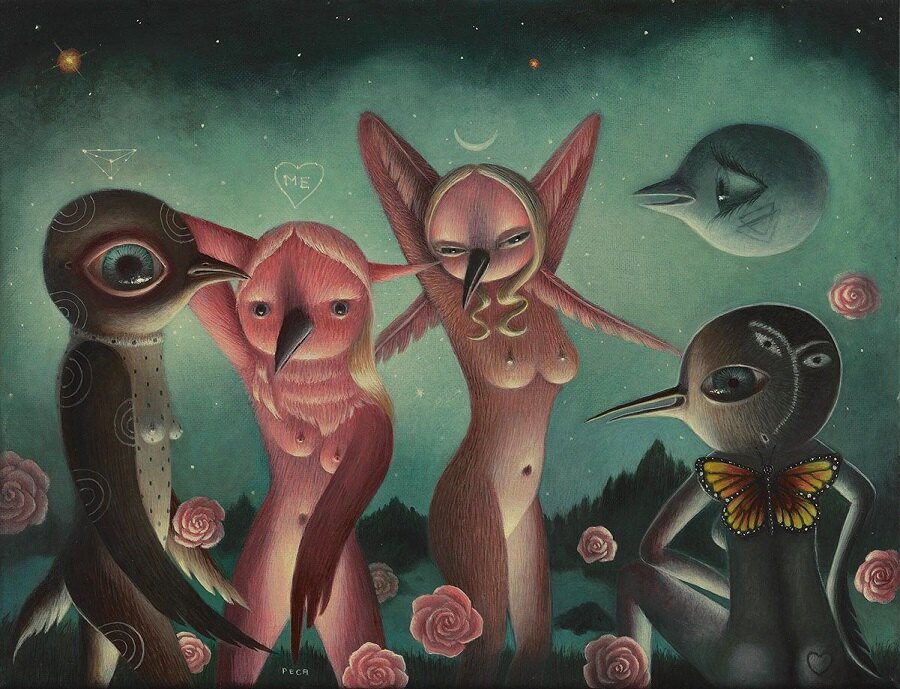 Modern Eden Gallery Social Media Accounts
Website | Facebook | Twitter | Instagram
Peca Social Media Accounts