'Tis time for the eerie, the hopelessly dreary. Your heart will jumpstart viewing Arch Enemy's art. Their darkened show beckons, the spirits they reckon. A sinister vibe you will gamely imbibe. Welcome to The Darkest Hours, where aesthetic delights await those who savor the mystery and intrigue of painterly narratives summoned under the cloak of night. Your inner Morticia has been waiting all year for the witching hour to officially arrive. Finally…all of the moody, left-of-center artsy gems that your soul has been craving are within arm's reach. Ahhh, but please hurry. Be sure to indulge in this group exhibition before the stroke of midnight, because the shadows – when left to their own devices – may very well cast a frightful pall upon your plans.
Arch Enemy Arts' Group Exhibition, "The Darkest Hours"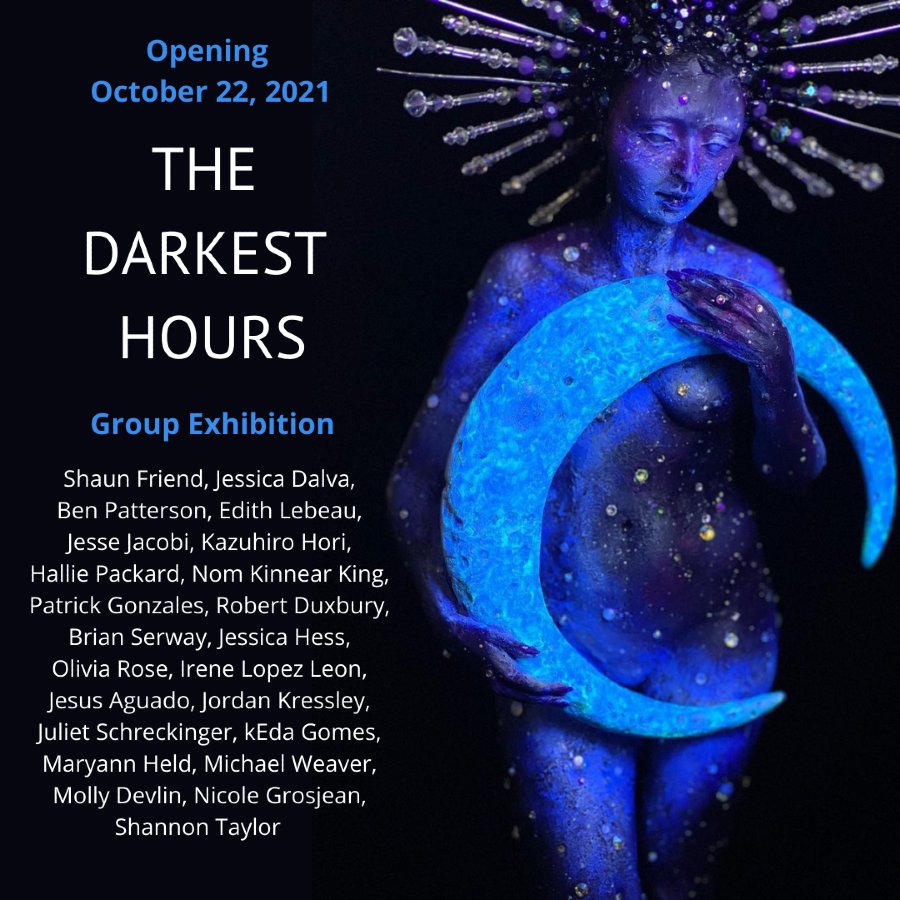 The Darkest Hours
Group Exhibition curated by Lawren Alice
Exhibition Dates:
October 22, 2021 – November 20, 2021
**Please note that there is no formal opening event.**
General Show Hours:
Monday – Friday: 10am – 4pm
Saturdays: 11am – 5pm
Arch Enemy Arts
Arch Enemy Arts | 109 Arch Street Philadelphia, PA 19106 | (215) 717-7774
To receive a collector's preview, please e-mail [email protected]
Private viewing appointments are available outside of public hours.
23 Exhibiting Artists
Shaun Friend, Jessica Dalva, Ben Patterson, Edith Lebeau, Jesse Jacobi, Kazuhiro Hori, Hallie Packard, Nom Kinnear King, Patrick Gonzales, Robert Duxbury, Brian Serway, Jessica Hess, Olivia Rose, Irene Lopez Leon, Jesus Aguado, Jordan Kressley, Juliet Schreckinger, kEda Gomes, Maryann Held, Michael Weaver, Molly Devlin, Nicole Grosjean, Shannon Taylor
The Darkest Hours Exhibition
Planning on enjoying Arch Enemy Arts' group show, "The Darkest Hours"? Fabulous – come one, come all! The visual lineup will surely be the perfect thematic complement to this season of witches, demons, and things that go boo in the dead of night. Given that this art exhibition is happening inside the gallery and many people will be in attendance, please be sure to wear a mask so that we can all continue to do our part to curb COVID-19 infection rates.
If you end up seeing any works of art that tickle your fancy but aren't quite prepared to make a purchase in person, that's no problem. Arch Enemy Arts will post their complete list of "The Darkest Hours" art with corresponding photos and other relevant details on their website. At your leisure, enjoy a toasty beverage while scrolling through the selections from the comfort of your couch or chair, but please note that all work that is sold will be marked with a red dot.
Give The Gift of Original Art
No matter what part of the globe you call home, it's quite likely that you've already begun to see visual cues that the holiday gifting season is upon us. If you're one of the early birds who likes to get ahead of the curve ball, please consider surprising a loved one by buying a piece of original art from Arch Enemy Arts' fabulous group show, "The Darkest Hours".
Your purchase will certainly give an artist a tangible vote of confidence, which is gift #1. At the same time, you will also be bestowing the recipient with a visual mood booster, which is gift #2. But wait! Can you guess what gift #3 is? Over time, that single piece of art will increase in value. Talk about getting significant bang for your buck – in effect, purchasing just one painting is the equivalent of three gifts! As it turns out, original art really is a gift that keeps on giving.
About The Gallery
Arch Enemy Arts was founded in 2012 and quickly became Philly's freshest new venue dedicated to exhibiting emerging and established artists, both local and international. Located in Philadelphia's Old City District, the gallery has consistently featured lowbrow, pop-surrealism, urban, and macabre art in a wide range of mediums. Arch Enemy Arts was chosen as the best exhibiting space in Philadelphia Magazine's "Best of Philly"™ 40th Anniversary issue, as well as the "Best Art Gallery in Philadelphia" on Philly HotList in 2012 and 2013.
Arch Enemy Arts Social Media Accounts