Françoise de Felice is a prolific French painter of Italian descent. She draws portraits of women imbued with the mysteries of the European baroque style. She plays with textures and creates liquid shades with an obvious sharpness. Her style, born out of skill and willpower, is rich. Her paintings complete an introspective process that veers into self-analytical territories.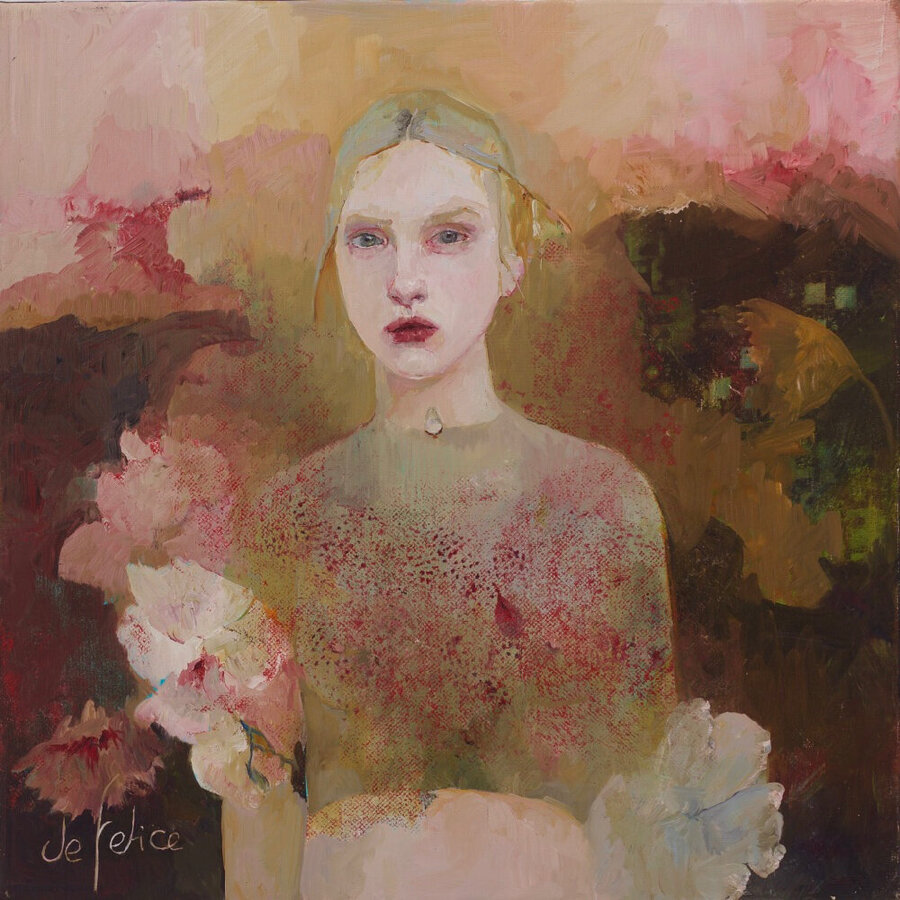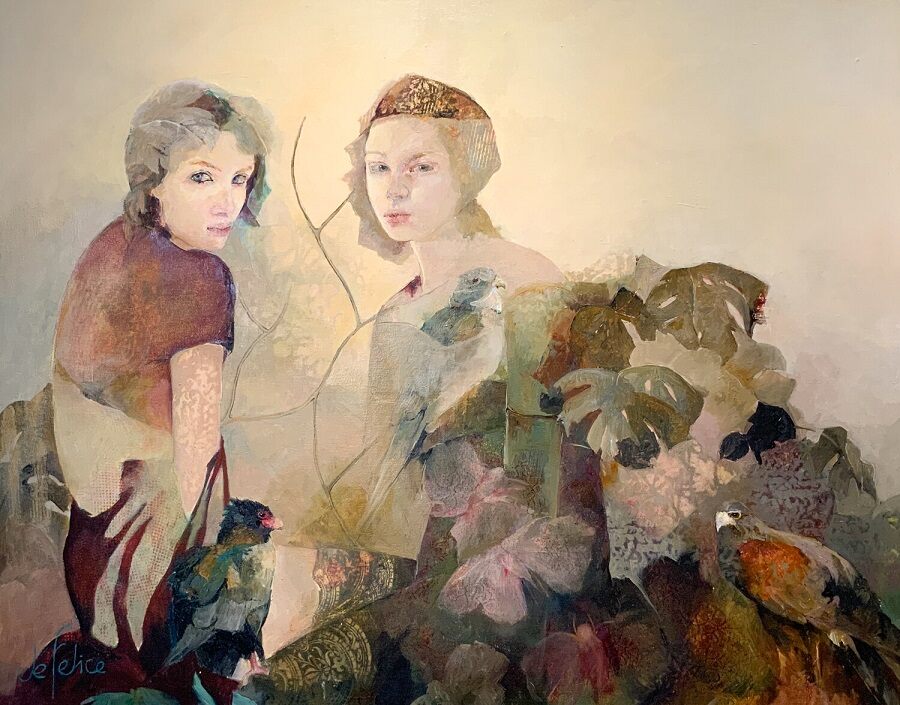 Françoise de Felice's paintings stun with their pale and intriguing figures. They could very well be a part of a haunted European castle's decor. Just like the ones we see in horror films. As a matter of fact, we can practically hear footsteps on the creaking wood of carpet-covered stairs. On the wall next to these stairs, François de Felice's portraits stare at visitors with the intensity of midnight owls. Their spectral presence is reminiscent of those somber paintings in movies that foreshadow a fatal or murderous event. One cannot help but wonder if this kind of cinematographic effect influences the painter herself.
My characters stare at nothing and everything. Their eyes drift away. They aspire to transcend the ordinary.
"Of course!" she tells us. Among others, she cites directors such as Fellini, Pasolini. Or films such as "La Grande Bellezza" ("The Great Beauty") by Paolo Sorrentino and "Le Dos Rouge" by Antoine Barraud. However, she does not see in her work any intentionality. Indeed, her artistic expression is instinctive by nature.
"In fact, I tend to naturally go for elements that mix the sumptuous with the dark. The opulence, and the superficial. One day a young filmmaker told me: "There is a crime in each of your paintings."
We were right, indeed! Françoise de Felice's work flirts with the murderously beautiful. In each painting, we find an uncanny story. Each painting hides crimes for which perpetrators are to be sought inside the eyes of the characters she paints. In fact, one could be under the impression that those same eyes conceal portals to unknown lands.
Could this be true? Would we risk being transported elsewhere if we were to stare at them for too long? "It is true that portals have been and still are beloved objects. My characters stare at nothing and everything. Their eyes drift away. They aspire to transcend the ordinary." Françoise de Felice, therefore, believes that her characters' gaze has a metaphysical value. Moreover, she paints a clear and cold yet deep gaze. A gaze that opens itself to the possibility of contemplating infinity. We feel the indefinable weight of their eyes as they attach themselves to us. Even with our backs turned.
Françoise de Felice's paintings have mythological undertones. With her Pandora's box "from where all dreams arise", she seeks to highlight the ethereal aspect of her work. Indeed, her paintings contain particular curses. Among them, she mentions "teenage disillusion" or "maternal rejection". Or the idea that "resilience comes with Hope". Françoise de Felice embraces a quasi-psychoanalytic approach. Arts, just like myths, are the fruits bore by fantasy and lived experiences.
Thus, when we look at "The Bird", we see the mythological representation of the mermaid. Among Ancient Greeks, they are often depicted as chimeras. Half-women half-birds. Should we look at her with wax in her ears like Ulysses' sailors? To this, Françoise de Felice answers: "Certainly, I am very sensitive to mythological images born in us through collective unconsciousness. Furthermore, symbols fascinate me. Every symbolic creature involves danger." Moreover, Greek mythology is not Françoise de Felice's only source of inspiration. The presence of fantastic creatures or elements of wildlife is recurrent.
Red, especially dark red, is a color that awakens all the senses. It symbolizes both pain and joy. I use it with ambiguity.
Especially, in paintings like "Dragons", "Aquarium IV" or "The Daughters of Silence". There are dragons, birds, and fishes evocative of Japanese botanical art. According to the artist herself, the symbolic significance of these elements is intentional: "Naturally, I love Japanese art! The fishes in my artistic aquarium are like Proust's jellyfishes. Or more recently, like jellyfishes in Resnais' film, "Same Old Song" (On Connaît la Chanson). They represent our unconscious. Indeed, we float in the aquarium of life. Most of my paintings are very aquatic! Silent communication is a theme I cherish."
Another noticeable symbolic element is the omnipresence of the color red in the work of Françoise de Felice. The painting "Girl With Carnations" carries this omnipresence. Both magical and visually striking, this young girl appears to us like a spectrum of light. What techniques are used to achieve this effect? Françoise de Felice replies: "Girl With Carnations" is a good example of my techniques, I use all kinds of materials to obtain these effects. Fabrics, stencils of my own manufacture, add to this erasure of a color applied on a dry background. Red, especially dark red, is a color that awakens all the senses. It symbolizes both pain and joy. I use it with ambiguity."
It is true that women are the main subjects of Françoise de Felice's paintings. Could it be autobiographical? Not entirely. Françoise claims that her work takes on empirical dimensions. Indeed, her own life and emotions are the driving force behind her work. However, they do not define it. Françoise de Felice's intimate perception of women is inquisitive yet never self-serving. Nevertheless, these women are never alone. When they're not holding each other company, they're accompanied by mystifying male figures.
They appear in paintings such as "Paulownia", "The Magician" ("Le Bateleur"), or "Silk And Feathers" ("Des Plumes et de la Soie"). "The Smooth-Tongued" ("l'Enjôleuse") and her masked Mardi Gras protector are no exception.
I have often associated these men with the Commendatore of Don Juan", Françoise de Felice says. "They are powerful and dominating characters hiding in the dark while their protégées shine in the light", she adds. She continues: "In "The Smooth-Tongued" we see this opposition between black and white through the mask. I'm constantly haunted by the tension and ambiguity conveyed by the mask. There is a power struggle between the young woman and the masked man who follows her.
As I continued to understand the relationship between the men and women in Françoise de Felice's painting, another painting caught my eye. Indeed "The Dream of Princess Hyacinth", a mesmerizing triptych appeared to me like a halo of light. Several nude bodies seemed to crash into each other in a hazy cloud of feverish sensuality. The unclear, undefined nature of dreams seemed obvious. Françoise de Felice made sure of it.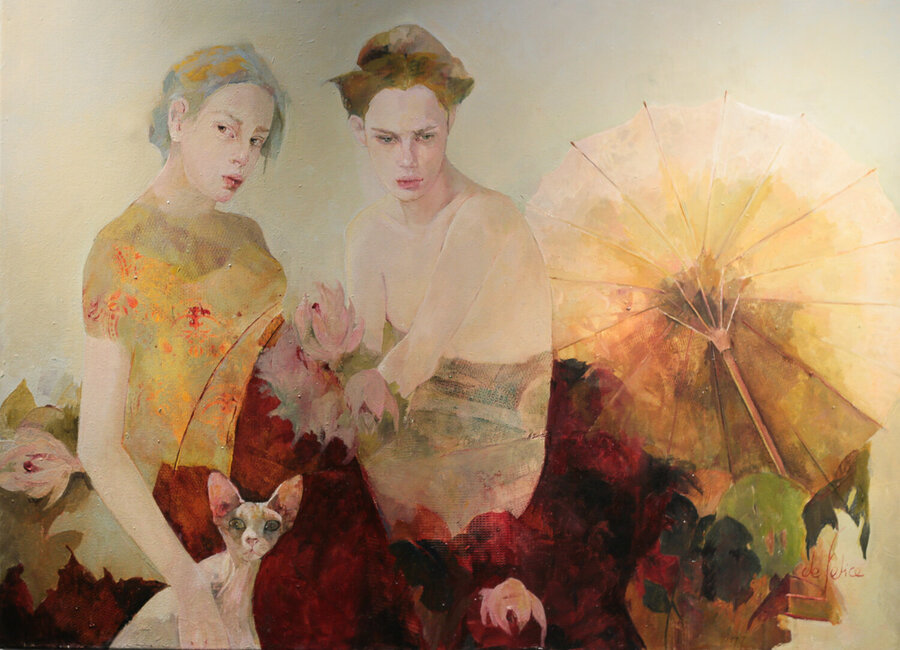 Evidently, the painter showcases the chaotic absurdity of dreams in all their absurd glory. "Le Songe d'Une Nuit d'Été" is a testament to this. This painting refers to Greek tragedy. Françoise de Felice aims to denounce the chaos of the universe but also highlight the absurdity of the world in which we live. Her goal is to show it for what it is – a comical mess punctuated by "dramatic injustice", as she puts it herself.
Françoise de Felice Social Media
Website | Facebook | Instagram