Awaken the dreamer within and let the nuanced emotion of Haven Gallery's exciting new exhibitions pique your creative senses. Steeped in wistful reverie, the intense artistic wanderlust leads you on an unforgettable journey. Explore the visual pathway of each distinct creation.
Thought-provoking and intuitively hinged, join Haven Gallery as the celebrate the solo exhibitions of Scott Radke, "Amor Fati", Dewi Plass, "Love Letters to a Wild Heart", Hope Doe, "Beast Within", Nikolas Tower, "Her Wind", and Steeven Salvat, "Nymphalidae". And if that wasn't enough to set your thoughts sailing into the depths of imagination, take delight in "Of Land, Sea and Sky", a new group show sure to harness your mythical inclinations.
Opening Reception: Saturday, August 14, 2021
Exhibition Dates: August 14 – September 12, 2021
Haven Gallery
90 Main St., | Northport, NY 11768 | (631) 757-0500
To inquire, please contact Erica via email [email protected]
Haven Gallery is pleased to present Ohio based artist Scott Radke, for his third solo show, "Amor Fati" at the gallery. "Amor Fati" translates to "love of fate" in Latin and presents thirteen sculptures that surrealistically merge mythology, animals and the natural world. Each sculpture features childlike faces whose complex expressions embrace wonder, curiosity and wisdom. Innocent yet practiced, Radke's work is of both of here nor there; his creatures are of myth, legend and an emotional embodiment that can only be felt and not explained.
About the Artist // Scott Radke was born in Cleveland, Ohio. Radke has experimented with various media throughout his life and now externalizes his dark inner world and anxieties as adorably creepy sculptures, with a peculiar charm and a distinct style. In 1998 the popularity of his creations allowed him to leave his mind-numbing job at a bed-frame factory to pursue his creative passion on a full-time basis. Radke's sculptures are handmade one by one with resin and painted in detail with acrylics, which makes them unique pieces.
"Don't get spooked — despite their gnarled hands, corpse-colored skin and sunken eyes, Scott Radke's creations come in peace. "If you wanna get creepy with it, it's real easy! Any film or music video [they are] involved in goes straight to the dark side," says the 44-year-old sculptor, whose work made a cameo appearance in Tim Burton's "Alice in Wonderland." Even if Scott prefers to bring his caterpillar people and bodiless, baby-cheeked creatures to life in suburban Cleveland nature preserves, he understands the desire to situate them in more shadowy worlds. After all, many of them were born there: Before discovering yoga and meditation, Scott displaced his anxiety and panic attacks by carving their faces. "I've always been told I was like Eeyore. I've had emotions and feelings I wanted to express and there was just no way I could do it with words. It comes out with what I do," he says. These days, Scott lives with his daughter, their pet chickens and a lot more serenity — which he wants to pay forward to his soulful-eyed sculptures. "I'm pretty happy and content inside," he says. "I wish I could write my own stories. I'd put them in something with a positive message." -from an interview with Rebecca Haithcoat.
Dewi Plass, "Love Letters to a Wild Heart"
Haven Gallery is honored to present Netherlands (Nijmegen) based painter Dewi Plass, for her first solo show "Love Letters to a Wild Heart" at the gallery. "Love Letters to a Wild Heart" will feature ten acrylic paintings that embody Dewi's tradition of animal sitters poised in their natural settings laced with delicate and playful motifs. Her paintings depict quiet moments of repose, wonder and contemplation, yet they teem with life as her compositions bustle with the exuberance of blossoming flowers, the fluttering of insects and curious guests of the smaller, feathered and furry kind.
Growing up surrounded by nature and a variety of pets, Dewi found herself inspired by the animal and plant kingdoms. At a young age, these aesthetics influenced the birth of her love for drawing and painting. Each composition offers a glimpse into the beautiful and lively microcosm just outside our front doors. A world that beckons for connection and exudes hope and adaptation over the never ending odds of life. "Love Letters to a Wild Heart" is just that; a continued exploration, celebration and love of nature.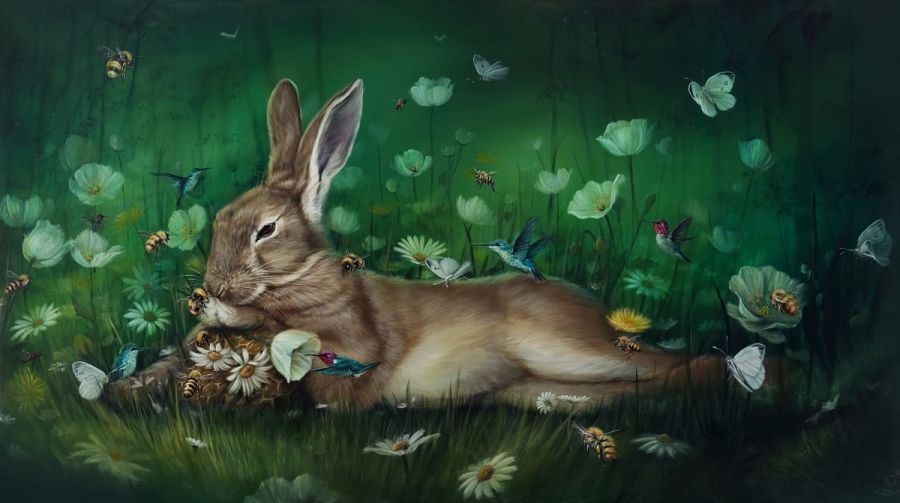 Artist Statement // In my latest show, "Love Letters to a Wild Heart", I direct my gratitude towards nature's healing power, that in a year and a half of turmoil, social distancing and solitude, due to the global pandemic, continues to provide us with a safe haven in which thoughts can become embedded, memories can be made and where serenity can be found. With this series of work, in which every painting can be seen as an individual love letter, I aim to honor nature's unique ability to bring forward hope, tranquility and peace through the resilience it shows and the beauty it encompasses. It's an ode to nature's wild heart – a heart that never ceases to amaze.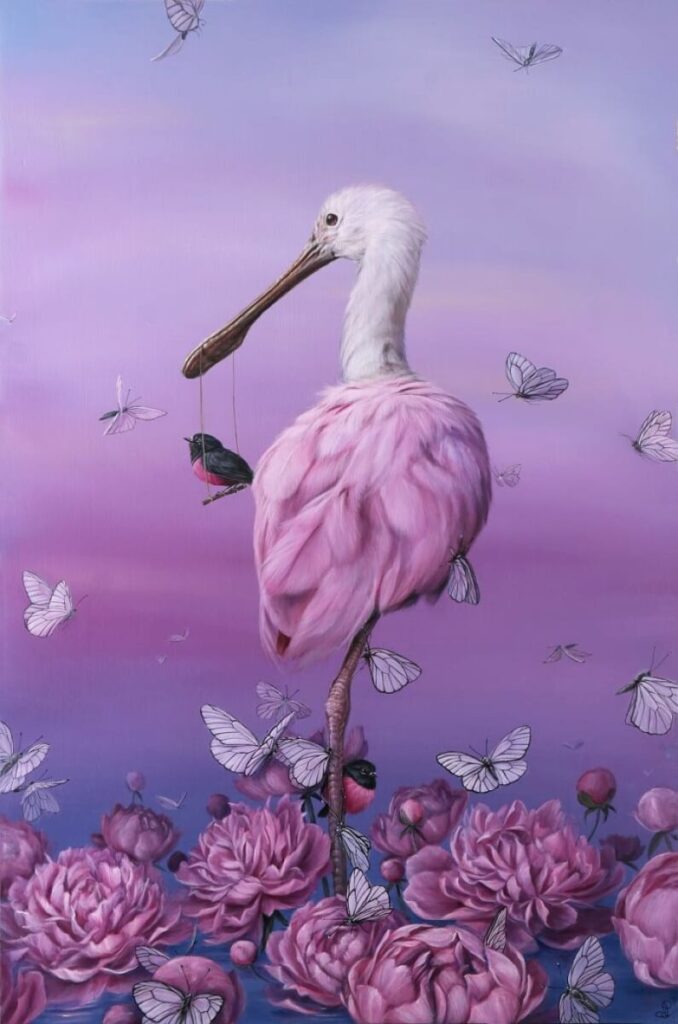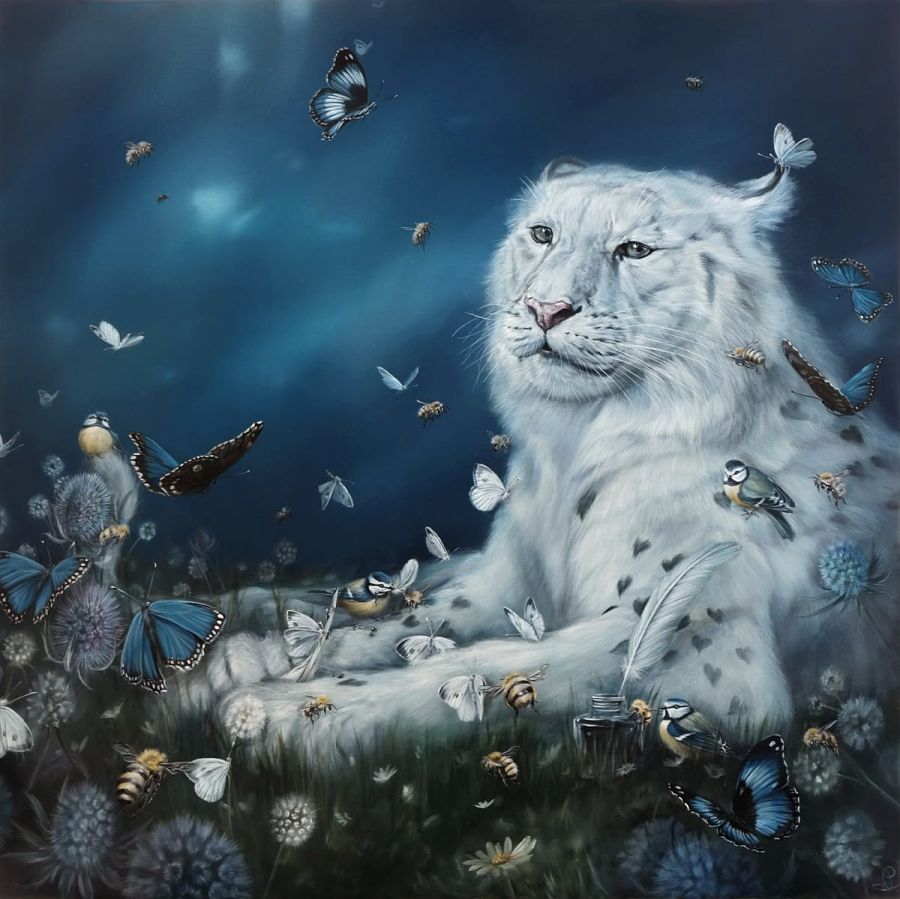 About the Artist // Dewi Plass is a Dutch artist, born in 1990, with a fascination for nature and a profound love for the visual arts that unfolded itself from an early age. However, she had no desire to go to art school as she felt it would not coincide with the very private and organic matter that she considered art to be, and thus she pursued an academic career in Cultural and Visual Anthropology instead, from which she graduated in 2014. Although Dewi found great joy in putting her academic skills in to practice, her love for the arts and her desire to translate the intangible images and stories that resided in her mind into visible, tangible sensations that could be shared with others, a love that had laid dormant for quite a while, started to resurface ever so often. This is why, in 2015, she decided to focus on her development as a full time visual artist, and since then her artwork has been shown in galleries across the world. Using acrylics as her medium, Dewi creates artworks in which animals take the center stage within worlds that celebrate nature's splendor and invite the viewer to let go of all that's familiar and instead explore the unexpected.
Haven Gallery is pleased to present Greek artist Nikolas Tower, for his first solo show "Her Wind" at the gallery. "Her Wind" features a collection of painted portraits honoring female personifications and deities found throughout history. Thematically and aesthetically, Tower pays homage to powerful women from Ancient Greece, Babylon and Asia and couples each sitter with playful elements of nature such as birds, butterflies and flora. A penchant for design, pattern work and relief studies can be appreciated through the artists creative and bold use of shape and ornamentation demonstrated in flowing strands of hair and amorphous representations of the female form. These motifs can be found painted as well as drawn in gold and silver leafs, creating dimension and spirited portraits beholden of these legendary women.
About the Artist // Nikolaos Kafasis, also known as Nikolas Tower, is an artist and Illustrator, born in Greece in 1998. He took traditional art, academic drawing, and color study lessons at the "Art Palace" private art school in Rhodes for 7 years (2009-2016). Throughout the past years, he has experimented with a lot of painting and drawing mediums, including graphite, charcoal, acrylics, pastels, oils and more. Nowadays, he works mainly with watercolors and mixed media. He is inspired by nature, anime, fantasy books, ancient Greek and Asian culture – often combining the two – and mythology.
Nikolas' style is characterized by stylized compositions, organic motifs, flowing lines and abstract elements, surrounding female & male portraiture. Through his watercolor Illustrations of otherworldly, tranquil, and mysterious women & men, he is trying to convey a world of silent human feelings that cannot easily be expressed in words.
He is currently studying Pedagogy in the Mediterranean University of Rhodes, where he also lives with his family, and he is pursuing a career as a contemporary artist and illustrator.
Haven Gallery is pleased to present Japan based artist Hope Doe, for her first solo show "Beast Within" at the gallery. "Beast Within" features a collection of paintings that playfully amalgamate animals and human beings to create symbiotic portraits. Hope has cleverly fit and concealed her humans into the shapes and forms of her animal sitters. Whether asleep or active in their roles, each human naturally and seamlessly integrates themselves within their animal counterparts, returning themselves to the natural world. A nod to the notion of familiars, Shintoism and a graceful reminder of the interconnectedness of all living things.
Artist Statement // Since the beginning of human consciousness, we as a species have studied and admired the living creatures around us. We have used animals as our symbols and compared them to our own personality traits. We have closely observed animals to discover ways to adapt our lives and make it better. Humanity strives to live in the same world and yet, we as humans view animals separate to us. For this series, I am exploring the idea of fitting ourselves into animal shapes and ideals and paired them with moments of strong emotion. Each of the animals I chose are animals that I have a personal connection with now or in the past.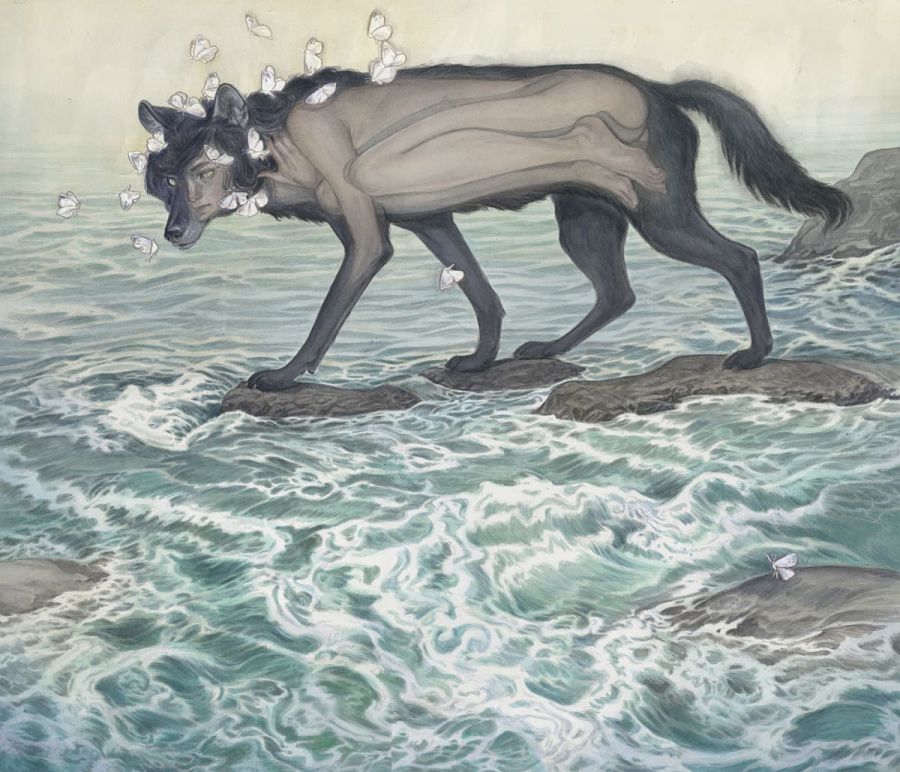 About the Artist // Hope is an American artist currently residing in Mie, Japan. With her interests in Japanese traditional arts and growing up in a western culture, she creates a unique blend of the two influences. Her work has a strong sense of narrative, which contains a tinge of mystery and the unknown. Her artwork often molds humanity with the natural world giving the sense that humanity is one in the same, and shouldn't be a separate entity.
Her work contains a variety of mixed media, including sumi, graphite, oils, and watercolors.
Haven Gallery is pleased to present French artist Steeven Salvat, for his first solo show "Nymphalidae" at the gallery. "Nymphalidae" will feature nine ink and watercolor paintings that chronicle a variation of butterfly specimen celebrated in his fine ink and watercolor technique. Salvat is known to couple the duality of the natural world with elegant design and fabrication. A nod to the exceptional detail and color found in nature and its influence on science, art and the world of man made beauty and innovation.
Each painting from the "Nymphalidae" collection is presented as a specimen study. The butterflies are presented forward facing, with a name plaque and identifying jewel and stained glass elements listed. Each butterfly's thorax and abdomen are opulent keys, made up of highly detailed gold filigree with encrusted ruby, sapphire and emerald details. Jewel tone wings glow with color and light as they embody the radiance of stained glass. Every detail features fine line work and a hatching technique which echoes the gossamer and most delicate threads of life. A reminder to take in all that is here, all that is and all that can be, and the interconnectedness between these two not so distant worlds.
Artist Statement // Nymphalidae will showcase a collection of artworks depicting a various range of butterflies evolving to precious hybrid lifeforms made with antique goldsmith work on skeleton keys, gemstones and stained glass wings. The paintings are based on real species of butterflies, made in a way to echoes the elaborate entomological studies done by naturalists in the past. They includes official-looking, hand- drawn nameplates describing the fanciful and fictitious scientific names of these hybridized and reimagined organisms. Each piece is crafted with watercolor and China ink on watercolor paper aged in a bath of black tea. This show is part of a wider series called 'Precious littles'. It is an ode to exceptional craftsmanship and luxury houses translating the beauty of nature into their creations, but is also an allegory for the preciosity of biological systems.
About the Artist // Steeven Salvat is a French artist from Menton, born in 1990, who lives and works in Paris. Passionate about drawing, nature, science and history, he creates artworks with a hatching technique, using black ink, Rotring pens, a lot of lines and hundreds of hours.
Inspired by the work of masters like Albrecht Dürer, Gustave Doré, Jean-Auguste-Dominique Ingres, Molitz and Moebius, he pays close attention to technique and details. His favorite tool, the Rotring pen, allows him to obtain a rendering close to engraving but always with a touch of modernity. A meticulous and delicate work that praises the passing of time, where each line acts as a count. Steeven Salvat's subjects highlight the duality, especially between nature and mechanics, in works that remind naturalist engravings of the 18th century.
The animals to which he gives life, line after line, interact with unique objects, pieces of gold and silver, ancient works of art.
"Of Land, Sea and Sky" Group Exhibition
A group exhibition in which artists interpret the mythological stories and characters of land, sea and sky. An exploration of how the natural environment cultivates and embraces these narratives as demonstrated through various mediums and artistic stylization.
Artists // Daria Kropacheva, Orphne Archeron, Teagan White, Kristin Kwan, Ingrid Tusell, Nom Kinnear King, Yousake Kawashima, Andi Soto, Zoe Williams, Valency Genis, Alfred Liu, Laura Colors, Alex Garant, Karly Perez, David Stoupakis, Nozomi Tojinbara, Jessica Mulholland, Sarah Finnigan, Ciou, Laverinne, Jennifer Hrabota Lesser, Valerie Saverie, Larysa Bernhardt, Candie Bolton, Kseniia Boko, Bec Bartell, Ronald Companoca, Flor Padilla, Kaysha Siemens, Camille Murgue, Nikole Cooney, Jennifer Healy, Robert Duxbury, J Henry, Lara Dann, Dolce Paganne, Howard Lyon and Marta Witkiewicz.
Haven Gallery Social Media Accounts