In a recent exhibition, Gallery Poulson's "Modern Mythos" showcased the work of three generally related artists – Angela Gram, Hannah Yata, and Zane York. I've been following all three for many years now. Each, in his or her own way, takes nature for their main theme.
Gallery Poulson Press // In a technological, post-pandemic age of impersonal and disconnected relationships between individuals there persists a sensibility in contemporary art that stresses the interdependence of living beings, both human and non-human, through the visual use of anthropomorphism, allegory, and surrealist interpretations of the natural world. While the complex physical reality of nature presents itself as mostly a myth in modern life, contemporary artists depicting nature defiantly elevate this topic to one of vital cultural importance. It is one of the most primordial dialogues in human history, where visual depictions of the natural world and animals within it are symbolically intertwined with humanity and seen in ways that define and redefine our values and identities throughout time. This exhibition brings together artists who powerfully convey the new era of these social narratives through painting.
"Modern Mythos": Angela Gram, Hannah Yata, and Zane York
For further details please inquire with the gallery at [email protected]
Angela Gram depicts psychedelically altered animal scenarios. Take, for instance, her "Name This Place," a portrait of a lion in a snowbound forest of evergreens. The colors of the environment have slipped over into a livid magenta range and the lion's face is transfigured by concentric diamonds of photo-inversion. No details are lost in the face – no details are lost anywhere in the image – and yet the transformations have rendered it profoundly alien.
Hannah Yata depicts mythological goddess-women, radically modified by nature and decorative elements, at home in the wilderness. In her "Hades," (see gallery website) a standing female nude begins to submerge into a tall riot of mushrooms, grasses, shrubs, and flowers. Her bright red skin is patterned with reflective designs, and her head appears to have been replaced by a large, phantasmagoric flower. Half-hidden in the flower is a circular object, a species of organic machine or bead which appears frequently in Yata's work.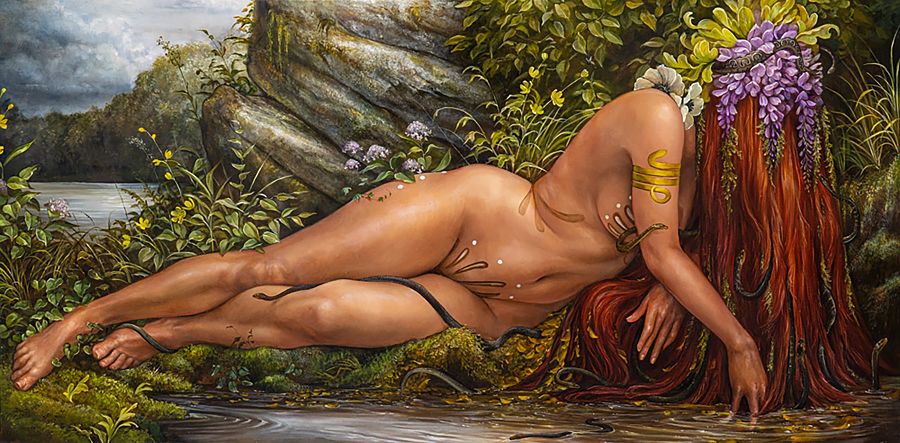 Zane York reorganizes fragments of the natural – primarily insects – into unnerving simulacra of that most civilized, controlled image, the Dutch floral still life. In his "Arrangement XXI," we see a glass vase of flowers lit by that soft, cool, eternal Dutch light. But a closer look reveals that the vase holds no water, the flowers have no stems, and in fact there are no flowers at all: only a mass of butterflies and moths, clotted together into forms which might, at a glance, be confused with flowers. So tasteful, so monstrous…
Although each artist has stated that nature, and the politics of human interaction with nature, is their topic, I think this paints an incomplete picture. Each is also consumed with magic. They are neither sleight-of-hand magicians, nor miraculous wizards, but both. They are all three possessed of an interior vision of continuous, hyper-complex transformation, of forms emerging from forms in an endless march of proliferation: the hideous true magic of nature in all its terrifying beauty. They have all dedicated themselves to the mind-boggling difficulty of approximating this vision in paint. They are advancing a technical magic toward a real magic, and the real magic reaches back toward them. The point of meeting lies in their dazzling art.
Gallery Poulson Social Media Accounts