Hey there, got a smoke? We don't. But we do have an exclusive interview with British artist Charlotte Rose – our current art crush. Her work is nostalgia in a spray can. Her gallery can be described as "rebel-pop", inverting infamous icons and cultural classics to provoke reflection and the burgeoning of new thought on their products of consumerist design. An example is Charlotte's painted recreations of cigarette boxes, recreating the vintage insignia of cult brands like Marlboro and Lucky Strike that were once the epitome of slick and "cool" society.
Charlotte now paints tobacco in an alternate light by vandalising its packaging with graffiti that yells out satirical phrases like "I quit last week" and "Burn it all down". Charlotte also invites beloved characters into some of her work, such as Bugs Bunny, Daffy Duck and Bart Simpson, forcing us to reckon with figures of childhood innocence in contexts of greed, addiction and toxicity. It is a process of disillusionment, an unromantic revival of the branded past that is often fetishised in today's popular culture for its aesthetics but not always truly seen for its harms.
Charlotte's professional aspirations in art developed recently. During pandemic lockdowns, she finally found the space and energy to experiment and refine her painting practice. It was out of this unrestrained creative process that her signature grunge style was born and the first cigarette box painted and shared. From then on, Charlotte has grown her portfolio and popularity as a professional artist alongside her longtime modelling career. Her success on social media reveals the hunger of the public to digest more candid, poetic art that rejects perfection and instead embraces the beauty of rebellious synergy.
Read on to join our exclusive interview with Charlotte Rose where we talk history, muses, and her most recent solo exhibition 'Too Much of A Good Thing'.
There is a strange and unique bond between us and corporations; it feels familiar, personal, and visceral.
Exclusive Interview With Charlotte Rose
Hey Charlotte, please introduce yourself to our readers.
I'm Charlotte Rose, and I'm a 23-year-old model and self-taught artist based in North London.
They say creativity runs in the blood. What is your personal history with art?
My mum is an artist; she paints these beautiful acrylic botanical canvases, she was my introduction to painting with acrylic. Her parents (my grandparents) met in art school and are incredible artists too. I glean a lot of inspiration from all of them and constantly look to them for advice and guidance.
What did you learn about yourself and your own creative identity during quarantine?
During quarantine, everything stopped so I was able to turn my full attention to creating a cohesive body of work around cigarette boxes. I painted for fun before the lockdown but during this time I really dedicated every hour of the day to painting and by the end of the lockdown I had an exhibition's worth of work, which made up my first exhibition displayed in April 2021 and I just finished my second exhibition last week!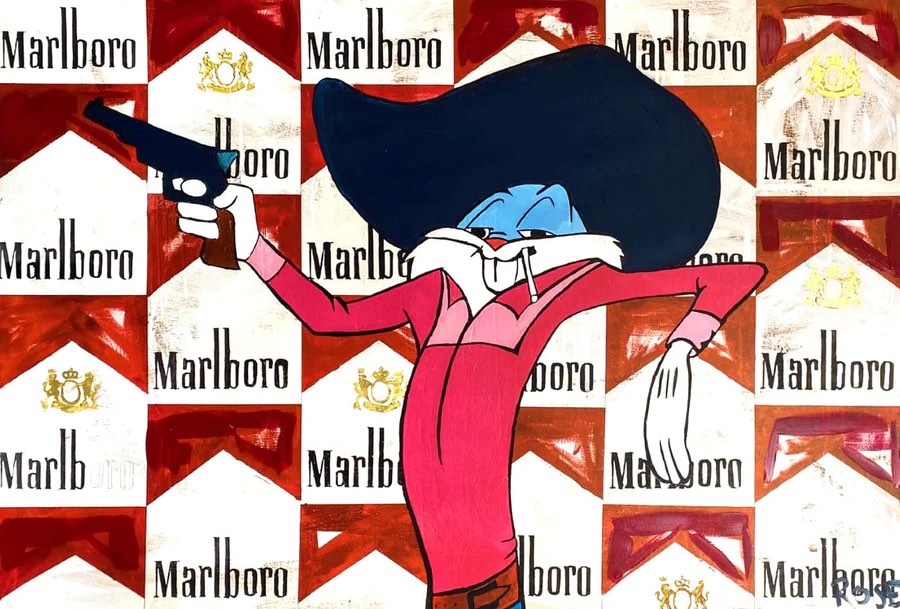 Use three words to describe life as an artist.
Never fully satisfied.
How do you get into the groove to make art?
I think it's natural for some days to lack inspiration but I never allow myself to only work when feeling inspired. I think that's a surefire way to not get anything done. As long as I'm making something and am always in motion, even if that something is a load of rubbish, at least I've learned from the mistakes made.
Any other creative pursuits we might not know about?
I wanted to be a writer when I was younger and studied creative writing. I feel as though art and literature have a fairly close relationship. I really love the works of William Blake, for example, who is celebrated for his poetry and prose alongside his artworks. His words really inspired a lot of my writing as a teen, although I haven't written for a long time.
You often pay homage to other artists in your work, name a few of your favourites. How do they make you tick?
I'm a big fan of Andy Warhol and the Pop Art movement. I love the 60s/70s for fashion and film but particularly the art. I love the legend of the Factory and the way Warhol incorporated branding and icons into his works. I'm also a massive fan of Basquiat (who isn't?) and I feel like there is a flavour of his spontaneity reflected in my work.
Congratulations on your recent exhibition, 'Too Much Of A Good Thing', in West London. Explain the energy of this showcase, has it been different to your debut show?
The first show I did felt like I was running out onto a frozen lake. I had no idea what the outcome would be, I didn't know what I was doing and a lot of things didn't go exactly to plan. This show just past, I consider, as a sister show. I learned so much from the first and I wanted to implement them into this one. Everything ran like clockwork and I couldn't be happier. 'Too Much Of A Good Thing' is an exploration of the consumer's nostalgia for brands and the iconography ever-present in the background of our lives. There is a strange and unique bond between us and corporations; it feels familiar, personal, and visceral. The building of culture, narrative and memories so deeply intertwined within the collective minds of millions of people is something that can only be forged over time with patience, skill and, above all else, a true understanding of the human experience.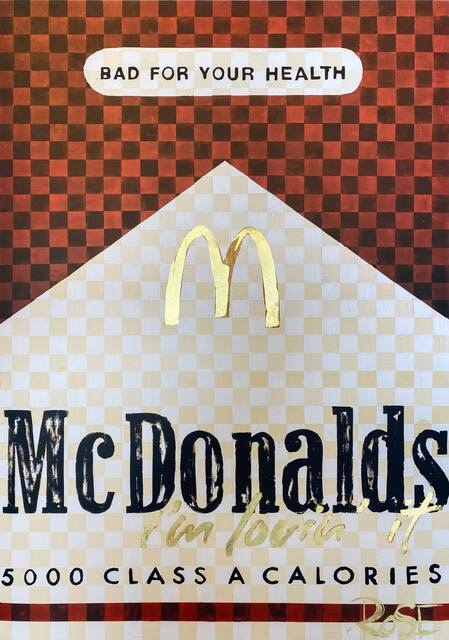 Talk us through your collaboration with artist Theunis Muller and The cigarette box.
Muller is a living legend!! Maybe one of the most hard-working people I have ever known. He's an artist, set designer, and photographer all in one. I met him through a photographer friend who T lives in the same area as and was building sets for. Our paths crossed many times and when I started to put the 'Too Much Of A Good Thing' show in motion I wanted to introduce a more sculptural element. I paint on wood anyway and I feel as though the paintings feel almost sculptural but I wanted to elevate that by creating an installation piece. I sketched the box and the dimensions I wanted, and T created the structure out of wood, then I went to his studio to paint the box.
The first show I did felt like I was running out onto a frozen lake.
Mcdonald's, Kellogg's, Marlboro. What do brands like these represent to you?
These brands are omnipresent in western society. They often evoke a feeling of aspiration, particularly the vintage branding for cigarettes. These brands represent key figures or memories in our lives. Perhaps your grandfather smoked Marlboros, you ate Kellogg's before school or you'd drive your friends to McDonald's on lunch break – having just passed your test. The iconic curve of the Golden Arches or the infamous Marlboro "K" incites the promise of the American Dream or the bringing together of community.
Describe where the magic happens, your studio-space!
My studio space is the second bedroom in our flat, it's nothing fancy but it has two massive windows so I get a load of natural light which is fantastic! It's very important to me that I can roll out of bed and paint straightaway because I work best early in the morning.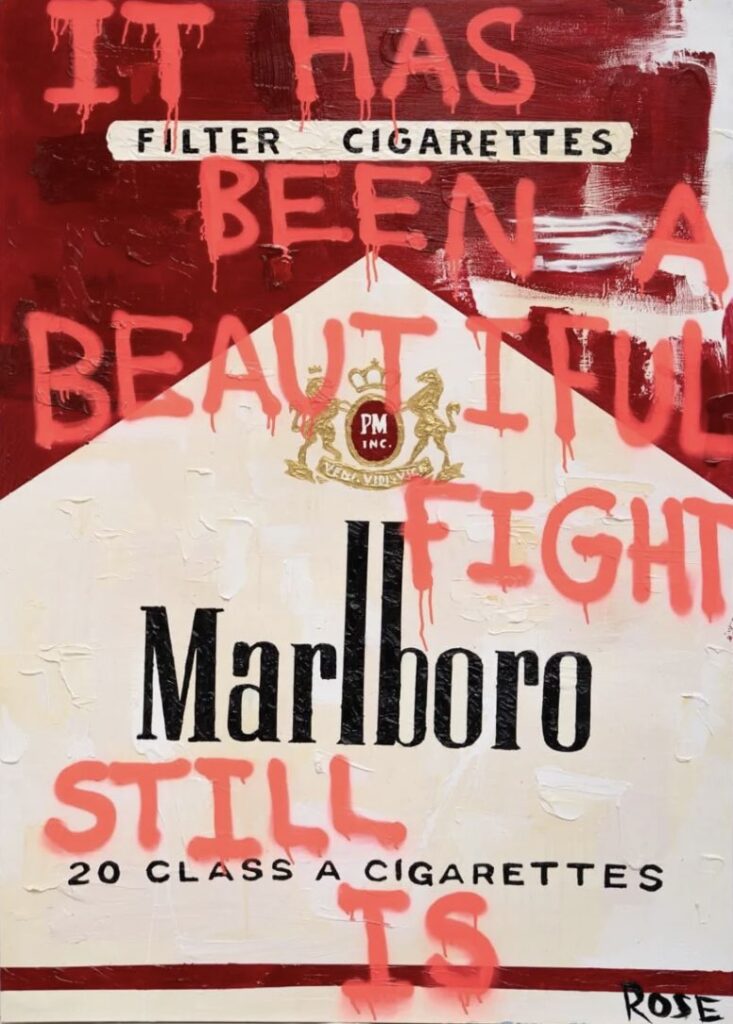 What are your plans for the rest of 2022?
I have already begun the process of brainstorming ideas for my next body of work but, for now, I am working on fulfilling print orders (I hand finish hand sign and hand-numbered them all) and a couple of commission pieces. I'm very much looking forward to creating new work :)
Charlotte Rose Social Media Accounts