The work of Australian artist Erin Nicholls is a reflection of an artistic life lived well. From learning Old Masters' oil painting techniques in Florence, to travelling around the world for inspiration, not only has her time abroad given her a breadth of knowledge, it has also given her an insight into the beauty of fleeting moments which she expertly captures in her unique style. Now settled in Brisbane and taking the leap of faith to work as an artist full-time, she draws on her past experiences to create work that resonates with anyone who has ever felt like the outsider or appreciated that a time and place will never be repeated; feelings most of us have probably felt when in a foreign land.
Of course, success and financial stability do not come easy for an artist, and Erin Nicholls is no exception. She has made a lot of sacrifices the past few years and now uses her work as a form of escape to keep the feeling of being a "perpetual tourist" alive. However, as we catch up with Erin for this interview, her recent win at the Bluethumb Art Prize could be a turning point in her career and see her packing her bags again sooner rather than later.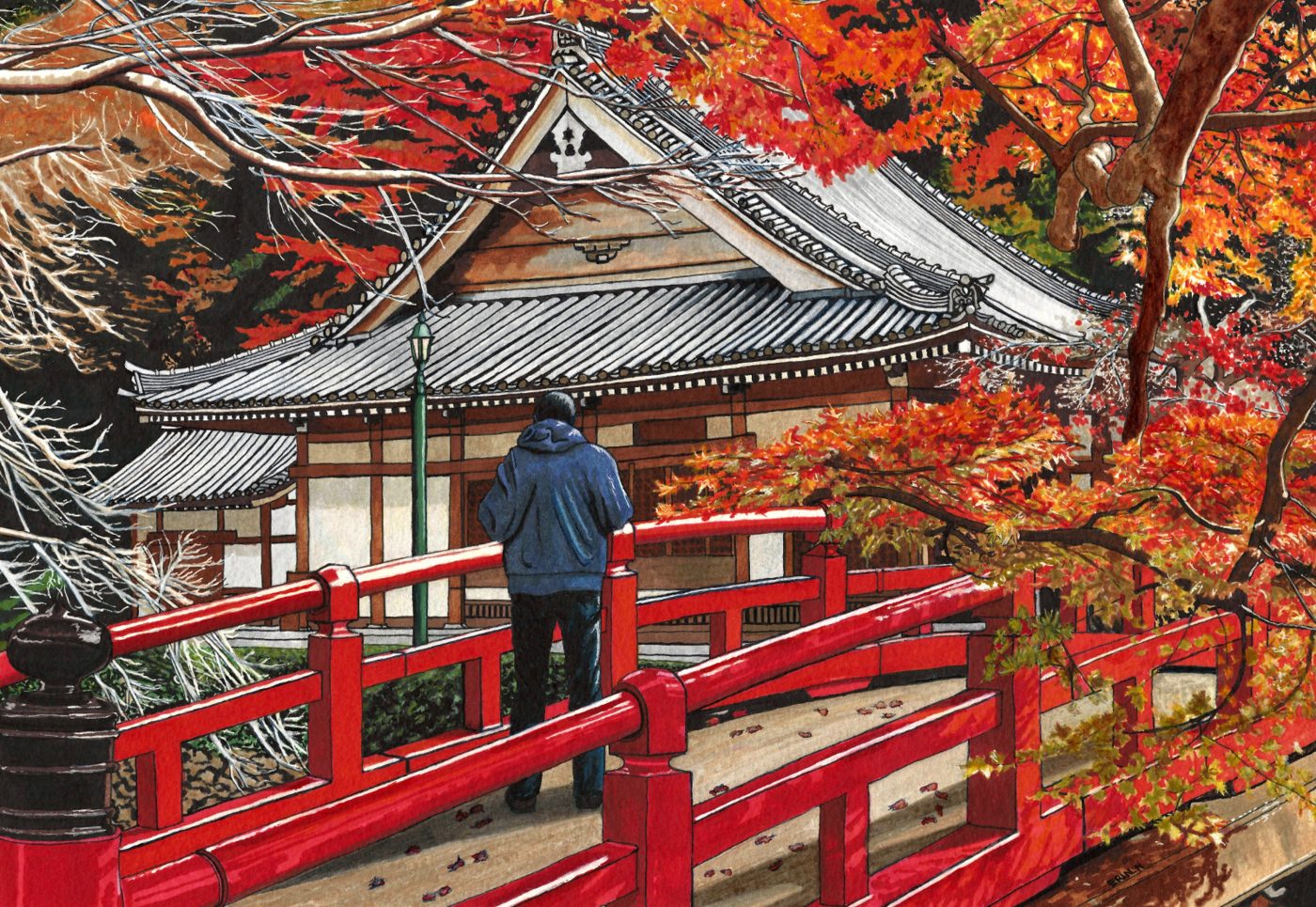 You first caught our attention with your stunning "Year in Japan" series. The blocks of colour and black outlines are reminiscent of Japanese animation and you credit Studio Ghibli as being a major influence on your practice. When did you first fall in love with Japanese culture and how has it shaped you as an artist?
I first fell in love with Japanese culture and art when I was still in High School. My mum had some books of traditional Japanese woodblock prints and I loved the patterns of the fabrics and the style of the artworks. When I first saw a Studio Ghibli film at a Japanese film festival when I was 20, I was mesmerized by the animation and felt I would love to create artworks with a similar look. At that time in my life I was more interested in oil painting though, which didn't really suit the animation or woodblock printing style. When I created the first work in my current style – Tokyo Street Signs – I loved how it looked, plus I really enjoyed creating it. I therefore decided to continue with that style, using Copic markers and some pencil.
Loneliness appears to be a central theme in your A Year in Japan series. Each work contains a lone man walking into the distance. Being an artist can be a lonely life. Is this something you have felt yourself, especially when wandering the streets of Japan? What other themes do you explore through your work?
I've always been quite independent, moving interstate by myself a few times. My childhood was also quite solitary as I grew up in the countryside, so I often spent time walking streets with no-one else in sight. I hadn't initially planned on the "lone man". My first piece in the series was Early Morning Ride which features the man riding his bike away from the viewer. When I decided to then do a series of 4 (one for each season) I decided to give them the link of a lone man in each. I really liked the results of this, giving the viewer a person to relate to, to see themselves as, particularly as he is "faceless".
Other themes in my work relate to capturing fleeting moments – highlighting the beauty which often goes unseen because we don't spend enough time really seeing what is around us.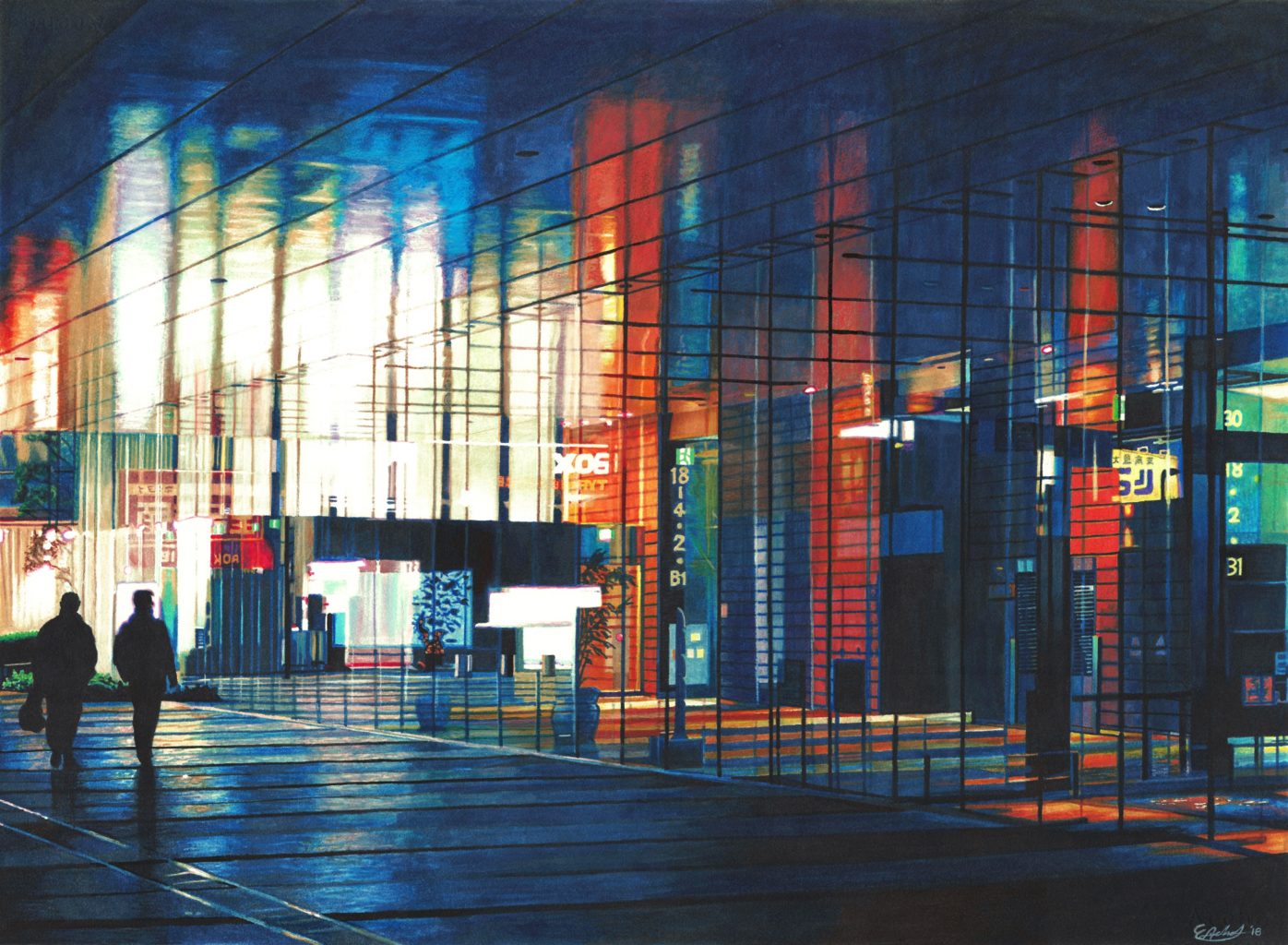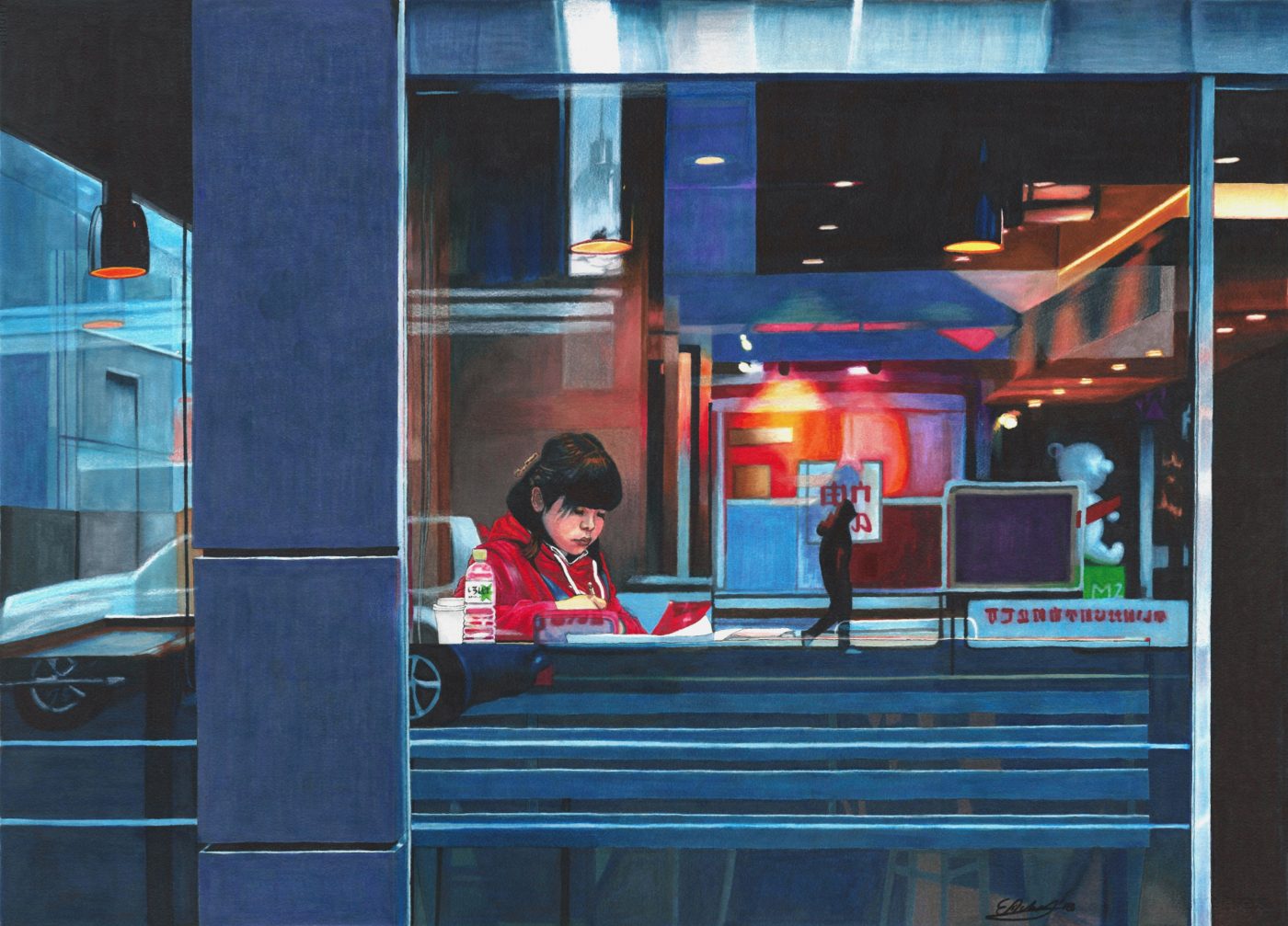 You have traveled a lot and lived in a number of different cities and countries. What have you learned in the places you have lived and how much do you feel your work has been influenced?
I suppose the main way my travels have influenced my work is through feeling like a perpetual tourist. I also continually desire to see new things, visit new places, and since I can't, I can at least create beautiful artworks of these places. The main thing I have learned from living in different cities is to try and make the most of that place while you can… don't just get bogged down in living your life as a routine.
Your most recent series, A Night in Japan, is a slight departure from your usual style and almost photo-realistic. Is this an evolution or did you choose this style for a reason? What is the story behind this series?
My style has evolved from when I first began my Year in Japan series, growing more and more realistic. You can see a fair bit of difference between early works like Rainy Day and my final few like A Memory of Spring. I don't feel this was so much a conscious decision, as it was a development of my technique through experience with the mediums. I've always had a tendency to create more realistic works, even though a lot of the art I love is impressionism or abstract. It was therefore just natural for me to become more and more realistic in my drawings as my ability allowed. I decided to create A Night in Japan as I'd come across many photos taken at night which I loved the look and feel of. I've also always loved the film Blade Runner, and so wanted to create a series influenced by it, with dark, Neo-Tokyo city scenes. I've also always loved art that has strong contrasts of light and shade, which is what I think makes Smoke work so well.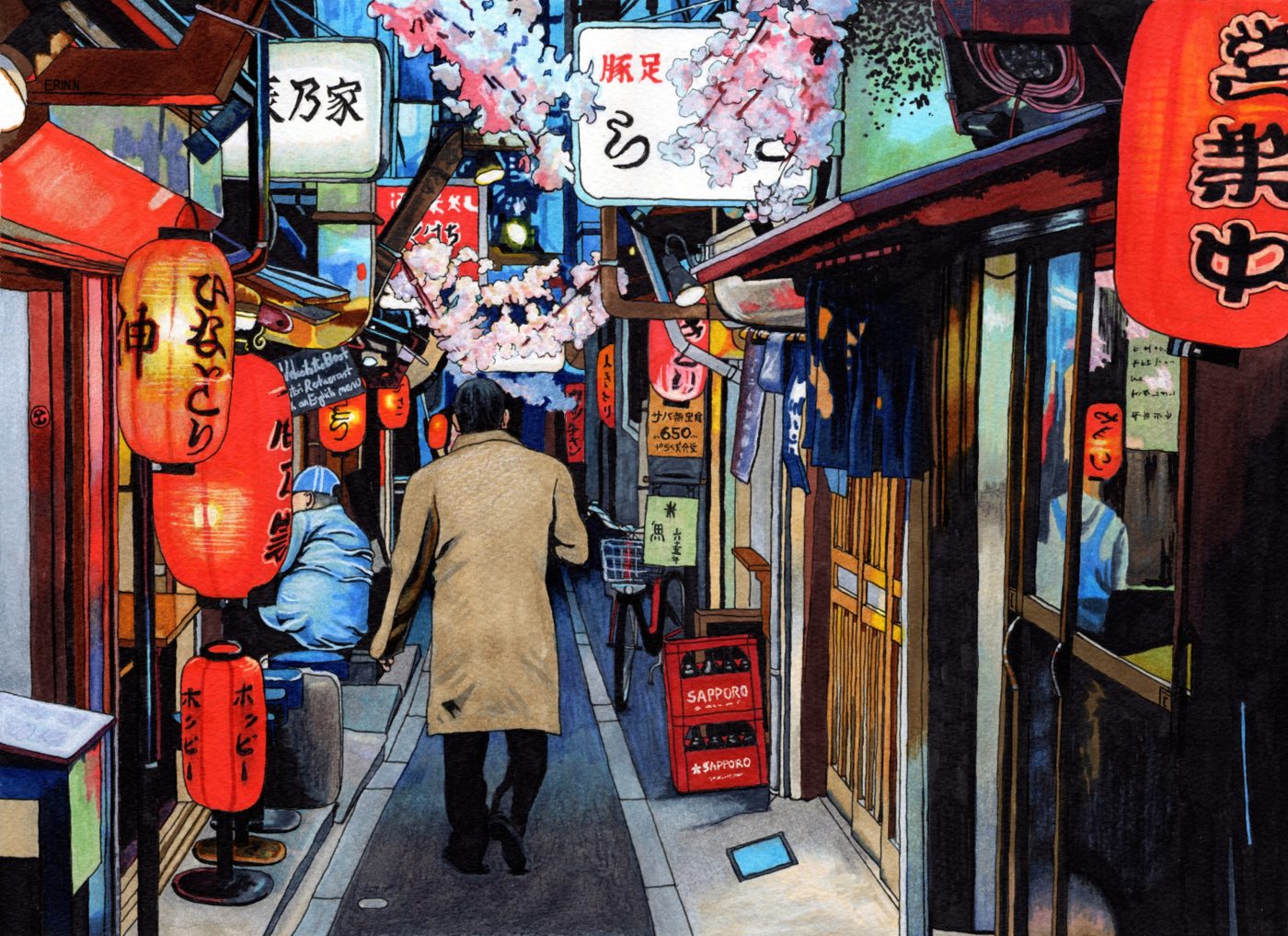 Smoke from this series was the winner of the Bluethumb Art Prize Work on Paper award. Following on from being a finalist in the inaugural Bluethumb Art Prize, how did it feel to get recognition from the panel a second time and be crowned the winner? How has it impacted your career?
I was totally shocked to even get into the top 100 for the inaugural Art Prize, so it was a great boost to my confidence and gave me added faith in my series and what I was doing. To actually win a prize this year has cemented that even more, showing me that if I continue creating what I love that there are others who appreciate my works and value them as not just nice images, but as works of art with creative and technical merit.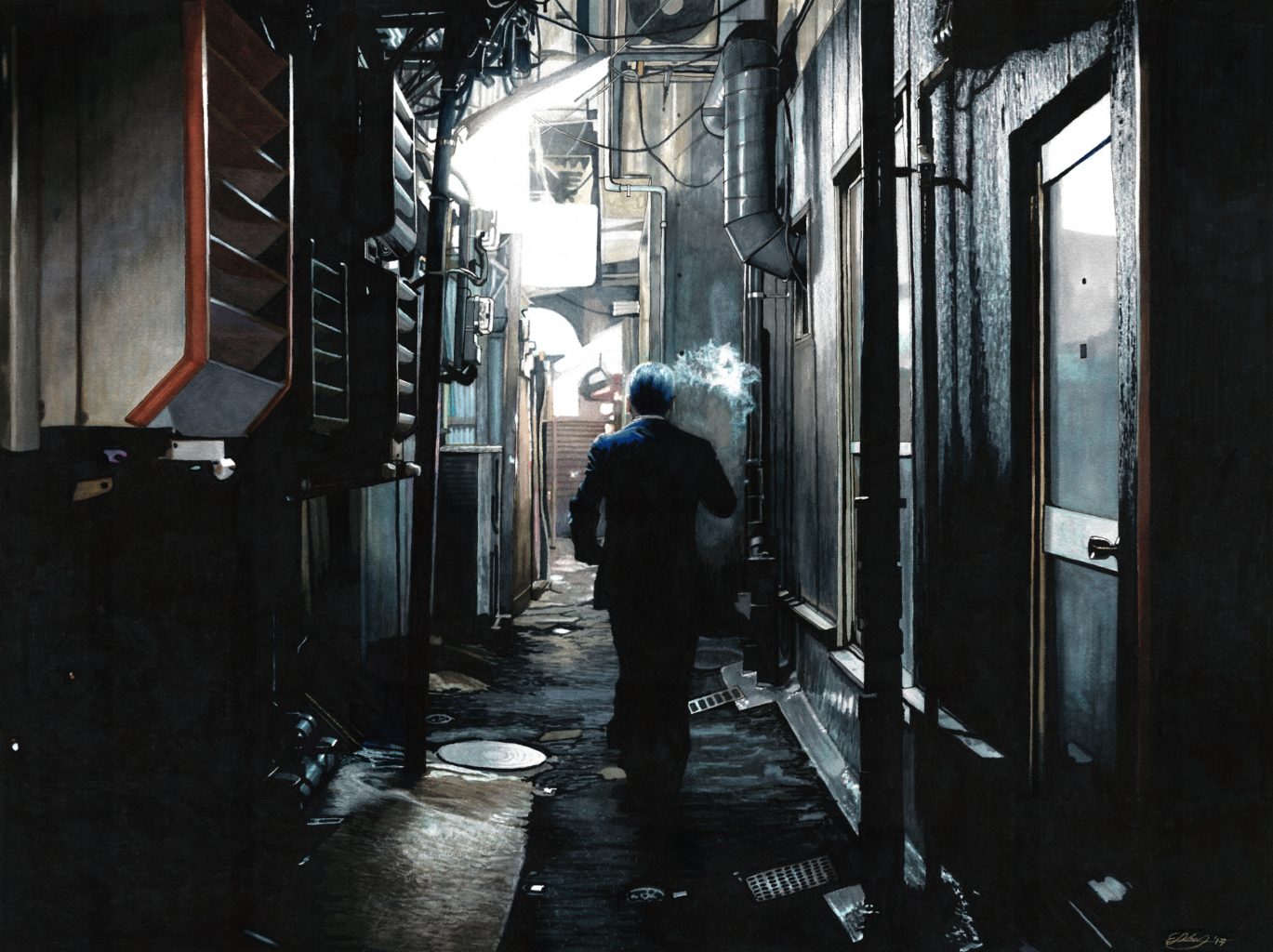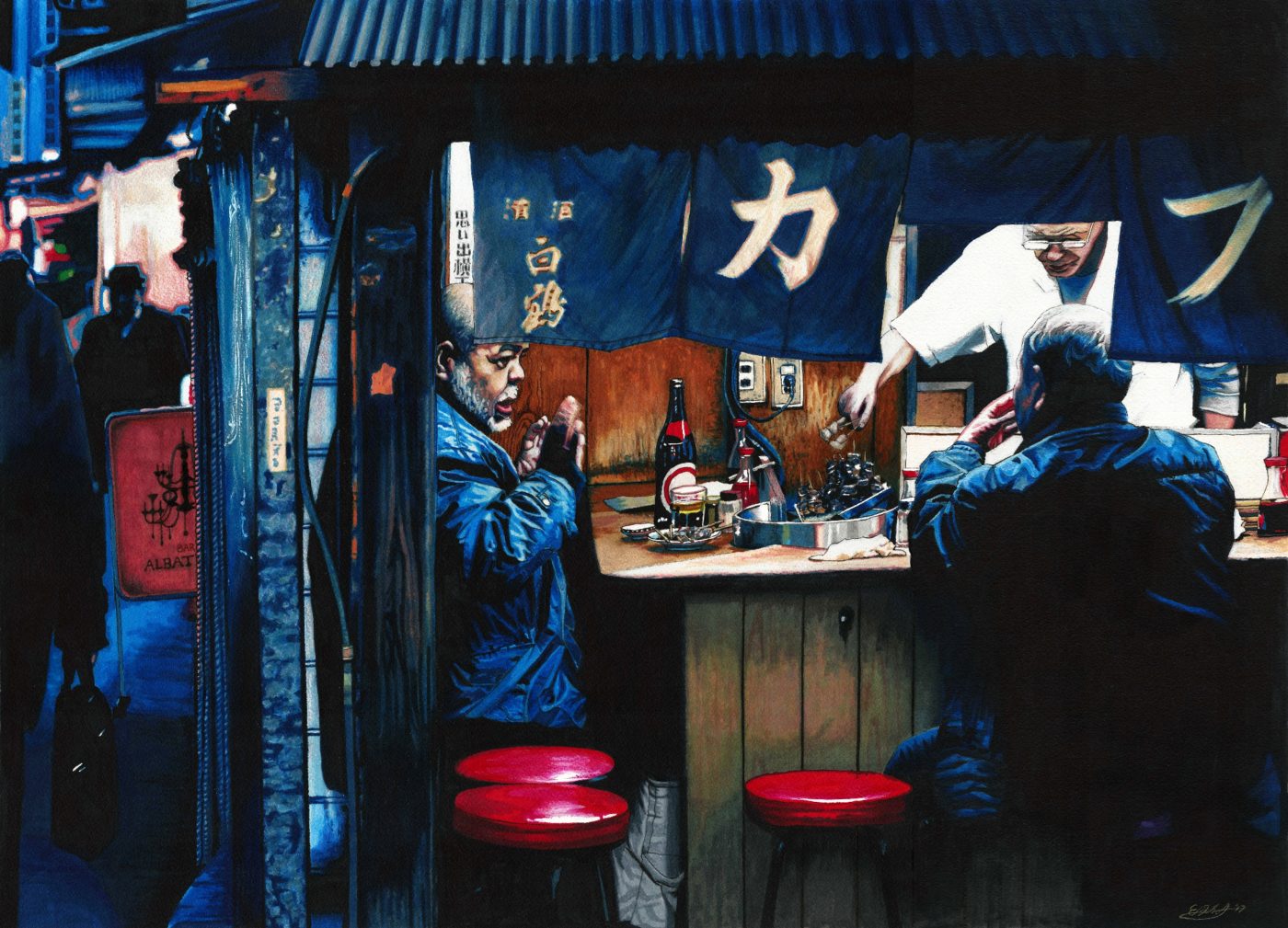 Have you always wanted to follow a career as an artist? Now that you are a full-time artist, what are the pros and cons?
I'd always wanted a career as an artist, but never thought it would be possible. I just heard so many people say that it's too hard to make a living from it. It got to the point, when I was about 34, that I decided to move from Melbourne to Sydney and realised that I didn't want to do anything else, so I might as well at least try. At first, I didn't work full-time as an artist as I was feeling both out of practice and I had no idea what style I wanted to pursue. I ended up studying full-time for 3 years to get a degree as a step towards teaching art as a fallback option. By the end of my course I was ready to work as an artist exclusively. That was about 2 years ago now. I've had to make a lot of sacrifices and live off a very low budget, but my career is growing, and I know that if I keep going I will get to a point soon where I can make a decent living (or better) from my art. I could have had a part-time job to help get me through, but I decided I would rather focus all of my energy into the career I wanted.
Who were your earliest influences and how have they changed from those you have now?
When I was a teenager my favourite artists were Impressionists and Pre-Raphaelite artists. I still love them, but I've added more artists to my list of favourites over the years. I do find I work better when listening to music. I think it changes your head space to one that is more creative and open, allowing your hands to work with less thought and therefore less constraint. I don't find it matters what genre of music I listen to. Films which can inspire me are those with amazing cinematography. Blade Runner 2049 blew me away for its amazing scene compositions and lighting. It definitely left me feeling like creating.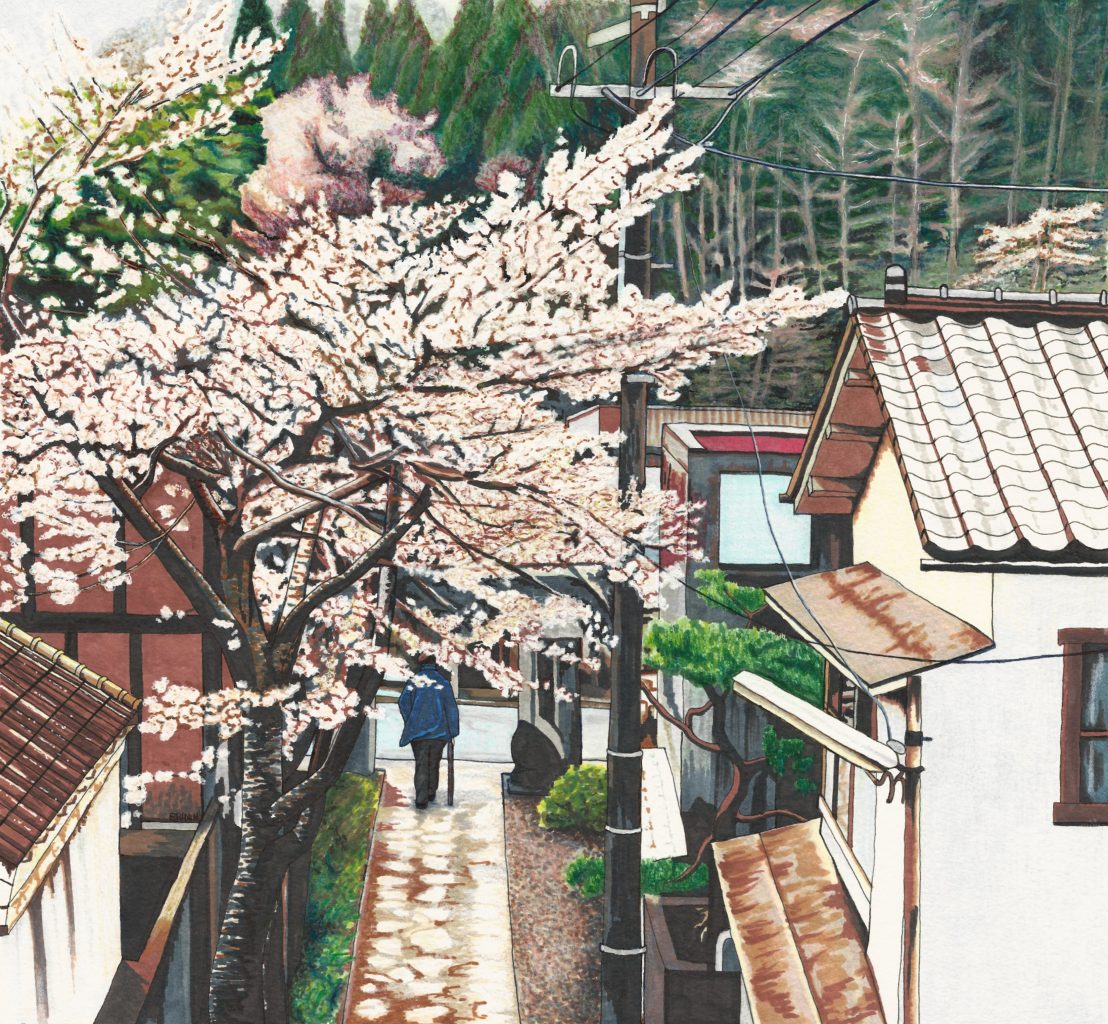 Could you take us through your process?My Night in Japan series is a collaboration with a photographer in Tokyo. He has allowed me to use whichever of his photos I want to create my pieces from. I choose them based on a few criteria: They need to jump out at me; I need to imagine them hanging on my wall; they can be difficult but not painfully tedious to create; and they have to tie in with my series and the other works in it. After choosing the photos, I make a number of changes on the computer – colours, people, cropping etc. After I'm happy with how it looks, I draw it up on paper using a grid to help me get it as accurate as possible. After drawing, I outline in black fine liner and then colour in. My technique feels a bit like doing a colouring book. I have to make a lot of choices about colour and whether or not to outline a shape in black. I didn't outline anything in Floating World as it was all reflections or seen through glass, so I wanted to give it less of a strong outline. It's really interesting after I've finished a piece to see it next to the original photo.
I mainly decide to create a work based on my desire to create it. I used to struggle to complete anything when I was younger as I would get bored quickly. I haven't had that problem with the style I use now, as I choose works I really want to do, I enjoy the process, and I feel really excited to see the finished product. I work across the paper, completing each tiny part as I go. So really the work is finished for me when I fill in the final bit of blank paper, and am happy it's as accurate as I can make it. This is far easier than trying to work out when an abstract piece is finished. In that case, it's more if you feel really happy with it as it is.
Now to the future, what are you working on at the moment, and what shows do you have coming up?
I'm working towards a group exhibition of my Night in Japan series. It will be on the Gold Coast in September at Left Bank Gallery. There will be 2 photographers and one visual artist other than myself. The photographers both have photo series from their overseas travels. I'm almost finished my pieces – I have one and a half left to do. After I've finished I will start something slightly different. I'm thinking of pushing myself backward and doing some marker and pencil works which have a more limited style and colour palette, a bit like Tokyo Street Signs. I will also create some works that are even more photo-realistic than anything I have done so far. I'm not sure if I will continue with scenes of Japan for future works. My partner and I are making plans to travel in Vietnam and other SE Asian countries next year, so I will be taking a lot of photos to create works from over there. Hoping to perhaps have an exhibition in Hong Kong if we stay over there long enough. I will definitely be spending as much time as possible in Japan.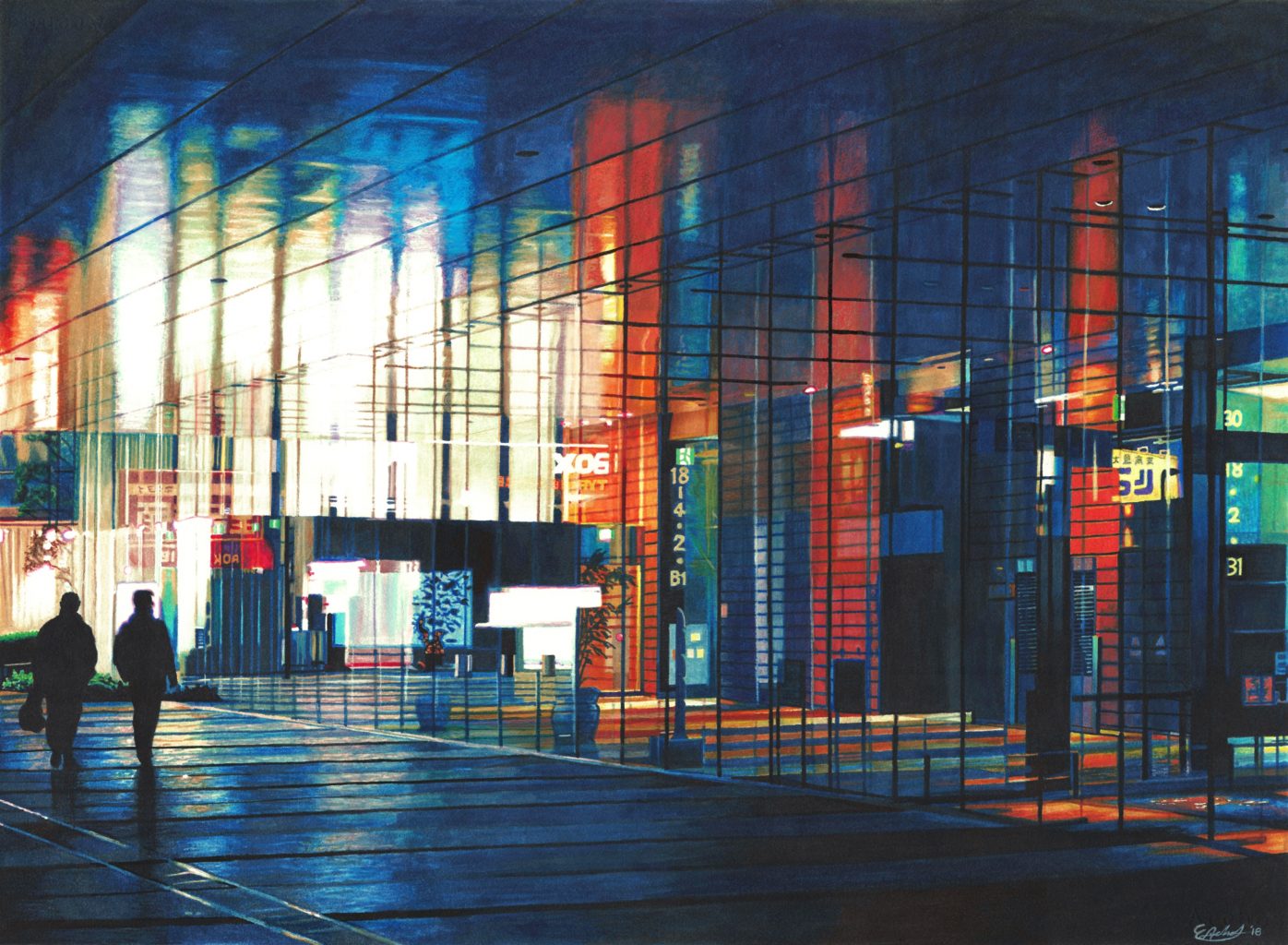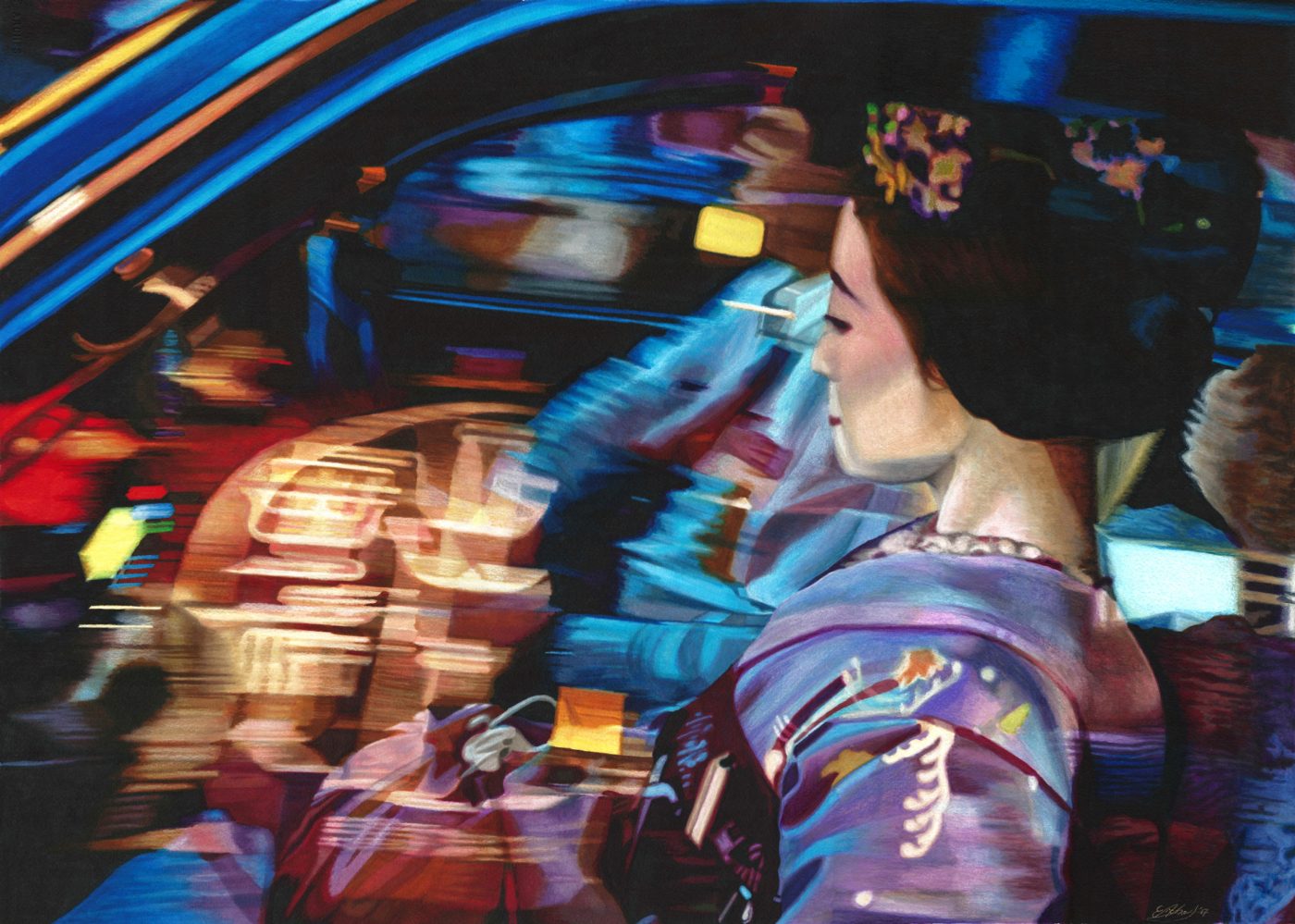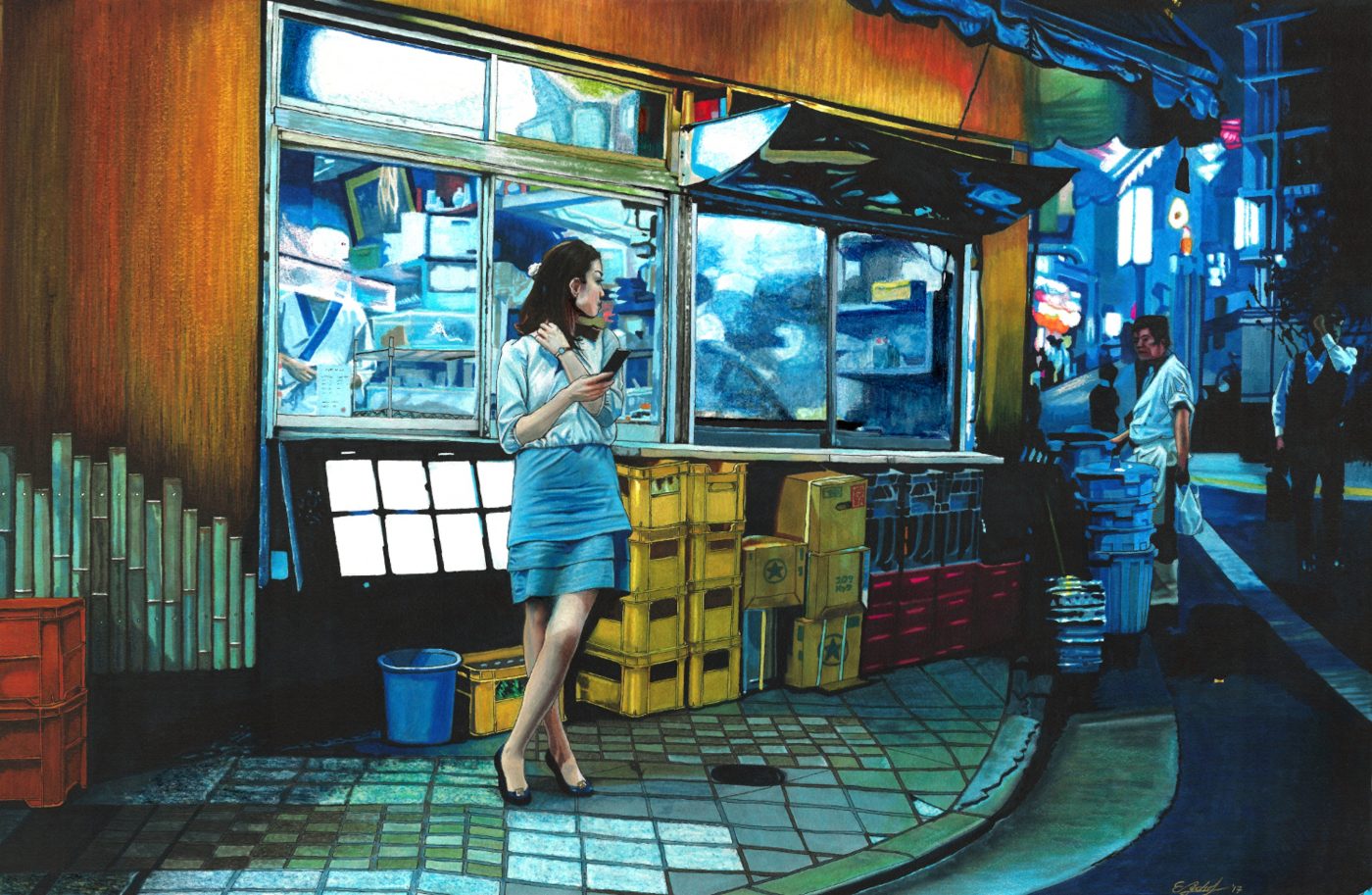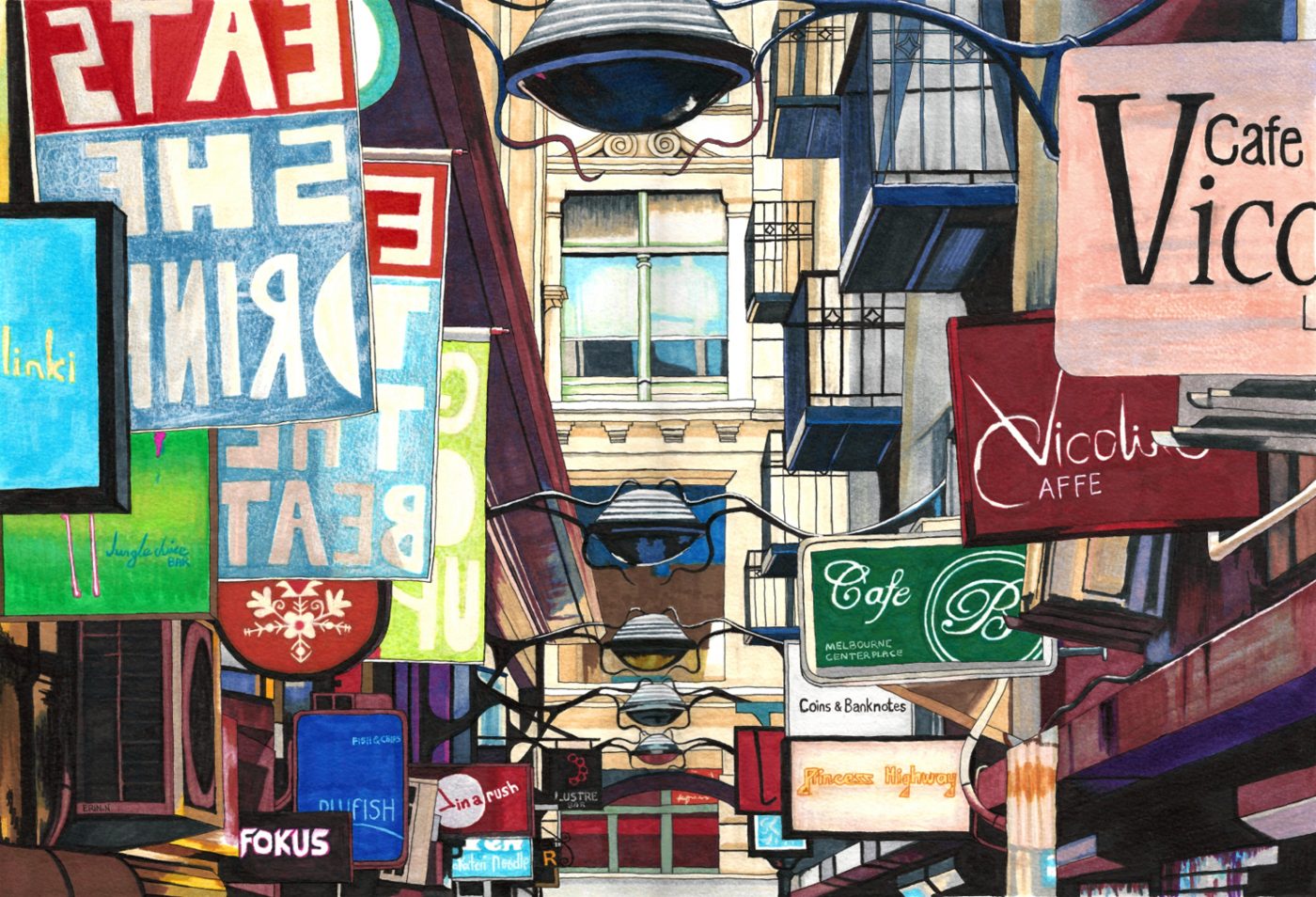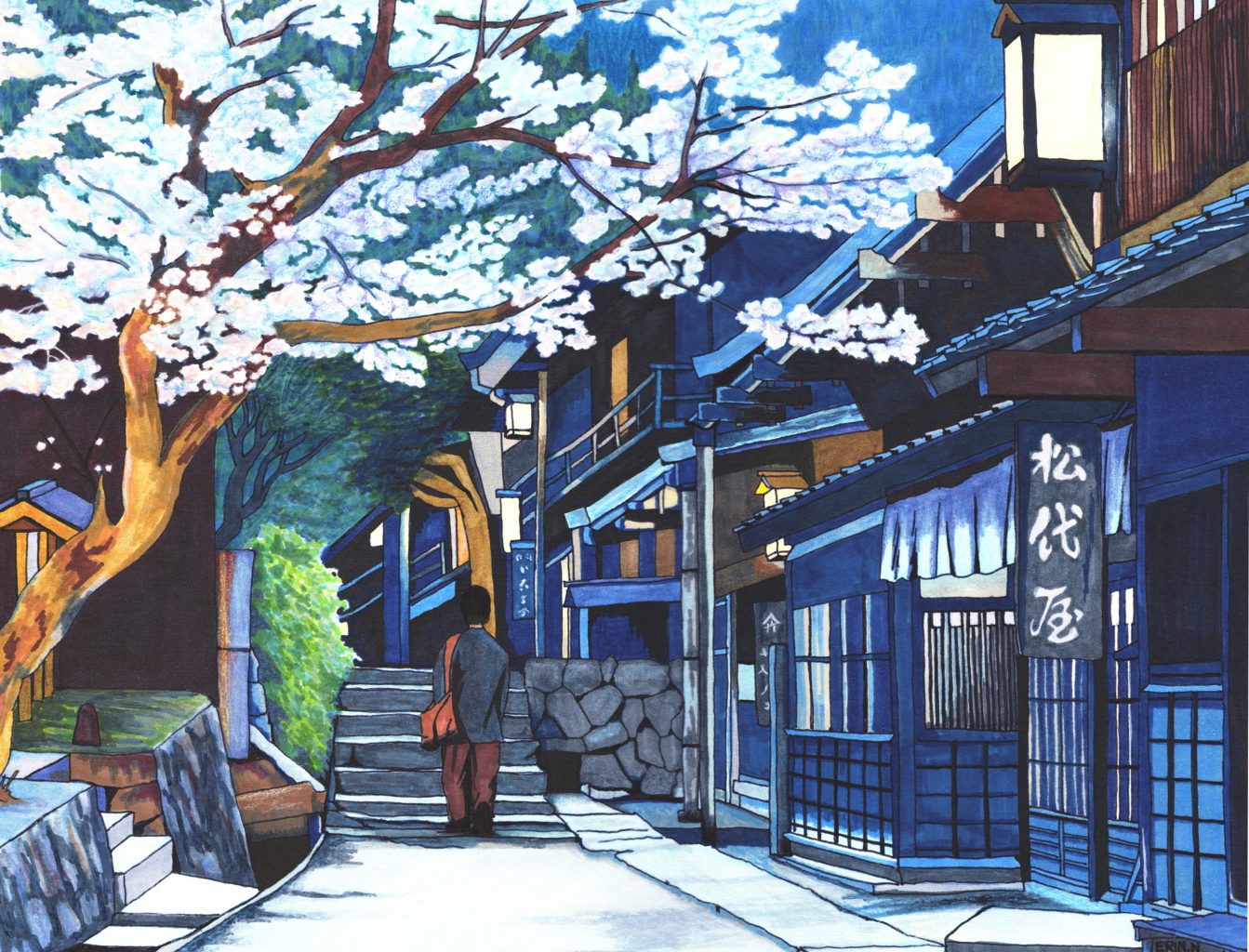 **Online Author Freddy Grant is the PR & Communications Manager at
Bluethumb
.