Dear beautiful bizarre friends,
Issue 32 of Beautiful Bizarre Magazine flew off the shelves, and the print issue has sold out. Thanks so much for your support of our independent magazine, it means so much to myself and my team! However, you can still download the digital magazine, and enjoy the inspiring stories of over 40 creatives from around the world!
I'm sure many of us gladly farewelled 2020 – let's hope that this year sees the COVID pandemic contained via mass vaccinations worldwide so we can return to our lives, largely as they were before the pandemic. I personally hope that last year was a turning point, which honed our vision and enabled us all to take stock of what is truly important to us and our lives. So we can finally make the changes that are required now to halt climate change, and the tragic mass extinctions that our precious plant and animal species are experiencing.
A Celebration of Women in the Arts
For Beautiful Bizarre Magazine 2021 gives us much to look forward to, this issue being one of them. For the first time we have chosen to publish an all women artists issue, in celebration of International Women's Day in March.
I feel very strongly that the gender disparity in the visual arts must be acknowledged and addressed, and it is up to all those who have a platform to take positive steps to raise the bar and work toward equality.
Did you know that, 51% of visual artists today are women, but art by women artists makes up only 3-5% of major museum permanent collections. Only 13.7% of living artists represented by galleries in Europe and North America are women. Of the $196.6B spent in artwork auction sales worldwide between 2008 – 2019, just 2% of this figure is made up of work by women artists. On average, women artists earn 80 cents for every dollar made by male artists, and the top three museums of the world, the British Museum, the Louvre and The Metropolitan Museum of Art have never had female directors. Stats from: Women in the Arts, Art Girl Rising, artnet.
You can see from these stats that we still have a long way to go to reach gender equality in the arts. So so let's keep on fighting, and demand change! I am personally deeply honoured to be in a position where I have the platforms, and the ability to be able to make these proactive decisions and support women creatives globally.
Beautiful Bizarre Magazine is staffed by a very passionate and dedicated team, most of which are women. Of this, I am very proud! I feel very strongly that the gender disparity in the visual arts must be acknowledged and addressed, and it is up to all those who have a platform to take positive steps to raise the bar and work toward equality.
The Passion to Make a Difference
Beautiful Bizarre Magazine, for instance, ensures that half of all covers each year are by women artists [anyone whom identifies as female], that the number of editorials in the magazine each year are spread evenly between male and female artists, and that we proactively invite the participation of a large number of female artists from all ethnic backgrounds to our curated exhibitions.
Take a peek at the covers from 2020 below [L – R]: March 2020 issue cover by Matthew Grabelsky, June 2020 issue cover by Omar Rayyan, September 2020 issue cover by Yoko d'Holbachie, December 2020 issue cover by Camilla de'Errico.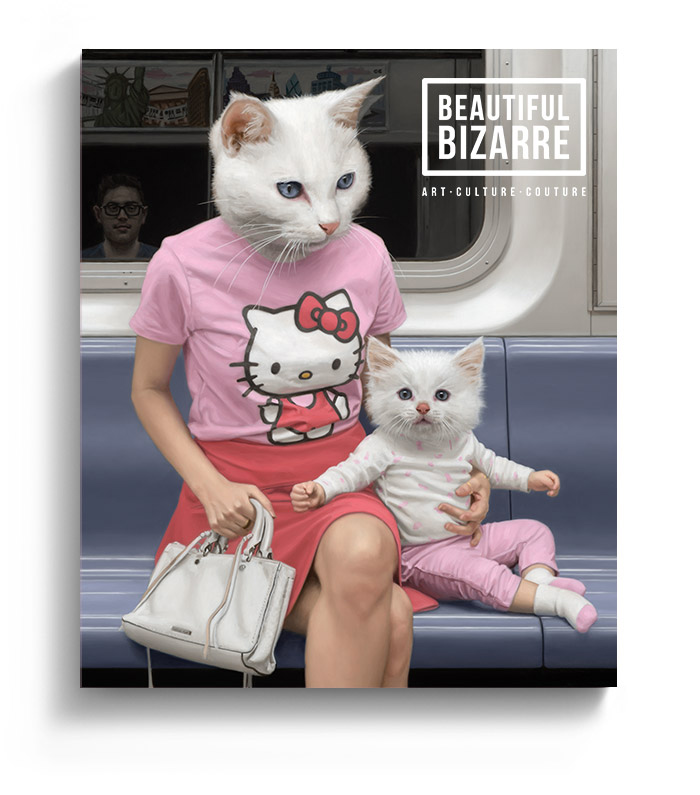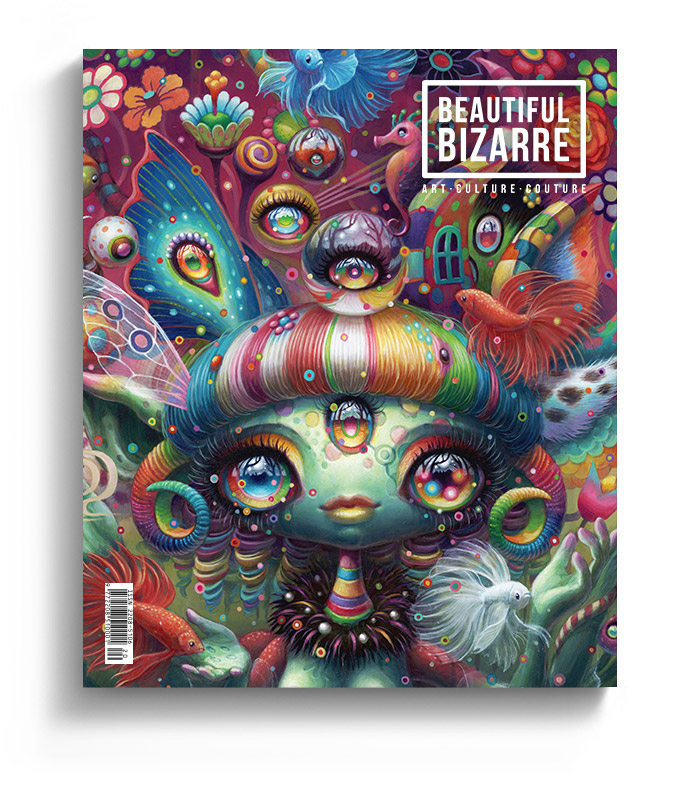 I am so proud that through my work as Editor-in-Chief that I can give female artists' wings, and help them soar, by elevating their profile in the arts community globally!
2021 Prestigious International Exhibitions
We also have two exciting curated group exhibitions this year: 'Lucid Dreaming' at Copro Gallery in Santa Monica, CA in April; and 'Animalia' at Haven Gallery in Northport, NY, USA in October, which will also include the winners of this year's Beautiful Bizarre Art Prize!
As always our exhibitions include the best representational artists from around the world, so please reach out to the galleries directly for sales enquiries.
.
A Creative Counterpart
Finally, the 2021 international Beautiful Bizarre Art Prize is now accepting entries across all static mediums including: Traditional Art media, Digital Art media, and Photographic media; and all styles from realism and hyperrealism, to pop surrealism and lowbrow. I am deeply grateful to this year's major sponsors, INPRNT, iCanvas, Yasha Young Projects and RAYMAR, along with our silver and supporting sponsor for their generous donations, which have enabled us to offer over US$45,000 in cash, service and product prizes this year – the overall winner receiving US$10,000 cash!
The Prize enables creatives from around the world to pursue a life and career in the arts, and to help careers grow through funding and increased exposure of their work to galleries, collectors and media globally. So don't forget to submit your entry – I can't wait to see your work!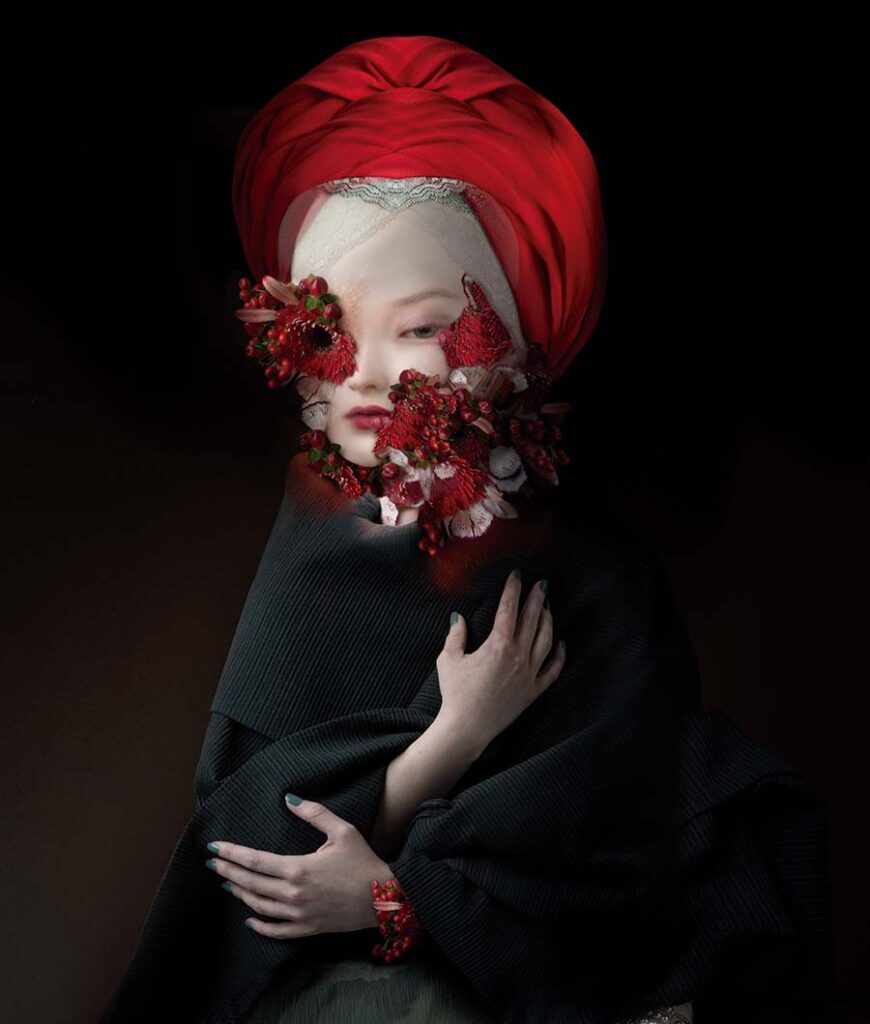 Finally, I would like to acknowledge the devastating situation happening right now in India due a 2nd wave of COVID. New cases now number in the hundreds of thousands each day, and on Tuesday surpassed 20 Million. Their hospital system is overwhelmed and supplies of oxygen are running out! My own Government has refused to allow Australians to return home from India. This appalling decision makes me so angry! So if you can, please help our brothers and sisters in India by donating to one of these charities in Australia, or, of course, other international organizations that are providing humanitarian aid during this devastating crisis.
Until next time, please take care of yourself and those around you, and stay safe!
Much Love xo

Co-Founder and Editor-in-Chief
Beautiful Bizarre Magazine
Feature Image: March issue featured artist Sandra Chevrier