Align the stars of your imagination and immerse yourself in the artistic sparks of Kseniia Boko, Mall, Lesley Thiel and "Lewis Carroll", a new group exhibition, all opening this weekend at Haven Gallery. Through technique, style, and distinct visual narratives, each artist lets their creative voice shine a light onto your inspired mind.
Fall down the rabbit hole and join Haven Gallery in celebration of these highly anticipated new bodies of work, and watch as the stories unfurl in adventure and wonderment that grows curiouser and curiouser along the way.
Kseniia Boko | Mall | Lesley Thiel | Lewis Carroll Group Exhibition
Exhibition Dates: March 27 – April 25, 2021
Haven Gallery
155 Main St., | The Carriage House Square | Northport, NY 11768
To inquire, please contact Erica at (516) 807-4076 (text or call) or email [email protected]
Haven Gallery is pleased to present Ukranian based artist Kseniia Boko, for her second solo show at the gallery, entitled "Connection". "Connection" consists of ten oil paintings and two drawings that embrace the kinship between her quintessential female sitters and the natural world. Boko particularly highlights the love and friendship between humans and the animal kingdom suggestive of a Mother Nature deity that is present within all of us. Her dreamy sense of light and wistful portraits echo an ascension of understanding and empathy merging two very different worlds together; perhaps bringing humanity to new levels of understanding and equality.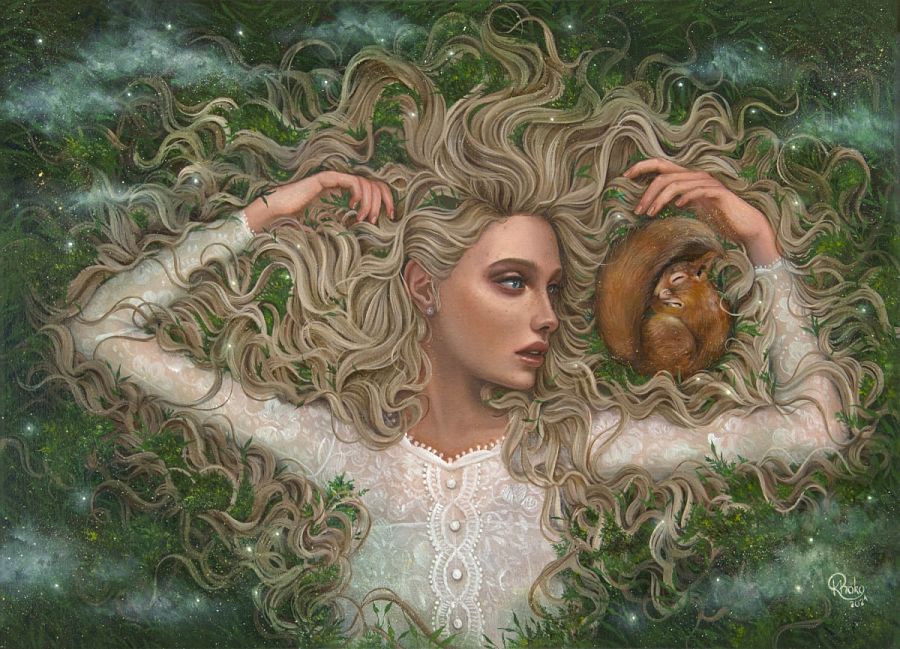 Boko's palettes are dreamy, her sitters ethereal and her worlds betwixt and between. Sprites of light, stars, energy and magic, envelope her compositions and transport her contemporary deities from the earth bound to the empyreal. Each painting offers a poetic and painterly glimpse of an Arcadian world beyond our earthly reveries.
About the Artist // Kseniia primarily in oil paints and creates fantastic pieces featuring mysterious female portraits with fragments of the natural world. She wants to show a harmonious coexistence between humans and nature. Kseniia graduated from Kyiv National University of Construction and Architecture in 2013 and worked as an architect before serendipitously falling into the artworld. Today she works as a full-time artist.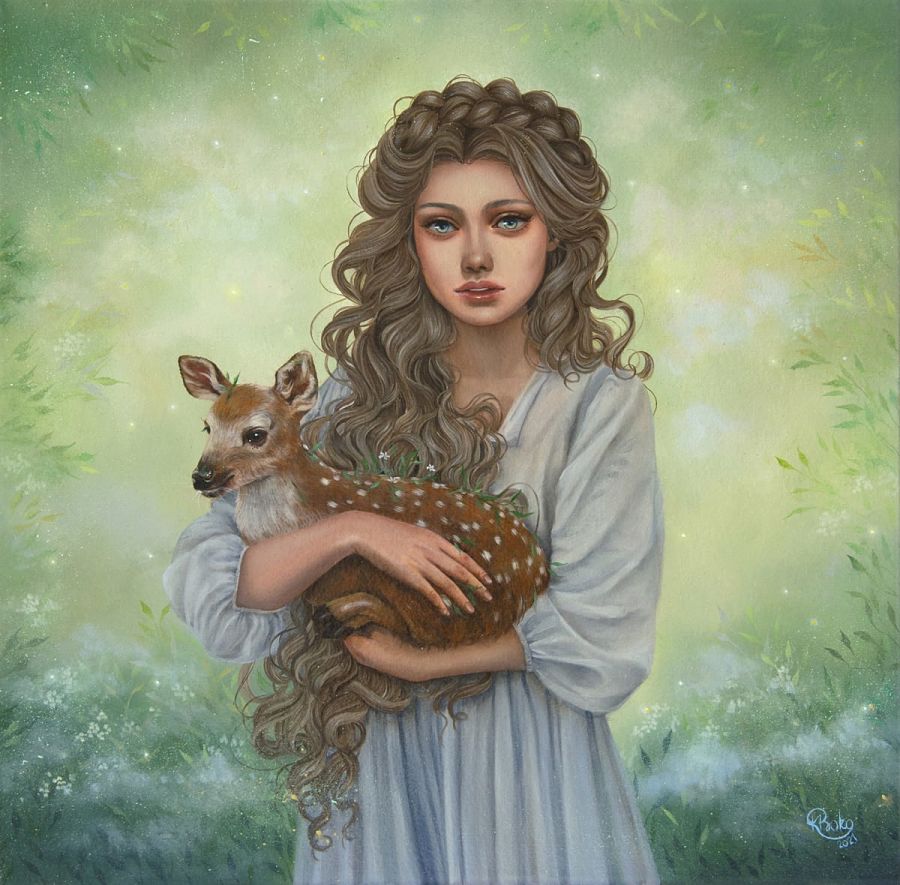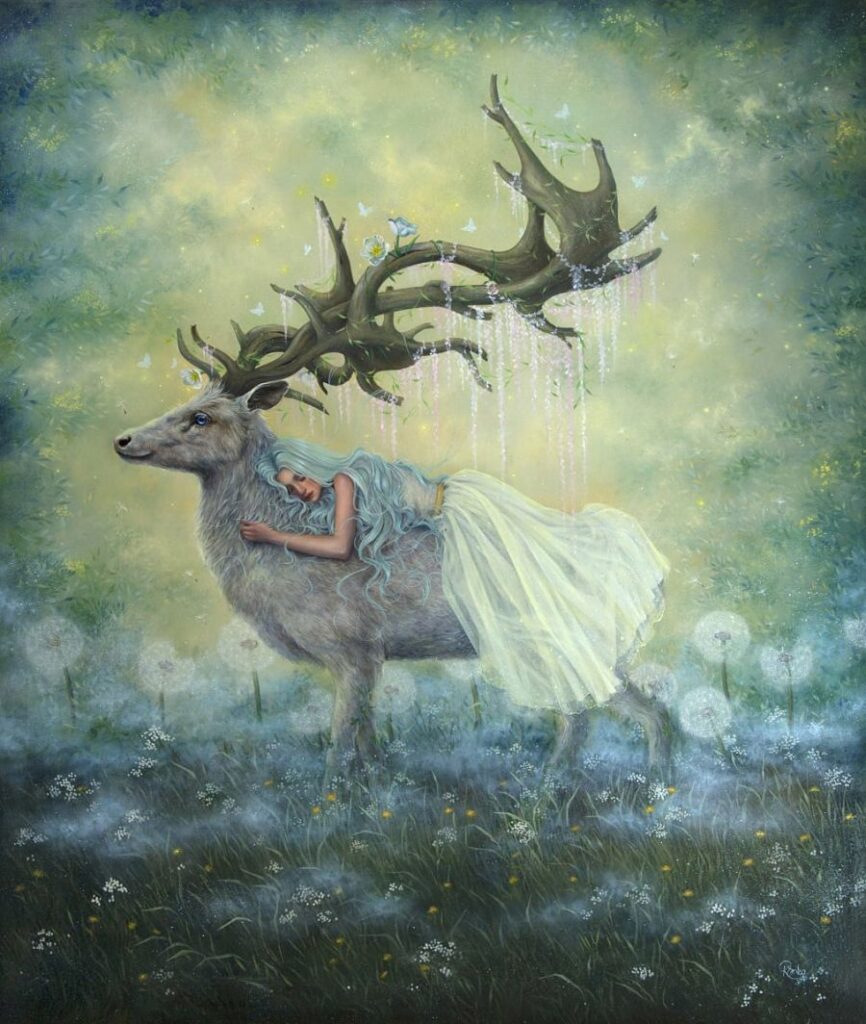 About Mall's Process // Mall layers paint and washi tape between layers of resin. She does this in trays and plates locally sourced in the Philippines. Her use of resin and its transparent nature allows her to build delicate layers that suspend her female figures amidst the natural world surrounding them. This technique allows for a three dimensional presentation highly inspired by traditional Japanese aesthetics, the stylization of anime and manga and their contemporary narratives.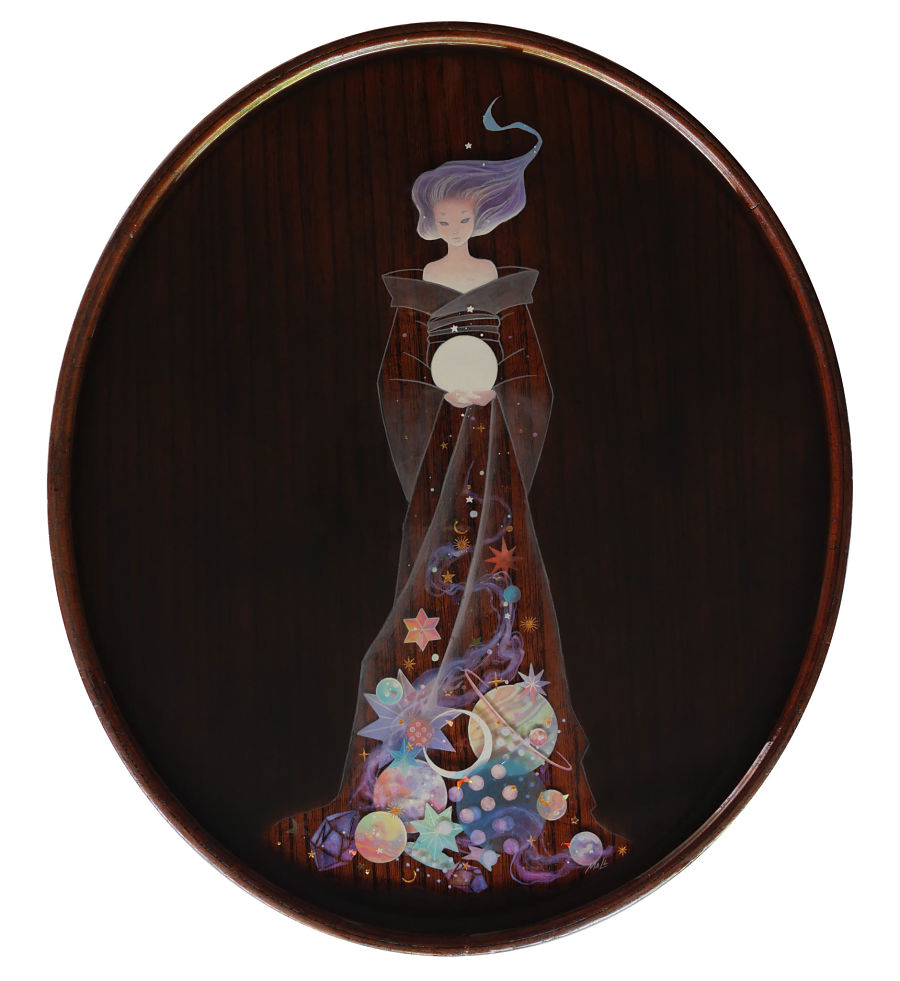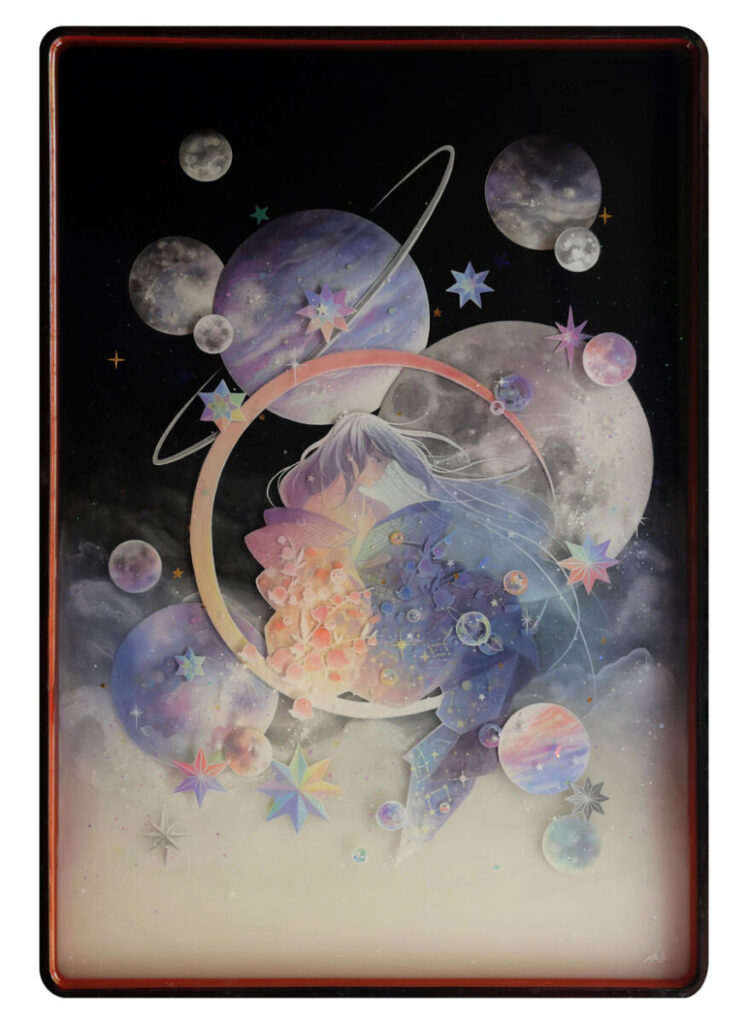 Lesley Thiel is an international award winning, figurative artist known for her highly detailed photorealistic paintings. Working in oils, her pieces focus on narrative portraiture and magical realism. She dresses her models – usually children – in imitations of the ruffs and collars of bygone ages, or headdresses of dead flowers and branches. Her paintings contain imagery designed to tell a story of the fate of our species and our relationship to the earth. They include feathers, flowers, and animals as a sign of hope for our collective future. They speak of the strength of the upcoming generation of young women and girls, who may well be our saviors. They question the accepted narrative of the female voice in society and the myths attached to this. Her paintings have been included in numerous exhibitions, and are represented in collections throughout the world.Lesley's work has been included in numerous exhibitions, including at the Museum of Modern European Art (MEAM), in Barcelona, Wassau Museum of Contemporary Art, The Mall Galleries, London, The Salmagundi Club, Terminal 5 Heathrow (as part of the Olympics), and Zhou B Art Center. She has received a Certificate of Excellence from the Portrait Society of America, and awards from the Art Renewal Center. Her work is part of both the Art Renewal Center Collection, and the Bennett Collection. Born in England, she now lives and works in North Carolina.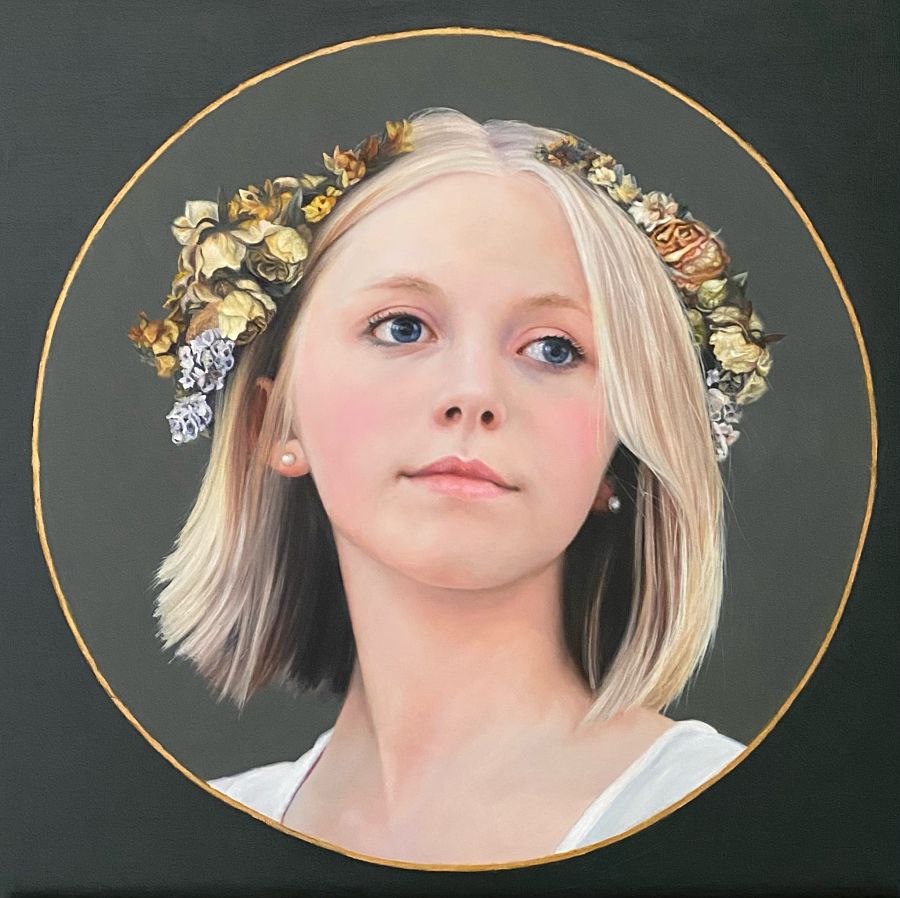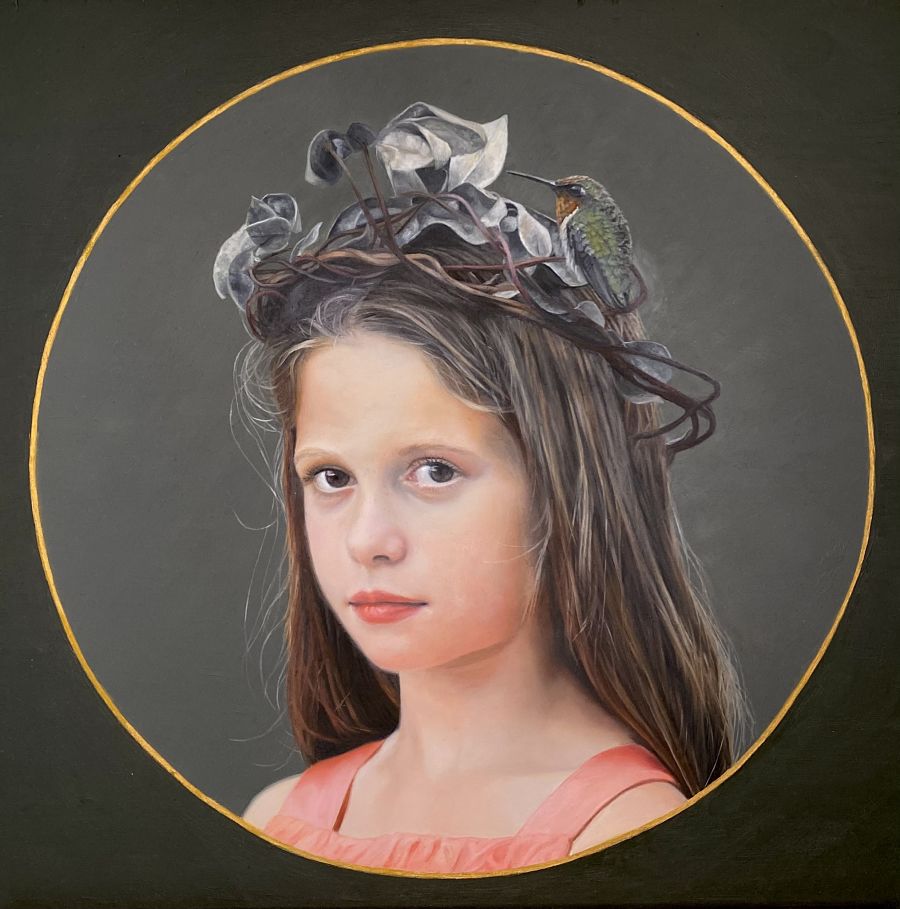 Lewis Carroll Group Exhibition
Haven Gallery is pleased to present "Lewis Carroll", a group exhibition inviting artists to look to the writings of Lewis Carroll for inspiration in all visual and thematic elements. Creative homages to the environments, characters, costumes and/or narratives will be explored and reinterpreted in the artists own style.
Exhibiting artists include: Katie Gamb, Yuriko Shirou, Yoko d'Holbachie, Kristin Kwan, Eeva Nikunen, Kaori Ogawa, Andi Soto, Daria Theodora, Zoe Williams, Valency Genis, Benz and Chang, Laura Colors, Paul Neberra, Lord Gris, David Stoupakis, Ilaria Del Monte, Jessica Mulholland, Sarah Finnigan, Jeff Echevarria, Marc Le Rest, Lara Dann, Gretchen Lewis, Laverinne, Jennifer Hrabota Lesser, Valerie Saverie, Zakuro Aoyama, Lucie Schrimpf, Hope Doe, Lesley Thiel, Matt Dangler, Takahiro Imai, Nikole Cooney, Stan Manoukian, Lihao Lu, Calvin Laituri, Nunzio Pacio, Zoe Chigi, Nikolas Tower.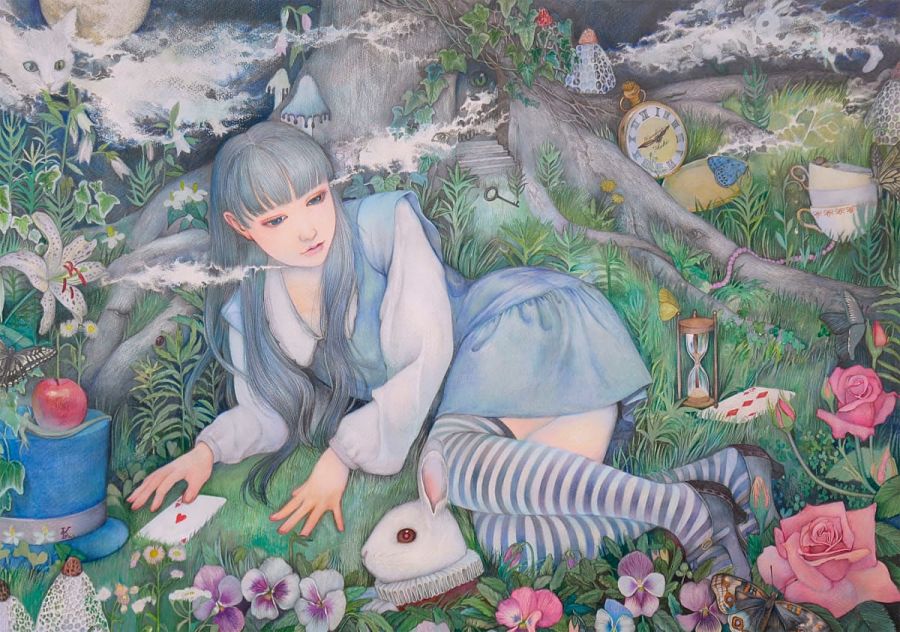 Haven Gallery Social Media Accounts