Every doll lovingly crafted by RatBerry Toys looks to have just leaped out of a Tim Burton film and landed in the palm of your hand. Long gangly limbs connect to round bodies as each little creature sits with grace. No two creatures are alike as each one oozes its own charm and unique personality. Eyes of all shapes, colours, and sizes stare deeply into the soul with a mixture of curiosity and affection. Inquisitive snouts and shiny beaks inspect their surroundings. Furry bodies are adorned with neatly tied tartan bows, large buttons, and lacy doilies making every creature look like it's ready for afternoon tea.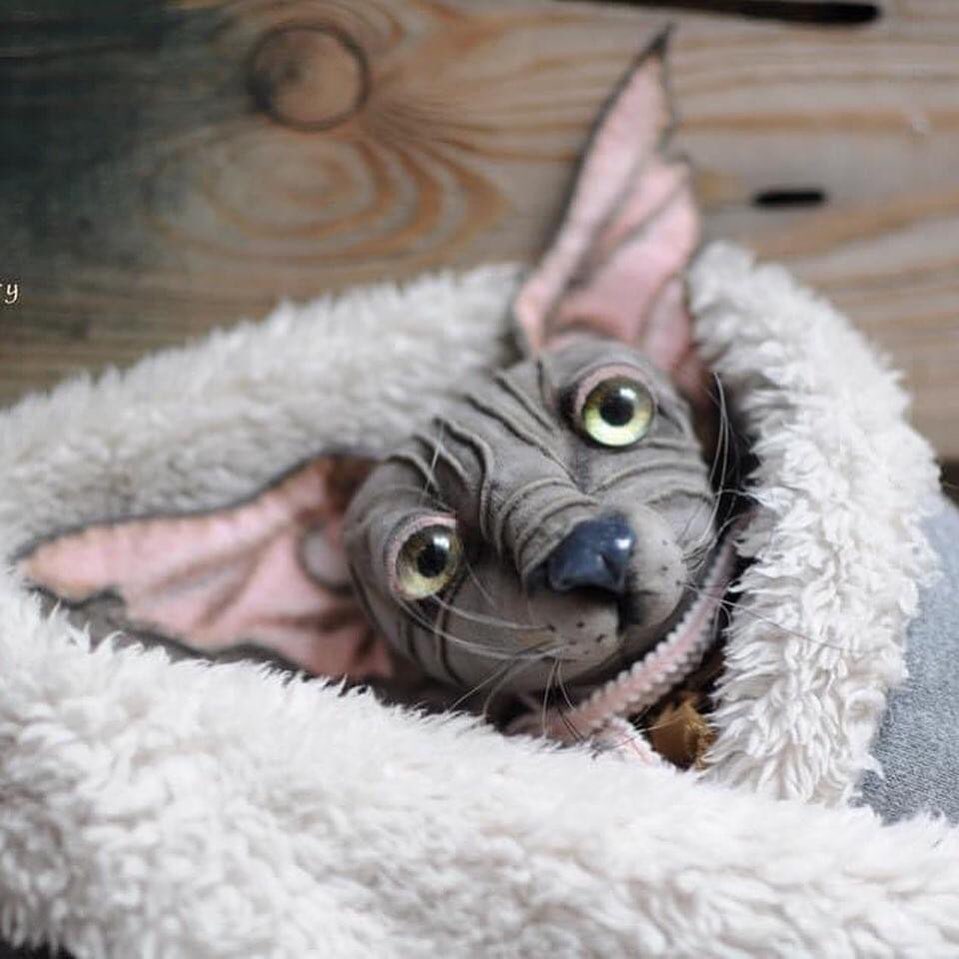 Julia Berg, better known online as RatBerry Toys is a ball-jointed doll maker from Georgia who specialises in creating handmade rats and other creepy-cute creatures such as rabbits, cats, bats, and birds. Since 2006, Julia Berg has been running her own independent business from her home studio in Georgia under the name RatBerry. Alongside making and selling her ball-jointed dolls, Berg also offers eBook tutorials for those interested in making their own curious creations.
I really love to receive photos of rats created by the hands of my students and especially from the people with no experience who sewed their very first toy and rejoice like a child.
Interview with RatBerry
Ten years have passed since Julia Berg was finally able to quit her job for good and become a full-time dollmaker. Crafting has been a lifelong interest of hers as she often partook in crafts both at school and at home thanks to her mother's efforts and a knitting book that was forgotten about and left on the table. While crafting was always something that was available to her, she describes that her "thoughts were occupied" with work as she matured into adulthood and entered into the oil and gas industry, her chosen field of work.
It was at the age of twenty-five whilst working as a manager in the supply department in the northern part of Russia when her world began to change. A fateful day during the Christmas season of 2006 would open up a door for Julia as she explains "I got the task of updating the Christmas trees and decorations in the main office and five branches. Not having much experience in such orders, I opened Google and typed the phrase: handmade Christmas tree toys. At that moment, the word handmade changed my whole life." Shining brightly on her computer screen was a little gnome wearing colourful clothing and had an expressive face full of joy. She took it all in, realising that every part of the gnome had been lovingly crafted by hand, and feelings of "inexplainable excitement" bubbled up inside her. "I searched the phrase handmade dolls in the search bar and an absolutely amazing, gorgeous, new, and immense world had opened its doors to me".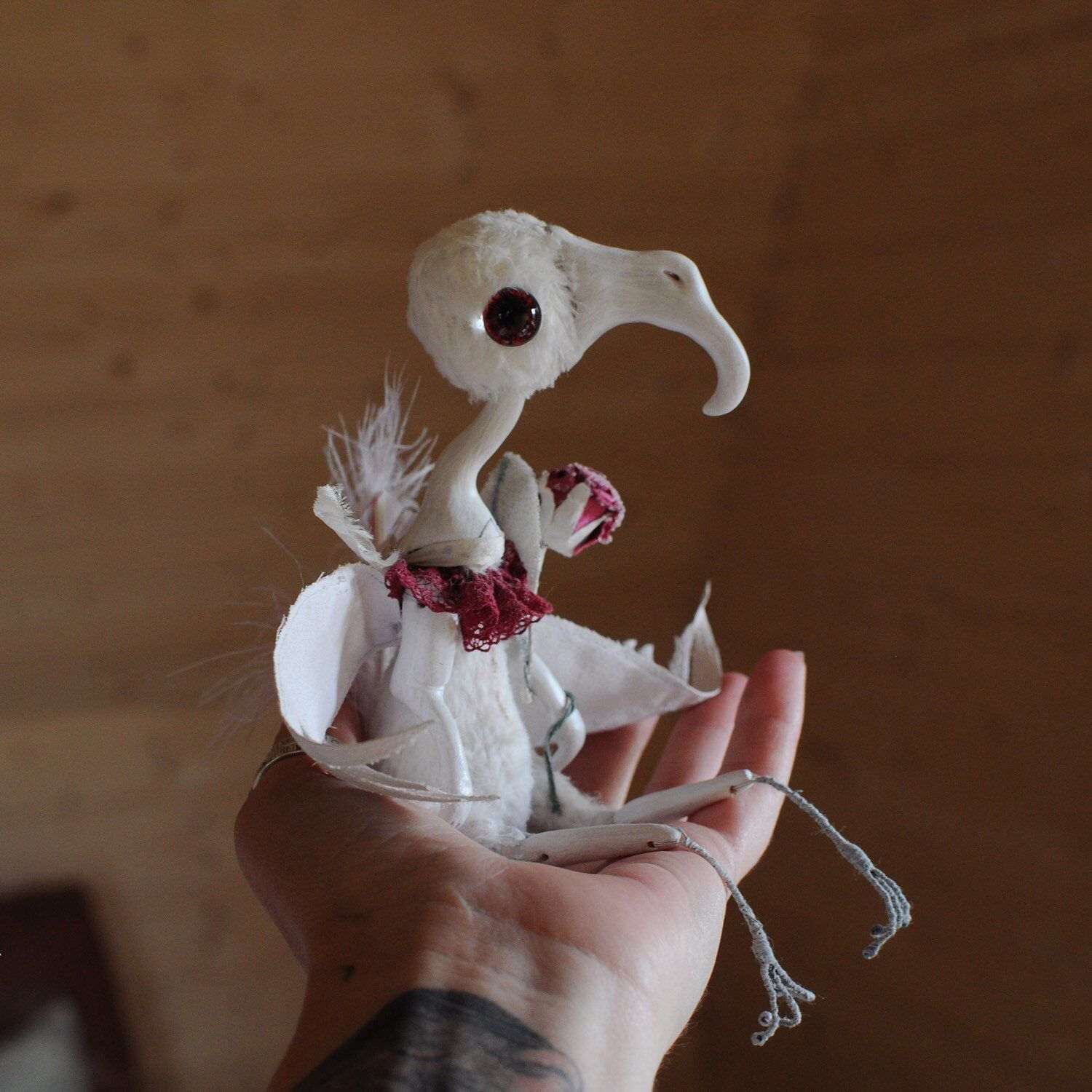 While this new exciting opportunity had revealed itself to Julia, she explains how the change from her humdrum office life to her new artistic life didn't happen overnight but "dragged on for six years". During this time, she began investing her time into ventures which would allow her to improve her skills as a dollmaker. "I started my career as an artist by creating polymer clay dolls. For several years I was sculpting custom portrait dolls." In 2007 Julia began teaching dollmaking and started up the Doll Club for like-minded creatives. The club grew to include "over 50 extremely great women" who were all eager to learn new skills. During this time in her career, Julia was continuously studying with different masters and honing her skills. She states how important this time of study was for her as she could bring new knowledge and skills into her club. A memorable moment that she shares from this period was when she had the opportunity to spend three days with master dollmaker Elena Kunina as Julia sees her as her biggest inspiration.
Her artistic career continued to snowball as in-person workshops led to an online teddy bear workshop attended by nearly 250 people from across the globe. Julia also found herself participating in many exhibitions including seven international exhibitions held in her city. It was at one of these shows that she spotted a toy mouse. Upon seeing this little creature, she was struck with the inspiration she needed for the RatBerry brand. "At that moment, I suddenly realised that I wanted to make rats!"
This time of growth and creative exploration allowed Julia to cultivate her signature RatBerry style. She explains how during this time, "The very long search period for the ideal rat had begun." Between 2007 and 2011 Julia created many animal-themed dolls in various styles. In 2012, inspiration struck Julia once more as she declares, "My perfect articulated rat came to me in my dreams." The basis for what would come to be her iconic dolls was then hand-drawn in the middle of the night.
When asked about where the name "RatBerry" originated she says that she'd been hunting for a studio name for a long time before finally settling on it. "I played with words, with my last name" and none of these ideas seemed to fit what she was looking for. "Day after day were passing in a thoughtless search. Finally, I realised that the main thing is not the name, but the idea of the brand. What should I do? What should I do for people and for this world? Why do I live and breathe? These were the questions that were spinning in my head." She knew without a doubt that a rat had to be the main symbol of the brand as she sees them as being "a cheerful, light, graceful, mobile and bold creature." What she needed was "a rat that brings joy to people" and thus the RatBerry brand was born with the mission to bring "soul joy in every toy."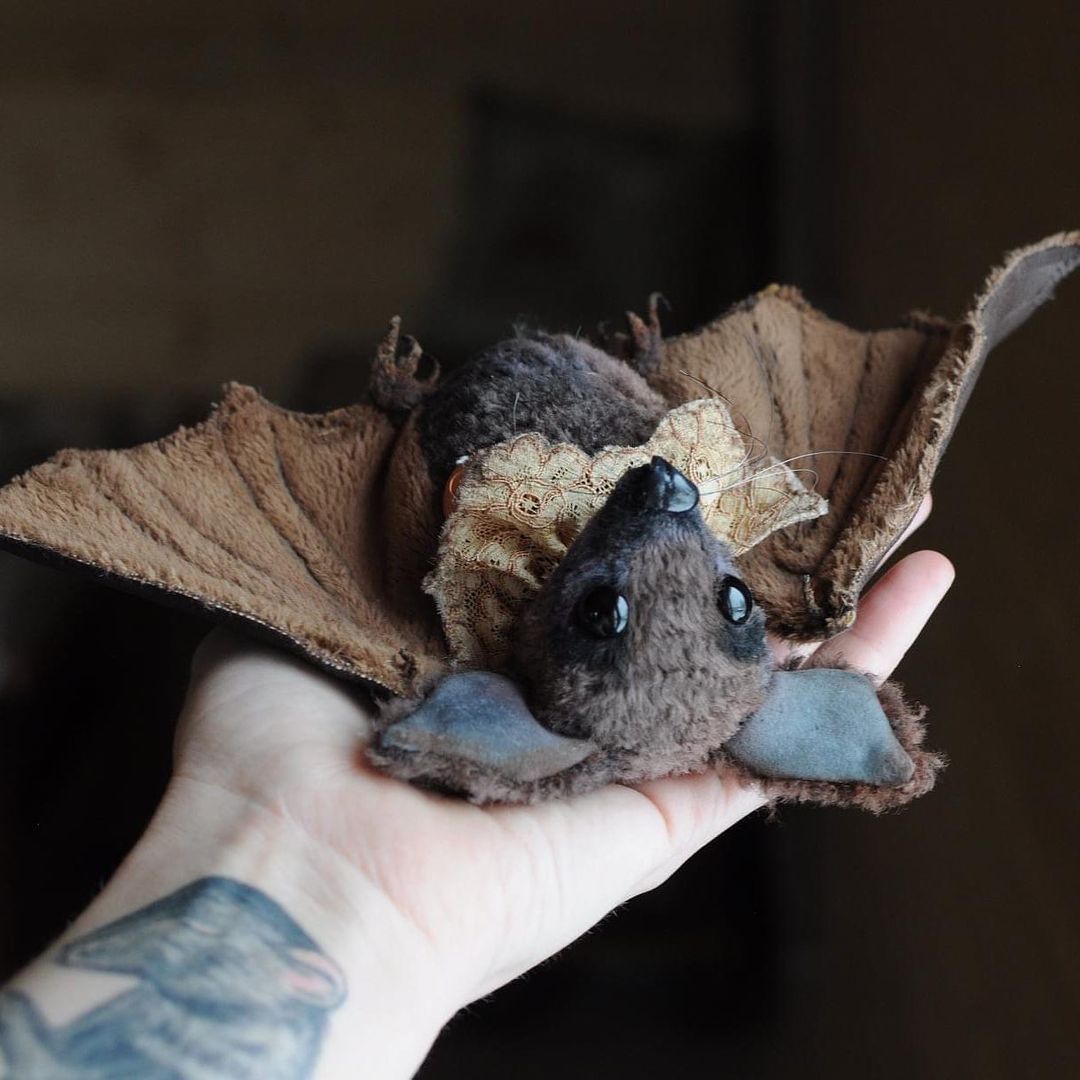 Not only do the dolls created by Julia bring joy to those who view them, but they also bring some joy to the planet as they are eco-friendly. Her chosen materials include viscose, plush, faux fur, polymer clay, cotton, and recycled materials, and she also makes her own glass eyes. All of her creatures are made using the BJD technique which helps to make her creatures feel alive so that "when you take it into your hands it feels almost like a real poseable animal."
While Julia is very transparent regarding her materials, she has been questioned as to whether she uses real animal fur, leather, and feathers in her work. "Some people even send messages to me and say that I catch bats and dry them up to sell all over the world." This barrage of questions stems from the realistic vampire bat series she made which are made from "unique fine cotton fabrics and antique laces."
"My ideology is to use cotton fabrics that do not cause allergies", as she explains how rats are often bought as pets for children. In addition to this, "I prefer to use recycled materials" so she can give them a new lease of life.
Together we can make our planet better, cleaner and kinder if everyone puts at least one tiny part of their efforts towards this goal.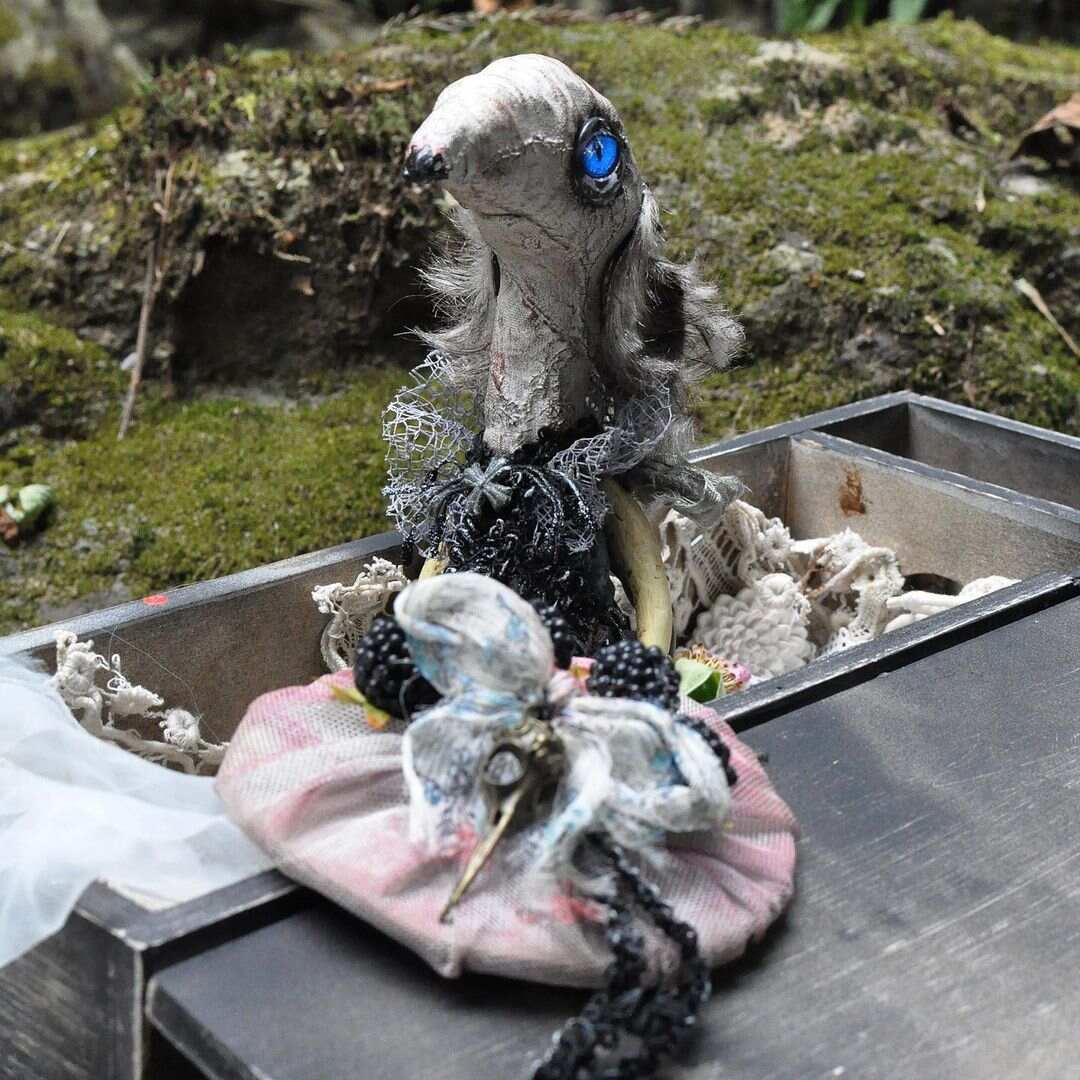 Her dolls have led to some interesting interactions over the years. Julia shares how she's received messages from people who are both repulsed and in love with her dolls creating a mixture of emotions that inevitably ends with the person taking the doll home to take care of it. "I believe that art should evoke a mixed range of feelings – from disgust to admiration, from fear to curiosity, from pity to love."
Another story that stands out to Julia was when "I once put glow-in-the-dark eyes on to a Halloween bat and forgot to warn the new bat owner about this. So, she sent me a message one night, saying how after receiving the parcel, she put the bat on the table on the first floor. That night she was walking downstairs from the second floor of her house completely forgetting about the new creature she'd ordered. She suddenly saw the intelligent, luminous eyes of some creature looking back at her and needed some time to remember about the new bat who had flown my studio and calm down. Later we laughed together about this situation."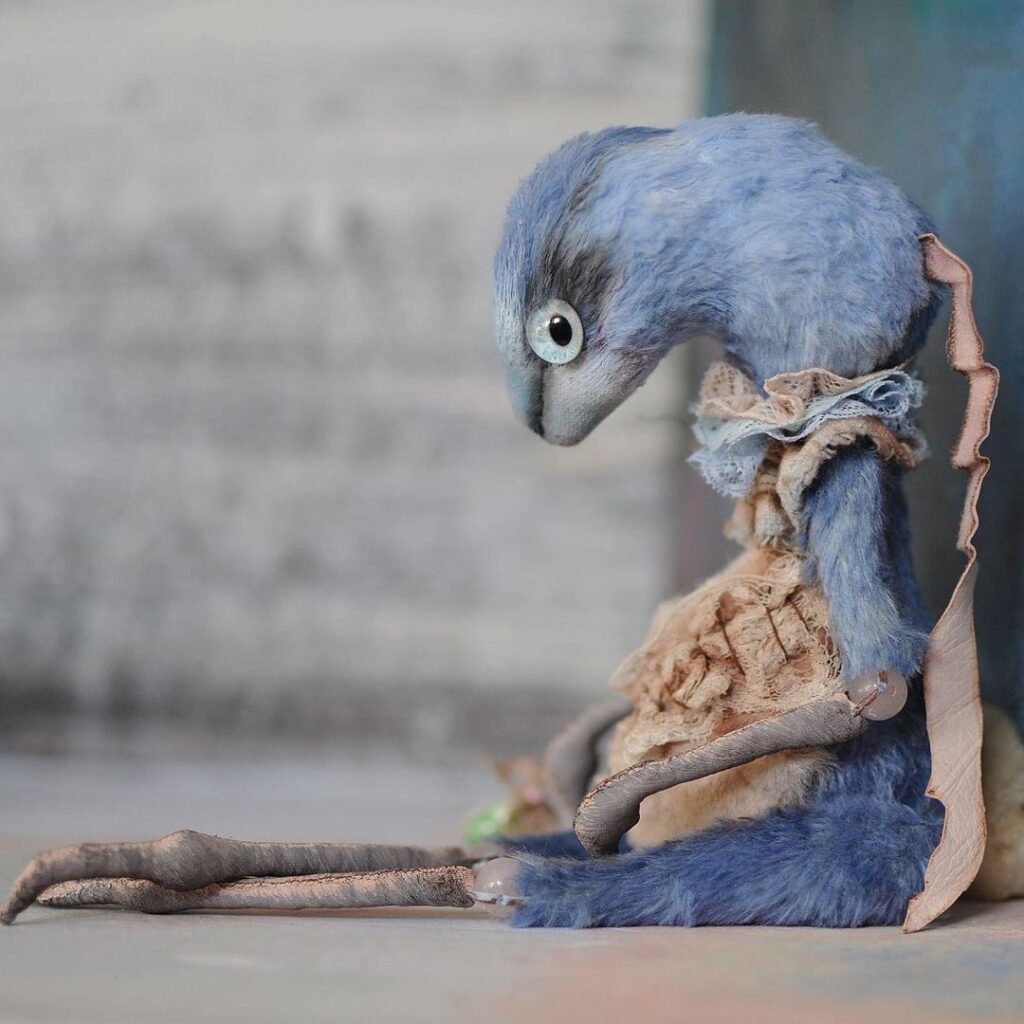 During her spare time, Julia finds herself travelling a lot around different countries as she is a biker. However, even during time off, she finds herself pondering new ideas for her dolls as she's always on the hunt for new inspiration. "Creativity is not only about making the toys" but instead "is a huge daily routine", which includes everything from maintaining social media, working on her website, and purchasing new materials to conceptualising new ideas, sketching and communicating with clients. All in all, it's hard work but Julia takes it in her stride both in and out of work hours.
I believe that art should evoke a mixed range of feelings – from disgust to admiration, from fear to curiosity, from pity to love.
When reflecting on her journey as an artist, she says, "I really love to receive photos of the rats created by the hands of my students and especially from the people with no experience who sewed their very first toy and rejoice like a child." As an artist, these moments provide her with an incredible feeling as "their emotions inspire me with love and awareness of the meaning of the RatBerry mission, as a person and as an artist." As for the future of RatBerry Toys, she discusses a project she hopes to bring to fruition through her Patreon. This project entails combining her knowledge of polymer clay and her rats to create "a poseable anthropomorphic doll." The doll is based on the story of a man who slowly transforms into a rat in an apocalyptic future. Her hope is to not only create the doll but also self-publish a book on this idea and her followers can help create and develop this interactive story.
RatBerry Social Media Accounts