España Garcia's captivating animal portraits straddle the line between graffiti, street art culture, fine art, and her signature subject matter: wildlife. Inspired by the colours and vibrancy of the natural world and her passion for conservation, España uses her platform as an artist to draw attention to the plight of the creatures who inspire her. From sharks to eels to gorillas, she treats her animal subjects with a level of reverence normally reserved for human portraiture. Her background as a Mexican artist influences the colours and themes she chooses to offset her subjects, marrying dynamic colour palettes, geometric lines, and extraordinary creatures.
España's imagery has been featured on products from sneakers to skateboards to diving fins, blending street art vibes with classical realist techniques. She makes her wildlife portraits and florals her own by blending them with geometric shapes, neon accents, and graffiti-esque texture. In this exclusive interview, learn more about España's mission to use her art to bring attention to the habitats and their inhabitants who spark her creative joy.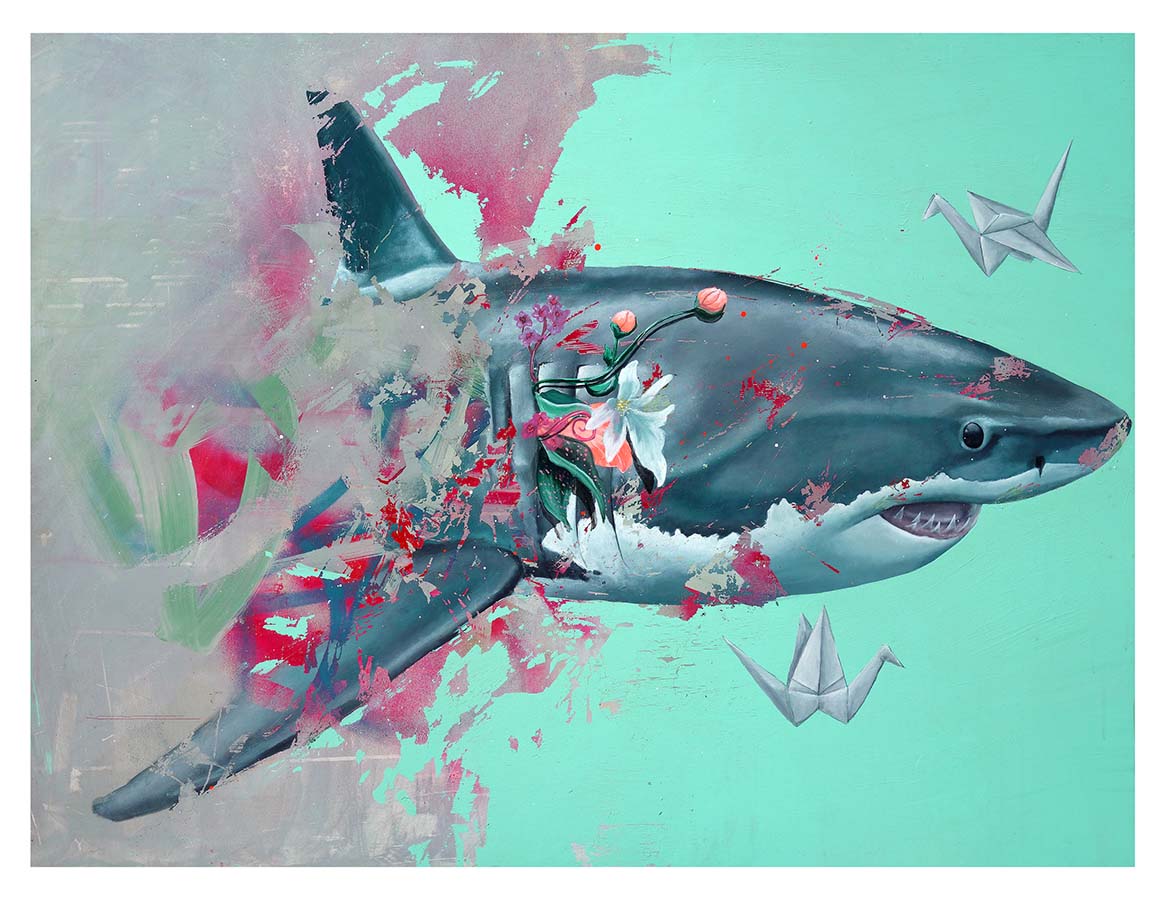 How did you get started in your artistic practice?
I had always been a sort of closet artist. I sketched, doodled, and even painted a bit, but never felt it was what I was meant to do, or good enough for that matter. It was after college, but because of a college professor who pushed me, that I began my painting practice.
What are some of your inspirations? Your work often combines elements reminiscent of modern street art with elements from the natural world like animals and plants–what inspires that combination?
I've always been deeply inspired by marine life, and our world oceans, in every way. Perhaps because I'm from one of the most arid places on earth; the Sonoran Desert, Mexico, I remember vividly the first time I saw the ocean when I was four. I remember literally not believing that there could be so much water in one place…I considered studying marine biology for years, but a trip to Italy at the age of 16 changed my life forever. All that ancient art and history! I know it sounds strange, but I felt connected to it somehow…as I got more exposed to the art world, I began pulling elements from different styles, like street art, classical, and surrealism.
Though I was never a graffiti artist, I always loved the speed and motion of it. Living in Southern California put that art form in front of me, but I have to give my husband credit for really showing me the graffiti realm, (he's an old school graffiti dude from the 90's)…the idea of coupling subjects that don't naturally come together has always been intriguing to me. The more they shouldn't work together the more I want to do it.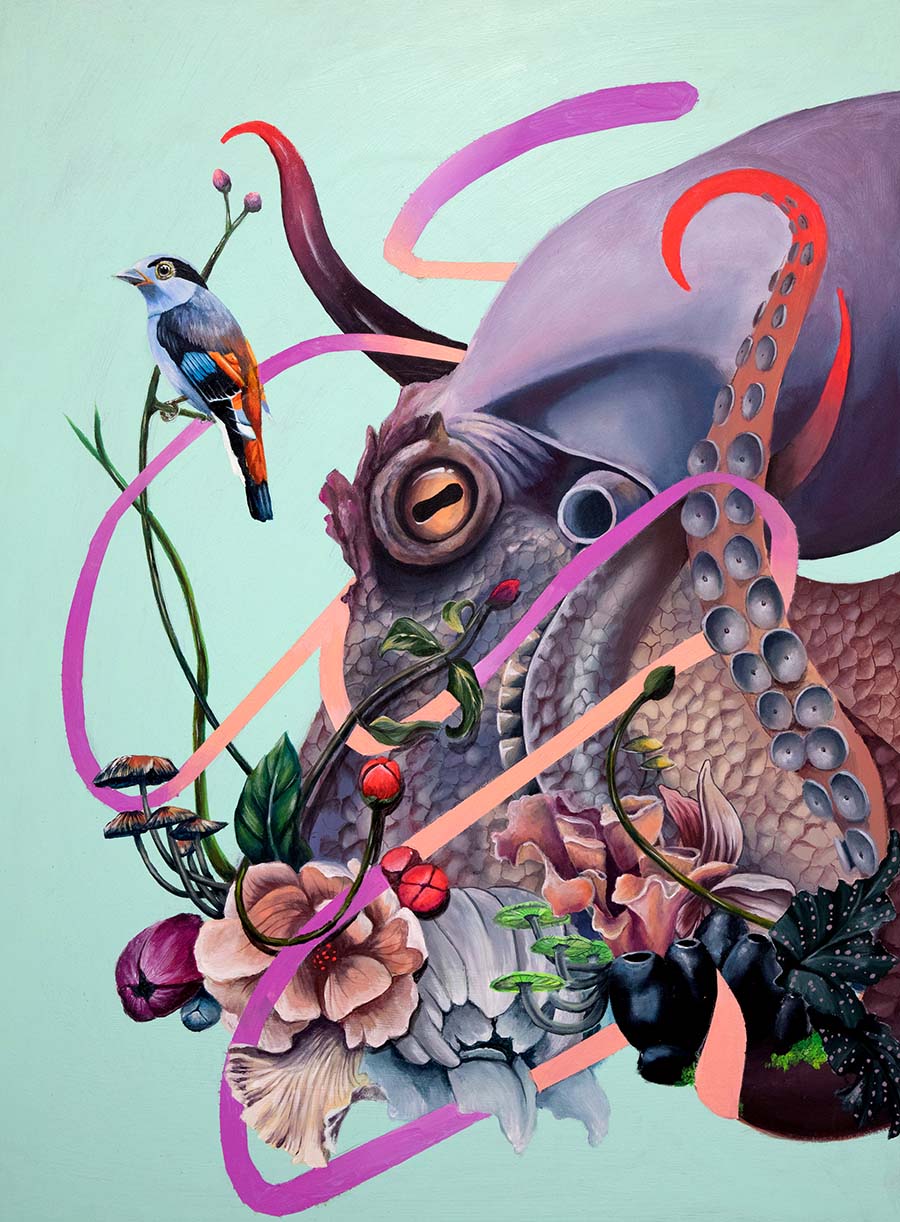 I've always been deeply inspired by marine life, and our world oceans, in every way. Perhaps because I'm from one of the most arid places on earth; the Sonoran Desert, Mexico, I remember vividly the first time I saw the ocean…
Can you take us through your process for crafting a piece from start to finish?
The inception of a piece always floats around in my head for days or even months before I begin it. I'll compose in my mind, and when I'm satisfied with the mental image, that's when I start putting it down. I really dont do rough drafts, I go straight in, right after I finish building my wood panel. I particularly like doing the woodwork myself.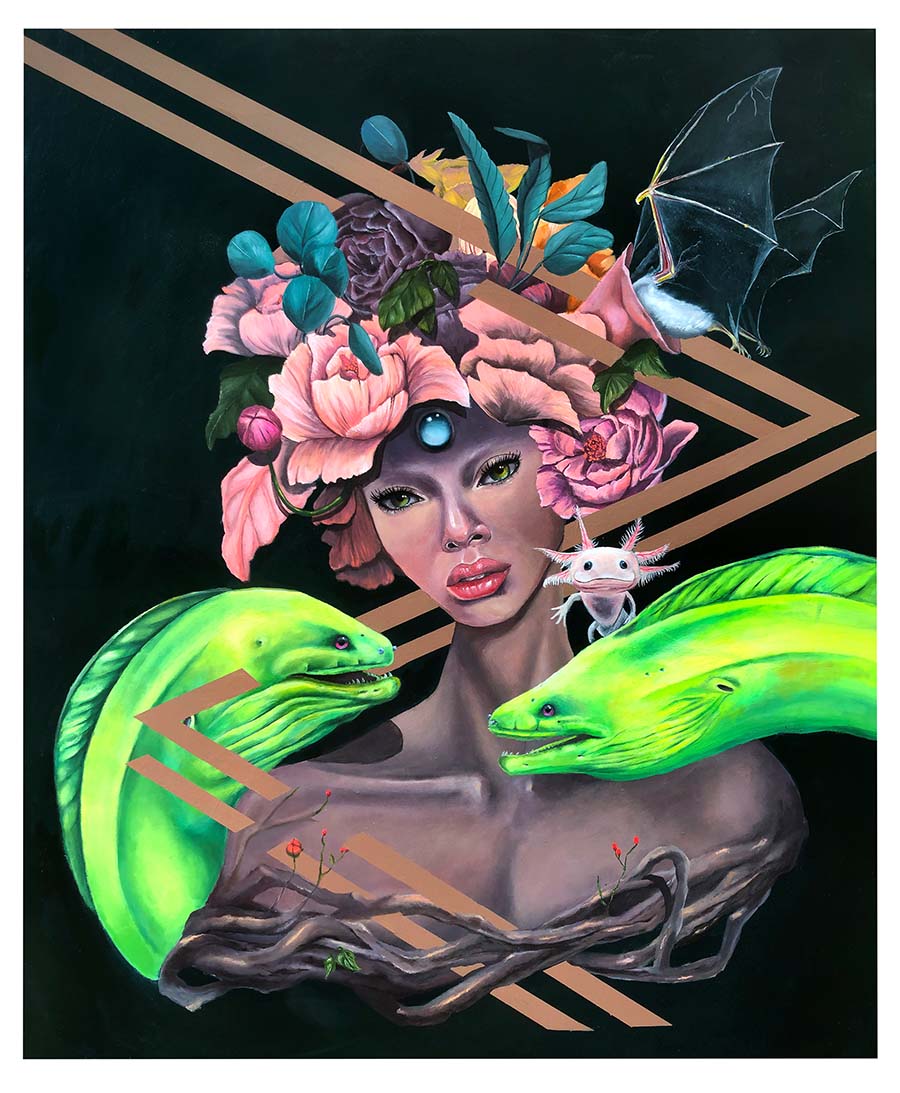 You've seen your designs featured on some unique objects like skateboards, bathing suits, and custom Converse sneakers. What is it like to work on such an unusual canvas? Is there any other object you're hoping to work on in the future?
I started exploring more with product design a few years ago. Mainly digitally designing my work on different items like swimwear, sweatshirts, phone cases ect. It's really fun to see your work on different surfaces! It's like giving your work a whole new dimension…I've also collaborated with some cool companies for shoe design and got to design diving fins for a shark preservation organization in Indonesia called 'Project Hiu."
I created an image that told their story. That image was put on diving fins and sold to aid the fisherman communities trying to move away from the dangerous practice of shark fishing. Those fins still sell today. Seeing those fins being used in different parts of the world is surreal to me!
Many of your pieces feature bold, vibrant colours accentuated by still bright but toned down pastels. How do you go about selecting those palettes? Does anything specific inspire your colour schemes?
Colour to me is everything! My colour palette is a result of constantly trying to create an intriguing pull. A pull that feels balanced through composition, with a palette that compliments itself, and then a pop of colour. A lot of my colour inspo comes from the natural world, like flowers, and those incredible coral habitats.
You do a lot of work to benefit your community and causes you believe in, like conservation. Can you tell us more about that? How do you believe art can benefit social causes?
A single art piece can be interpreted infinite ways, there's power in that, there's power in art. I once had someone's father come up to me and thank me for what I did. I didn't understand why he would say that until he told me that his 15 yr old daughter had been suicidal. He told me she had found me on social media a few months back and had been inspired by my work. He then bought one of my paintings for her. He said she started painting shortly after that, and that she was now doing a lot better.
I just about fell of my chair when he said all that! I now teach art here and there, and the response has been so positive, everyone is so happy to be in my tiny classes haha, how can I stop now? Many of the pieces have back stories and messages. I've been doing more in person events where I'm able to educate people, mostly about the state of our oceans, and many times unraveling old belief systems. I very much enjoy sharing what I know with others, and benefiting with art any way I can.
A single art piece can be interpreted infinite ways, there's power in that, there's power in art.
What do you do to feed your creative drive? Are there any habits or practices you find boost your creative energy?
Because I'm constantly immersing myself in new projects, while juggling life, I have to be mindful of my time and energy. Being a young single mom forced me to develop time management skills, not to mention scheduling, it was a sink or swim type situation, haha. My ideal and most productive/creative days begin with green tea and a solid hour or so of reading, and after that, 30 minutes or so of exercise, (weights, mobility, or running). I find exercise boosts my mood, energy, and creativity, especially on long runs by the harbor, (we live one block away).
After that I'm ready to block out 4-6 hours of painting. Having a work studio area is a must! Having all your tools in one place can make the difference between painting or not painting at all that day, at least for me. Frequenting museums is high on my list with the MET being top. Contemporary art show openings are a must, we frequent them often. I love that new show energy! But of all, what gets me really going with ideas is travel! Nothing compares to the experience of travel.
What parts of the natural world are your favorite things to capture in art? Any specific plants or animals?
I particularly like to capture sharks & octopi in my art work. One of the first sharks I did was in response to the shark finning industry that occurs mostly in Asia. After that piece my focus pivoted to that subject matter because I felt that I could create work that could educate and maybe on some level help end that cruel practice.
Octopi are also a favorite of mine to paint. They are incredibly interesting creatures, highly intelligent, very curious, and absolutely alien! Did you know that of all animals they have the furthest removed DNA from anything else? Some speculate they may not have originated on earth. Flowers, and unique plant leaves are my constant subject matter, particularly peonies. I am, however, having a mushroom moment. The more I learn about mycelium, the more my mind is blown!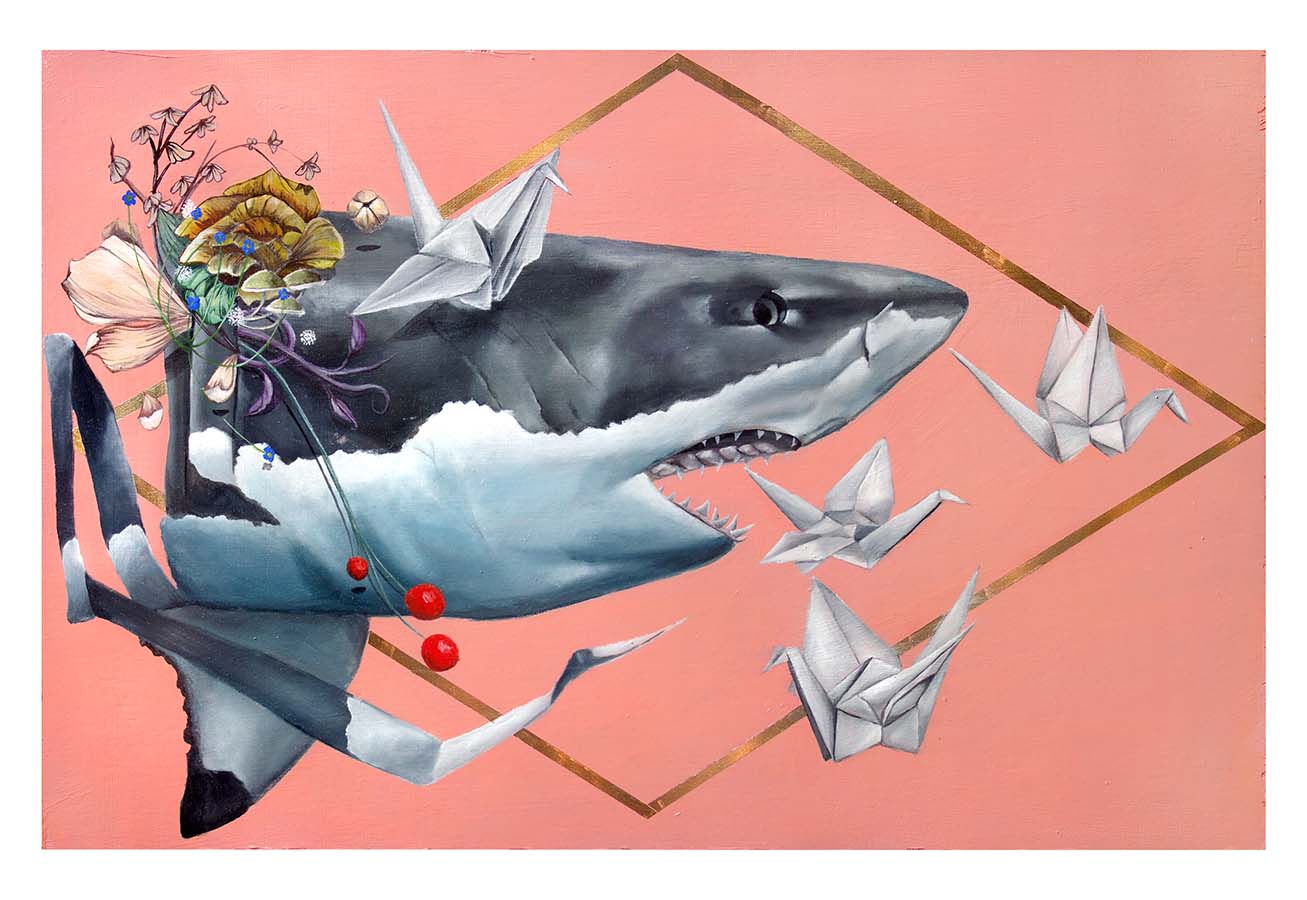 Your pieces frequently utilize geometric shapes and lines. What do those represent?
When I was studying art history at UCSD, I found the development of point of perspective in art fascinating, and also the ideals of symmetry through geometry in painting seen through the Fibonacci Spiral–notable in the works of Leonardo da Vinci. But when I came across the sculpture of "St Teresa in Ecstasy" , where you can see rays of a sort coming upon her, I was intrigued. I researched the origins of geometry as a science.
We now know there is symmetry & geometry in all nature. Like the golden spiral found in nature from the way flowers bloom to the way galaxies spiral. Knowing that these lines & spirals are there is one thing, seeing them is another. I began to paint them, eventually deconstructing them, and using them more for balance in my work than for symmetry. My work consists of mainly all natural organic matter, and I feel that bright or contrasting straight or undulating lines give my work balance.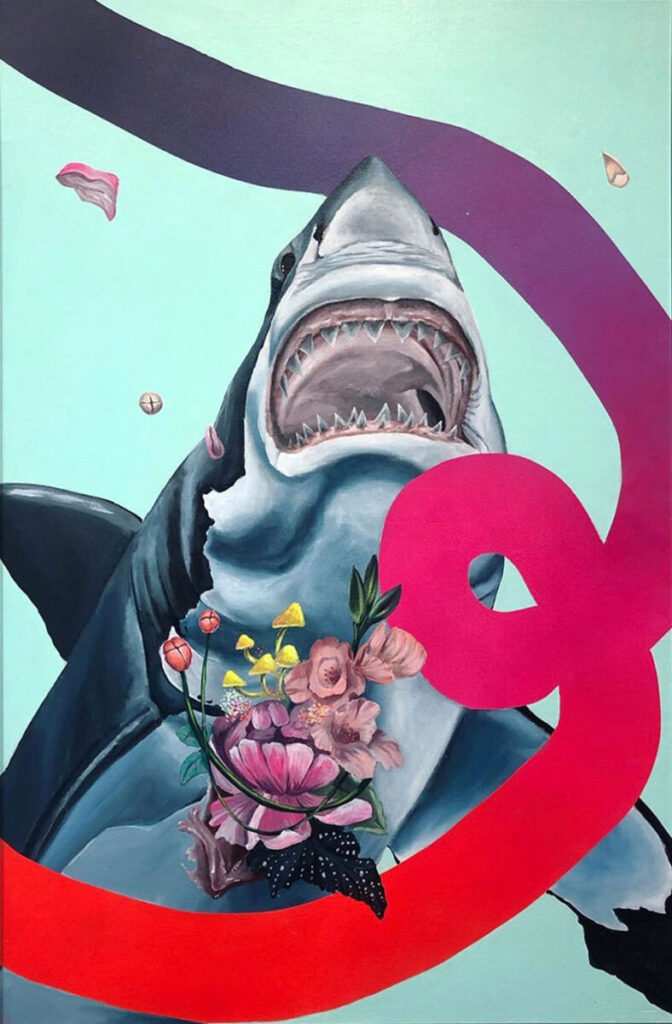 What can our readers look forward to seeing from you in the future?
I'm excited to share the current project I'm working on here in Indonesia! It will be a little bit until I can share, but it's coming. I'm also excited to share a couple of collaborative projects I'm working on as well as a solo show I'm building work for, but don't have a venue or date for yet, haha.
What advice would you give to someone just starting out in your medium?
I would first ask them, what's something you would do even if you weren't getting paid? If art is the answer…then I'd tell them to find a way to sustain, while making art, so that you don't get stuck doing art you don't want to do for the money.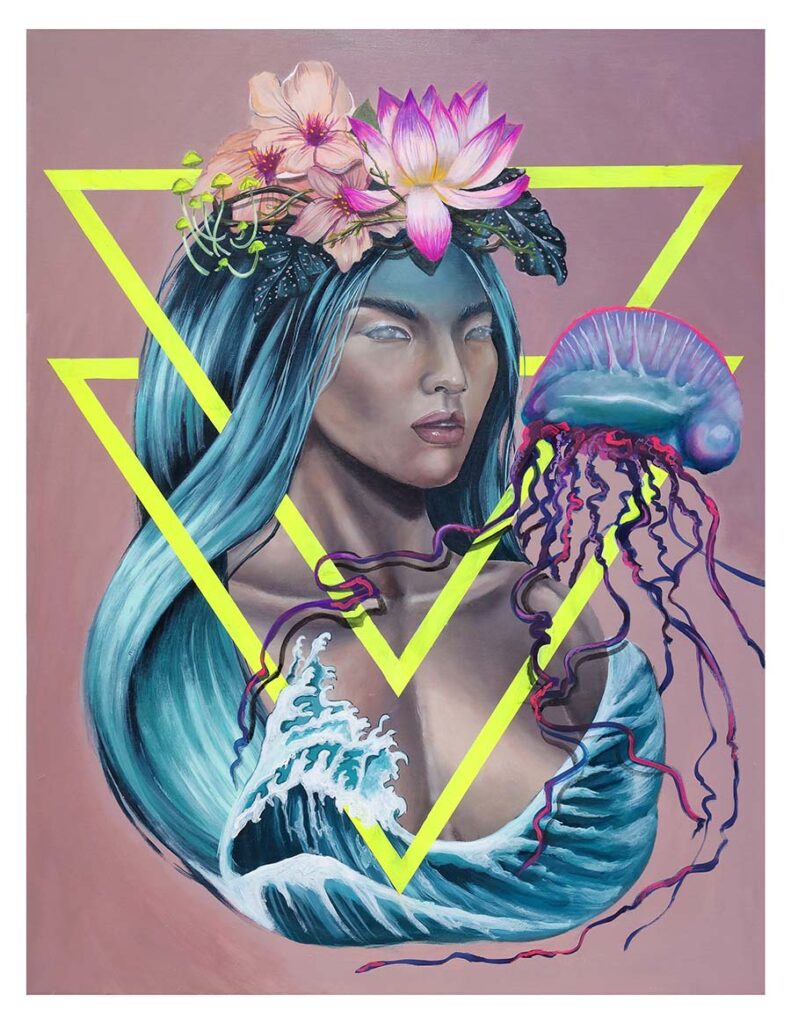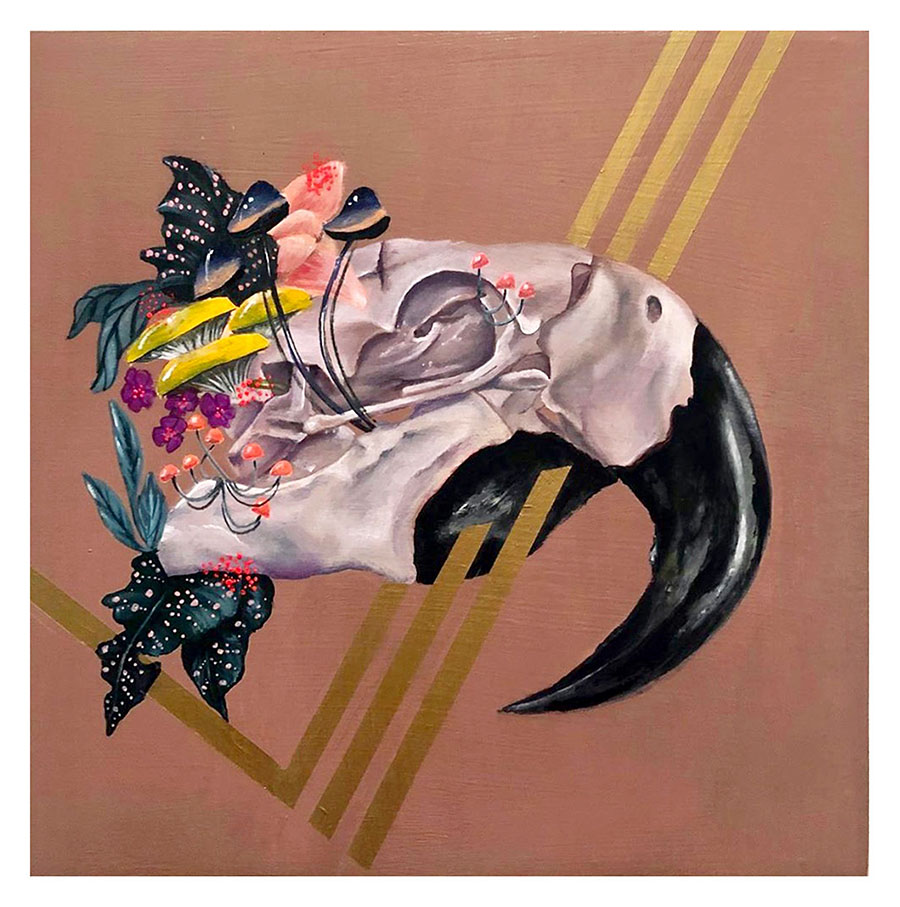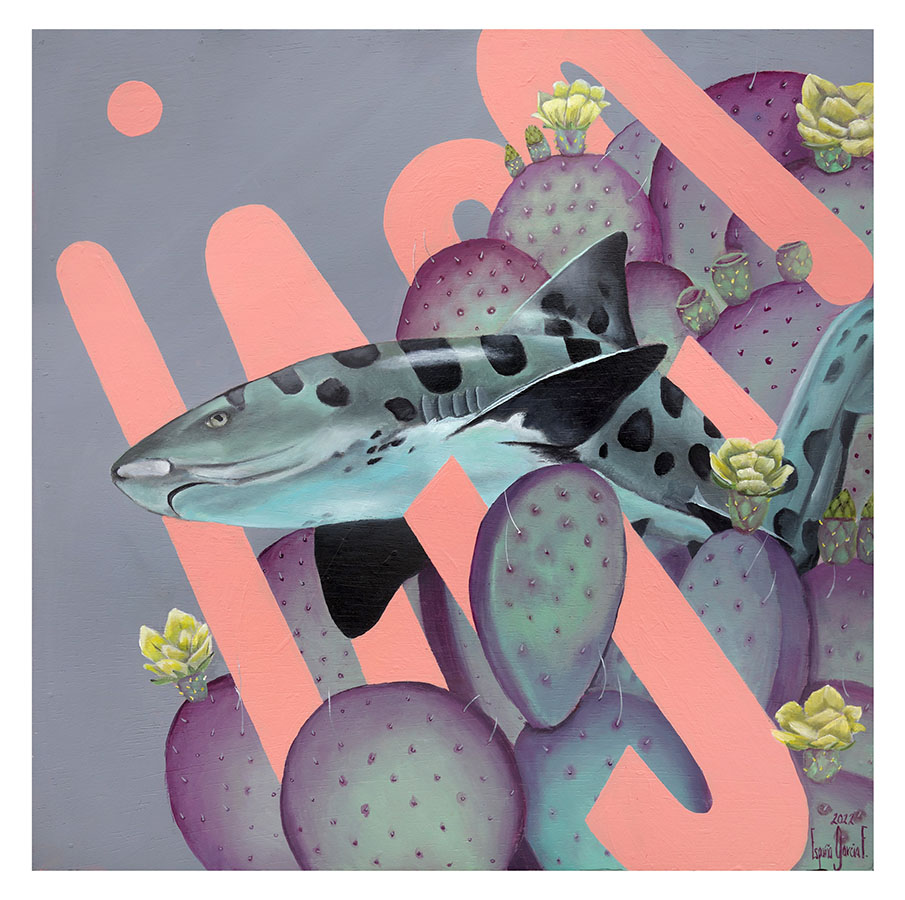 España Garcia Social Media Accounts