Something magical awaits. Ignite the fires of your creative wanderlust and let your imagination drift into the ambient nature of four incomparable artists. Join Haven Gallery this weekend as they proudly present the captivating solo exhibitions of Nicolas Bruno, "The Somnia Tarot", Yuriko Shirou, "Obsessions", Erika Sanada, "Bonded", and Kimera Wachna, "Noctua".
Steeped in beguiling visuals and wistful, lovelorn narratives, each exquisite body of art emerges through a spectrum of light and darkness and invites the viewer to experience the unforgettable journey.
Nicolas Bruno | Yuriko Shirou | Erika Sanada | Kimera Wachna
Opening Reception: Saturday, February 20, 2021
Exhibition Dates: February 20 – March 21, 2021
Haven Gallery
155 Main St., | The Carriage House Square | Northport, NY 11768
To inquire, please contact Erica at (516) 807-4076 (text or call) or email info@Havenartgallery.com
Haven Gallery is pleased to present "The Somnia Tarot" a solo exhibition of new work by Northport based artist Nicolas Bruno. Following his two highly successful solo shows, "Between Realms", 2016 and "In Limbo", 2019, at Haven Gallery, "The Somnia Tarot" is the artists most ambitious project to date, as he chronicles the entire Tarot Card Deck with all of its suits, through the hauntingly beautiful dreamscape of his sleep paralysis. Bruno uses his quintessential characters, moods, symbolic pillars and backdrops in a breathtakingly poignant adaptation of the Major Arcana and Minor Arcana, totaling seventy-eight new photographs accompanied by three preliminary drawings. This eighty-one piece collection is the artist's largest series yet and both uniquely and elegantly execute the timeless narratives of the Tarot Deck.
Bruno's artwork confronts his lifelong battle with sleep paralysis. His artistic process represents and records each step of his cathartic journey from drawing the dream the moment he awakens, to building sets and costumes and ultimately inserting himself into the majority of these roles. Each aspect allows for therapeutic healing as the artist seizes control over these common anxieties of fear, solitude, and pursuit that permeate both our sleeping and waking hours. Bruno's command over these nightmares and anxieties through his artistic endeavors take his subconscious odyssey one step further embracing and expanding into empathy and collective connection.
About the Artist // Nicolas Bruno has been experiencing sleep paralysis for nearly twelve years. Sleep paralysis is a common phenomenon occurring in between wakefulness and sleep, in which the body becomes immobile. This realization of inescapability causes the individual to become plagued by terror laden hallucinations. These frightening experiences infect the senses yet the ability to move or escape is not possible as the body itself remains frozen throughout the episode. Through the advice of a teacher, Bruno found a means of subduing the hauntings of his night terrors through creative expression. Recreating scenes from his hallucinations has allowed him to seize control of the danger and confront his antagonists on his own terms.
Growing up in a waterside town, Bruno's images are influenced by memories of spending time by the sea, in the marshlands and amidst sprawling fields. His Italian heritage inspires his choice in titles while his admiration of art history plants subliminal seeds of artist tributes throughout his imagery. Nostalgia thinly laces his visions and imagery as darker embodiments of entrapment, being chased and secrecy bespeak a more prevailing role. Symbolism, dualities and the reoccurring motifs of obstructed vision, anonymity and being hunted dominate much of his work. Yet traces of hope and liberation can be noted as well. A sense of ambiguity subsists amongst these plagues of anxiety through the binary association of Bruno's most archetypal elements. The water which bounds also saves; the ladders which lose much of their function while underwater still allow for ascension. A favorable reminder that even in the darkest of moments, hope and possibility lurk in the recesses of the harrowing.
Nicolas Bruno studied at Purchase College of New York, where he received his BFA in Photography in 2015. His studio practice is based in Northport, New York, where he photographs and fabricates props for his compositions. Bruno weaves together his terrifying experiences of Sleep Paralysis with surreal self portraiture in a therapeutic translation of night terror to image. His constructed worlds of uncertainty exist on plane between waking and sleeping, where he is tormented by a physical embrace of the subconscious and its perils, all while being paralyzed in bed. Influences of 19th century Romanticists, historical texts of occultism, and dream symbology lace each composition with various visual dialogues of the macabre.
A special event will be held with the artist on Saturday, February 20th, 2021 from 1 – 7pm at Haven Gallery. Nicolas Bruno will be present. Please note that masks and social distancing will be required and a maximum of 12 people will be allowed in at a time. We will be taking names for a waitlist as to be in touch if we've reached capacity upon your arrival.
Haven Gallery is pleased to present "Obsessions", a solo show of paintings by self taught, Mexican illustrator, Yuriko Shirou. "Obsessions" is Shirou's second solo show at Haven Gallery and will consist of nine paintings encompassing watercolor, acrylic, gouache, ink, marker, pastel and colored pencils. Shirou's imagery is heavily inspired by the human condition at its darkest moments as well as narrative motifs often found in fairytales. The darker side of these stories are depicted through her own uniquely developed narratives seen through the lens of her emotional states. The artist's use of contrast and sepia tones strikes an illuminating yet antiqued depiction of her sitters as they subtly pose and engage their telling environments. Her use of a mixed media technique provides depth and conveys a wide range of emotion. These visual explorations embrace challenging psychological states of the mind, such as doubt, mania, agony and unrest, amongst other anxieties, while simultaneously, casting a light on the darkest of moments to show the beauty lurking within.
Artist Statement // The intense feelings within us can become recurring ideas that are fixed with intrusive persistence and end up dominating the mind of those who suffer them; they determine behavior, capture attention, and remain motionless, but with the same power that an old photograph possesses in its viewer. It is too late when one is aware of this discomfort, which grew in the darkness of our interior, until it finally became an Obsession.
This new collection talks about those feelings that scream from the inside; mixing that fear and anguish that make us feel like a child again, with everything that brings us peace and joy. I have sought special emphasis on the insatiable need to use shapes and colors that are repeated with lingering interest in my mind; the lace, bones, dry leaf, stitching and of course the unique patterns of the butterfly and/or moth wings reflect my particular idea of ​​life. Because for me life is a constant coming and going of threads of joy and sadness that intertwine to form a unique, constant, repetitive and inevitable pattern, like time itself.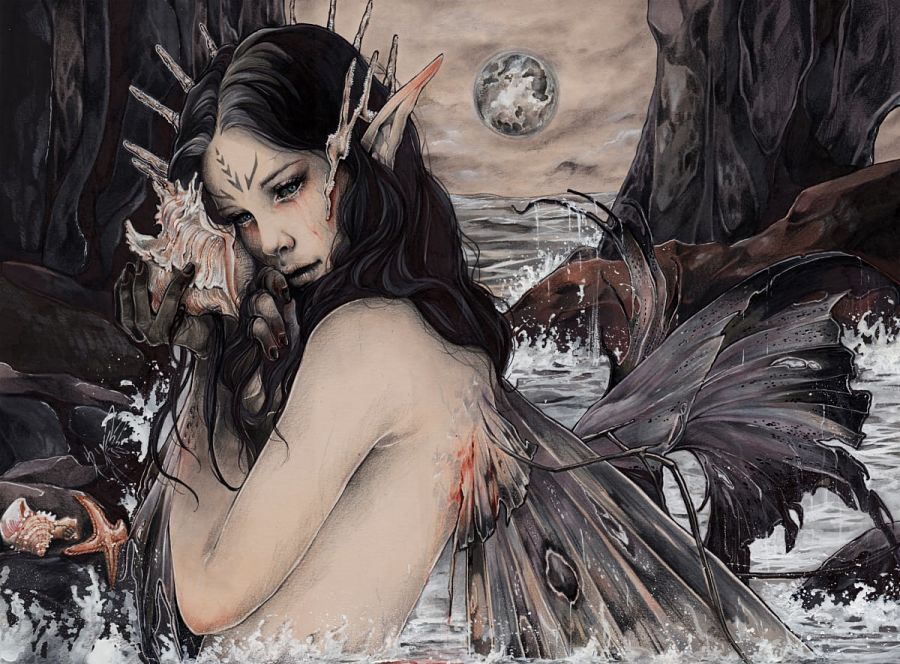 About the Artist // Mexican illustrator, with a particular interest in mixed media, most of her artistic training is self-taught. She later obtained a Technical career in Advertising Design in Mexico City; she currently continues her university studies in Plastic Arts, in the city of Puebla.
Her professional work has ventured into Manga drawing, American Comic and Figurative Art, always addressing the melancholic and sinister theme, a taste that comes from the novel and horror movies. She has done various international projects for publishers such as Colouring Heaven, Oz Editorial, The Guide Artists Magazine, Okaasan Books, Perna Studios, Upper Deck, Rittenhouse Archives, Cryptozoic Entretainment, Braiiinz! Publishing, among others. Featuring artbooks, book and magazine covers as well as more than twenty sets of collectible cards; she also carries out commissioned works for private international collectors.
She also participates in international art and illustration exhibitions, including The Dark Room, Haven Gallery – New York / 2019 and Creators of Legends / Homenaje a Hans Ruedi Giger; Superficie Arte, México – Switzerland / 2016-2018. In her country, she has given various workshops and conferences focused on Illustration, also forming part of the qualifying jury in the call for painting and drawing for the art brand Rodin México, 2018.
Northport, NY– Haven Gallery is pleased to present "Bonded", a mini solo exhibition of new work by Tokyo born, now California based artist Erika Sanada. "Bonded" is Erika's second mini solo show at the gallery and features a collection of seven ceramic works that serve as a visual exploration of the artists plaguing anxieties found amidst her daily life. Sanada is known for her candy colored sculptures of animals, usually puppies, playing, dreaming and interacting with other animal cohorts. The puppies represent Erika and the empathetic viewer, while the added animals represent notions of anxiety.

In this particular series, Sanada challenges her anxieties though the idea of bonding with them as a means of confrontation. Her puppies engage their foils, in this case, the birds, in a playful manner. She describes this process as a means of "bonding", as her exhibition title suggests, as part of her continual journey in making peace with this common emotional and mental adversity. Through her sculpture, Sanada cathartically confronts and copes with her own reoccurring anxieties while simultaneously connecting her audience through this universal affliction.
Artist Statement // My work represents the constant anxieties I face everyday. These worries are very hard to control, but I always try to make peace with them. It might be a long journey for me, but I believe bonding with my anxieties help me understand more about them and how to cope with it.

About the Artist // Erika Sanada is ceramic artist and her early inspirations stemmed from creatures and characters of dark films. Watching films were way of escaping from her bitter childhood. She creates hand sculpted hairless ceramic creatures and they are often adorable, but also have bizarre shapes. Her artwork has been shown at a number of art fairs, museums and both domestic and international galleries. Also her work has been published in Hi-Fructose Magazine, Hey! Magazine and Beautiful Bizarre Magazine.
Haven Gallery is pleased to present "Noctua" a solo exhibition of new work by Washington based artist Kimera Wachna. "Noctua" will include nine acrylic paintings on wood slices that embrace the grace and allure of the natural world coupled with the magic and reverie of fairytales. Kimera's use of jewel toned palettes are invigorated with her extraordinary application of light and contrast, akin to her exhibition title, creating an illuminating glow and heightened sense of narrative magnificence. Her animal protagonists frolic and play in a world inspired by her childhood home located in a foresty town in New York. Despite the tales of whimsy and enchantment, universal themes such as the natural cycles such as life, death and rebirth, pervade her paintings resulting in an elegant retelling of tales as old as life. Her visual narratives embrace the nostalgia and wonder of our childhood but even more so, the time and cadence of organic being.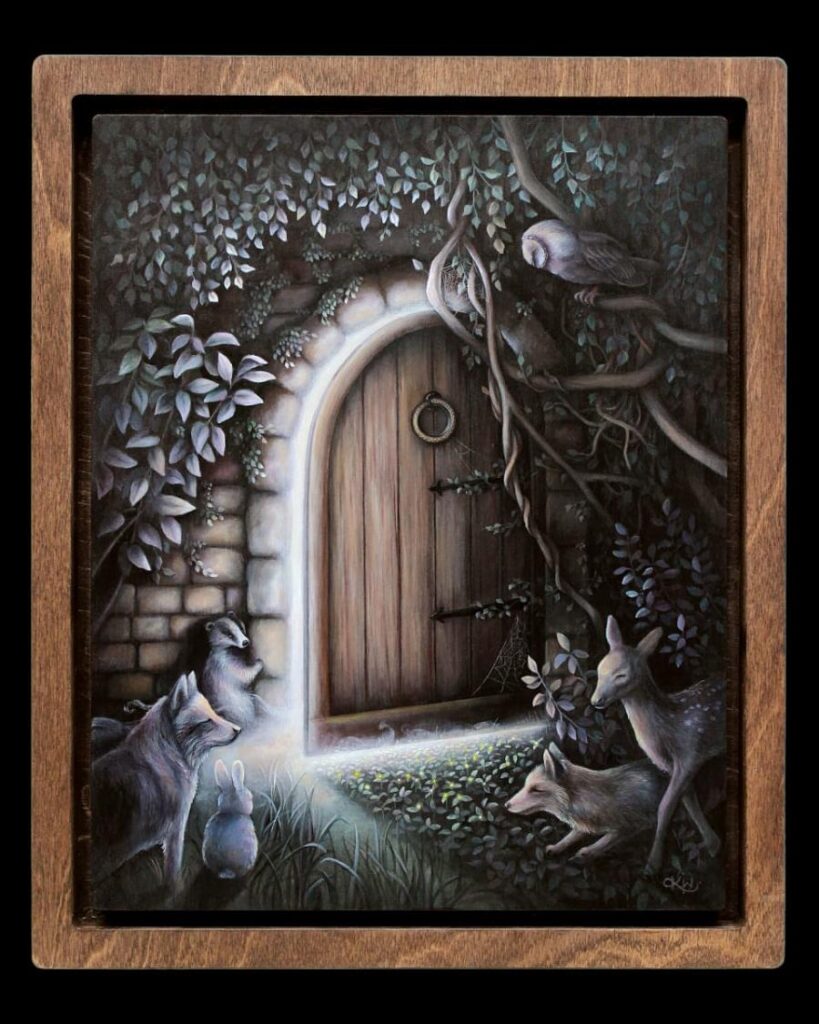 Artist Statement // The night, full of mystery, uncertainty, and possibility. That time when things have quieted, nocturnal animals wander, and the dream world invites you in. And as we delve deeper into this stillness, the lines between the physical and spiritual worlds become thinner and thinner. Noctua is this liminal space where the two meet. The name, inspired by Athena's owl, a familiar and aid in moving through darkness with grace and wisdom to discover the magic that lies therein. Though there are symbols rooted in lore, intuition and personal mythos are largely interwoven into the narratives of all 7 creatures. We follow their curiosity, hopes, dreams, beliefs, fears, and transition, all culminating in fruitful outcomes.
Light and dark sit in stark contrast with each other. Duality is often further illustrated in the subject itself, highlighting opposing forces in nature that occur in cyclical harmonious union. We carry this duality that nature demands in all existence. Fear and courage, sleep and wakefulness, life and death, the physical and spiritual. As one state is never fixed here, we can welcome even the darkest of times, knowing that light is soon to follow.
About the Artist // I grew up surrounded by woods and forest creatures in New York. Though I now live in Seattle with my partner and two cats, I take my experiences in those formative years with me as they serve as the biggest inspirations behind my work. I attended Tisch School of the Arts in NYC for Photography and Studio Art, but it wasn't until after college that I realized I wanted to pursue fine art full time.
I believe that art, like anything you put a great deal of time and heart into, can be a mechanism for connection and manifestation. I often paint things I wish to see in the world. Noctua is very much an embodiment of this, as it was imagined in the height of the pandemic in search of solace, hope, and enchantment. My aim is for the viewer to feel a little less alone in the world, and to seek beauty especially in the most hard to reach places.
Haven Gallery Social Media Accounts