Issue 32 of Beautiful Bizarre Magazine with Audrey Kawasaki's stunning and evocative painting To Be Yours on the cover, is out now!
Because we feel strongly that the gender disparity in the visual arts must be acknowledged and addressed, the special March issue of Beautiful Bizarre Magazine is a "Women Artists" issue – in celebration of International Women's day later this month! Contact one of our Stockists or Shop Online, but don't miss this issue.
Inside this special 'Women Artists' issue, we delve into Canadian contemporary pop urban artist Sandra Chevier's female superhero paintings which are a reminder that fragility and its depiction can be empowering and honest, a way of seeing yourself as the flawed yet powerful person you are. A visual reminder that our flaws can be our strength, reminding us to persevere and look for hope in the complex world we find ourselves in, and to break from limitations imposed on us by society. We learn about the powerful photographic work of Ingrid Baars and how she discovered that she could make a difference through her art, by elevating black beauty and empowering black women.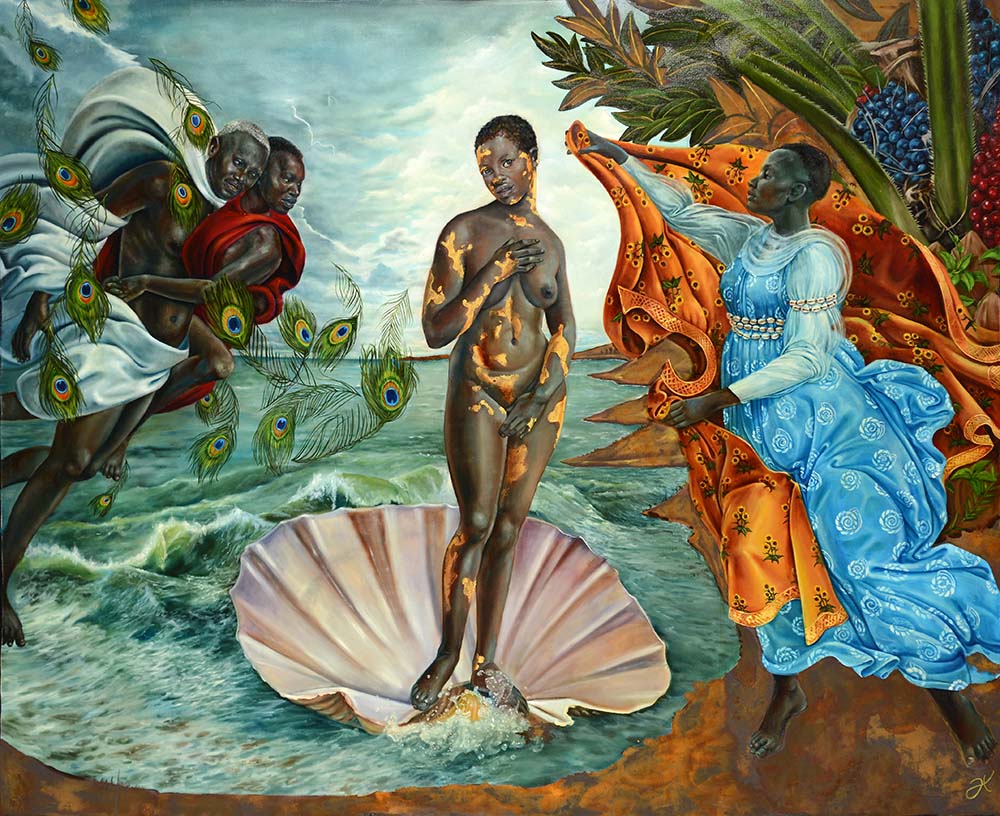 Depictions of traditional beauty are white and exclusionary. I've always looked at those paintings and asked, 'What about me? What about people of colour?' Our story and our beauty can be just as beautiful.

Harmonia Rosales
We also take a look at Harmonia Rosales' renaissance inspired paintings that ask a very important question: "Renaissance paintings have been defined by society as priceless and untouchable. These depictions of traditional beauty are white and exclusionary. I've always looked at those paintings and asked, 'What about me? What about people of colour?' Our story and our beauty can be just as beautiful and priceless."
While German painter Susannah Martin's over-sized paintings delight us with a dreamlike return to nature, absent the scars left by humanity.
When it comes to painting, I gravitate toward lightness and pleasure and away from pain. It's a type of therapy for me.

susannah martin
We also learn more about the friendship between artists Judy Takács & Shana Levenson, in our exclusive Artist + Artist editorial. The two share a conversation steeped with a contemporary feminist lens and share their own experiences as women in the western world, as artists, partners, and mothers.
Rachael Bridge's portraiture crafts a dark cinematic experience and immerses the viewer in interpretations of the human condition and powerful emotions evoked by colour and light. Next we visit Rose Freymuth-Frazier's New York City studio, and chat to her about what life was like living and working in NYC during COVID last year, and her psychotherapy "On The Couch" series.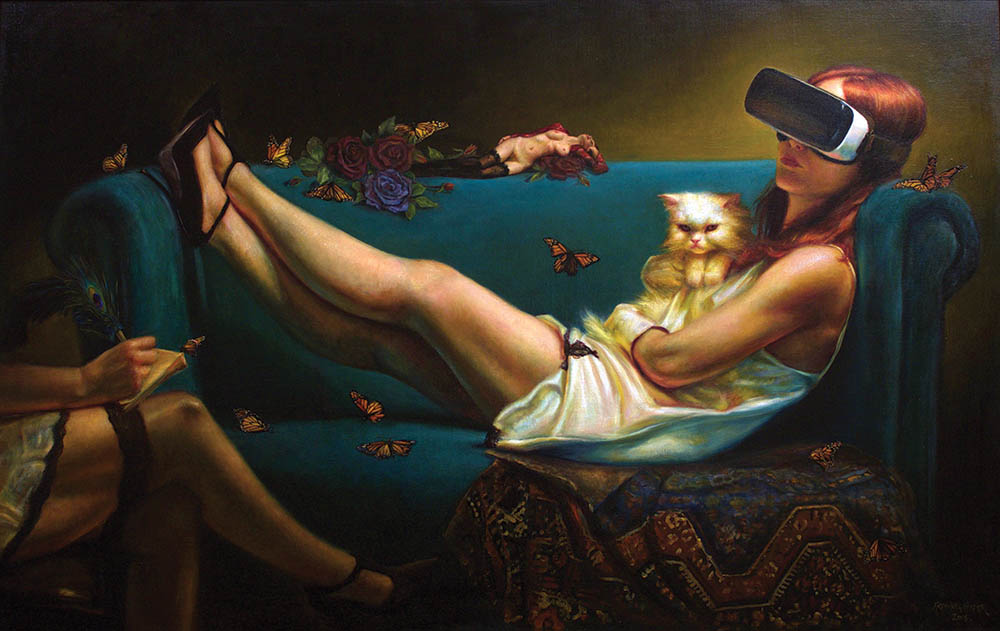 While not to be missed are the paintings of Australian painter Vanessa Stockard, whose paintings have garnered an almost cult-like following for those who share a particular
predilection for mischief and charm. Look closely at each of her paintings and see if you can find #kevinthekittin.
Immerse yourself in monochromatic visions and depictions of societal angst in the intricate work of modern-day soothsayer Laurie Lipton. With only charcoal and graphite, Laurie turns blank paper into a satirical creed that warns us about the dissolution of truth and the expiry of human integrity.
Then fall deeper down the rabbit hole of imagination as we explore Laurie Lee Brom's Window series which took on a more universal meaning as lockdowns became the norm throughout 2020, and many of us found ourselves mirroring these women. The whole world seemed to be standing behind the glass, looking out and waiting for what came next.
As well in Issue 32 of Beautiful Bizarre Magazine, we take a look at Maryam Gohar's paintings which artfully represent populations that are stigmatised, marginalised or otherwise entirely dismissed. We also delve into the work of Polish born photographer Iness Rychlik, who, in addition to her myopia, embraces her skin disease and uses it "as a canvas of expression rather than an ugly inconvenience".
I would absolutely love it if other artists felt even a little inspired to embrace their physical or psychological difficulties through their work.

Iness Rychlik
Enjoy the beautiful fashion inspired artwork of Pippa McManus in this issue's Lookbook, with five sublime full page reproductions of her mixed media paintings.
In our Snapshot series, we ask six artists: Ana Bagayan, Claire Partington, Cecilia Avendaño, Kaethe Butcher, Isabelle de Kleine and Catrin Welz-Stein the same quick questions.
What is your opinion on the current gender issue facing the visual arts?
What advice do you wish you could give your younger artistic self?
What does success as an artist look like for you personally?
As a woman and artist, what are you most proud of at this point in your career?
In her inspiring 'Letter from the Editor', our Editor-in-Chief, Danijela Krha Purssey shares statistics that clearly demonstrate the current gender disparity in the visual arts, and asks those with a platform to take positive steps now to raise the bar, and work toward equality.
I am so proud that through my work as Editor-in-Chief that I can give female artists' wings, and help them soar, by elevating their profile in the arts community globally!

Danijela Krha Purssey
Furthermore, in this issue's Curator's Wishlist, Danielle Krysa of The Jealous Curator
shares what she would like to add to her personal collection. We also highlight more of the wearable art designers that have caught the eye of our Deputy Editor and Editor-in-Chief.
Be sure to grab a copy and read all about these six magnificent brands! And last but not least, enjoy a collection of the amazing hash-tagged #beautifulbizarre artwork from our social media community of over 1 million followers!
All this and so much more inside Issue 32 // March 2021, which showcases some of the best and most inspiring emerging and mid-career female artists of our time.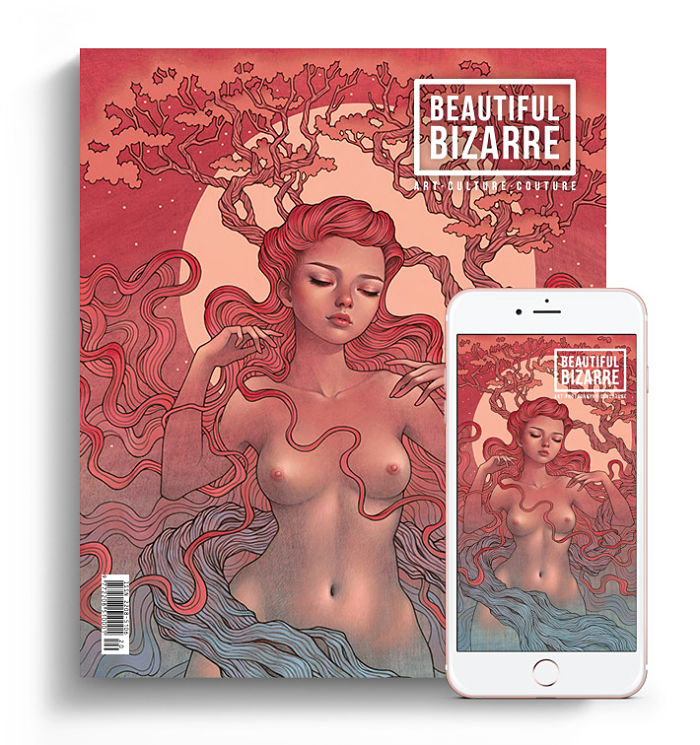 Visit our online store and enjoy Beautiful Bizarre Magazine Issue 32.