Dear beautiful bizarre friends,
The 31st issue of Beautiful Bizarre Magazine, featuring Camilla d'Errico's beautiful and evocative painting, "Vitae Arcu" is on sale now! This work perfectly reflects how many of us are feeling at the end of 2020 – the sadness and struggle, mixed with resilience and feelings of hope.
The December 2020 Issue 31 of Beautiful Bizarre Magazine flew off the shelves, and the print issue has sold out. Thanks so much for your support of our independent magazine, it means so much to myself and my team! However, you can still download the digital magazine, and enjoy the inspiring stories of over 40 creatives from around the world!
Resilient Through Change
As I write this in late October we are into our 7th month of the COVID pandemic and I hear so many voices saying "I'm so tired". This year has been relentless, and the constant change and challenges, as well as the worry, fear and loss has left us weary. Yes we are tired, but we are resilient! And now we can turn our faces towards the future, and move forward with hope of a brighter 2021. That is what I wish for you, may the blessings of the holiday season sooth and re-energise you. Just know that your feelings and your struggle is valid, and if you are in a dark place please reach out to a friend or a counselling service, you don't have to do it alone.
Beautiful Bizarre Magazine ends 2020 on a wonderful positive note! The Beautiful Bizarre Art Prize received thousands of amazing entries this year across all award categories, with entries up 100% since its launch in 2018, plus over 17,000 public votes were received for the People's Choice Award. Learn more about the 2020 Beautiful Bizarre Art Prize winners, in a special editorial inside this issue. Plus we speak at length to the Winner of the 2020 Prize, Phillip Singer, in a fascinating interview, which delves into his inspiring practice.
The Winners of the 2020 Beautiful Bizarre Art Prize participated in our prestigious annual exhibition in the United States in October-November. The 'Midnight Garden' exhibition showcased over 90 of the world's best representational artists and was received with resounding success! I am deeply grateful to this year's passionate Beautiful Bizarre Art Prize sponsors, INPRNT, iCanvas, Yasha Young Projects and ZBrush, along with Modern Eden Gallery for their continued support of the Beautiful Bizarre Art Prize by hosting the exhibition at their beautiful gallery in San Francisco. We have already begun to reach out to like-minded businesses and philanthropists regarding the 2021 Beautiful Bizarre Art Prize, and hope to bring you even more amazing prizes next year. If you are interested in sponsoring the 2021 Prize, please don't hesitate to reach out, I would love to hear from you. Entries will open on 1 February, so mark your calendar!
A Note with Gratitude
Sadly, for the first time since Beautiful Bizarre Magazine's first curated exhibition in 2015, one of team was not able to attend our exhibition. COVID has closed Australian borders and we were unable to fly to the United States. I know we are all missing pre-COVID exhibition opening receptions with their large gathering vibe and artists and curators in attendance, and hope we can get back to that in 2021! I am, however, incredibly impressed with how Modern Eden Gallery and many others have adapted to the COVID restrictions and facilitated exciting new ways for collectors to engage with the artwork and exhibitions. It is wonderful to see the adaptability and resilience of our community.
It is wonderful to see the adaptability and resilience of our community.
As always, thank you dear reader for your support of our independent magazine! This year has been tough, but through your purchasing the magazine and print subscriptions we have been able to get through it and continue to support our community and our staff. 2020 has seen many large media corporation funded magazines go bust, but I am very thankful that Beautiful Bizarre Magazine continues to thrive in this difficult climate.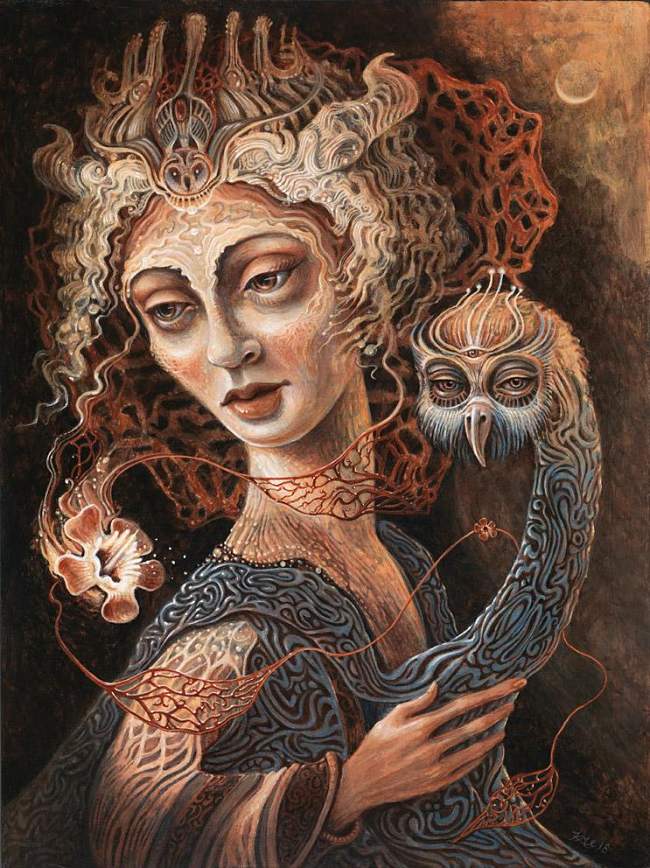 Finally, I would like to end this note with gratitude. I have been blessed to have been able to touch the lives of thousands of creatives this year through Beautiful Bizarre Magazine, the Beautiful Bizarre Art Prize, and our web blogs and social media platforms. To give support, encouragement, and to acknowledge the unique practices of so many. I am deeply grateful to be in the wonderful position to make dreams a reality. Thank you, for enabling myself and my team to live our authentic lives, and continue to do what we are passionate about – supporting the visual arts through our unique, beautiful and inspiring magazine.
"Gratitude turns what we have into enough, and more. It turns denial into acceptance, chaos into order, confusion into clarity…it makes sense of our past, brings peace for today, and creates a vision for tomorrow."

Melody Beattie
Until next time, please take care of yourself and those around you, and stay safe!
Much Love xo

Co-Founder and Editor-in-Chief
Beautiful Bizarre Magazine