Atsuko Goto (a featured artist in Beautiful Bizarre Magazine Issue 008) is the overseer of a delicate wonderland. Her paintings ooze magical tidings, crafting a realm of otherworldly characters that appear like ghosts, gods or perhaps even monsters. Atsuko weaves together a bewitching world that calls to the dreamers within us. It's a celebration of the spiritual aspects of life that we cannot entirely see, but feel. Atsuko's artworks go beyond mere paint and canvas, they are like living dreams for all of us to ponder.
Inspired by her homeland, Atsuko primarily works with Japanese techniques and mediums to create her uniquely soft, muted palette. She paints with Japanese ink, gum Arabic and even uses a brilliant blue lapis lazuli as a part of her dried pigment collection to create her signature moody dreamscapes. The use of a cotton canvas gives her paintings an interesting texture, which melds her colours together like the sweep of blush along skin. She works with minuscule brushes and a steady, meticulous hand that is able to define details with ease. Atsuko must be blessed with the virtue of patience, for it only takes one glance to admire the bounty of line-work and symbolism collaged throughout her collections.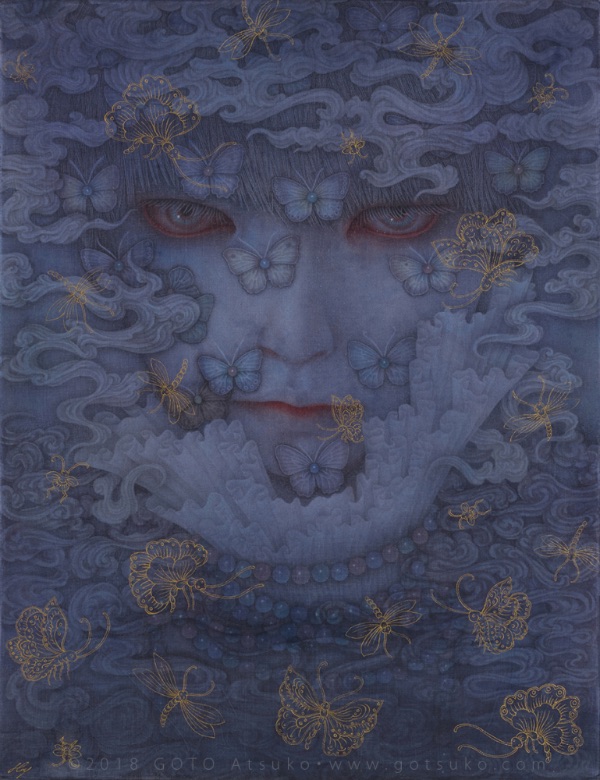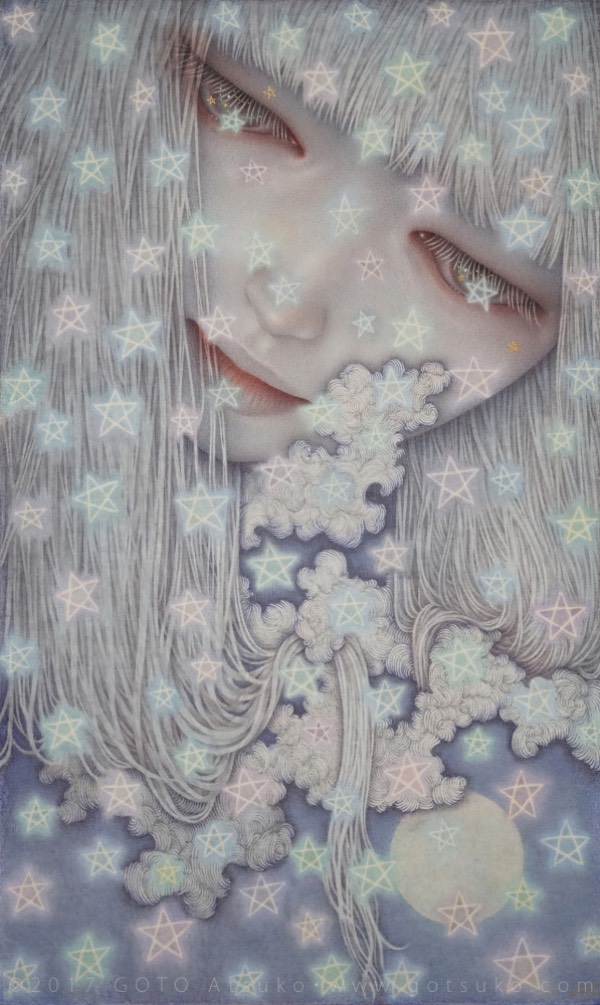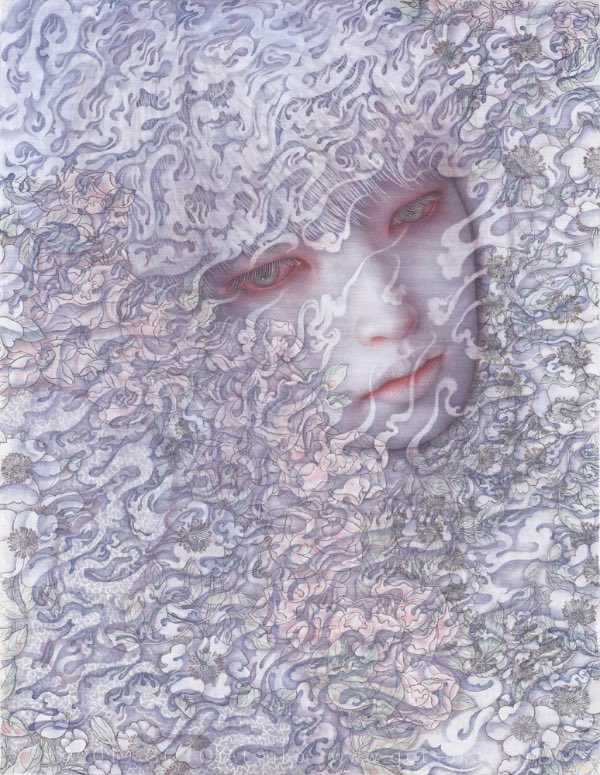 Furthermore, Atsuko's techniques come together to enliven characters with enigmatic expressions. The jewels of her work are porcelain beings, with translucent faces, like dolls brought to life. They are reminiscent of Japanese spirits or haunting monsters that lurk within powdery clouds. We are captured instantly by the eyes of these beings, red-rimmed and glossy toned; so real it appears the beings can blink at any moment and lift from the canvas like floating spectres.
There's also melancholia to Atsuko's characters. Some cry tears that sparkle like globed diamonds. Others appear half-awake, stuck within the limbo of their fantastical realities. But despite their wistfulness, all of these characters appear powerful. Be them demons or angels, these characters contain majesty. They appear to wield a pearl of all-knowing wisdom as they look through us, in us, and past us. These spiritual beings belong to an invisible world, the one we wake from and the one we long to see again each night in our dreams.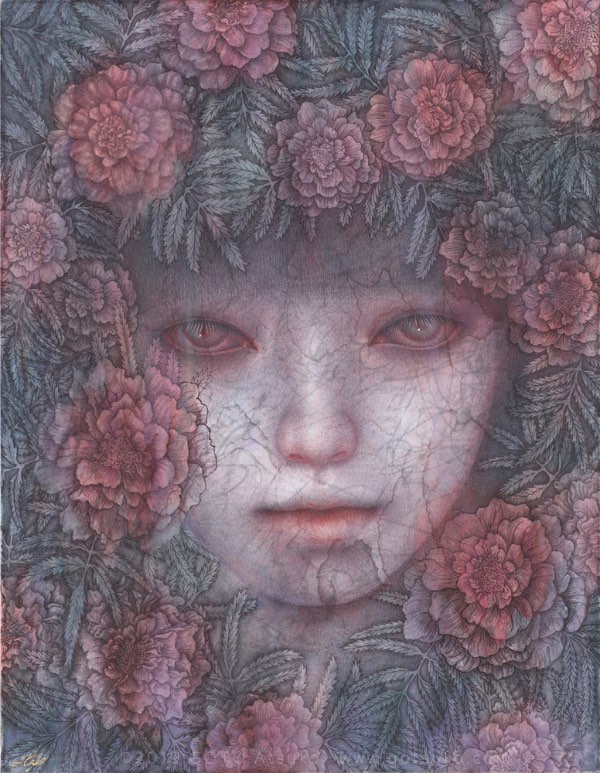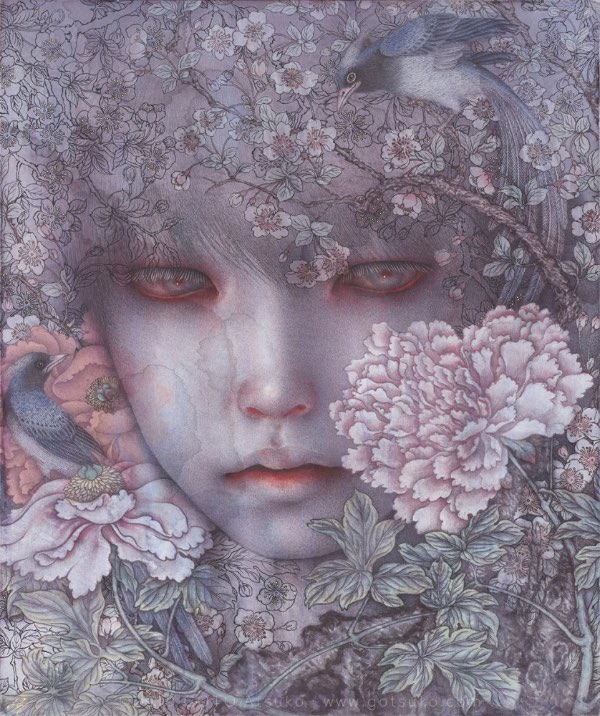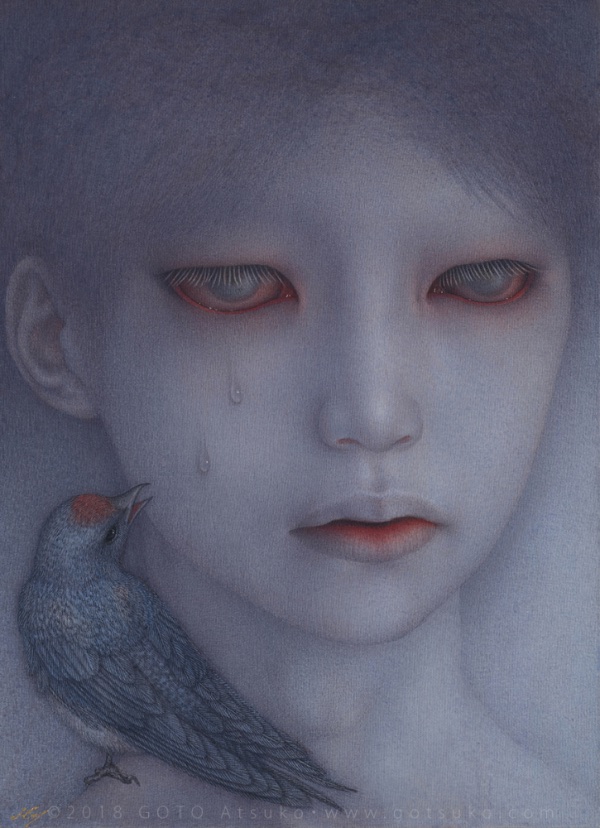 Atsuko Goto further binds us with the spell of her works by repeating naturalistic motifs in a way that tends to hypnotise. The butterfly can be considered Atsuko's spirit animal, which is a symbol of growth, transformation and rebirth. Butterflies are also traditionally associated in some cultures with that of recently departing spirits, which is a notion that can be found embedded within Atsuko's paintings. Entwined within some of her works is the Japanese symbol of the dragon. The dragon brings a lively movement to the artworks, creating an engaging image that inspires daydreams of flight and cloud watching. They also bleed a ferocity into Atsuko's characters, but also a regality that cannot be subdued.
Moreover, Atsuko's artworks feature clouds, feathers, insects and flowers. These bits and pieces come together to symbolise the sentiments of transience and fragility. Sometimes she draws these images in brilliant colour, like golden pigment, and other times she overlays motifs in black ink all over her characters – a living shrine tattooed onto the canvas.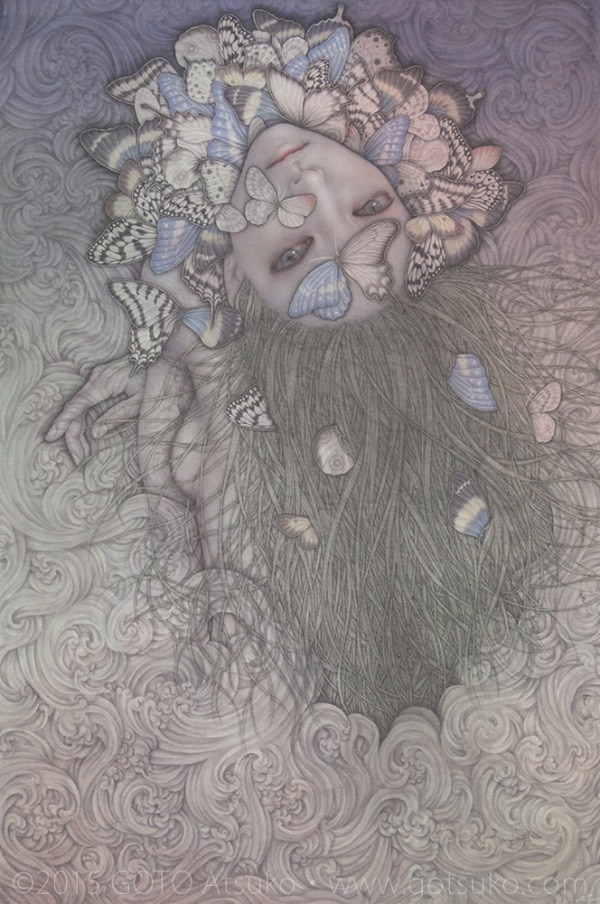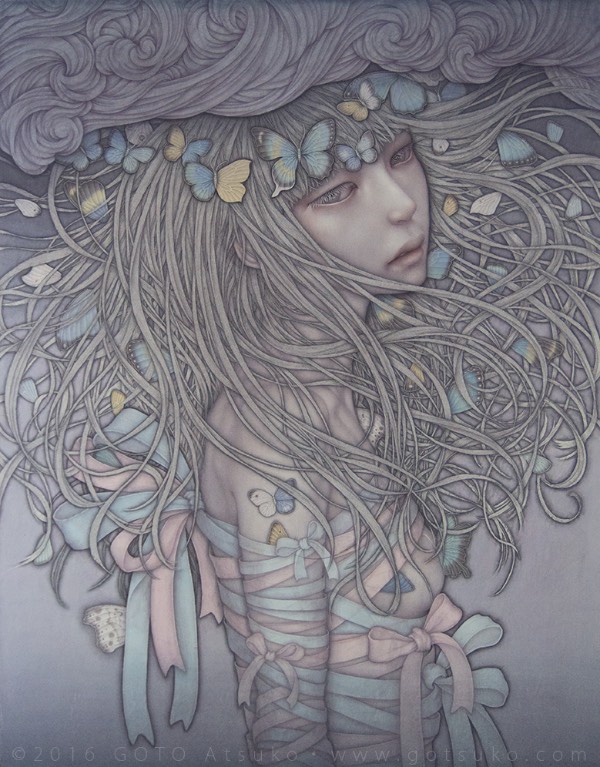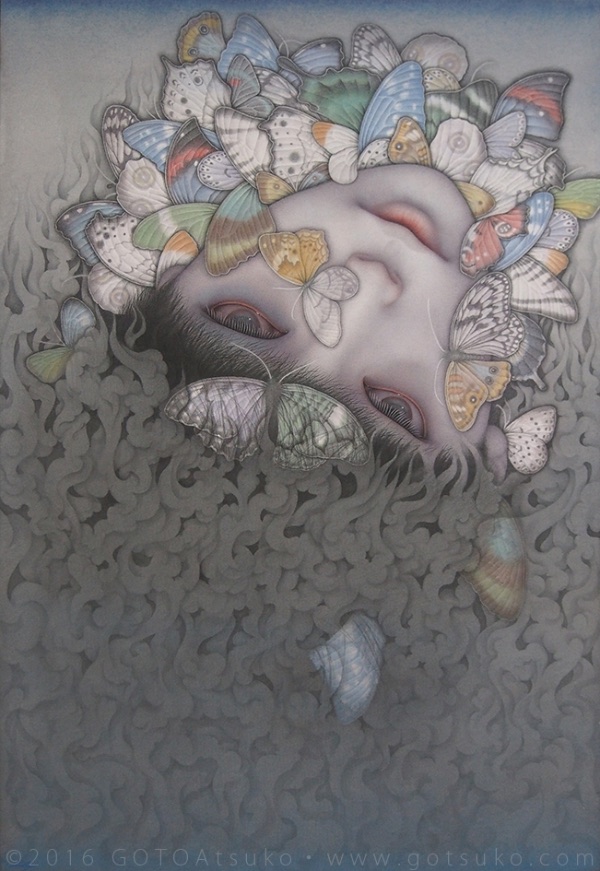 These artworks are more than simply beautiful, they evoke the senses like the burning of incense. She creates paintings that glow and breathe. She is the kind of artist that exhales dreams, and her paintings allow us to inhale them and keep them within ourselves for a little while. Such a method of communication is the foundation for a vibrant artistic language, and Atsuko Goto speaks all the right words.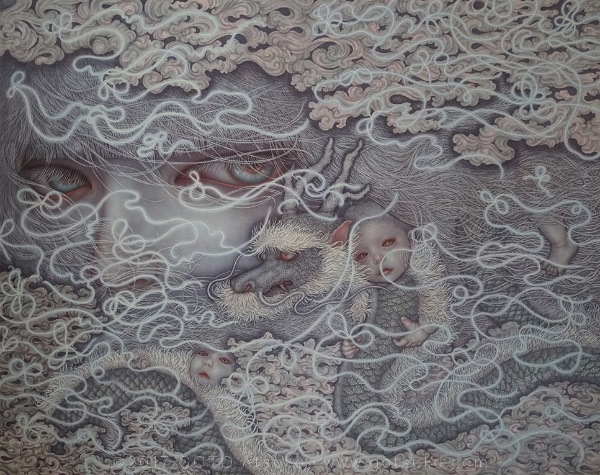 Atsuko Goto Social Media Accounts
Instagram | Facebook | Twitter | Website
Related Articles
Morgaine Faye & Stephanie Inagaki Interview: @ Talon Gallery