Gina Matarazzo's paintings invite you to step into a world devoid of humanity. Playful and colourful, her works give you a taste into these animal characters' secret lives. The effect is something to be cherished. With these creatures taking centre stage, Gina Matarazzo shows how there is room for much more than just portraits of humans in the art world.
Taking a deeper look
At first, her paintings may seem simply sweet depictions of animals, gentle illustrations created to please the eye. However, her series of animal portraits show her subjects in a multitude of lights, each personality shining brightly and capturing a moment as if from a larger story. Take, for instance, the rather stern painting of Smythe the hedgehog, standing tall and still proud in his worn Dickensian suit. And for me, there's something curiously encouraging in her portrait Cadwallader A. Neffwhistle. Perhaps it is his slight smile drawing you in against the warm, inviting colours of a countryside sunset. You'd be forgiven for wanting to step into these worlds and explore with the characters, or merely stay a silent and humble spectator as you stumble across the multitude of sleeping creatures safe within their own little worlds.
With regal elegance, Gina Matarazzo also portrays a whole series of animals posing in lavishly embroidered historical wear. All the more ornate with her use of rich colours and intricate painted frames, Gina nods to the colours and textures of Renaissance portraits and Baroque finery, while ensuring that nature stays a primary focal point. Here, her subjects are very much intertwined with the natural worlds around them, and this is celebrated freely. On another level, the viewer is made to think about humanity's own relationship with nature and other animals; can we observe such intertwined relationships with the natural world around us, as these subjects do?
In my exclusive interview with Gina Matarazzo, discover Gina's ongoing education on the wonders of animals, how she moved out of her comfort zone as an artist, and much more.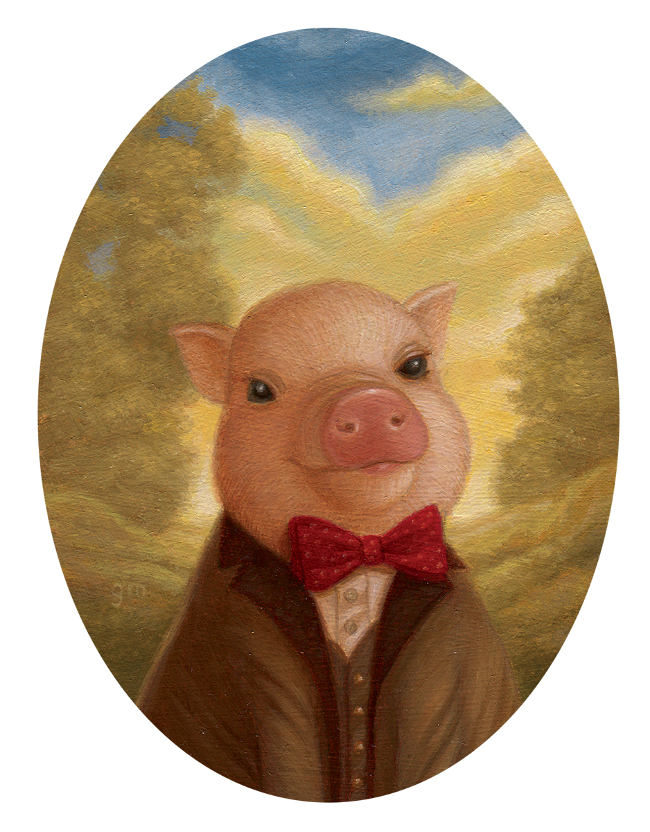 Cadwallader A. Neffwhistle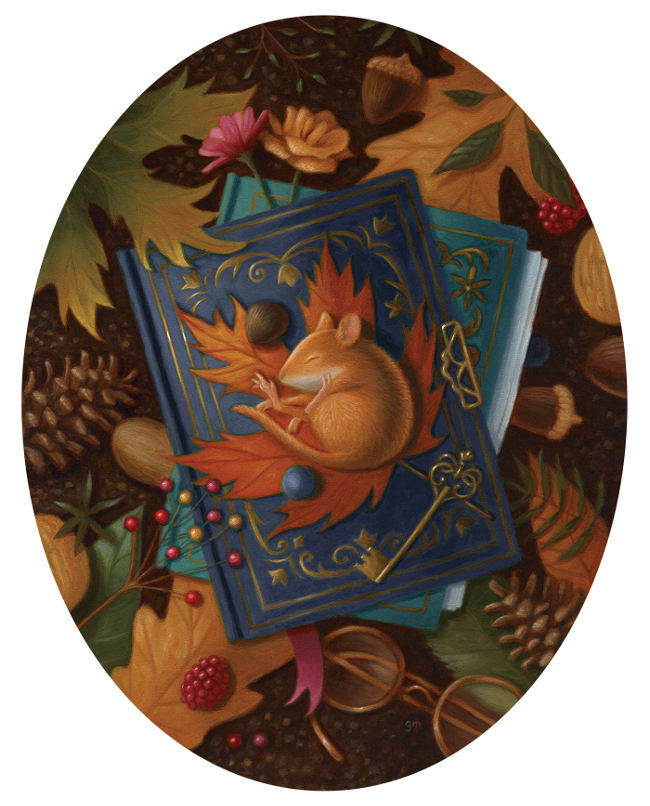 The Keeper of Secrets
Henrietta, in Her Wildest Dreams
Interview with Gina Matarazzo
On your website, you say, "I think everyone needs to slow down and pay more attention to what's going on around them. With a little creative license, I aim to show you a magical way of looking at ordinary things.". Have you always seen the magic in the world and felt the need to put it onto paper?
Once when I was in my first painting class (I was about 13 years old), we were supposed to copy a still life of ballet shoes. When my teacher came over to critique me, she basically said I did it wrong. "It was my job as an artist to make things more beautiful than they are." I totally disagreed because what I thought made those old ballet shoes beautiful was the dirt and frayed threads and stains and wrinkles that I chose to include in the painting. To me, that was the magic there that made me imagine the hard work and dedication of the dancer to be able to perform.
What's the most bizarre thing or event that has been inspiration for an artwork?
I don't know how bizarre this is, but about nine years ago when we were traveling in Ireland in the spring, I noticed all the little lambs running around the countryside, jumping and hopping and clicking their hooves as if in happiness. On TV there, there was a lambing reality show that confirmed my guess that lambs ARE literally jumping for joy when they do that. So I didn't let my husband eat lamb stew during the trip and I created a painting celebrating that joy. It was actually the first painting that started my paintings celebrating animals, although my work has changed a lot since then.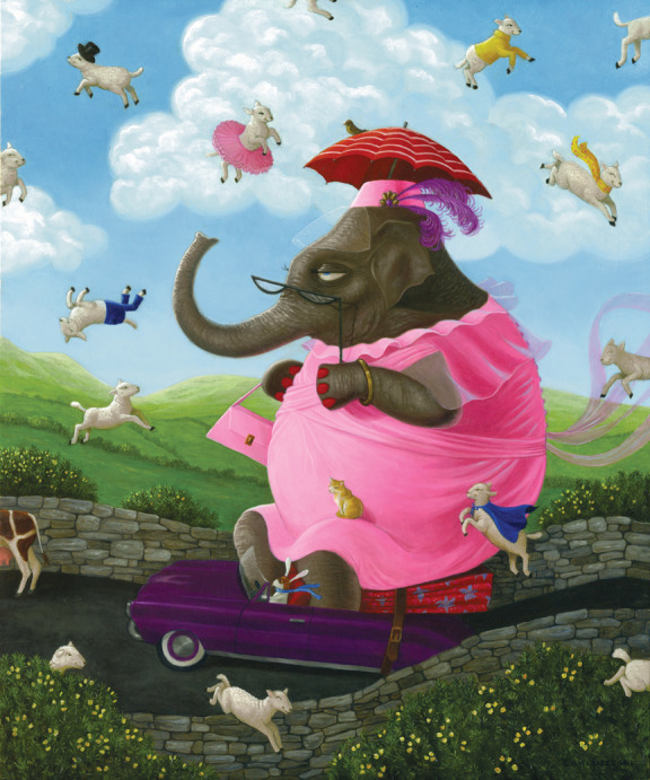 Insomnia
Your painting Tamias Stratus (the formal name for the eastern chipmunk) shows the animal as a rather divine being with the golden halo. Can you tell me more about this painting?
Tamias Striatus was born of enjoying the wildlife in my own backyard. A lot of homeowner's wish their demise because they eat up their vegetables and dig holes in the yard. This attitude toward animals really angers me, because no animal should be considered less important than another. We humans think we are so superior and think nothing of poisoning supposed "lesser" creatures than ourselves.
When I researched chipmunks, I learned about how crucial these little guys are for the ecosystem. Chipmunks encourage the growth of plants and trees due to how they gather and drop their food. So just by being who they are, they help the world. A tiny animal CAN make a difference in this world! I thought this was rather noble, so I thought portraying one with a nimbus was in order.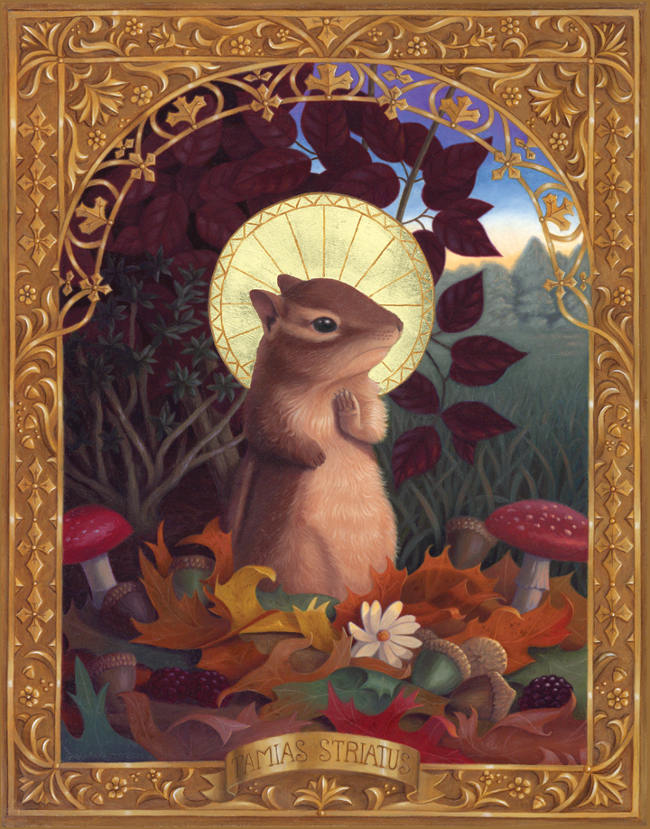 Tamias Striatus
The Collector
You used to design and illustrate album covers across many genres – did you find freedom in this versatility?
I did. It helped me get out of my comfort zone and try new things that I probably wouldn't have otherwise. I often had to try out different styles of art to complete those assignments. From creating more abstract retro looking album art like Alex Steinwiess or the whimsical cartoonish style of Jim Flora, or even just creating art through swirly lines and blocks of colour. It was great fun and offered freedom from worrying about whether anything was "correct," focusing more on mood and theme.
Life can be so full of sadness and pain. If I can help spread a little joy, I think that's something to be proud of.
What was it like interpreting music into images? Do you think this practice has had an effect on how you design your artworks now?
It has had a tremendous effect on my artworks now. In college, I was trained to do traditional illustration and I had a tendency to be pretty literal in my work back then. Interpreting music into images helped me focus more on flow and design, feeling, and the power of color and how it relates to the viewer. Although my work is still based on realism, I try to break the rules without the viewer necessarily knowing so. I often prefer to create a composition with more "design" in mind which makes for stronger imagery.
On my more complicated pieces, you can see that I'm trying to actively move the viewer's eyes around the painting to look and see everything that's in the painting. I don't think I would be creating the same art I'm doing now had it not been for this as I kind of fell into the album art scene and it has been a whole other kind of education. I have a musical background personally as well, so these experiences, really helped shaped the artwork I create now. You'll notice themes of music in my work as well.
Have there been any memorable comments from people that have seen your work?
Probably the most wonderful comment anyone has ever said to me about my work was about how transmitting joy to the viewer through artwork is the highest accomplishment that art can achieve. It was such an honour to hear that and [it] kind of articulated out loud one of the goals I have always had with my work, but don't necessarily think about. I create with joy and am so thrilled when someone can feel that when they look at one of my paintings.
Life can be so full of sadness and pain. If I can help spread a little joy, I think that's something to be proud of.
Upcoming Exhibitions
Gina Matarazzo will be exhibiting at the following during 2019:
Abend Gallery, "Animalia" show, August 10th – August 31st in Denver, Colorado.
Haven Gallery, "La Lune II" group show, August 31st – Sept. 29th in Northport, NY.
IX12, Oct. 23rd – 27th in Reading, PA.
Abend Gallery, "29th Annual Miniatures Show", November 2nd – November 23rd in Denver, Colorado.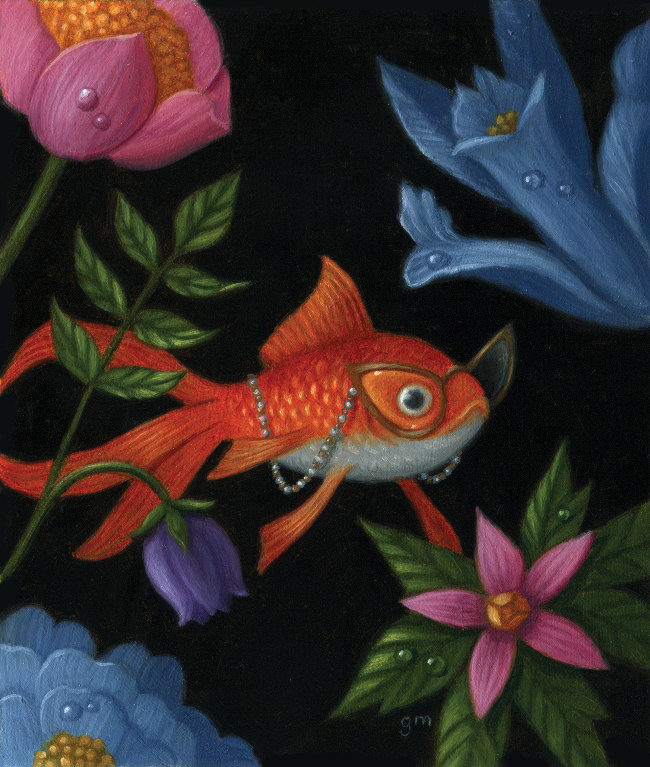 Fabulous Fiona (for the Animalia show at Abend Gallery)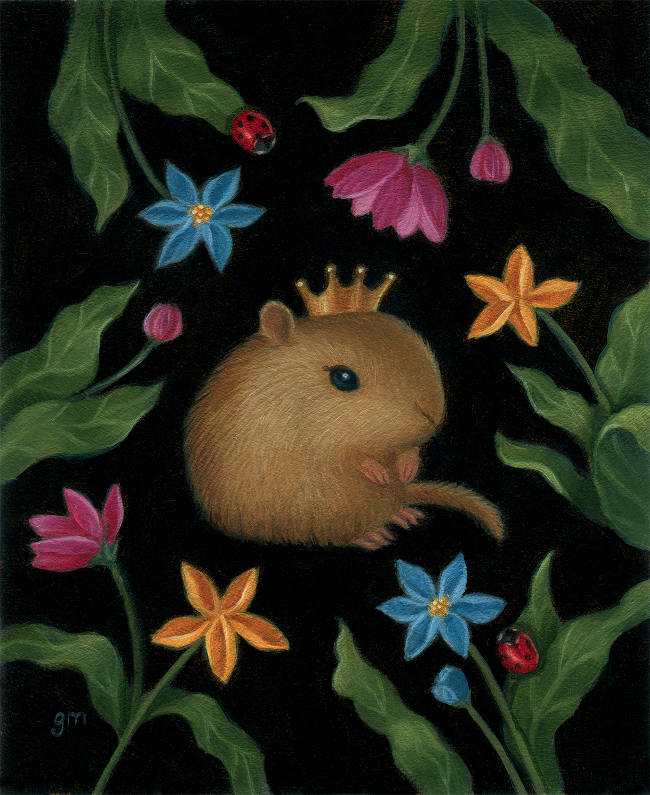 Felicia Fieldmouse (for the Animalia show at Abend Gallery)
A Residence of Resonance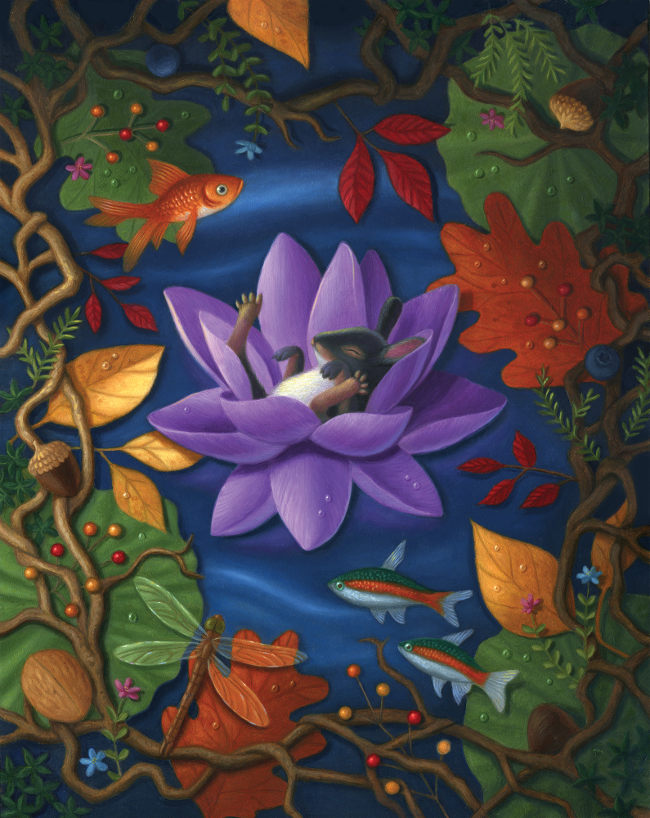 The Wayfarer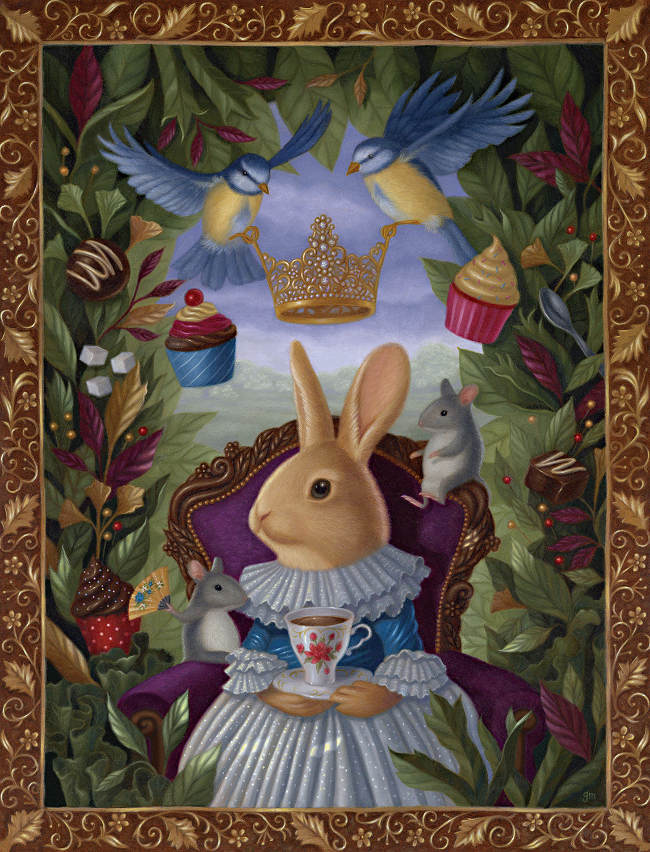 The Highest Tea
Sleeping Baby Bunny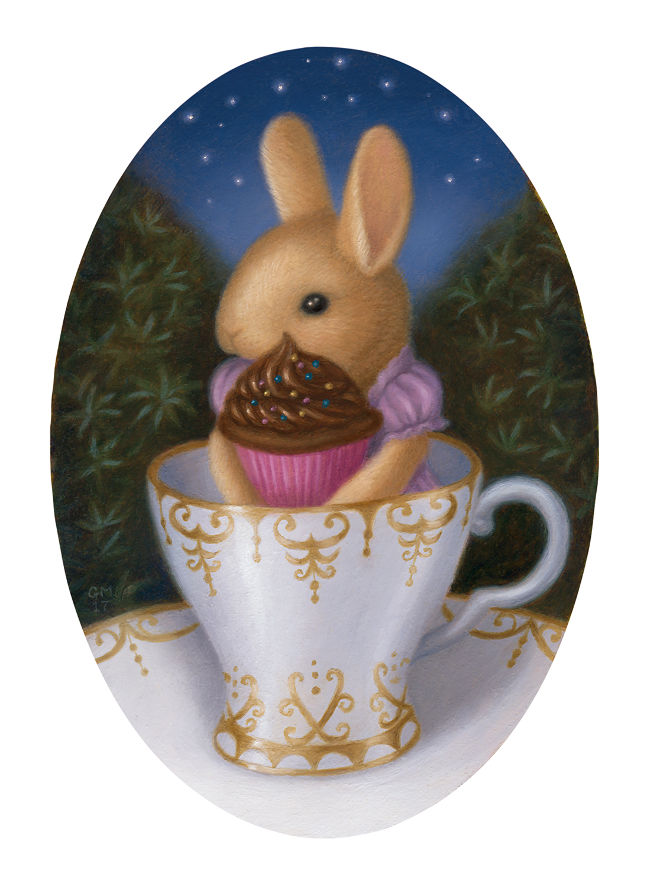 Sophia Zettericini Con Torta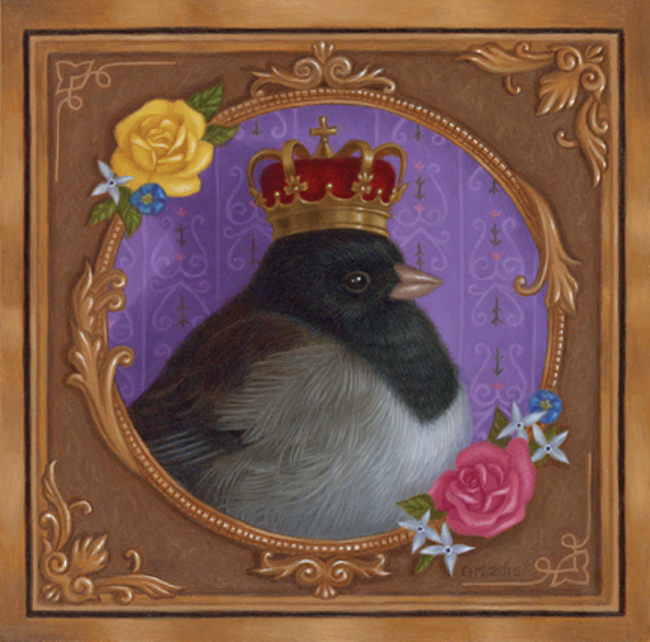 King Birdy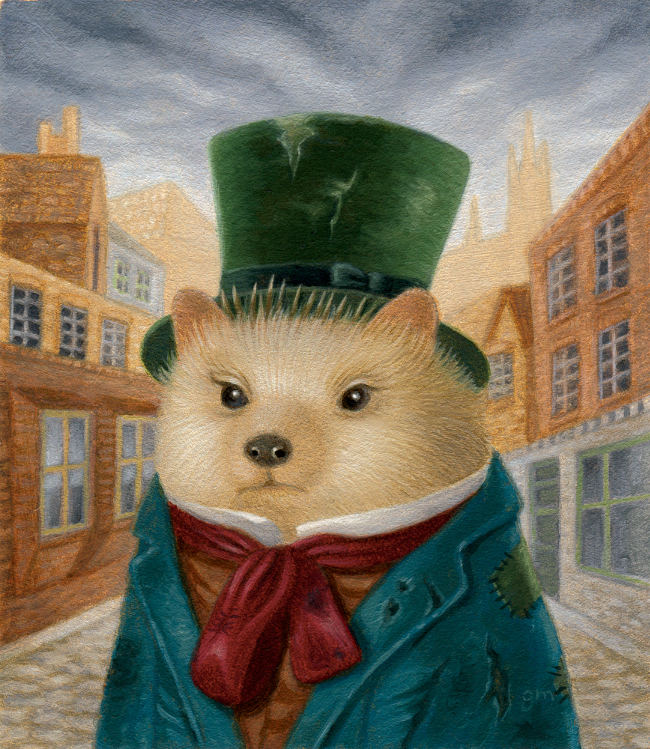 Smythe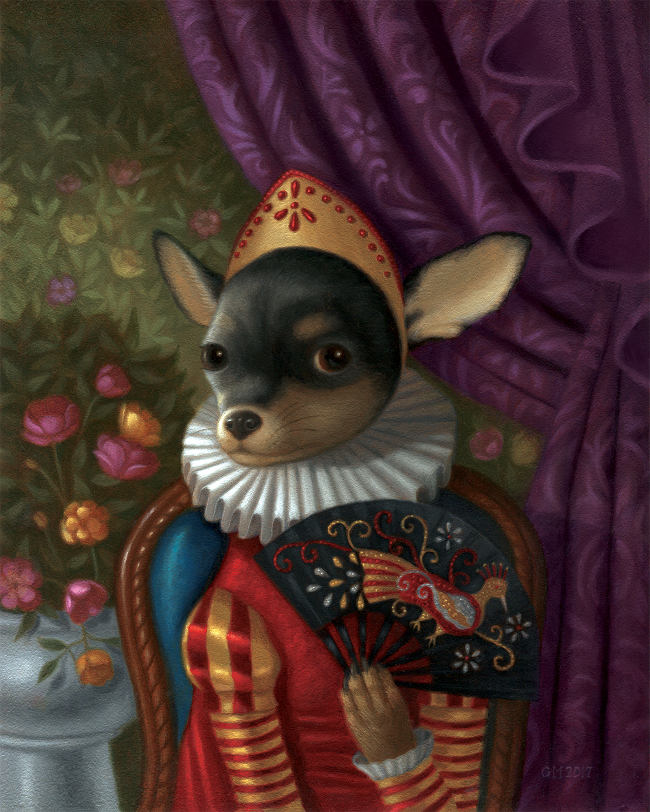 Violeta, Before Victory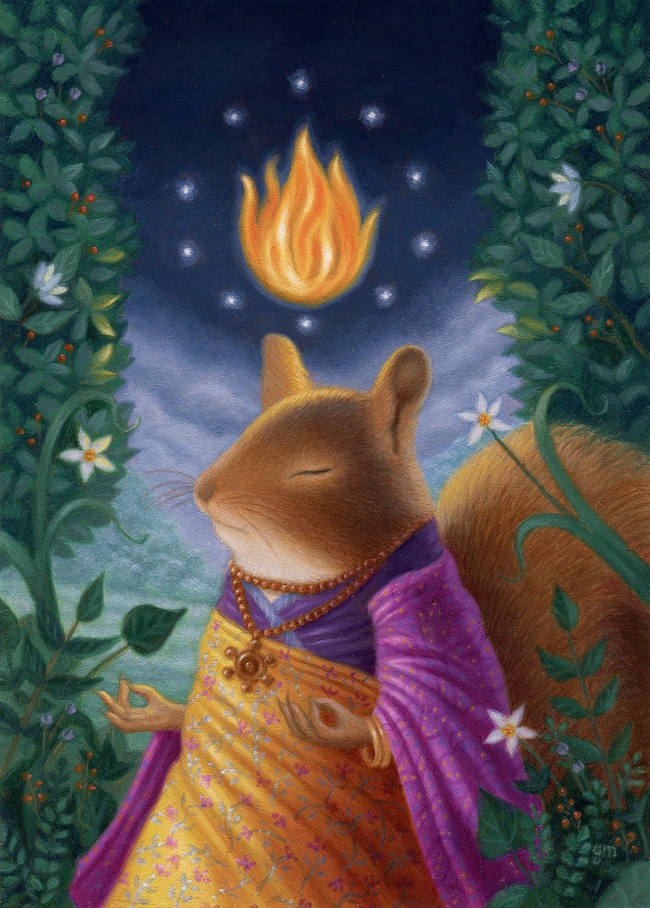 The Mystic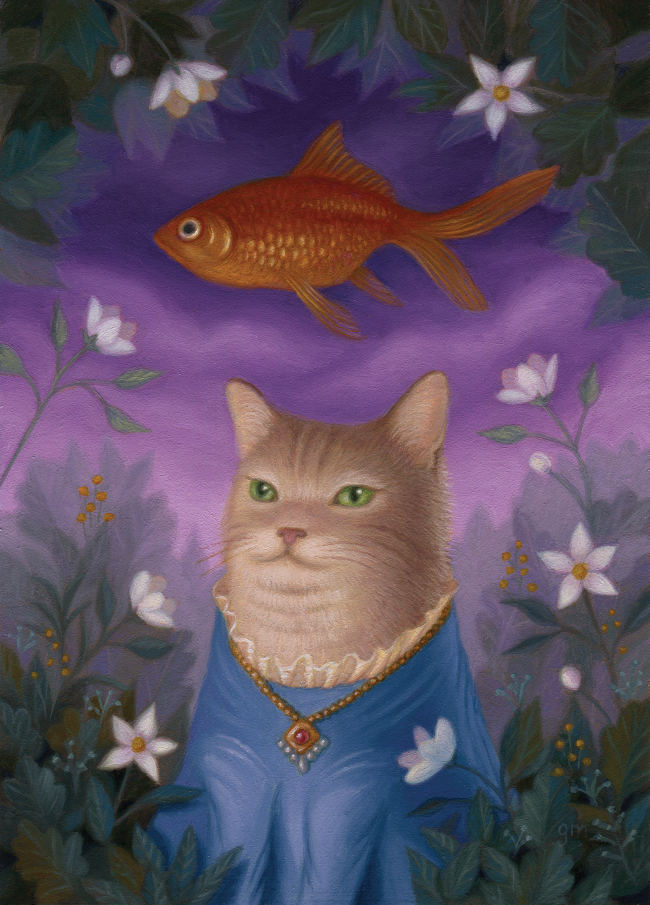 Amelia Amongst The Flowers In The Fishy Glen
Gina Matarazzo Social Media Accounts
Website | Instagram | Facebook | Twitter 
Related Articles
Interview: Kane Kokaris and an Intriguing Universe of Animals
Anne Juul Christophersen: Forgotten Connections of Childhood Dreams
The Surreal, Mystical Delight of Scott Mills' Wildlife Sprites