Visualise yourself walking through the world, observing shape, colour, sounds, with no separation between imagination and what the world is made of.  Amy Sol captures these moments and paints them into existence. She creates a playful but mellow scene with soft hues and adorable creatures, with lighting that seems surreal but somehow familiar and comforting. Amy has some incredible things on the horizon and now branching into sculpture, she brings her pieces into the three dimensional world. Amy embraces her surroundings and gently finds their place on the canvas. Her care for the process is inspiring, a dreamer on solid ground.
Interview with Amy Sol conducted in conjunction with her editorial in Issue 018 of Beautiful Bizarre Magazine.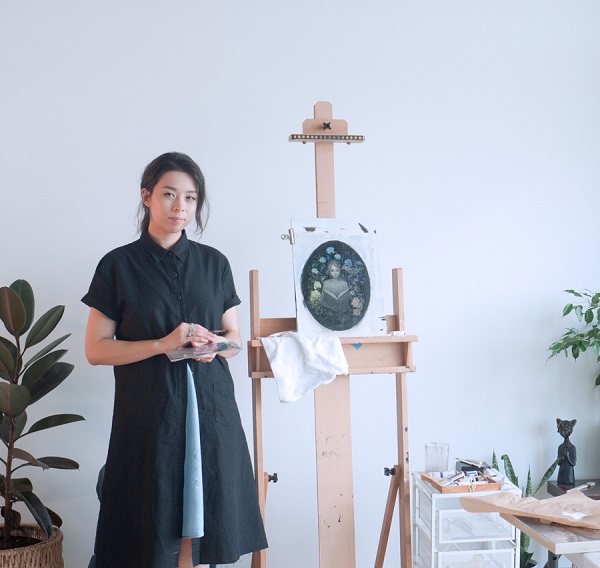 Amy Sol
Can you start from the beginning and tell us a little about yourself and your background for anyone that may not be familiar with your work.
I was born in 1981 in Las Vegas, NV; I spent some of my childhood in S. Korea but lived in southern Nevada for most of my life. I've relocated to the Oakland, Ca. I started drawing and making art from an early age. As a child, I was interested and drawn towards visual imagery, mainly in the form of books, movies and video games. My parents where and still are very creative people. My mom did lots of crafting, sewing, and cooking and my father on his free time – built things like cars and furniture. I think being in an environment where projects where always in progress felt natural to me, so I carried that life style through to my adulthood.  I don't recall a time in my life in which I wasn't immersed in some kind of art. For the most part, I consider myself self taught – because I did not go to art school… but I have picked up techniques and methods here and there from books, videos, teachers and other artists I've met. A huge chunk of my process of painting and making comes from experimentation. I've gone through many phases and styles of work in earlier years. I feel my work now resembles more closely, what I was most interested in as a child; soft colored dreamlike worlds with fantastical characters, plant life, and animals.
I would love to get a better understanding of your personality as well as how your beliefs have shaped your work thus far in your career. Have there been any defining moments that have shaped the person you are and therefore the artist you are today?
I've been making art from as early as I can remember. It has always been an anchor for me; it keeps me feeling connected to the world. It's easy to think of art as an escape but really I need it to feel centered and more fulfilled as a human. Otherwise, I definitely feel off kilter and lost. Painting is challenging for me, I don't find it easy to paint or make things. I spend a lot of time problem solving and trouble shooting, to find the thing I'm looking for. I really enjoy that difficulty, and it keeps me coming back. When I finish a painting, even if it isn't perfect, I have a great sense of relief and satisfaction. It is like I've finished climbing a mountain hike alone and arrived home in one piece, with a moment of my journey.  Each piece, especially larger works, can take hundreds of hours to complete. During those lonely hours of self-reflection, there are times of happiness and elation but equally as many moments of worry and doubt. When I finish a piece, I am proud that I overcame it and saw it through to the end. I always learn something new, which each painting and I am always eager to start the next painting / journey.
Your colour palette is very distinctly you! I know you have dedicated much of your time as an artist mixing colours and pigments to achieve this subtlety of colour. Can you tell us about how you began working in these tones and what sort of discipline was necessary to create the mood via the colour/pigment?
I think my love for muted tones comes from growing up in the Southwest. The sandy greys, greens, mauves and pinks have always soothed my spirit. I also love how things look at night, how certain things appear in evening, twilight environments, or dusty and foggy days. As far as color, I've spend much time exploring mixing paints to discover ranges of hue, which can add depth and hopefully help to communicate mood & feeling in my work.
I was so excited to see your casted dolls and "Love Leaf" sculptures on your socials, I love how they have turned out! Have you wanted to work with clay for a long time? Will sculpting become a more prominent medium in your work in the future?
Yes, I love sculpting as much as painting! Working in 3D is a very different process but fun! I get to use my hands and brain in other ways, which is really important. I've casually worked with clay on a small scale for a couple of years with the intention to learn how to resin cast, finally this year I dove into this medium. I plan to continue exploring sculpting and making 3D works for future exhibitions.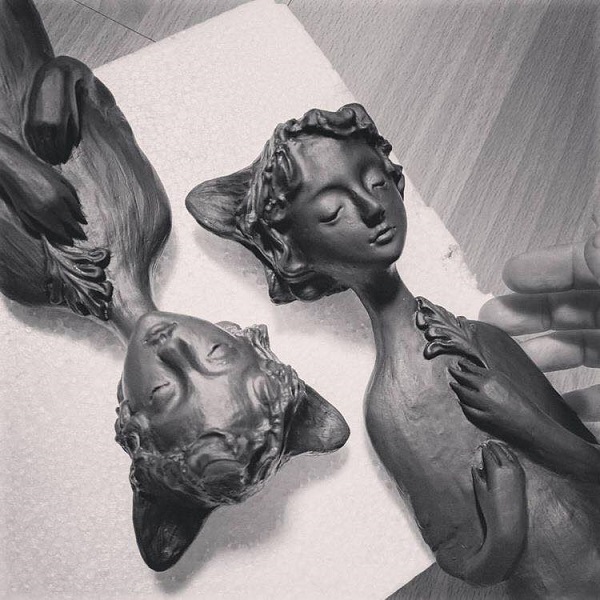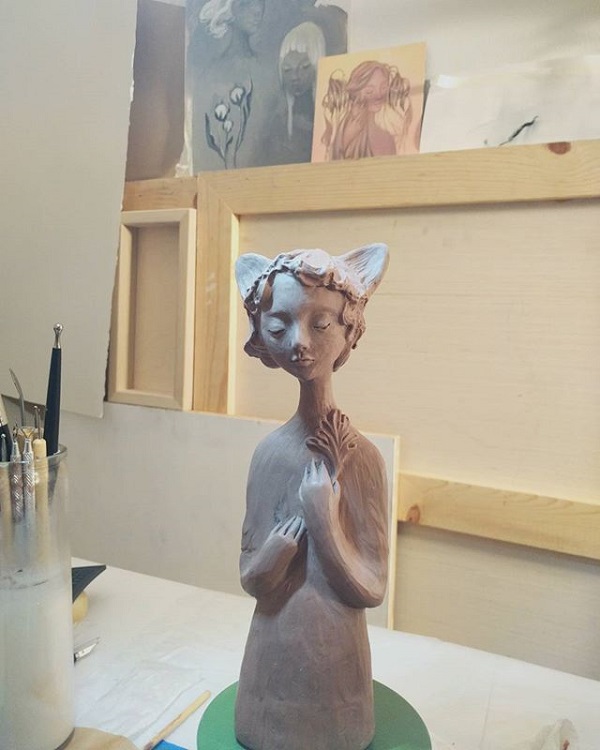 Looking back on when you started your journey, how would you describe it to date? Have there been any unexpected things you have discovered on the path as an artist/painter? If you could go back to the beginning, would you offer yourself any advice that would make the process easier?
It's been an adventure!! And also full of ups and downs. I think knowing and accepting that things may get tough at times but remaining optimistic and brave have been extremely important for me.  Being creative is all about exploring the unknown and taking chances. The most important advice I'd give to myself retroactively would be to – be kind to yourself and be brave, there is really nothing to lose but time.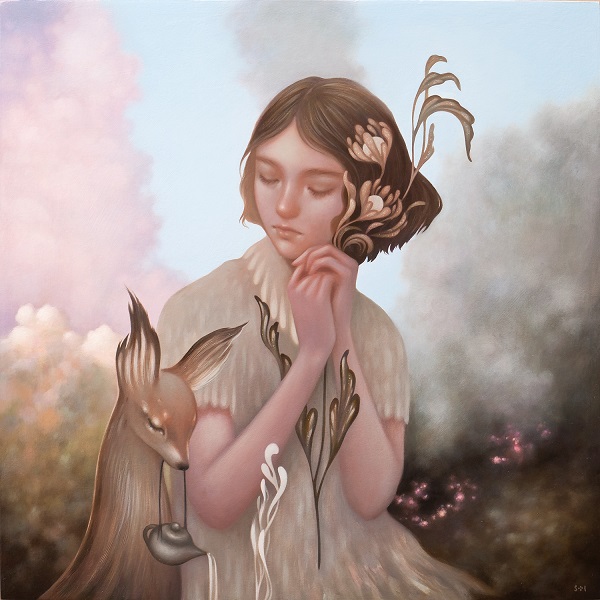 Could you share a typical day in your life, and what a day in your studio plays out like… we love details, so what music would you listen to and do you have any furry friends accompany you?! 
When I'm painting, I keep a very consistent routine to help me stay focused. Since painting/drawing is quite a sedentary activity, I try to get out and walk in San Francisco or Oakland for at least an hour every day. Every time, I go walking I get inspired by something I see.  Like the shape of a plant or a color, or the posture of a person, it's often subtle things like that. I like to have music or podcasts going on while I work. There is a broad range of stuff I listen to… just depends on my mood that day or week. Lately, I've been listening to classic literature audio books, I just finished Moby Dick and East of Eden. I have a little dog named Ginger. She's 15 now and she spends a lot of time resting by the foot of my easel.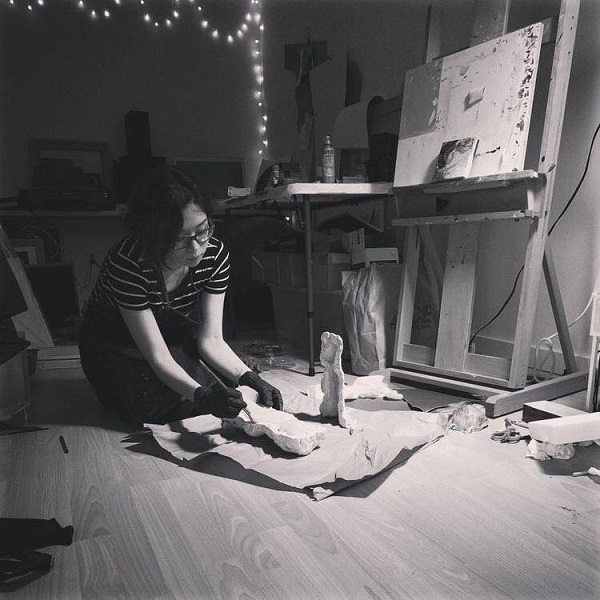 There is always a touching relationship between the characters and animals that are predominantly featured throughout your pieces. I love that you capture these intimate moments so beautifully.  How does your relationship with nature and animals manifest itself? And how does it inspire your paintings?
I've been lucky enough to experience close attachment with a few animals in my life… it's such a powerful life changing bond and I love to express some elements of this in my works. This kindred feeling crosses over into other parts of life and just the concept of love and connectedness is central to what motivates me to paint.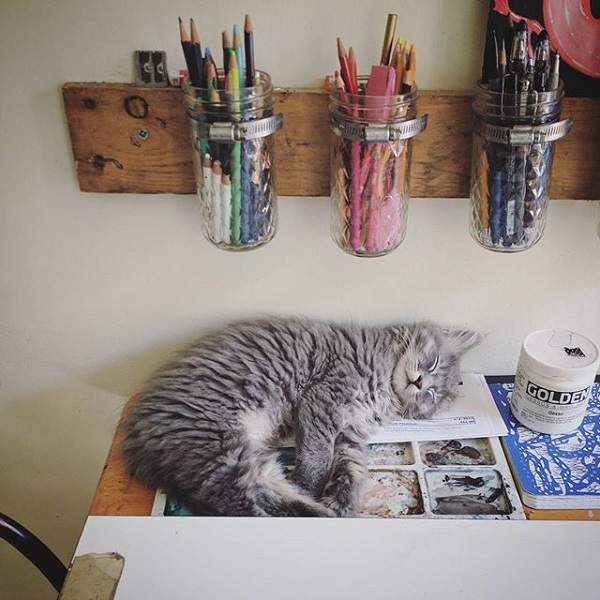 I read that you said you pull elements for your work from a place that isn't tangible, "as an observer watching a dream playfully materialize". I love this analogy! I wonder if you can expand on this idea of being a witness to bringing these dreams to life and what this process looks like for you when you begin your paintings.
Ideas often come in the form of daydreams, when I let my mind wander; I am able to go to places where concepts materialize. For instance… in the painting night be still, it started with a floating Kirin like animal… I wanted to capture the creature in still motion that was all I had to begin with. But over time, other elements began to gather. One of them happened after seeing blooming flowers lit by a street lamp and imagining a scene coming together. It was spurred by a feeling of complete peace and mystery but also knowing that moment was temporal. I start drawing a study for the piece, and then I begin painting. Sometimes new ideas come to me in the stages and the painting changes along the way.
Now a days, I try to have closer to completed studies before I paint, just to open up time for enjoying painting and reducing the amount of big changes that would occur. It can often be quite stressful and take days to make a big change to a painting.
I know you play the Ukulele and a bit of VR in your spare time (me too) What are some of your other passions that we might not know about?
I still practice ukulele on my spare time and also just got into some VR art applications such as Tilt Brush and Medium, which I recently tried and am in love with!! Besides these two favorite hobbies, I like to cook and travel. I just returned from a southwestern US road trip and am very inspired from the grand desert and mountain landscapes.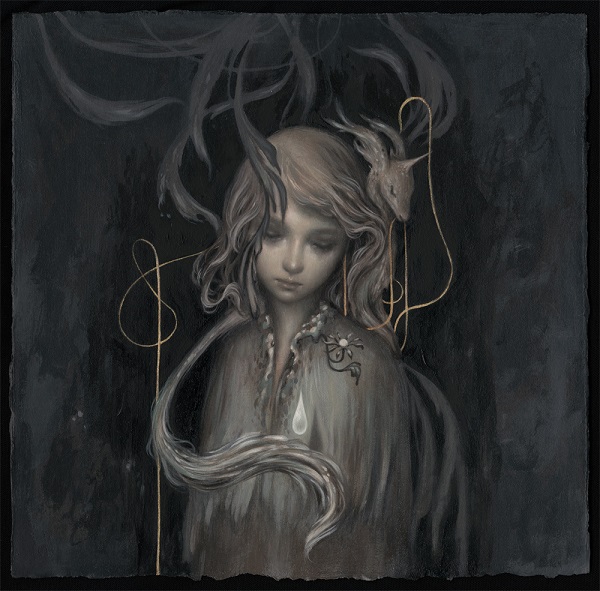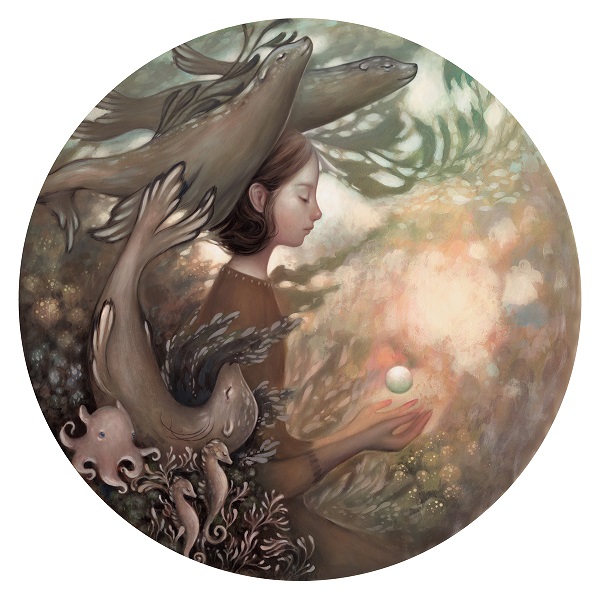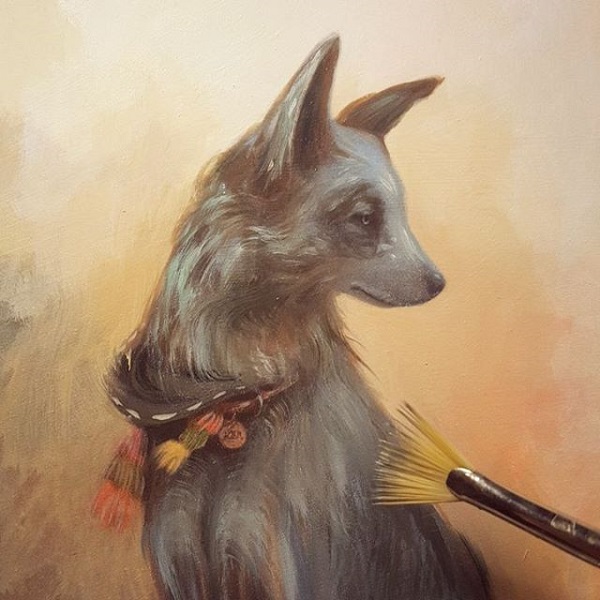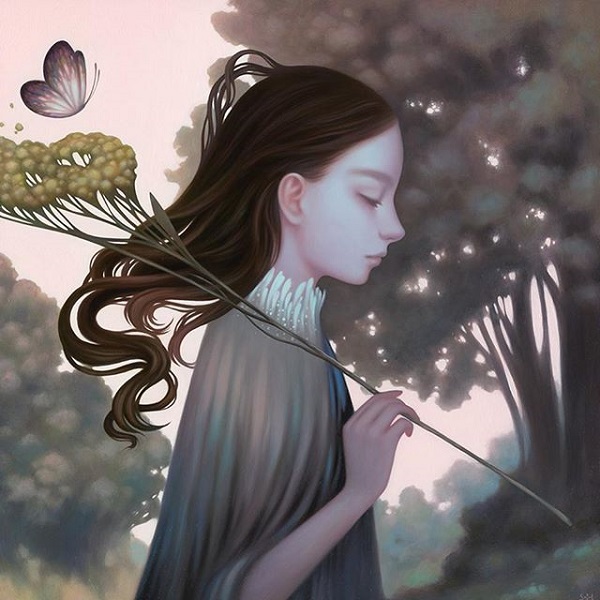 Amy Sol Social Media Accounts
Website | Facebook | Instagram | Twitter
Related Articles
Read more articles by Kylie Dexter
Discover all of Beautiful Bizarre's Painting & Illustration articles
Save
Save