If you listen to the ambient sounds of ocean waves as they rush to sleepy shorelines, the sea has a song.
The utopian visions of Evgeniya Golik's (Evgola) work resonate and swell inside of you like glints of sunlight undulating with the current. Her ability to capture serenity alongside the unique complexities of its surreal counterpart is inspiring. Journey into the narrative of her captivating subjects… and let your imagination soar.
Join Distinction Gallery in the celebration of Evgeniya Golik's solo exhibition, "Song Of The Sea", opening Saturday, April 13th from 6-10pm. The opening reception with Evgeniya includes live music, ArtHatch open studios, The Lost Abbey, and BK Cellars wine.
"I was born and raised in a city by the sea – The Russian port Vladivostok. I was lucky enough to start my life all over again in a beautiful city on the ocean coast – San Diego. I can't imagine my life without spending time by the water, hearing waves crushing, feeling clearing breeze on my face. All troubles seem so small and the happiness is even brighter.

The water itself is a greatest power. It can give and it can take away, it can cleanse, heal and it can kill at the same time. Always changing, yet always beautiful. I can identify water with the power of music or the power human feelings as I dive into these series. I'm presenting new emotional pieces that are within a range between musical and marine themes, or a twist of both. In these works I'm challenging myself to create a melody or a sea sound through the painting, I am also trying to bring more dynamic elements into my style."

– Evgola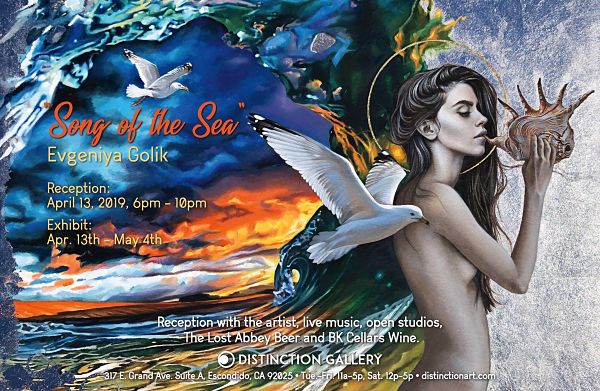 Opening Reception:
 Saturday, April 13, 2019 | 6-10pm
Exhibition Dates:
April 13- May 4, 2019
Distinction Gallery
317 E Grand Ave Escondido, CA 92025
(760)707-2770
Press: Evgeniya Golik (aka Evgola) is a Russian born pop-surrealist based in San Diego, California. She graduated Art School at the age of 17, and then went on to study at the Far Eastern State Technical University in Vladivostok, Russia. Evgeniya earned her degree in Design and Architecture. She is currently a full time fine artist, illustrator, and art teacher.
She is inspired by the European Renaissance, Russian Orthodox icons, Slavic folklore, fairy tales and modern pop culture (fashion, photography, cinematography, music), Evgola's art combines a classic sensibility within a contemporary setting, something which artist-self defines as 'Neo Renaissance'. Using a variety of media, her work joins real world portraiture with imaginative and often surreal narratives to highlight and reveal her subject's personalities. Evgola's haunting paintings and drawings are doors to a mystical realm, one which showcases a myriad of beautiful human faces and fantastical creatures, that seek to express their secret through esoteric language. "Deep gazes, halos, long necks, blossoming skins, gold leaves, secrets and stars…"
"I have been following Evgeniya's for several years. Her artwork makes me smile, especially as she continues to push her figurative work, while equally creating surreal, powerful environments for them to thrive in".

– Gallery Director – Melissa Walker