A group show featuring over 60 artists to raise awareness about bird window strike casualties in collaboration with Yale University.
It's not often that I get to write about an exhibition which has such a pinpointed theme, nor one curated in collaboration with Yale University. So, I'll start with a fact: leading scientists reported that nearly one out of every three birds in the U.S. and Canada have disappeared since 1970. This accumulates to a loss of nearly 3 billion birds.
"Many of these birds include common New Haven species that were assumed safe and abundant, including: robins, sparrows, swifts, doves, thrushes. These birds can no longer be taken for granted." Says Viveca Morris, the Executive Director of the Law, Ethics & Animals Program at Yale Law School, in her 2020 article for Yale Daily News. Alarmingly, reports show that bird-glass collisions are one of the major causes of this massive decline.
Furthermore, "scientists estimate that up to 1 billion birds are killed every year in the U.S. by flying into glass."
This news struck the hearts of Neil and Susannah, owners of Antler Gallery & Talon Gallery in Portland, OR. As galleries focusing on a deep connection to nature, Neil and Susannah maintain a vow to raise awareness of ecological crises and protection of nature through their exhibitions. Naturally, they wanted to help. The show they have created features watercolour and oil paintings, as well as sculptural artists and a couple of ethical taxidermists.
Welcome to Fractured Aviary.
With this exhibition we hope to help build [a] narrative by showcasing works that focus on the beauty and fragility of bird species, while also reckoning with the negative contribution of our own built environment, and the choices we make in constructing it, upon them.
In collaboration with Yale University
Opening Reception: Thursday, June 30, 2022 | 5pm – 8pm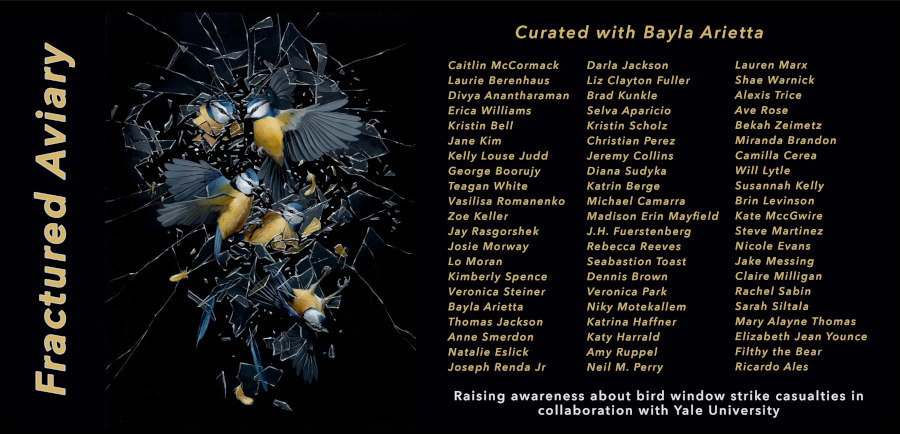 Antler Gallery & Talon Gallery
2728 / 2724 NE Alberta St. Portland, OR.
Opening hours: 12pm – 4pm Saturday & Sunday
For purchase enquiries, please email: [email protected]
Over 60 artists participating:
Caitlin McCormack • Laurie Berenhaus • Divya Anantharaman • Erica Williams • Kristin Bell • Jane Kim • Kelly Louse Judd • George Boorujy • Teagan White • Vasilisa Romanenko • Zoe Keller • Jay Rasgorshek • Josie Morway • Lo Moran • Kimberly Spence • Veronica Steiner • Bayla Arietta • Thomas Jackson • Anne Smerdon • Natalie Eslick • Joseph Renda Jr • Darla Jackson • Liz Clayton Fuller • Brad Kunkle • Selva Aparicio • Kristin Scholz • Christian Perez • Jeremy Collins • Diana Sudyka • Katrin Berge • Michael Camarra • Madison Erin Mayfield • J.H. Fuerstenberg • Rebecca Reeves • Seabastion Toast • Dennis Brown • Veronica Park • Niky Motekallem • Katrina Haffner • Katy Harrald • Amy Ruppel • Neil M. Perry • Lauren Marx • Shae Warnick • Alexis Trice • Ave Rose • Bekah Zeimetz • Miranda Brandon • Camilla Cerea • Will Lytle • Susannah Kelly • Brin Levinson • Kate MccGwire • Steve Martinez • Nicole Evans • Jake Messing • Claire Milligan • Rachel Sabin • Sarah Siltala • Mary Alayne Thomas • Elizabeth Jean Younce • Filthy the Bear • Ricardo Ales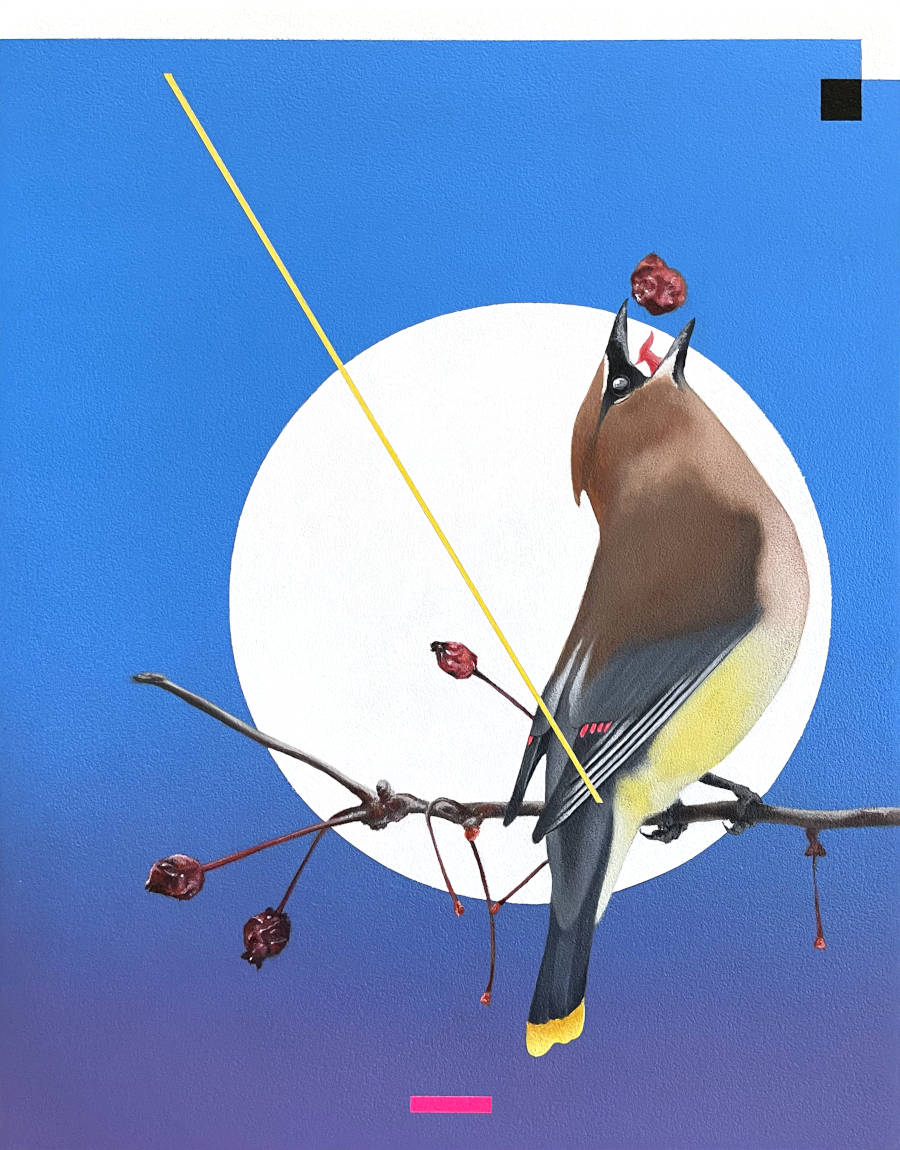 Awareness and action
Thankfully, not all is lost. "The good news is that there are proven, effective, aesthetically attractive, affordable solutions to prevent bird-glass collisions." Writes Viveca Morris.
"One of the easiest retrofit solutions to prevent bird-glass collisions is to apply bird-safe window films or markers to the areas that birds most commonly hit. This includes see-through glass passageways and corners, glass that reflects nearby vegetation and glass inside open-air courtyards. These products […] feature lines, subtle dots or custom patterns that make glass surfaces visible to birds. Their effectiveness at deterring birds has been proven repeatedly in experimental and real-world settings, including at Northwestern and Duke Universities."
Viveca Morris' article has been written in relation to ongoing research accumulated by Viveca herself, alongside multiple other collaborators including ecologist Dr. Andis Arietta and Bayla Arietta. Plans started by appealing to Yale to address existing buildings on campus becoming bird-friendly, instead of just future construction projects. This is due to certain existing venues, such as the The Yale School of Management building, being overwhelmingly made of glass. The group have since decided to use the data collected to pressure cities into re-examining their building ordinances and consider bird-friendly designs.
Antler Gallery is fully on board to help raise awareness of this worldwide issue. "As a venue that consistently showcases nature-based art, we're so excited to embark on this co-curated exhibition." Share Neil and Susannah. Together with co-curator Bayla Arietta, the team have assembled a roster of over 60 established artists. Each artist has created a work which furthers the cause of raising awareness around this issue.
With many hours of planning, care and creation, Fractured Aviary is an immense exhibition of beauty and sensitivity.
About Antler Gallery
Antler Gallery in Portland, Oregon, has always managed to beautifully maintain a deep connection to nature since their opening in 2012. Susannah and Neil curate the gallery together, only showcasing artists and works that they both love. To support their strong focus on nature, Antler Gallery partners with the Audubon Society of Portland every January for a benefit that raises awareness and aids in protection of endangered species.
For more reading on this research and the grant to further awareness, click here to read a recent interview with Andis and Bayla Arietta.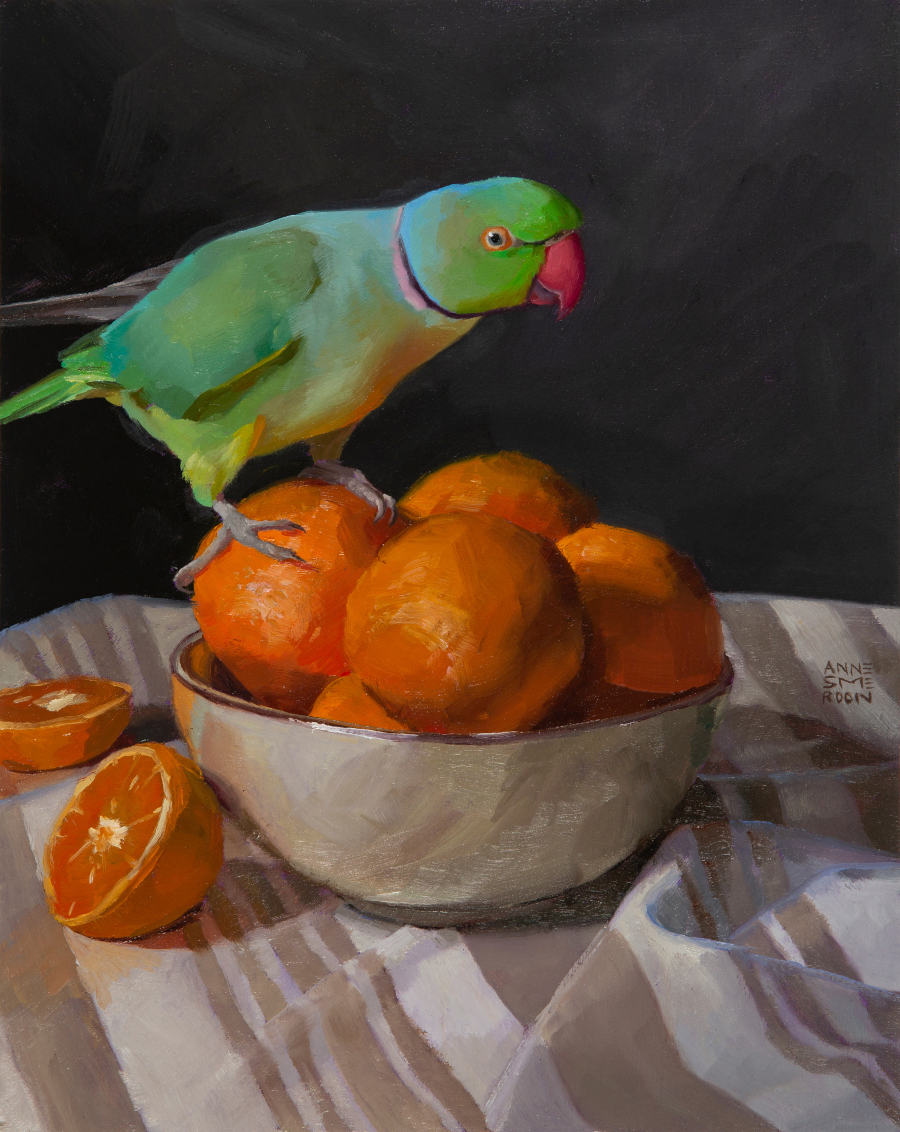 Antler Gallery Social Media Accounts