We are proud to announce the 2019 Beautiful Bizarre Art Prize Jury Panel comprising influential figures in the art world, including corporate arts champions Drew Ng-How-Tseung, Creative Director of Stocksy United and Joshua Zika, Founder of INPRNT; curators, collectors, and Co-Founders of Beautiful Bizarre Magazine Danijela Krha Purssey & Richard Purssey; Gallery Directors Erica Berkowitz & Joseph Weinreb of Haven Gallery, and five in-demand contemporary artists Jeremy Geddes [Traditional Art Category Judge], Tom Bagshaw [Digital Art Category Judge], Crystal Morey [Sculpture Category Judge], Haris Nukem [Photography Category Judge] and Marie Larkin.
Beautiful Bizarre Art Prize 2019
Jury Panel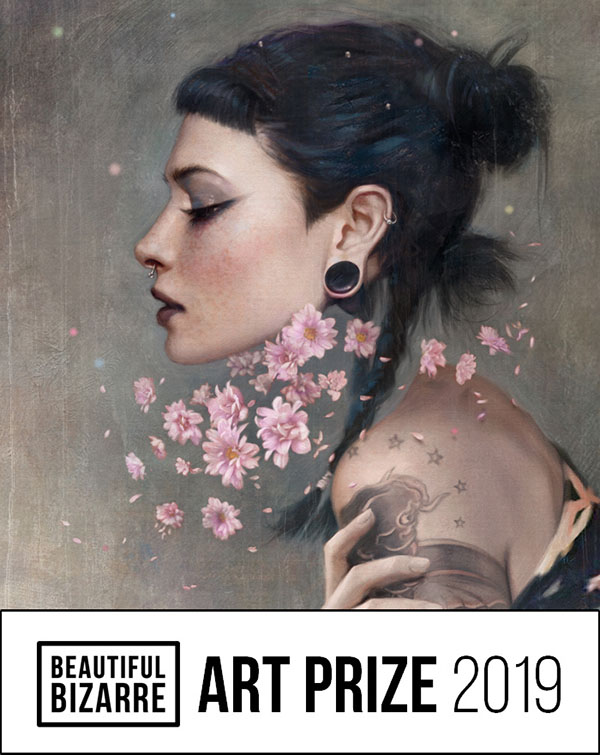 The 2019 Jury Panel together provides a broad and in-depth expertise across this year's Beautiful Bizarre Art Prize Award Categories:
1st Prize [Overall Winner]

INPRNT

 Traditional Art Award

Sculpture Award

Digital Art Award

Stocksy

 Photography Award

Peoples Choice Award
Read more about each Judge on the Jury Panel page.
The Beautiful Bizarre Magazine Art Prize is a non-acquisitive art prize which provides an amazing opportunity for traditional and digital 2D + 3D artists and photographers to:
Participate in the prestigious annual Beautiful Bizarre Magazine exhibition alongside 50+ of the world's best contemporary artists at Haven Gallery [Northport, New York]
Receive exposure to a commercial gallery's collector base
Enjoy the opportunity to sell work through a successful commercial gallery in the USA
+ most importantly, receive worldwide exposure!
[maxbutton id="8″ url="https://beautifulbizarreartprize.art/enter/" text="ENTRY FORMS"]
If you have any questions about the Beautiful Bizarre Art Prize, please don't hesitate to contact us at [email protected].
Entries Close: Midnight 31 July 2019 [Sydney Australia Time]
As a finalist, my Instagram and website have been receiving interest from a wider audience. Invitations to new shows have also come from the publicity the prize provided. One of the most sought after things an artist can hope for is name recognition and for people to see their work more widely, and the art prize has done that for me. – 2018 Finalist, Ariel Bowman
The Beautiful Bizarre Art Prize is hosted by Australian based international contemporary art magazine, Beautiful Bizarre Magazine.
The Beautiful Bizarre Art Prize is deeply grateful to our sponsoring partners for their generous donations toward the 2019 Prize Pool.
SPONSORED BY
.
SUPPORTING SPONSORS
Large image by artist Juror, Jeremy Geddes. Beautiful Bizarre Art Prize advert artwork by artist Juror, Tom Bagshaw.