Author: Lorena Kloosterboer
In March 2019, on the occasion of the celebration of the 'International Women's Day', the MEAM will present the exhibition Painting Today. An exhibition of international artists referents in contemporary figurative painting. Last year, in celebration of International Women's Day, the exhibition Mujeres Artistas Hoy presented contemporary figurative artwork by outstanding Spanish female artists. In the same spirit, the MEAM has commissioned curator Didi Menendez, from the community of artists PoetsArtists, to present more than 70 works that women painters have made and are doing in the field of contemporary figurative art at an international level. Here's a tantalizing preview of ten exceptional paintings that will participate in Painting Today at the MEAM in Barcelona, which will open on International Women's Day.
PAINTING TODAY
Curated by Didi Menendez
Opening March 8th and showing until May 5, 2019
European Museum of Modern Art
Barra de Ferro, 5
08003 BARCELONA
Tel. (+34) 933 195 693
Fax (+34) 934 179 360
[email protected]
Participating Artists:
Agnieszka Nienartowicz, Aleah Chapin, Aleksandra Kalisz, Alexandra Manukyan, Anna WypychAnne-Christine, Roda Arina Gordienko, Carmen Chami, Catherine Creaney, Christina Grace Mastrangelo, Francien Krieg, Jen Brown, June Stratton, Kathrin Longhurst, Kelly Birkenruth, Kim Peters, Kimberly A. Torres, Kimberly Dow, Lisa Keay, Lorena Kloosterboer, Lorna May Wadsworth, Luanne Redeye, Marina Dieul, Megan Read, Melinda Borysevicz, Michelle Doll, Nadine Robbins, Nanette Fluhr, Natalie Holland, Ofelia Andrades, Pamela Wilson, Patricia Watwood, Rachel Linnemeier, Regina Jacobson, Reisha Perlmutter, Sara Scribner, Shana Levenson, Stephanie Deshpande, Stephanie Rew, Tanja Gant, Tanya Atanasova, Teresa Brutcher, Teresa Elliott, Tina Spratt, Vicki Sullivan, Victoria Selbach, Viktoria Savenkova
The vibrant city of Barcelona, Spain, is home to the European Museum of Modern Art, better known as the MEAM. This little gem of a museum is housed in Palau Gomis, a beautifully restored 18th century Renaissance-style palace located among rows of historic buildings lining the enchanting narrow streets in El Born quarter.
The MEAM's goal is to encourage and support contemporary expressions of figurative art expressed in present-day skill-based language. It differentiates itself from other modern art museums by actively supporting living figurative artists, functioning as an important and increasingly influential counterweight against the myopic marketing of modernist art by governing tastemakers and art speculators.
Since its opening in 2011, the Museu Europeu d'Art Modern—this is its official Catalan name—has become somewhat of a shrine for serious art lovers visiting Barcelona. Its impressive collection brilliantly highlights the diversity of contemporary artistic expression within the realm of realism, reminding the world that modern art need not be devoid of beauty, originality, meaning, or craftmanship.
According to museum director and founder architect José Manual Infiesta, "There's no excuse to waste a life in not enjoying art. Art is the one thing that never tires, that always lifts up, even during the hardest of times." Affectionately known as La Casa de los Artistas (the House of Artists), the MEAM rotates its exhibitions every two months so the public can visit the museum about ten times a year and never see the same display twice.
Viktoria Savenkova is a Belarusian artist based in Minsk, Belarus, who creates psychologically charged paintings in an almost Surrealist style. Her dramatic painting entitled Blue 1 is part of a series that explores universal human emotions through pictorial expression. Savenkova wants to move beyond merely creating a personal narrative, striving to embrace the viewer in a silent dialog involving the impact of first impressions in search of shared emotions and experiences.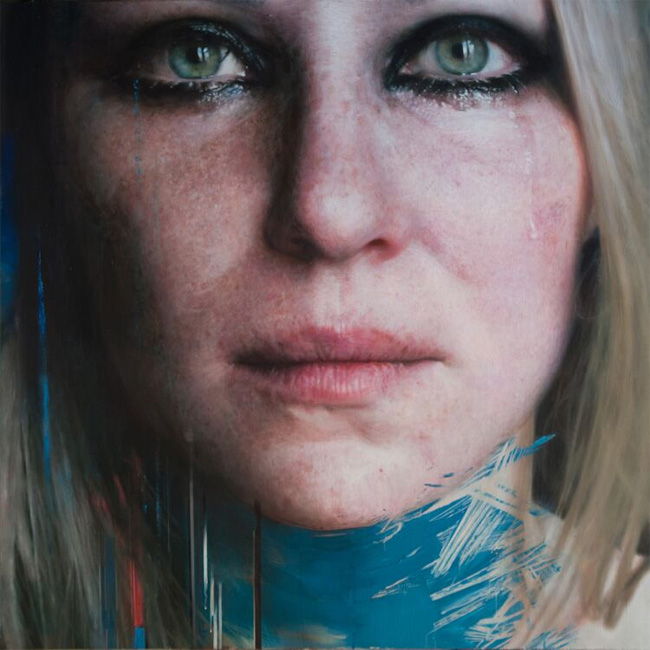 Blue 1 by Viktoria Savenkova , Oil on Canvas, 39 ½ x 39 ½ inches / 100 x 100 cm
Stephanie Rew is a Scottish artist based in Edinburgh, Scotland, who paints Classical Realism with a decidedly contemporary take. Her eloquent painting entitled Evanescent is a delightful visual exploration of color and form. Merging high chroma with more subdued skin tones, Rew plays with flat negative space and vanishing contours creating a novel and exciting interpretation of the classical portrait—superbly elegant, timeless, ethereal, yet highly contemporary.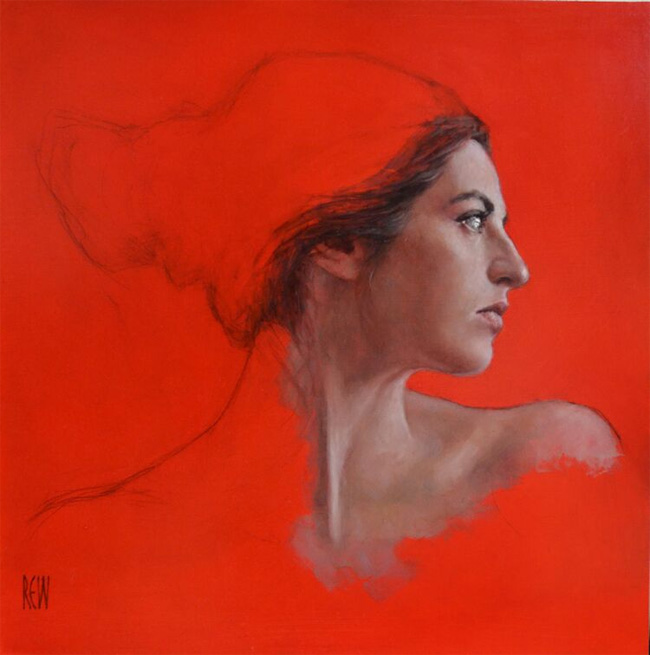 Evanescent by Stephanie Rew, Oil on Dibond, 11 ¾ x 11 ¾ inches / 30 x 30 cm
Kimberly A. Torres is an American artist with a multi-racial background based in Philadelphia, Pennsylvania, who paints in the Photorealistic style. Her painting entitled Foxy is a stylish self-portrait inspired by the sparkling night clubs of the disco era. By placing herself in a Studio 54-like setting where Donna Summer's latest hit makes hips shake and feet move, Torres creates a new reality within an exhilarating lifestyle that took place well before she was born.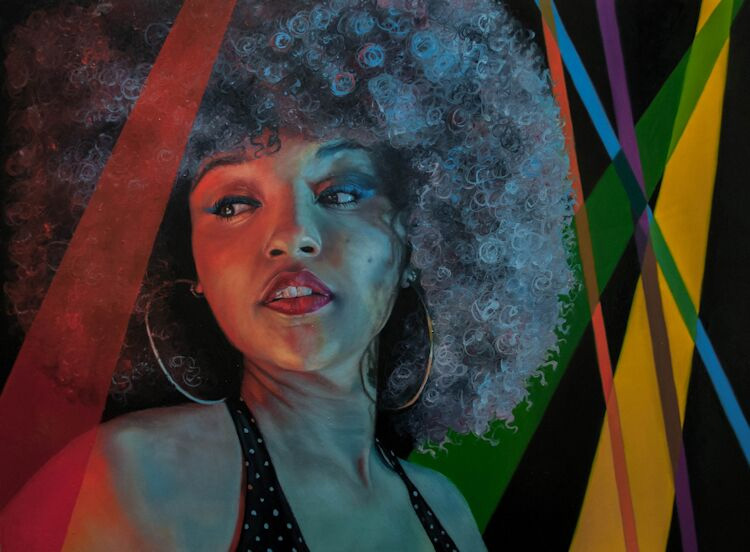 Foxy by Kimberly A. Torres, Oil on Panel with Mylar, 18 x 24 inches / 45 ¾ x 61 cm
Megan (Mae) Elizabeth Read is an American artist based in Charlottesville, Virginia, who embraces Figurative Realism. Her idiosyncratic painting entitled Becoming is a self-portrait in which she explores the vacillations between a longing for vulnerability and the need for self-protection. The skillful gradation from subtle color to greys, the enigmatic pose, and myriad of exquisite details speak of expansion, contraction, the search for truth, and the unveiling of self.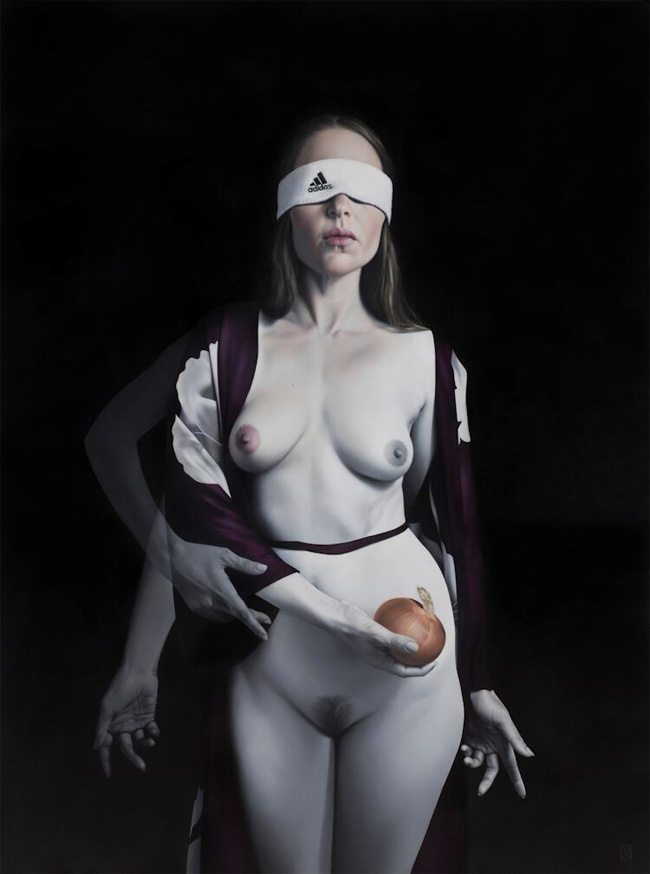 Becoming by Megan (Mae) Elizabeth Read, Oil on Birch Panel, 36 x 48 inches / 91 ½ x 122 cm
Kathrin Longhurst is a German artist based in Sydney, Australia, who paints Figurative Realism. Unravelling explores gender parity and female empowerment inspired by propaganda imagery reminiscent of Berlin's Eastern Block era. Longhurst seeks to change the outdated male-based view of objectifying women as demure accessories by presenting contemporary women—often dressed in military or pilot outfits—as rebels, daredevils, and resilient freedom fighters.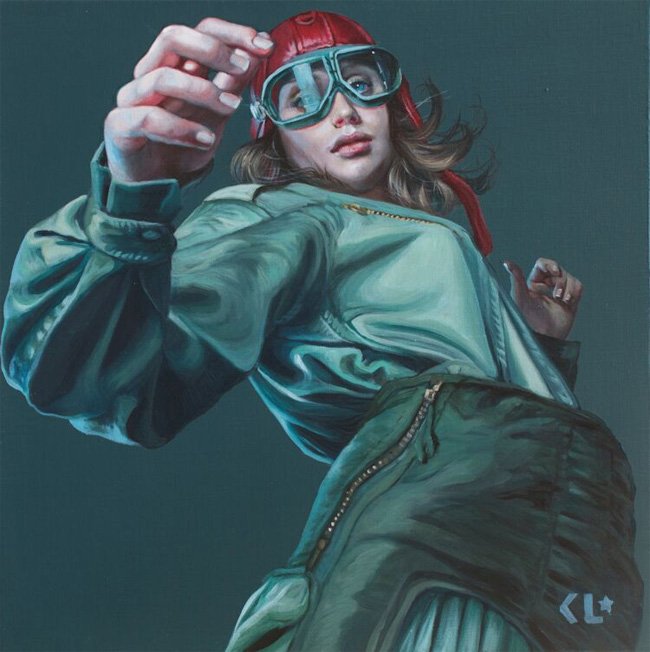 Unravelling by Kathrin Longhurst, Oil on Linen, 19 ½ x 19 ½ inches / 50 x 50 cm
Kimberly Dow is an American artist based in Asheville, North Carolina, whose painting style is Contemporary Realism. Her sensitive, romantic painting entitled Soft on Soft portrays a lesbian couple from a distinctive female viewpoint. Contrasting the male gaze—which habitually reduces girl-on-girl interaction as mere sexually explicit erotica—Dow delicately and perceptively captures the fragility, intimacy, trust, and gentle sensuality of two women in love.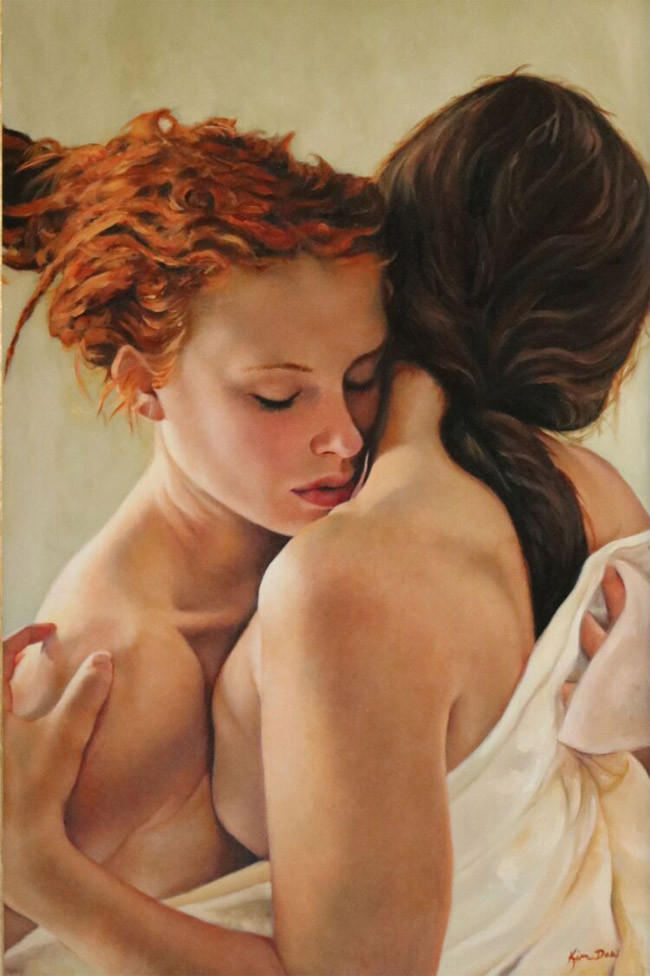 Soft on Soft by Kimberly Dow, Oil on Panel, 30 x 20 inches / 76 x 50 ¾ cm
Lisa Keay is a Canadian artist based in Halifax, Nova Scotia, who creates Figurative Symbolist paintings. The birds in her splendid painting, entitled The Messengers, symbolize envoys between the mundane and ethereal realm. The woman, watching her bird tattoos coming alive, represents the awakening and consolidation of universal feminine intuition which gifts us the quintessential ability to tune into the messages from the here and now as well as the beyond.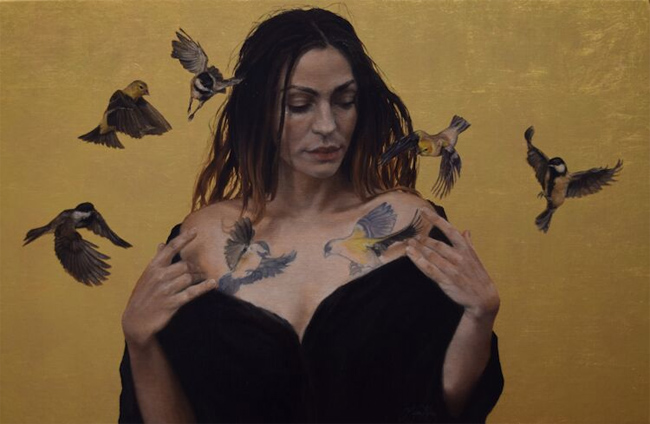 The Messengers by Lisa Keay, Oil and Gold Leaf on Panel, 14 x 22 inches / 35 ½ x 55 ¾ cm
Anne-Christine Roda is a French artist, based in Saint-Cergues, France, creating Realist Figurative paintings. Her delightful painting entitled Anwen forms part of a series of nudes that explore the passage of time as manifested in the body's physical changes. According to Roda, a woman's story—her age, trajectory, overall health, potential childbirth—is better understood by observing the characteristics of her physique rather than by merely glancing at her face.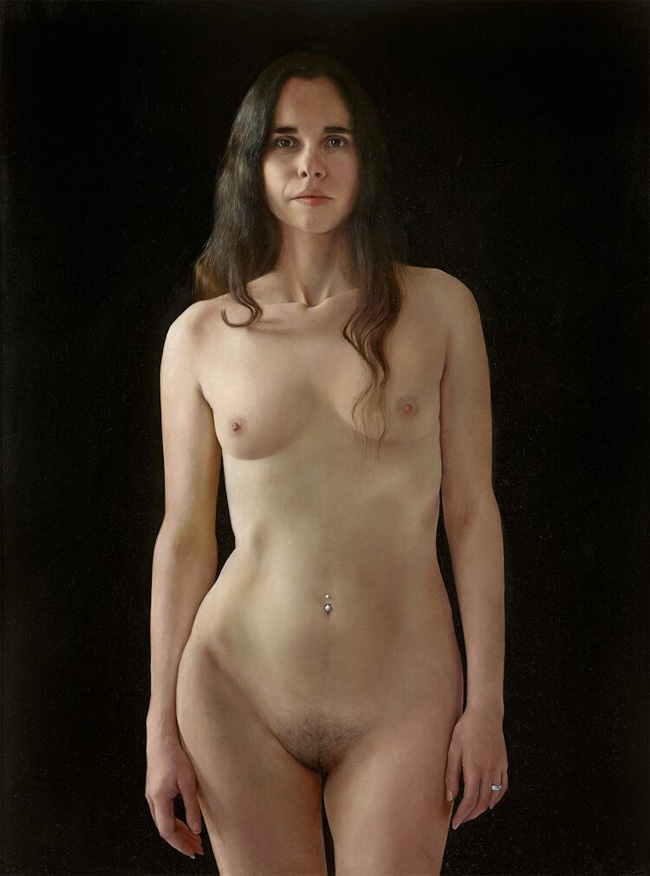 Anwen by Anne-Christine Roda, Oil on Linen, 51 x 38 inches / 130 x 97 cm
Kim Peters is a Canadian artist based in Madrid, Spain, whose style is Contemporary. In the studio I am a god: an interview with F. Scott Hess Figurative Realism. Her thought-provoking painting Elijah is a present-day representation of the biblical prophet, portrayed receiving food—symbolic for hope—from a raven during distressing moments of despair. In this painting, Peters describes the current state of western society which is simultaneously characterized by anguish and depression as well as compassion and solidarity.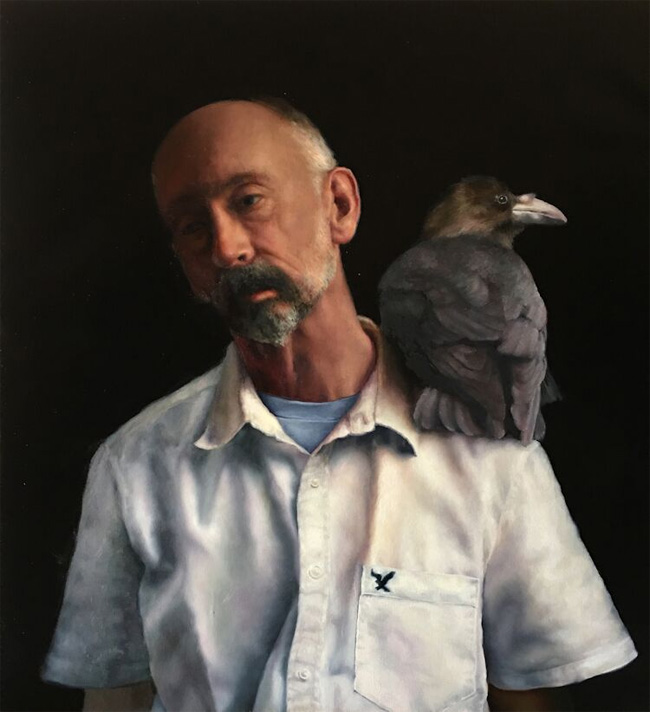 Elijah by Kim Peters, Oil on canvas, 21 ¼ x 20 inches / 54 x 51 cm
Natalie Holland is a Russian-Norwegian artist based in London, UK, who creates Figurative Realism. Her compelling painting entitled Mama's House is an allegorical representation of women as independent providers and stout protectors of both their legacies and hard-won rights. The enigmatic young woman—confidently staring back at the viewer—seems undaunted, calm, and powerful, seemingly fully prepared to stand her ground for whatever life has in store for her.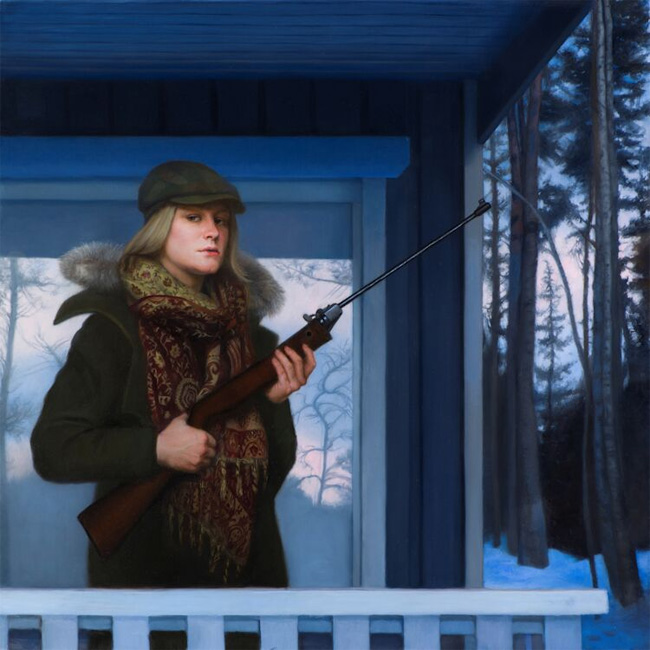 Mama's House by Natalie Holland, Oil on Dibond, 23 ½ x 23 ½ inches / 60 x 60 cm