Welcome to the world of Redd Walitzki, where whimsical characters seem to manifest through beautiful elements of an aquatic time travel. Journey alongside them and join Modern Eden Gallery as they proudly present Trip the Light Fantastic. This is Redd's third major solo exhibition at the gallery and features an extension of her work from their booth at SCOPE Miami Beach in December.
Press: In a new series "Trip the Light Fantastic," artist Redd Walitzki takes us on a journey to a space where the everyday universe is transfigured. Ethereal beings appear self-luminous as the brightness of their visionary experience spills over, creating distortions in reality's fabric. This abundant overflow is captured in paintings filled with otherworldly light and color. As Aldous Huxley writes, "Preternatural light, preternatural intensity of coloring, preternatural significance — these are all characteristics of Other Worlds and Golden Ages." Walitzki's delicate panels embrace this principle fully through lush use of surface and swirling diamond-clear laser-cut edges.
Layered in these works, there is also an apprehension about the rapidly shifting state of our natural ecology. The idyllic chromatic environments in the pieces hover on the brink of destruction: fire and ash evaporate blooming fields, and acidic oceans leave corals gasping for air. Yet the serene strangeness of the more-than-human muses in Walitzki's works contain a glimmer of hope. Perhaps by exploring the far-off regions of the mind, in all their beauty and complexity, we can discover the key to building a brighter tomorrow.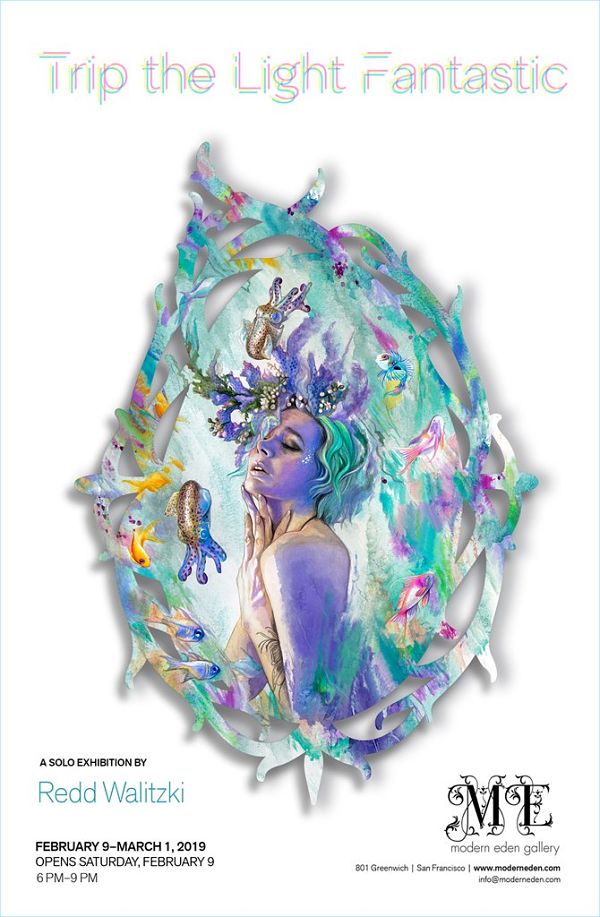 Opening Reception:
Saturday, February 9, 2019 | 6–9 pm
Exhibition Dates:
February 9–March 1, 2019
Redd Walitzki is a leading New-Contemporary artist, born in Germany and currently based in the US., Androgynous and elaborate, Walitzki's pieces are a marker of life, commemorating a moth's four week- long flutter in the same celebratory way they do a human being's ninety-year journey. Much of their work is inspired by the lush rainforests of the Pacific Northwest and the ornate Baroque ornamentation of her native Bavaria. The vivid muses in their paintings are influenced by the glamour of high fashion, but Walitzki's works also often explore the darker side of human impact on ecology.
Walitzki completed a B.F.A. from Cornish College of the Arts with a concentration in painting. Their art has been featured in galleries on both coasts of the U.S. and Internationally, as well as in various publications including Beautiful Bizarre Magazine and American Art Collector.
Walitzki's work is created through a cutting-edge technique which combines oil painting and mixed media on laser-cut panel. The process starts with a watercolor underpainting to begin the composition & texture, which is transferred to the panel on rice paper and then lasercut. Each piece is completed with many layers of oil glazes for depth and detail.