In beauty there is often darkness, and a wonderful example of this is the work of Meimaro, a self-taught artist living in Tokyo. I had the pleasure of interviewing her and discussing further her macabre artistic expression and work for Dakuato. I hope you enjoy!
Join The Dark Art Emporium on February 9th in celebration of Dakuato by Meimaro, Ren Hoshi & Niku as well as for the gallery's Sideshow Wall group exhibition 12 Inches of Wood, an Erotic Art Show featuring work on wood panel sponsored by Trekell Art Supplies. For a full list of participating artists and available artwork, visit The Dark Art Emporium website… or if you're in the area, stop by and see them in person!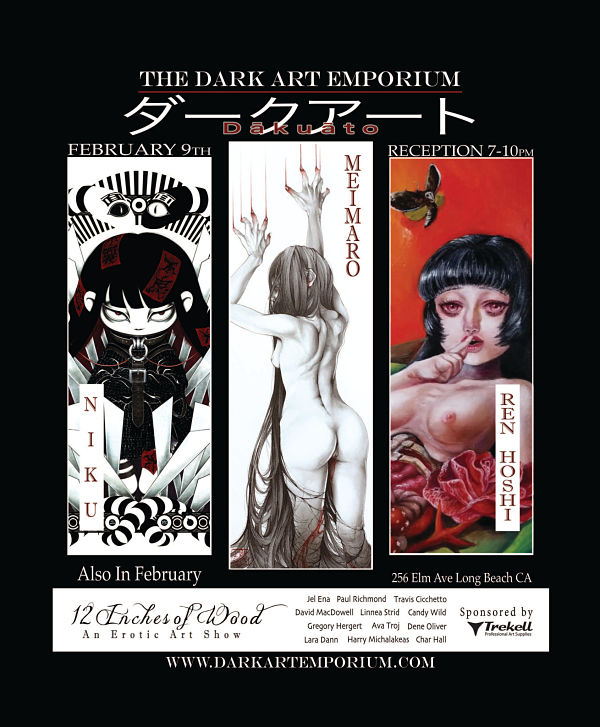 Opening Reception:
Saturday, February 9, 2019 | 7– 10 PM
After party at The 4th Horseman
The Dark Art Emporium
256 Elm Avenue
Long Beach, CA 90802
Website | Facebook | Instagram
Meimaro
Meimaro thank you so much for taking time to share with our readers! Your work is a balance of beauty and macabre. In fact, I read that you feel "blood and internal organs are beautiful". Can you give us further insight into this… and the importance of this expression through your artwork? 
I am delighted to have this opportunity. I feel blood and internal organs are just as beautiful as most people feel a flower is beautiful. Most people have to re-think why flowers are beautiful when they are asked the question. At the same time, they most likely are not able to easily comprehend why they are attracted to flowers. I am simply attracted to beauty of elaborately fine details of blood vessels and the contrast of true pale colors in the internal organs and the dark red of the blood. The other theme besides the blood and the internal organs is the jealousy and the grudge which most people tend to hide because most people hate them naturally. It is undeniable that people are bounded by them and even find them necessary for their life. I am one of them; they provide comfort to some people. I wish, at least in the world of paintings, they should be able to stand in a dignified manner.
At the same time, I do not want to crush my own emotion; I would like to present it so as many people as possible can understand. This is my own sense of beauty towards my work and this is my way to share it with people.
As you often draw nude women as the vessel for your artistic interpretations… how do you feel about the stigmatization surrounding women's bodies in today's society? 
It does not bother me because the trend probably exists in any time. I think more people stigmatize the naked body of women in modern times. At the same time, there are many people accepting them. I feel strange about the move to stigmatize, not only against them but also to eliminate them. Minor conflicting opinions are not necessarily wrong but it is a simply different idea.

What was your mental process vs. creative process when preparing for Dakuato? 
I try to add a bit of something different to what I normally do. I always keep that in mind to any exhibitions. Since I started, I have always kept my main theme. The way I see the world and what feelings I want to express have not changed even though my techniques and superficial manners may have changed. I maintain my emotional approach, while challenging my own skillset to realize every next level of expression.
One thing that is different would be my use of English titles. It is always challenging to put a title to my work even in my own language but I was determined to put English titles to my work for this exhibition. I am very fond of the sound of "LOVELESS" in English and I cannot find a correct translation in Japanese. I have a personal attachment to the word itself and I am grateful I had a great opportunity to use it in this show.

What would you say best defines your artistic narrative for this particular exhibition?
It is often said "Love is forever" but I feel differently. I believe all worldly things are impermanent and love cannot continue without transition. At that point, all of sudden it becomes interconnected. Restrained together.
There are many women with restraints in my work in this exhibition. Restraints… this is my favorite word.
Name three art studio rituals. 
I do not do anything special. If anything, I try not to see the work of artists I like in books or the internet. I know there is a world I like and I try to remove myself from there. I do have favorite anime characters and human anatomy diagrams covered all over my walls in my studio.
What do you have planned for 2019? 
I do not have anything specific after this "DARKART" exhibition. I wanted to place all my resources in this exhibition. I have been planning to extend my activities overseas and would like to continue to participate as there seem to be many opportunities for me there. I am hoping to be able to share a few projects that have been in the works this year, involving music and video games. I am also planning to have a two-artist exhibition with a friend from France. For now, I continue to work and hope to have opportunities for exhibitions overseas so more people can see my work.
Ren Hoshi
Niku
12 Inches of Wood – Sponsored by Trekell art Supplies