After having been given the cold shoulder in art galleries for a long time, digital art is now making its way through a complete recognition of its artistic merits and more and more shows are including digital artists' always offbeat work. With its weakness for unusual and out of the box aesthetics, Le Cabinet des Curieux in Paris was indeed prompt to showcase one of the rising talent of digital creativity. Located in Passage Verdeau, an ancient and romantic little passageway of the French capital to die for, the art gallery of Thierry Ruby has decided to welcome the dark surrealism of Natalie Shau.
Après avoir longtemps été boudé par les galeries d'art, l'art digital se fraye désormais un chemin vers une reconnaissance complète de ses mérites artistiques et d'avantage d'expositions incluent le travail, toujours original, d'artistes digitaux. Avec son attirance pour les esthétiques inhabituelles et novatrices, le Cabinet des Curieux à Paris est prompt à mettre en valeur l'une des étoiles montantes de la créativité digitale. Située dans le Passage Verdeau, un passage ancien et romantique à tomber de la capitale française, la galerie d'art de Thierry Ruby a fait le choix d'accueillir le surréalisme gothique de Natalie Shau.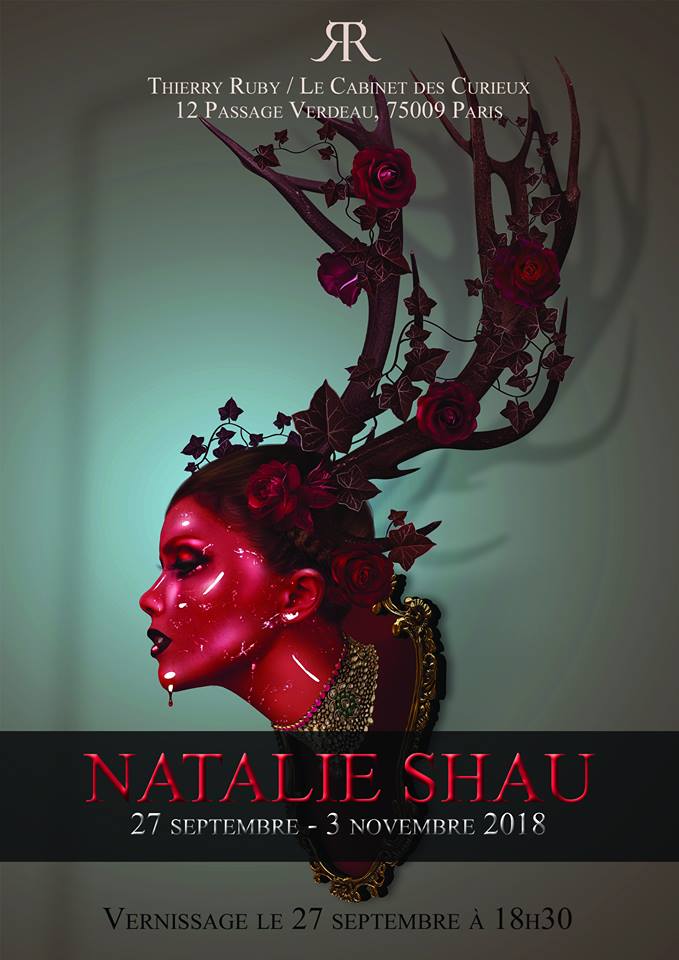 Born in Vilnius in Lituania, Natalie Shau is a young illustrator who defines herself as a dark artist. Her creations are both nurtured with references to gothic 19th century and to the taboo and glamour of our 21st century.
Her work seems to be a discussion on the idea of a feminine ideal, at the same time timeless and contemporary, embracing its contradictions and tributes to a wide range of arts. Indeed, the heroines of Shau are always balancing between the quest of a greater purity and a taste of perversity, ingenuous and erotic in turns. The digital artist's surrealistic creatures can be described as diabolic dolls, gothic lolitas or vampiric women straight out Japanese animation.
In Natalie Shau's universe, minimalism and details both allude to Edgar Allan Poe and Lovecraft's writings, Tim Burton and David Lynch's movies, but also to the visual art of Arthur Rakham and 18th century erotic paintings. With this exhibition, the « Numeric goddess » invites you into her deranged dreamworld where cold perfection and twisted fantasies are merging. A must-see for all of the new contemporary art lovers.
Née à Vilnius en Lituanie, Natalie Shau est une jeune illustratrice qui se définie comme une artiste gothique. Ses créations se nourrissent de références au gothique du 19ème siècle, ainsi que des tabous et du glamour du 21ème siècle.
Son travail s'insère dans une discussion sur l'idéal féminin, à la fois intemporel et contemporain, acceptant ses contradictions et ses hommages à un large éventail d'arts. En effet, les héroïnes de Shau oscillent entre la quête d'une pureté supérieure et un goût pour la perversité, tour à tour candides et érotiques. Les créatures surréalistes de l'artiste digitale peuvent être décrites comme des poupées diaboliques, des Lolitas gothiques ou des femmes vampires toutes droites sorties de l'animation Japonaise.
Dans l'univers de Natalie Shau, son minimalisme comme ses détails font allusion aux écrits d'Edgar Allan Poe et Lovecraft, aux films de Tim Burton et David Lynch, mais aussi à l'art visuel d'Arthur Rakham et des peintures érotiques du 18ème siècle. Avec cette exposition, la « Déesse Numérique » vous invite dans son monde imaginaire dérangé où la perfection glacée et les fantasmes débridés fusionnent. Un incontournable pour tous les amateurs de nouvel art contemporain.
Natalie Shau 
Exhibition Dates/Dates d'exposition:
27 September – 3 November
Cabinet des Curieux
12 Passage Verdeau, 75009 Paris, France
Subway/Métro: "Grands Boulevards"
33(0)1 44 83 09 57 – 33(0)6 13 74 78 92