Showcasing underground and lowbrow art for over thirty years,  Los Angeles's La Luz de Jesus Gallery (touted as the birthplace of pop surrealism) proudly presents a four-artist group exhibition with works by Ave Rose, Frank Forte, Christopher Ulrich, and Jasmine Worth. Nestled in the center of the WACKO store (an eclectic shop bursting with pop culture toys, books, and oddities), La Luz and its proprietor, art icon Billy Shire, are at it again exhibiting a strange and delightful array of both two and three dimensional pieces.
Ave Rose, Frank Forte, Christopher Ulrich, and Jasmine Worth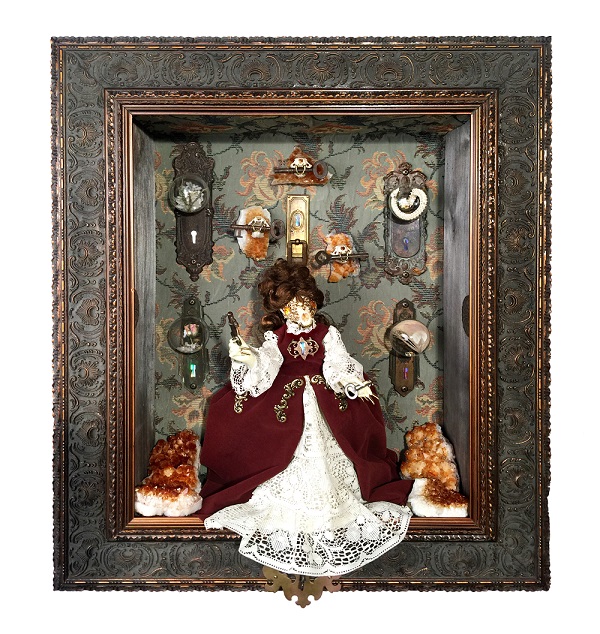 "Doorway Diva" by Ave Rose
Exhibition Dates:
June 1 – July 1, 2018
Photo credit: www.laluzdejesus.com. All rights reserved.
La Luz De Jesus Gallery
4633 Hollywood Blvd.
Los Angeles, CA 90027
Website | Facebook | Instagram
In her third exhibition with the gallery, multidisciplinary artist Ave Rose has created six new shadow box pieces she calls "Whimsical Windows," and like all well built dioramas and other portal-like assemblages, these windows afford the viewer a peek into a timespace unlike our own: a world that is velvety soft or crystal-pointed, where objects twinkle and turn. And populating these worlds are (once-living) creatures that reanimate with the twist or crank of a handle, or with the winding of a musical jewelry box embedded inside.
In a standout piece titled "Doorway Diva" the viewer is entranced by a female figure in a red dress, whose head is a skunk skull (with 23 karat gold gilded fangs) sporting a brown wig spun into a curly updo. The time-worn textured metals coupled with the gold-toothed cream-white skulls and lace are very Jan Švankmajer; the movements of the anthropomorphized skunk exuding a smoother yet still "stop-motion/other worldly" vibe that transports you to a dimension similar to that of Jan's 1988 creepy/charming masterpiece "Alice."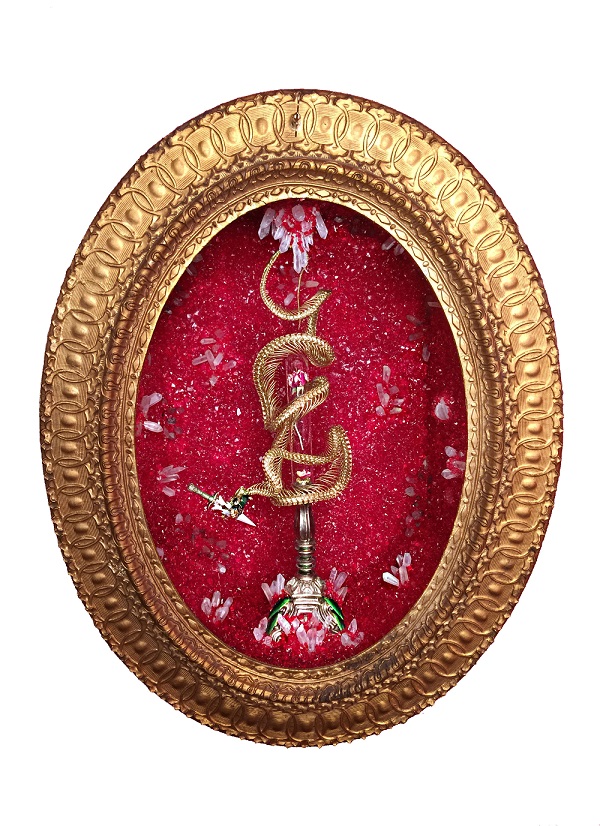 A second piece features a stellar feat of elegant engineering. The "Serpent Sentinel" – an Amazon tree boa skeleton – is curled within a crimson cave filled with shimmering red crystals and quartz clusters. The boa, with its garnet eyes, is posing as a sorcerer sporting iridescent armor made from beetle shell. The artist described the piece further in a recent Instagram post:
"The boa holds a jeweled sword in its mouth as it protects an enchanted floating scentimental rose. 'Scentimental' is a breathtakingly beautiful striped rose whose color is burgundy-red swirled with creamy-white but this one is said to have the power of eternal youth. Would you dare challenge this serpent sentinel to gain such a power? Each of the pieces in this collection comes with a hidden compartments that holds hidden treasures for the owner."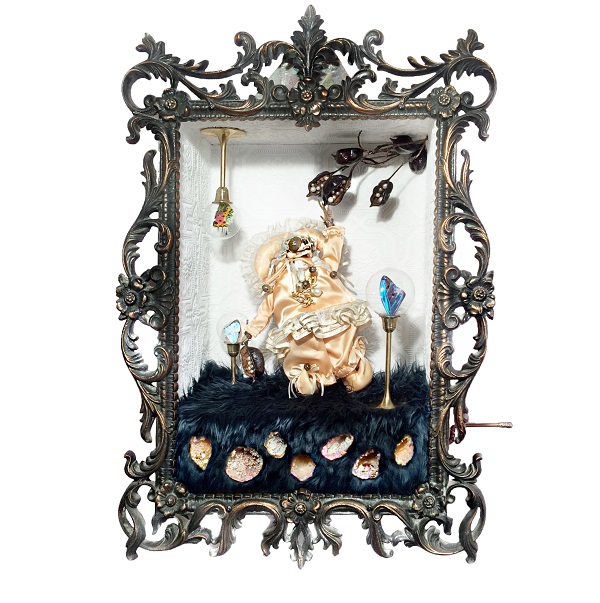 Through prolific practice and by amassing a rich network of friends well steeped in the sciences, Ave seems to be at a place where she can create anything she imagines, and that includes effectively combining insects, exotic crystals, coral, colorful gemstones, feathers, and dried plant materials with various componentry creatively crafted to power her bony or taxidermied automata.
This group exhibition also features eight mixed media paintings collectively called "The Exploration of the Cartoon Myth" by storyboard and comic book artist Frank Forte. With expressive characters that wince and wink among layers of cloudy vellum paper, the artist, influenced by classic black and white cartoons and mid-20th century advertising art, succeeds at his stated goal of capturing "a vintage feeling as well as incorporating modern themes of pop culture and surrealism."
In a piece bursting with nostalgia for the forty-somethings, a cat resembling a vintage Tom (of the 70's TV series the Tom and Jerry Show) is apparently (and quite literally) struck with a bright idea that, although devious, causes his brain to swell with electricity. His smile is wide and smug, and his eyes are startled by his own dark ingenuity.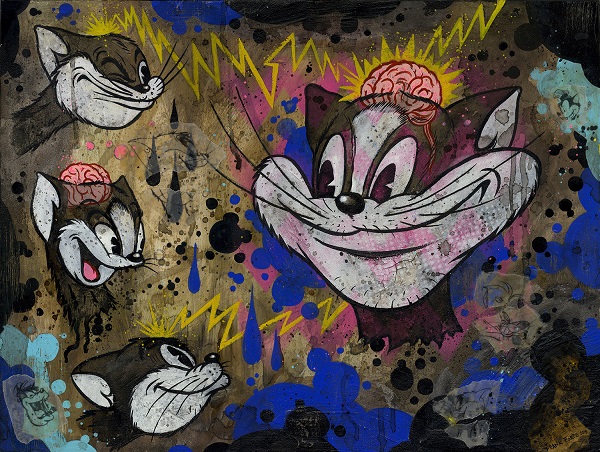 Ghost images of Disney princesses mixed with Forte's novel characters, jagged lightning bolts alongside curved figures, and bubblegum pink coupled with asphalt grey: it's an interplay that speaks to both the consciousness of our childhoods and the wisdom and grit of our adult selves.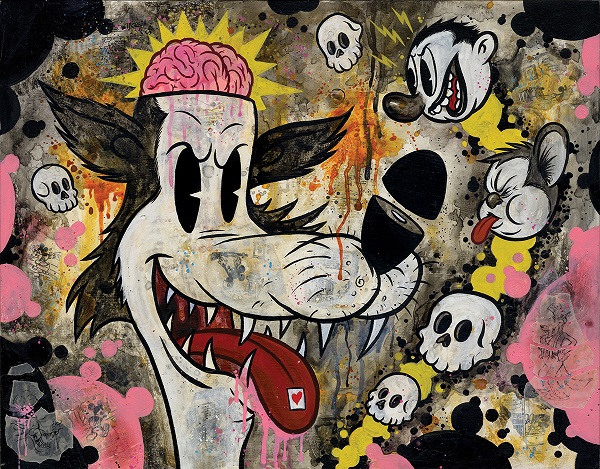 We've all seen the extreme and ucky close ups delivered by John Kricfalusi's "Ren and Stimpy," but with Forte, although we see open brain cases, wagging tongues, and spatters of fluid, the overall gestalt of the paintings is more Hanna-Barbera than George Romero.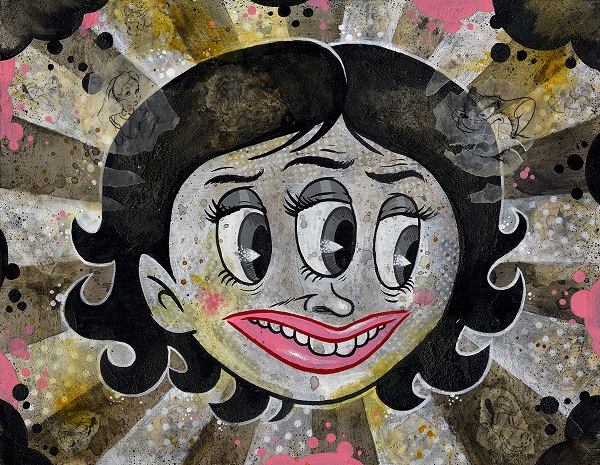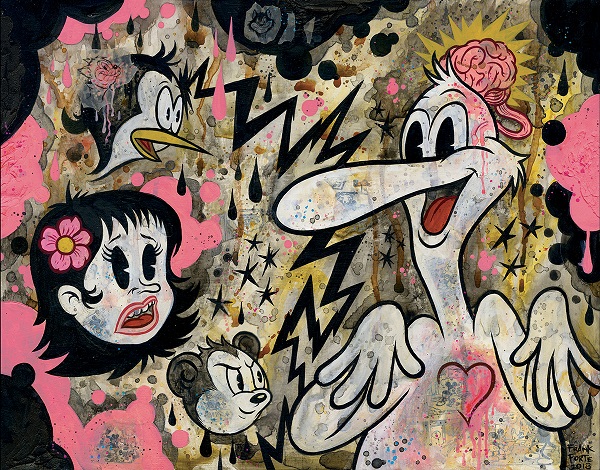 This exhibition by La Luz de Jesus Gallery also features a set of beautifully rendered oil paintings titled "Future Past" by artist Jasmine Worth. This is Jasmine's fifth exhibition with the gallery, and on her website, the artist describes her work saying,
"My latest work continues to flesh out women as multifaceted and complete beings. Too often, art and literature place females in the impossible roles of saint or sinner. In my work, I seek to continue the efforts to tear down the tired, patriarchal trope of the virgin/whore complex. To achieve this, I employ the use of traditional representations of women juxtaposed with both the sacred feminine and the mundane. By putting the focus on the preconceived ideas of the female ideals, the viewer is confronted with his or her prejudices and how to reconcile the two. The false dichotomies of predator/prey and master/subordinate have led to the continuing destruction of the earth. In my work, I envision the path beyond these frameworks and depict wholeness."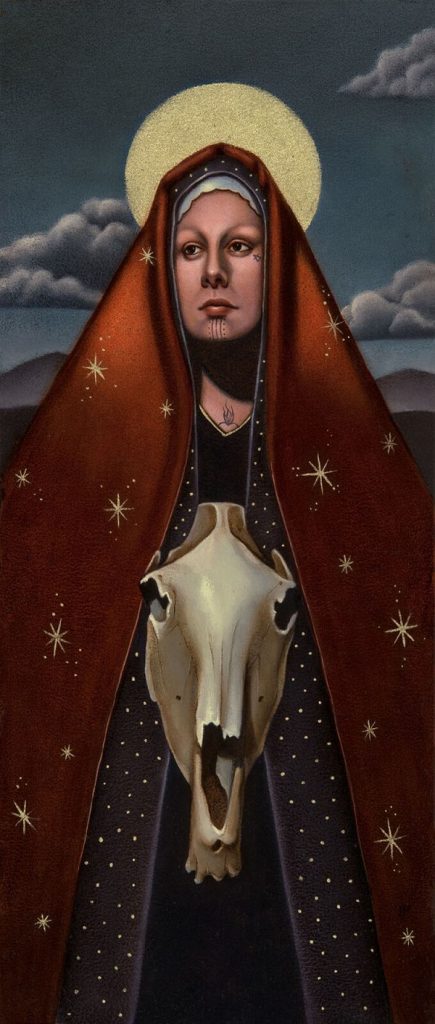 Jasmine, who earned her BFA from the Laguna College of Art and Design in California, gives us subjects who gaze wistfully up and away with a pensivity and thoughtfulness uncharacteristic of our current, distracted age. There is something that feels both ancient and modern in these works, and an air of sacred modesty seems to elevate the significance of Worth's heavily clothed female subjects.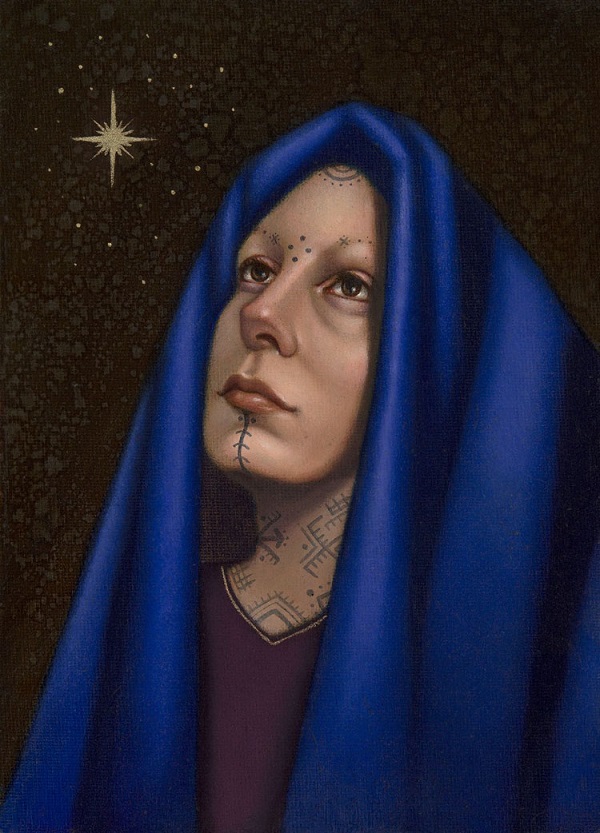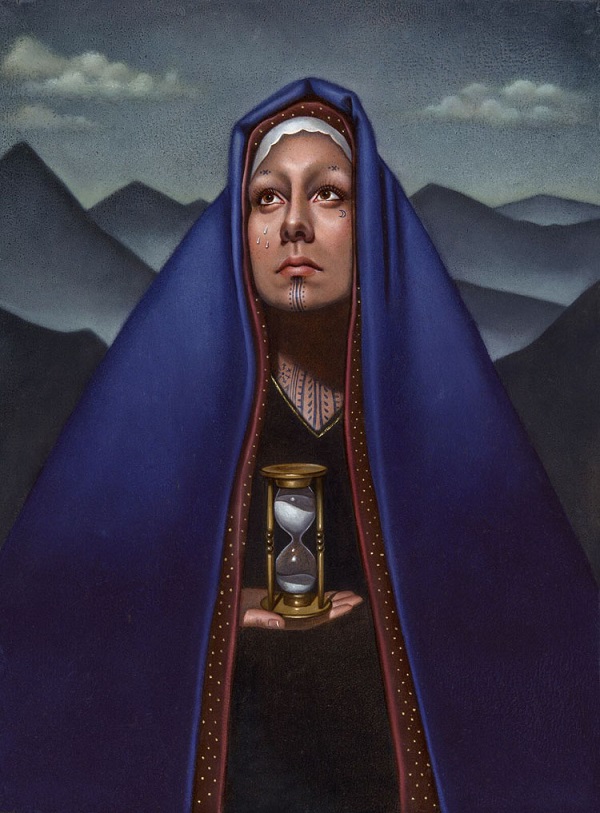 Los Angeles artist Christopher Ulrich uses surreal, iconographic images in his numerous (and often large) narrative oil paintings. He has participated in group exhibitions worldwide, and – no surprise – was recently a guest artist at the Los Angeles County Museum of Art (LACMA), in the Guillermo del Toro exhibition "At Home with Monsters."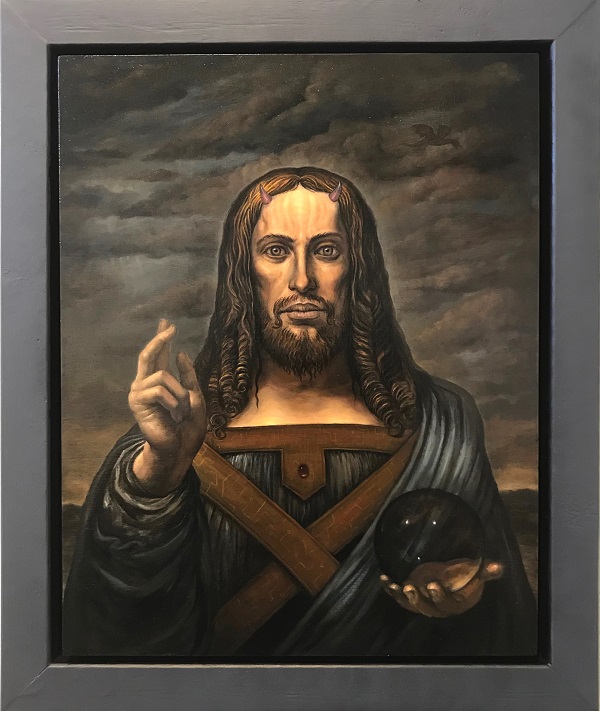 What makes the figures in his "Into the Light" series at La Luz particularly frightening is their incredibly realistic rendering: from fangs to horns to scenes of earth-splitting battle, the paintings are alive with terrifying details.
Christopher was the Storyboard Artist for (American heavy metal band) Metallica's: "Metallica: Through The Never" the first three-dimensional music video movie. Metallica bassist Robert Trujillo says of the film: "…this is pretty unique. It's like a cross between Mad Max and The Twilight Zone." With myriad drawings, paintings, and projects under his belt, – and more in the pipeline – Christopher's imagination is continuing to evolve.