There's something wildly endearing about the work of M.R. Stubbs (aka Mikey). Through movement and expression, each protagonist beckons a spectrum of emotion that acts as the perfect counterpart to his distinctly portrayed narratives.
Revenge piñatas, drive-by clowns, and homeless teddy bears, each lend to the impression that something significant is now broken. Through the creation of these dark storybook characters, a moment of nuanced innocence and mystery escapes beyond each painting as we discover their stories through M.R. Stubbs perspective.
On February 10, The Dark Art Emporium proudly presents 'Love, Death & Robots', the new solo exhibition of M. R. Stubbs. Join them in the celebration of this wonderful new body of work.
Love, Death & Robots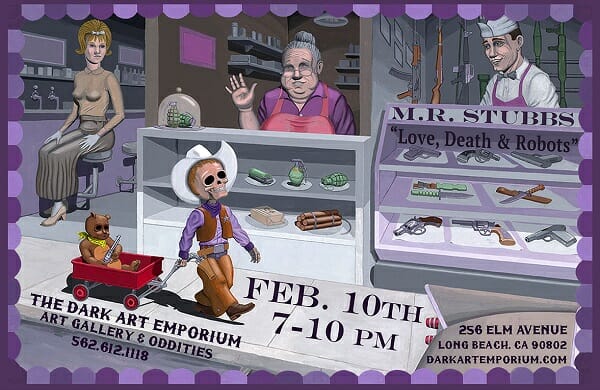 Opening Reception:
February 10, 2018 | 7-10pm
Exhibition Dates:
February 10 – March 3, 2018
256 Elm Ave. | Long Beach, CA 90802
What motivated you for this particular exhibition, Love, Death & Robots? 
It was time for new paintings to be shown and The Dark Art Emporium provides the perfect ambience for them.
Describe your overall narrative (if possible) in 3 words.
My overall narrative is "Love, Death & Robots" Or "Dark but Happy".
As an artist, what do you feel is the most important aspect of your work? 
The most important aspect of my work is that people understand and connect with the story of whichever painting speaks to them (There are a variety of stories – everyone likes something different).
People often ask what the physical process is for creating my paintings. The process is 2 parts. The first is penciling the image on a white canvas with a soft lead #8B pencil (always with a sharpened tip). I used to do little storyboards on 8.5"x11" paper. But now I just go directly to the canvas. Each scene has one or more dominant characters and supporting cast and/or background. The spatial relationship and size of the characters, perspective and amount of detail each add to the impact of the final rendering.
Once the penciling is complete, then the initial coat of base colors is placed down. My color palette is usually limited to black, white, purple, red & burnt umber. The relationship of the color of different characters & objects helps direct the viewer's gaze to the center of the action. I typically use Golden paints (smooth & yummy like good ice cream!). It is acrylic paint and dries fast. In order to get a nice blend on an object, multiple layers have to be put down. Since there is a lot of detail, each painting takes a while to finish. After all of the hours spent penciling, base colors and layering, it is fun to do the highlights on the final stretch. Like frosting on a cake.
M.R. Stubbs (Mikey) resides in Downtown Los Angeles at The Bunker, an incubator for a variety of innovative & architectural installations. Mikey started his art journey with installations and functional interactive works. Creator of the popular interactive art installation 'Mikey's Hug Deli'. Established at Burning Man in 2005, The Deli appears at music/art festivals and Santa Monica Beach. He & his co-creator, Val, designed and fabricated the 'Boo Boo Kitty' art car for Burning Man. A 40' long robotic cat with an animated head that turns and "meows". It's mechanical arms reaching out to snatch you up in its giant paws.  In his is latest interactive endeavor, Mikey designed and built a 9 ft tall Robot. THE ROBOT has articulated hands, moving eyes, eyelids & working jaw. His face is surprisingly expressive. He enjoys taking strolls through random neighborhoods interacting with whomever crosses his path.
The sense of whimsey and attention to detail that Stubbs utilizes so effectively in his interactive works comes across in his 2 dimensional pieces as well. Each is a carefully crafted scene where the elements and their meanings are essential to its allegory. Meticulous and subversive, his paintings go for the "feels" with deadly accuracy. Oh and did we mention that he hides tiny cats in all of them? yup, happy hunting!
About The Gallery
Located in beautiful downtown Long Beach, CA. The Dark Art Emporium is a diverse environment dedicated to showcasing the artists and creators that often fly under the radar of most people's perception of fine art. Here you will find everything from real human skulls, creepy dolls, unorthodox taxidermy, low brow and dark fine art. We specialize in the strange and unusual because we ourselves are the strange and unusual.