Enjoying the progression of IX Arts, the vast quantity of worlds that have been explored and built upon have continued to create a provocative snowball effect for artists in the USA and beyond. The organisation indisputably lives up to its concept as the home to imaginative realism in the modern age, and have most recently illustrated the universal significance of their annual IX event with their showcase tables selling out within two minutes of going on sale. Blending the best of fantasy and reality with roots in traditional media, the diversity of pieces shown at the annual IX Show transports you (as the name of the genre suggests) anywhere your imagination can go, and having seen a steady progression into more mainstream limelight, Imaginative Realism in 2018 show no signs of stopping its takeover now.
As a genuine community for artists, curators, galleries and collectors, it feels as if each year's show motivates artists to reach new levels of creativity within their works. While Alice may have found herself tumbling down the rabbit hole to experience new worlds and fantastical delights, IX Arts seems to glide you down with ease, each event more adventurous and visionary than the next.
The international celebration of Imaginative Realism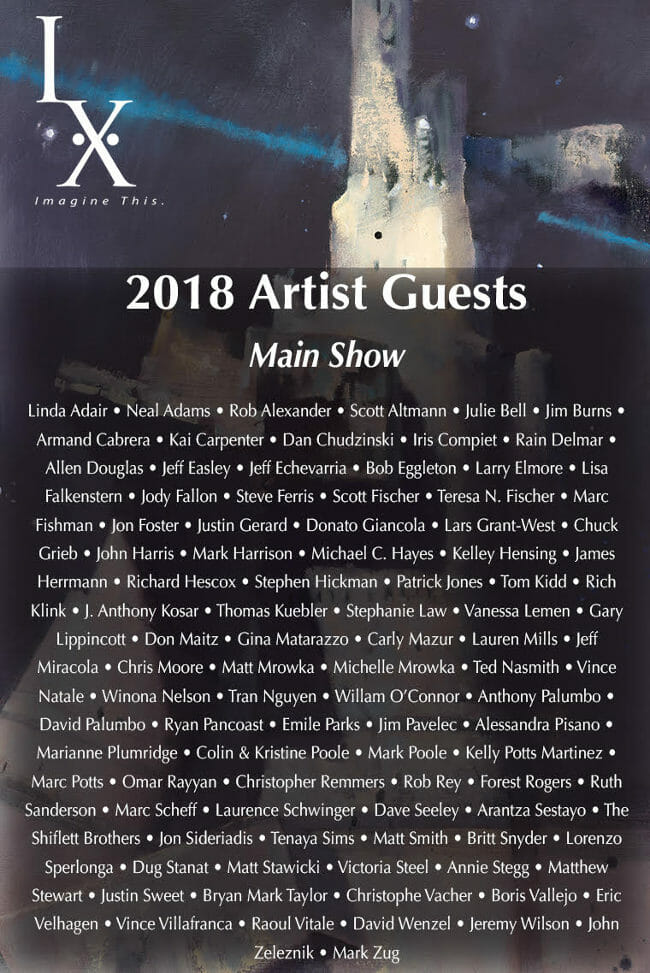 Dates:
October 17 – 21, 2018
Venue:
GoggleWorks Center for the Arts, Reading, PA, USA
Buy tickets for IX11 here – on sale from February 2018 
Colin Poole – Wordcage (life size)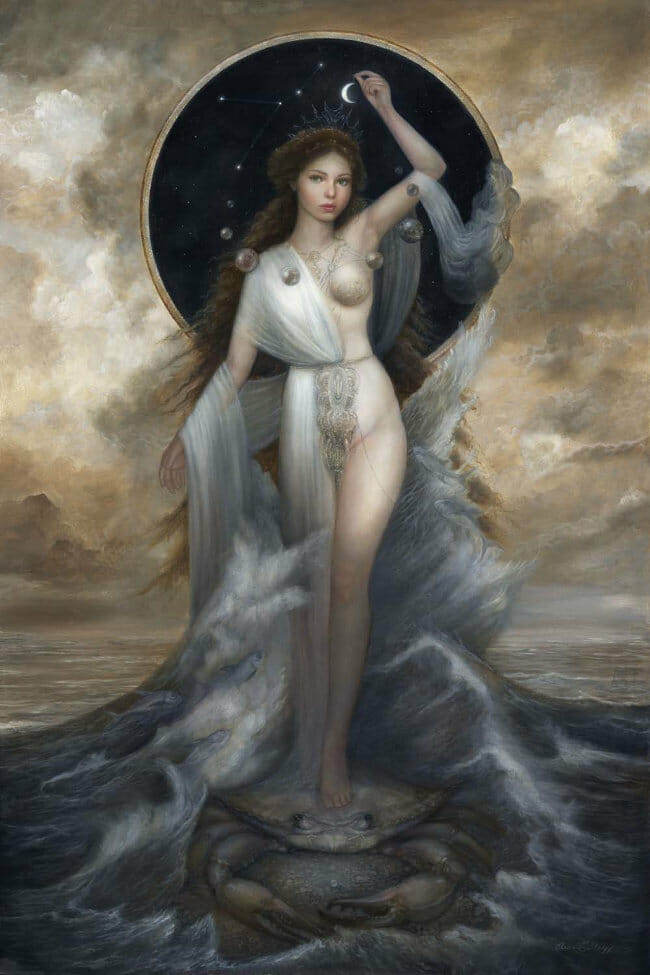 Annie Stegg Gerard – Moonchild
In 2017, IX Arts further grew their prestige as they expanded the IX reach with the opening of IX Gallery in June, which "guarantees that any piece shown in an IX Gallery show will not be offered at a lower price – anywhere – for at least 12 months following the end of the show in which it appears". Following on, they celebrated the tenth anniversary of their annual IX Show in Reading, PA, designing their largest show to date over 5 days, exhibiting hundreds of artists and over a thousand artworks.
In 2018, as well as exploring the vast tables of artists over the 5-day event, IX11 promises a comprehensive program of workshops, talks and live painting/sculpting – even fancy dress competitions have been known to occur! To support this year's impressive list of Main Show and Showcase artists, 2018 will also see IX Arts commissioning special pieces by a select few. Providing the creative opportunity beyond the usual restrictions of price and size, the commissioned artists will be sharing works born from a creative freedom far beyond their usual norms.
Richard Hescox – The Blue Abyss (2018 IX Commission)
Speaking to Pat and Jeannie Wilshire, Founders of the IX organisation, it's clear they never stopped for a break while the rest of us enjoyed the festive season; having already overseen the Jury Submissions for IX11 and designed the next four exhibitions for IX Gallery, Pat and Jeannie are busy organising the next stages for IX11 after the phenomenal sell out of the Showcase tables. Is there any sign of things slowing down? Pat laughs: "each year, we get more submissions for the show and sell more tickets. IX Gallery, although only 7 months old, is growing as well, with expanding sales and reach with every show mounted. So we're expecting a busy 2018 and beyond!"
The high caliber of work represented and shared through IX teases for another astounding year. While you will have to wait a little longer to see this year's IX commissions, take a peek below at some of the artwork from this year's featured artists. 2018 promises to be spectacular!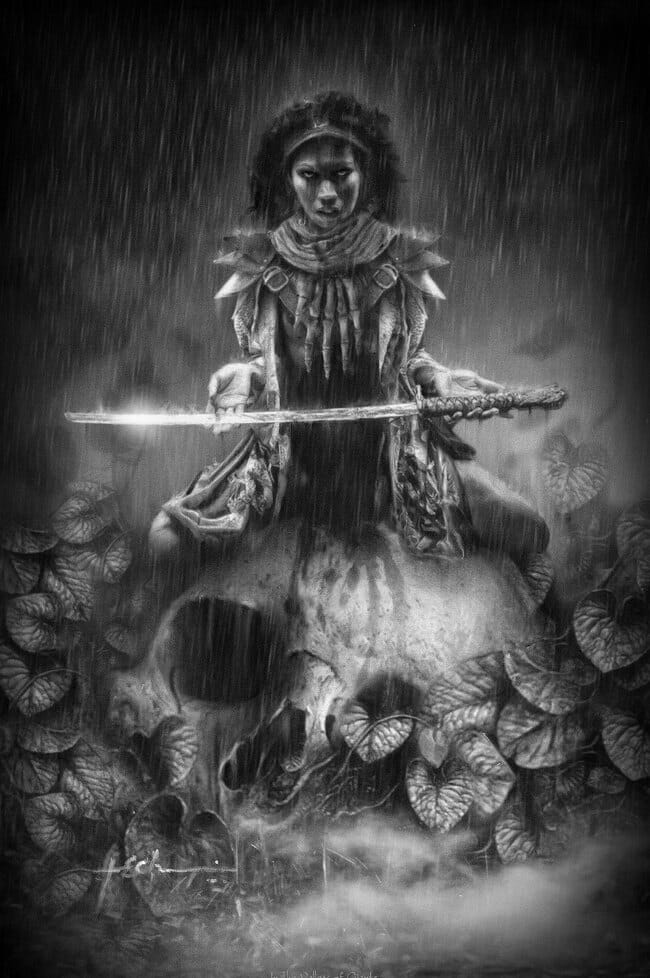 Jeff Echevarria – In the Valley of the Giants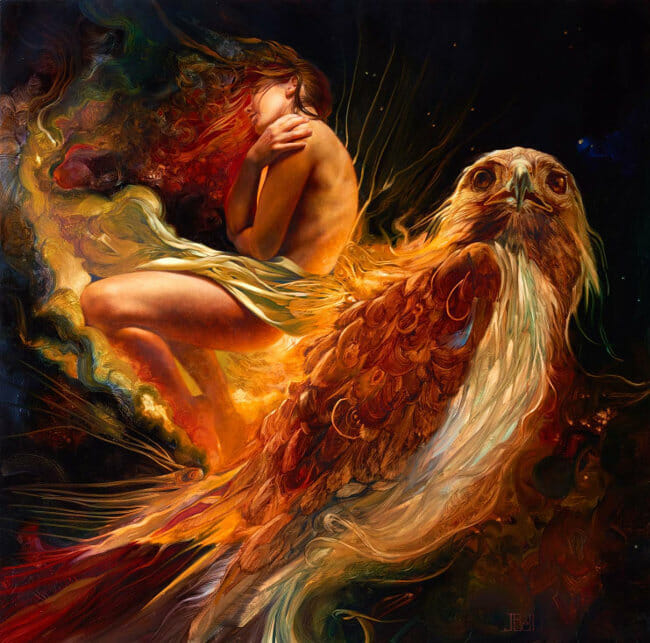 Julie Bell – Bridge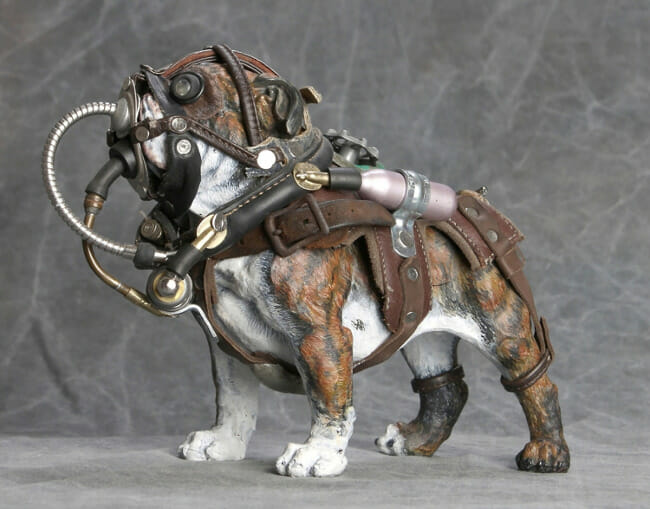 Dan Chudzinski – The Mudpuppy

Patrick Jones – Orpheus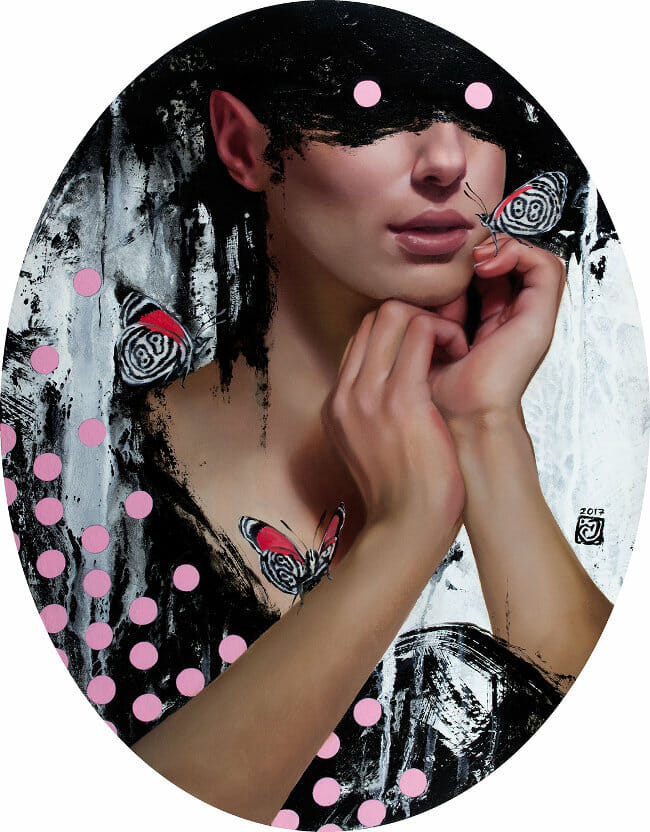 Carly Mazur – 8889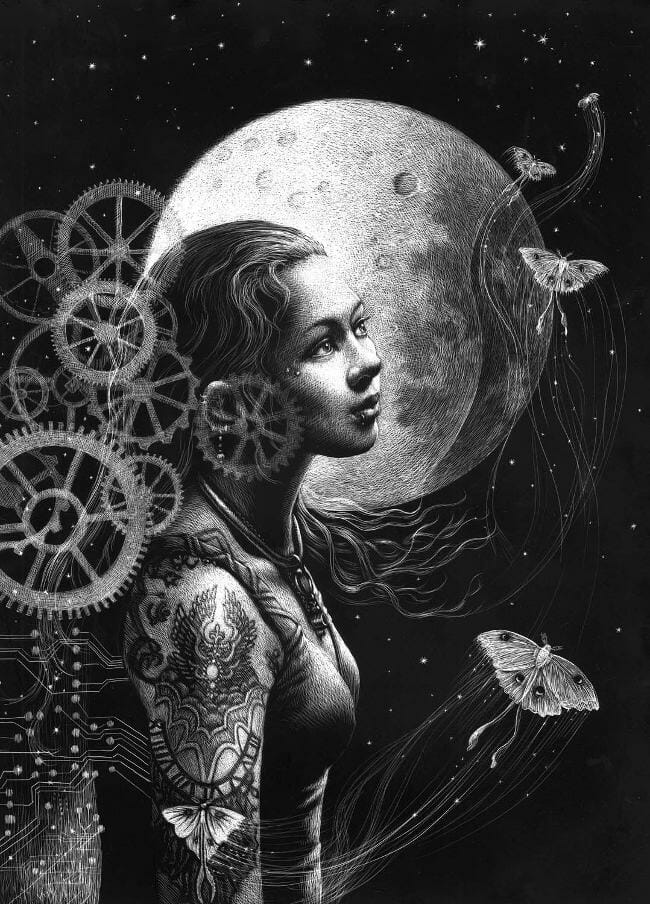 Ruth Sanderson – Luna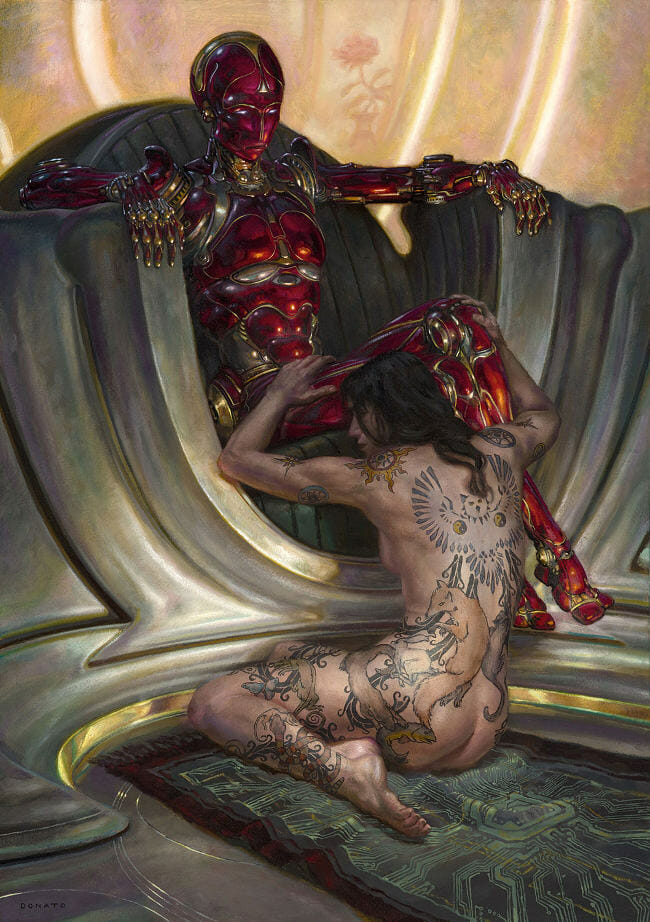 Donato Giancola – Game of Mind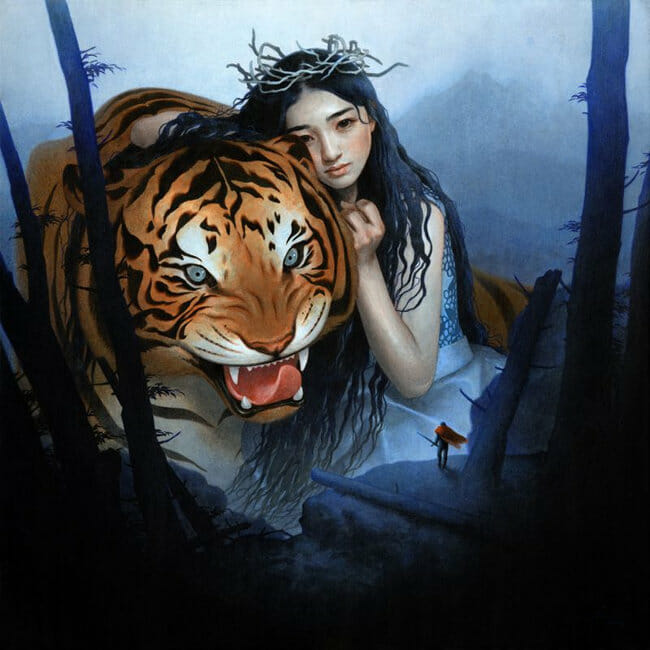 Tran Nguyen – Orange is Not Your Color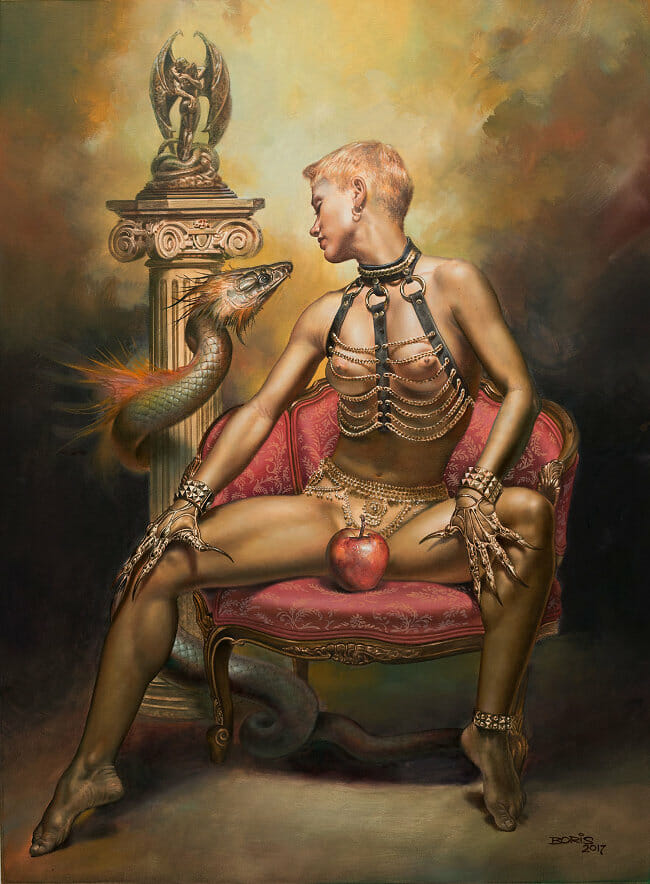 Boris Vallejo – Kiss of the Temptress