Spoke Art Gallery in San Francisco is presenting Conrad Roset's first solo exhibition in the United States! Many of our loyal readers are familiar with the artist's works. Known for his masterful observation of human figures and his ability to portray the beauty of his subjects with just a handful of strokes, his knack in pinpointing the details he needs to put on paper – and the details he can omit – is unparalleled.
'Pale' is the artist's exploration of contrasts through the creations of six large works and thirty smaller  works. He achieved this by rendering his subjects' forms, outfits, and gestures into elegant India-ink silhouettes, as well as by pairing the bold opaque shapes with soft watercolor washes. In order to give the bold silhouettes more potency, Conrad decided to screen-print the black part of his large works (all of them are available in limited editions of five). The colorized part, however, are painted by hand. His smaller works, on the other hand, are completely painted by hand using India-ink and watercolor.
If you'd like to learn more about him and his past works, pick up a copy of the beautiful.bizarre Issue 008 | Mar 2015 via our stockists and online shop.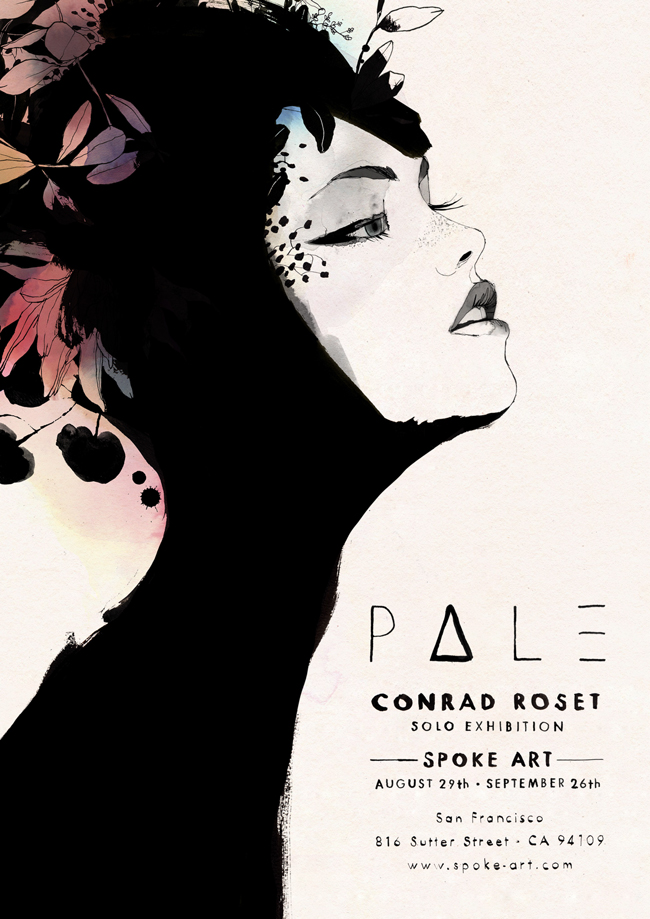 Opening Reception:
Saturday, August 29, 2015 | 6 – 10 PM
Exhibitions Dates:
August 29 – September 26, 2015
816 Sutter St.
San Francisco, CA 94109