With the year coming to a close, IX Arts exhibit a spectacular display of visionary art from over 30 artists who were involved in the tenth anniversary IX show which took place in October earlier this year. Utilising one of the most recent branches of the growing IX empire, their self-titled debut gallery ends its first year on a high. Be prepared to be enchanted all over again – or for the first time, for those who couldn't make it to IX 10 in October!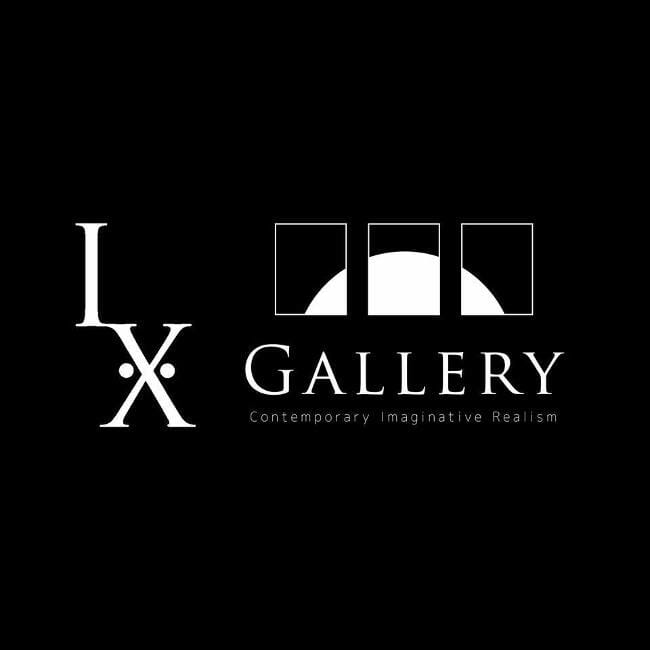 Exhibition Dates:
01 November – 31 December, 2018
Featured Artists:
Linda Adair, Rob Alexander, Armand Cabrera, Bud Cook, Allen Douglas, Lisa Falkenstern, Jody Fallon, Lisa French, Randy Gallegos, Mark Harrison, Michael C. Hayes, Kelley Hensing, Stephen Hickman, Tim Kidd, Rich Klink, J. Anthony Kosar, Dom Maitz, Gina Matarazzo, Jeff Miracola, Matthew Mrowka, Michelle Mrowka, Vince Natale, William O'Connor, Anthony Palumbo, Emile Parks, Colin Poole, Colin & Kristine Poole, Marc Potts, Kelly Potts-Martinez, Rob Rey, Dave Seeley, Tenaya Sims, Matt Smith, Dug Stanat, Matthew Stawicki, Victoria Steele, Bryan Mark Taylor, Christophe Vacher, Eric Velhagen, Allen Williams, Jeremy Wilson
There is plenty to look out for in IX Gallery's IX 10 Encore. The complexity of the pieces available, from the realms of mysticism and darkness to futuristic landscapes, create a spectacular opportunity for lovers of imaginative realism to take home their own piece of this genre's growing history. Though this exhibition is available online-only, Pat and Jeannie Wilshire, owners of IX Gallery, are happy to help with any queries and further information as needed.
Some particular favourites of mine in this exhibition include Tenaya Sims' latest large masterpiece Anthesis, and Michelle Mrowka's playfully cabalistic painting Resonance. Anthony Palumbo brings a touch of retro sci-fi to his figurative art, while Colin & Kristine Poole's bronze and fired clay collaborative sculptures draw you further back into the age of myths and legends. If you're looking for a feast, look no further than Bud Cook's piece Liminal (I), Bird on a Fan, which happily feeds the eyes with its succulent colours – and in contrast, Marc Potts delightfully grounds the soul with his dark yet graciously reflective acrylic paintings. If you are more into the wonderfully bizarre, not to be missed are Rich Klink's caricatured villainous mixed media sculptures, and Jeff Miracola's oil paintings share a world of fantasy straight out of your dreams.
As with every exhibition IX Gallery has curated, the high calibre of works created and selected ensure there are no disappointments in the IX 10 Encore. Be sure to head over to the IX Gallery website to see the full display before the exhibition ends on Sunday December 31, 2017! For more information, visit the IX Gallery website.
Bud Cook – Liminal (I), Bird on a Fan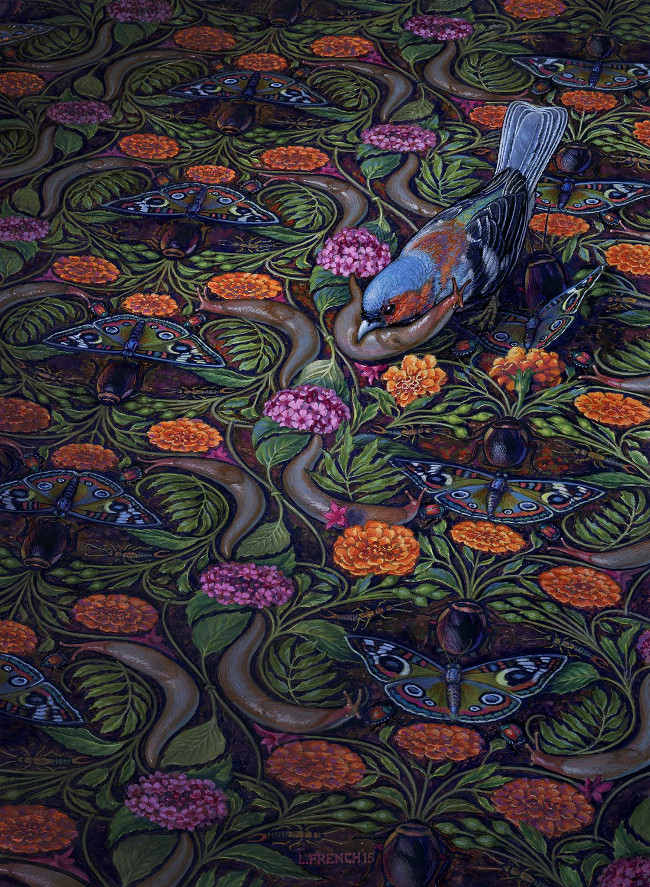 Lisa French – Perception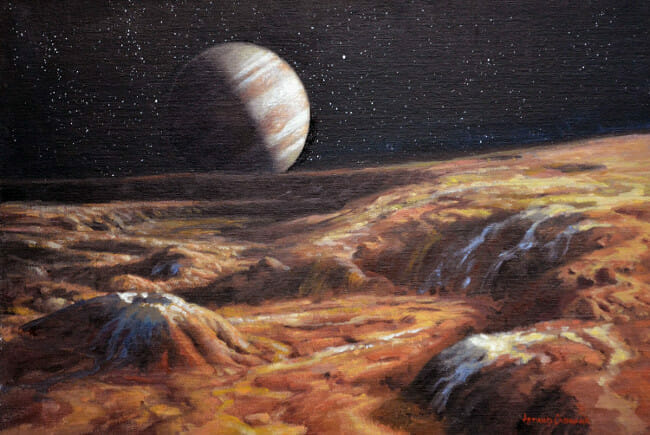 Armand Cabrera – Jupitor from Io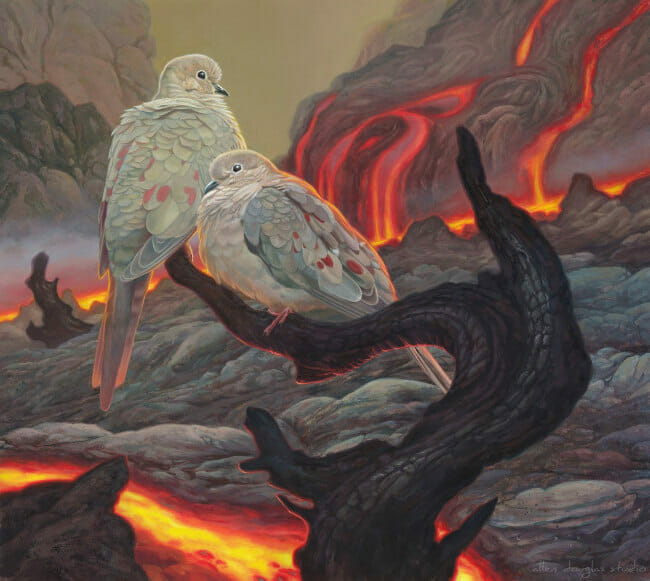 Allen Douglas – Ashfall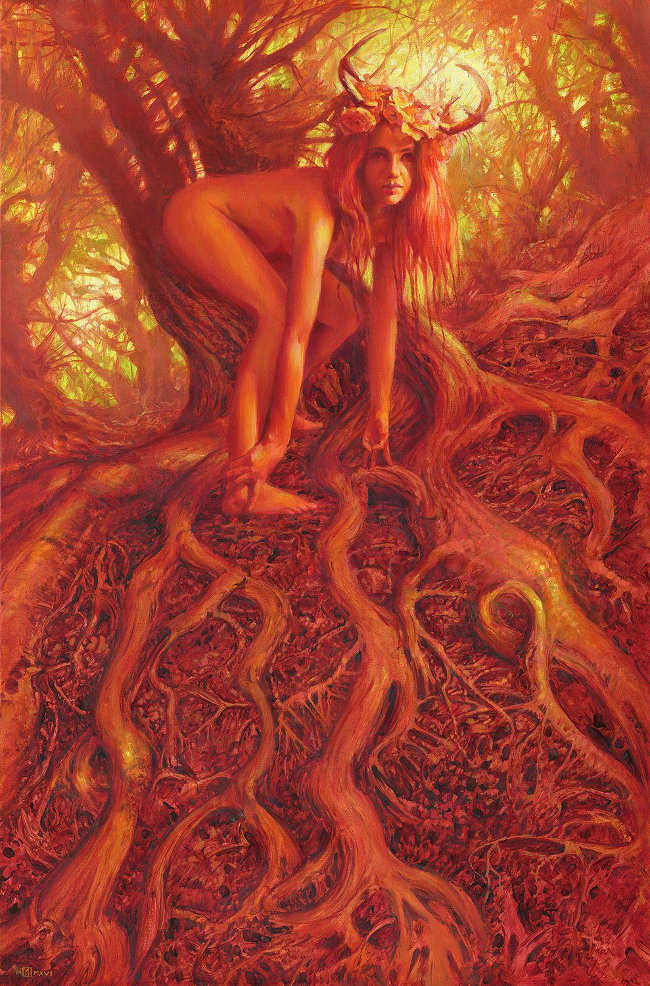 Mark Harrison – Faeral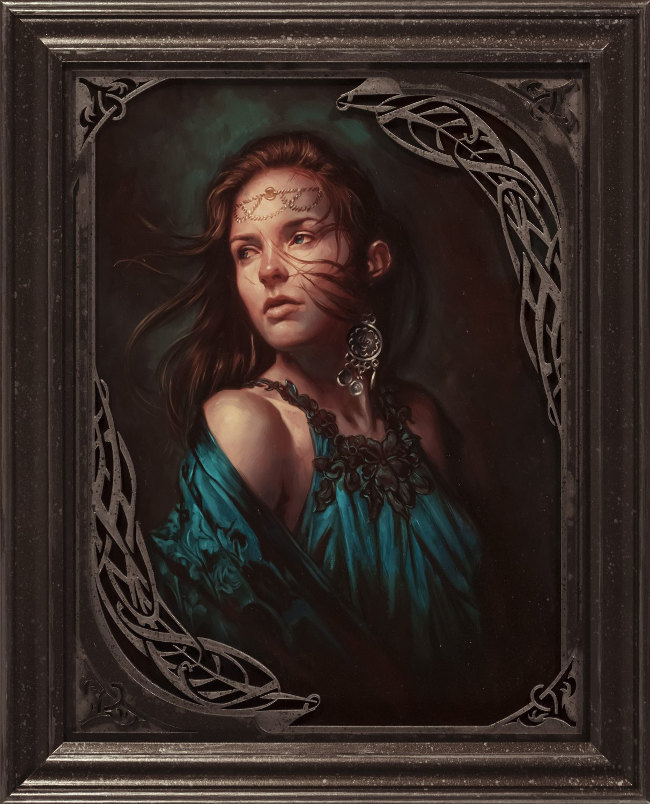 Michael C. Hayes – Exhale
Stephen Hickman – Silver Mermaid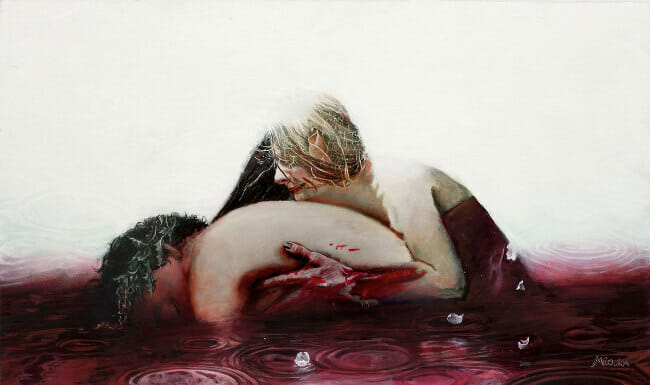 Michelle Mrowka – Resonance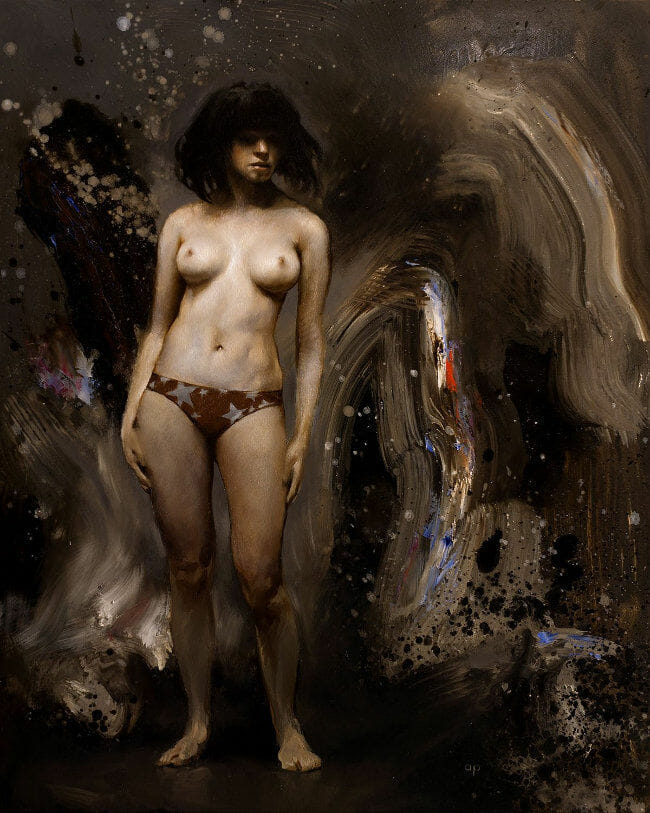 Anthony Palumbo – Zone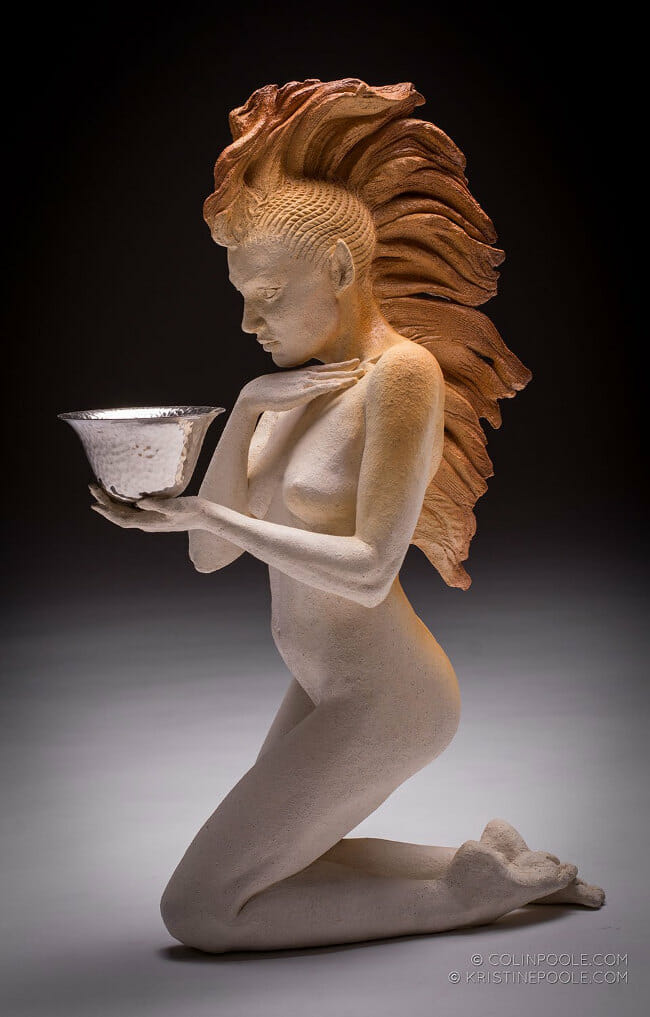 Colin & Kristine Poole – Equina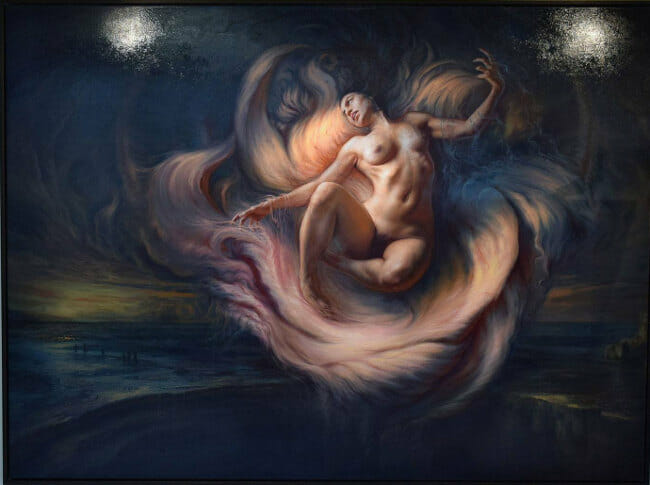 Tenaya Sims – Anthesis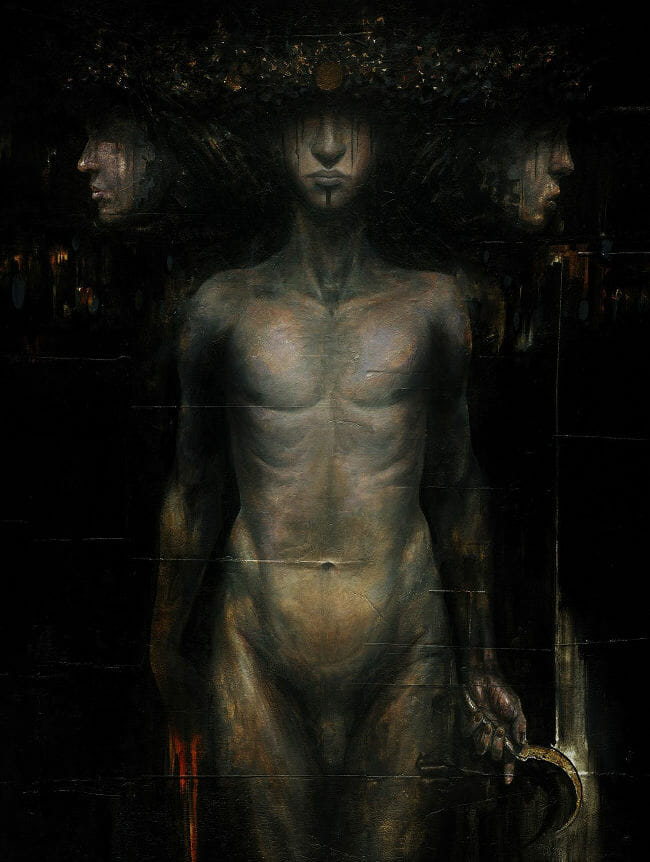 Marc Potts – The Thrice Arisen King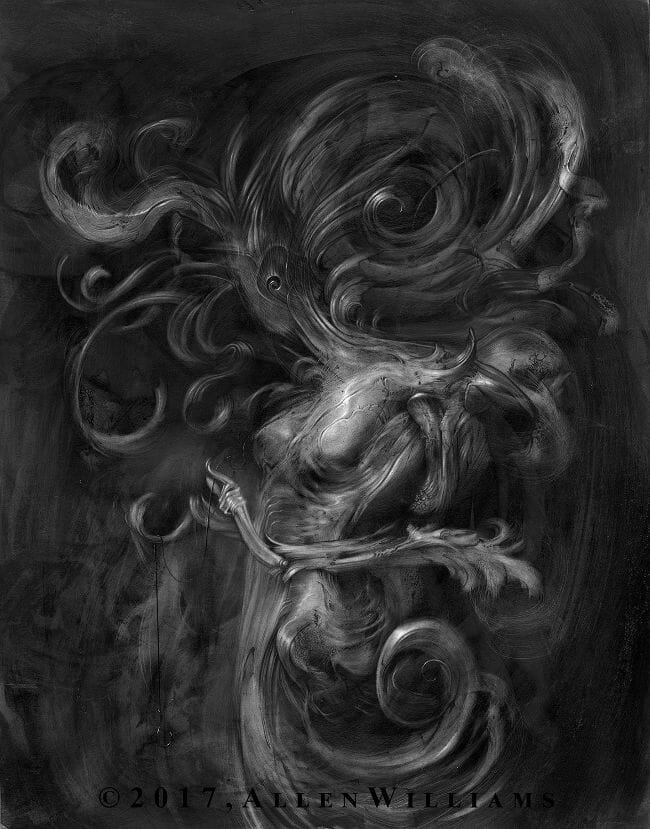 Allen Williams – Sinew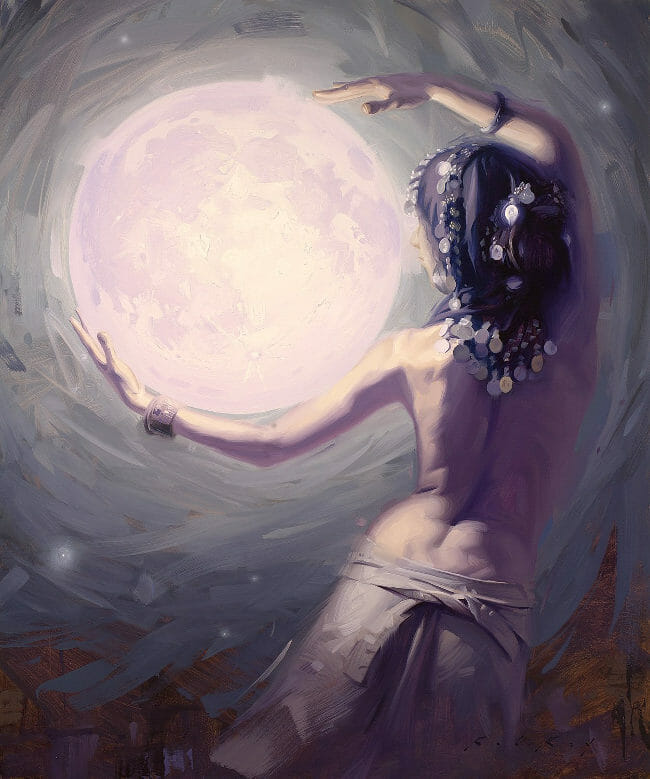 Rob Rey – Embrace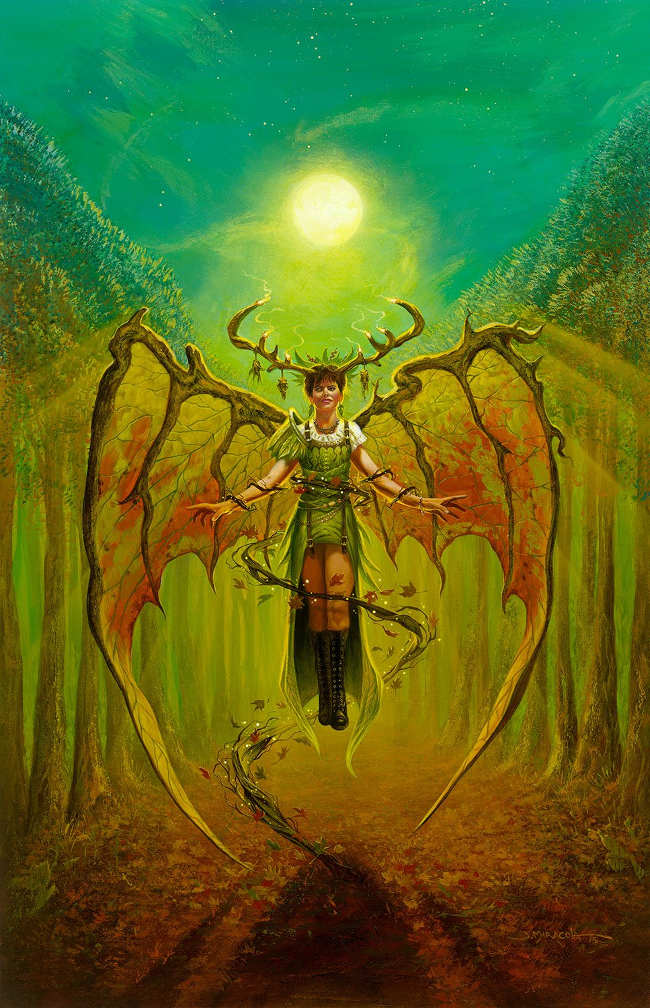 Jeff Miracola – Forest Angel