Nom Kinnear King's new work 'Bounded Branches' is like a dream; a fairytale depicting the tales of her home of Norfolk. Nom creates a snapshot of time in her body of work with each piece capturing a single month of the year and the slight changes each one brings to the world around her. Her love and appreciation of nature and her surroundings shine through with beautiful depictions of nature. To Nom these aren't just pieces depicting her love and appreciation of her home, they are memories. Little snapshots in time that she has been able to capture forever.
To me, this body of work by Nom Kinnear King is magical and almost childlike. It brings forth memories from my childhood of playing near the sea or in the forest, and it urges me to long for nature once more. Nom has done a fantastic job in combining the old rural traditions and folklore of her home with personal memories and experiences. She, like many other people, is managing to keep the old stories alive whilst also adding her own chapter. Nom Kinnear King's work is an amazing example of how traditional stories of the land are like a book that will never be finished, constantly being added to by the next generations.
'Bounded Branches' opens September 7th at Arch Enemy Arts in Philadelphia and remains on view through September 29, 2018.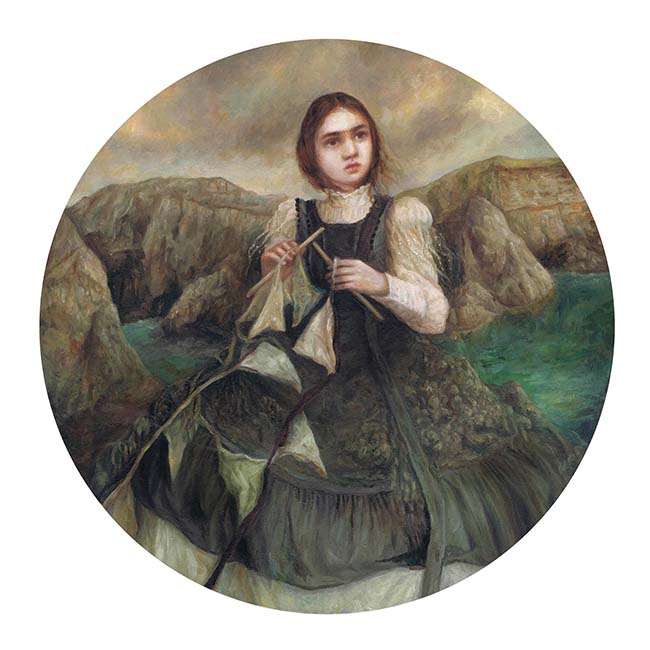 "Threading the Sails [February]", 10″

What does this new body of work mean to you, why did you choose this direction?
Since moving back to Norfolk where I grew up there has been an increasing connection to nature in my work, the countryside is where my heart is, I enjoy reading about the old rural traditions and folklore of the place. The collection moves through each month, capturing the seasons. I love noticing the little changes, the different atmospheres to season, and the bleak beauty of winter the potent summer in full bloom. It's something that will continue in my paintings, whenever I'm in the need for a bit of inspiration we head off exploring the woods and coast, farms and manor houses, finding places for my characters to hang their hat.
"What's the Time Mr. Wolf [April]", 6 x 6″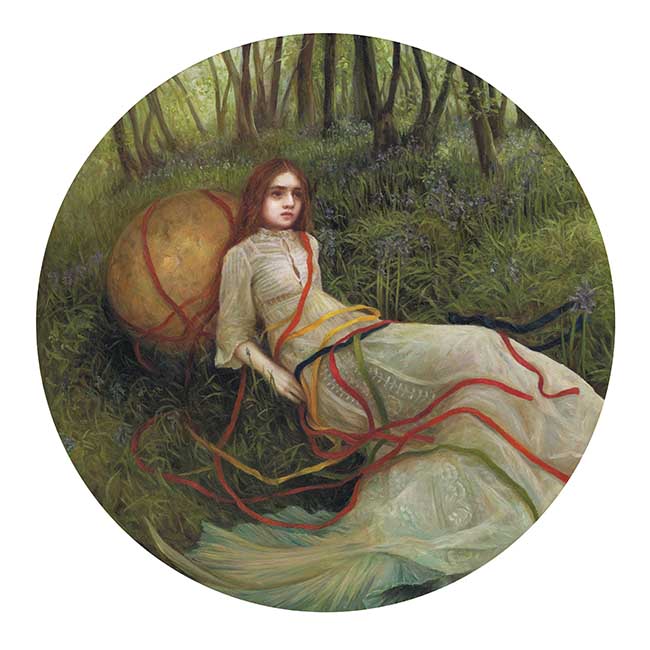 "Ashore [May]", 12″
What is your personal favourite work from the show and why?
It would be 'Ashore', which is May, it was one that turned out like I had imagined it, I am in love with pre-Raphaelite art and hope to capture the relaxed beauty of those paintings, and felt pleased with the flow of May.  I was determined not to miss the bluebells this year, and found this little wood by the sea here. Paintings often remind me of the day and while I was planning this piece in the woods my little girl was wandering about hunting for fairies, the day after we went to May day by the river to see the May pole dance, so the two days melded together into the painting and made a great memory too.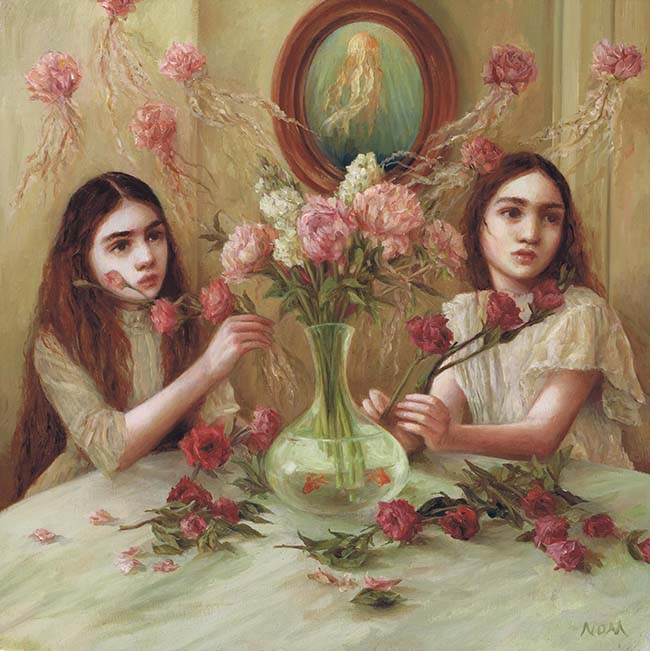 "The Bouquet [June]", 9 x 9″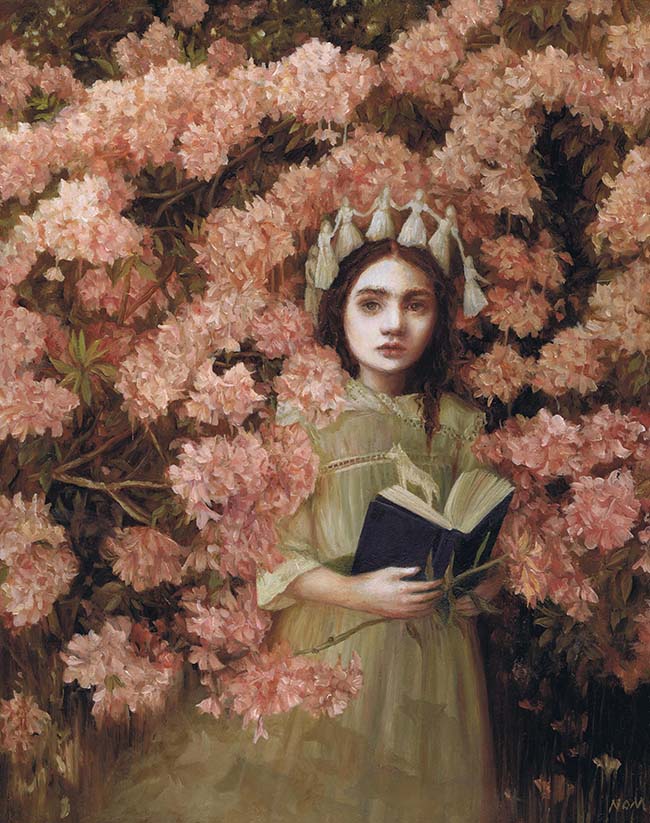 "Entwined [July]", 8 x 10″
If you had to choose only three words that you feel best describes your work what would they be and why?
Romantic – Because they are the daydreamers that feel the beauty in everything around them, dancing to the beat of their own drum. I love painting clouds, hazy light, misty forests. I feel these give a romantic atmosphere to their surroundings.
Curious – Because they wander off on their own, invent, read and explore. My characters are often found reading books, wearing their own inventions of cogs clocks and thing-a-majigs and roaming through old doorways keen to see what lies behind the next corner.
Magical – Because they touch on the surreal, threading the moon, becoming a part of the flora and fauna around them. I love playing with their characters, their imagination becoming a part of them and the world around them.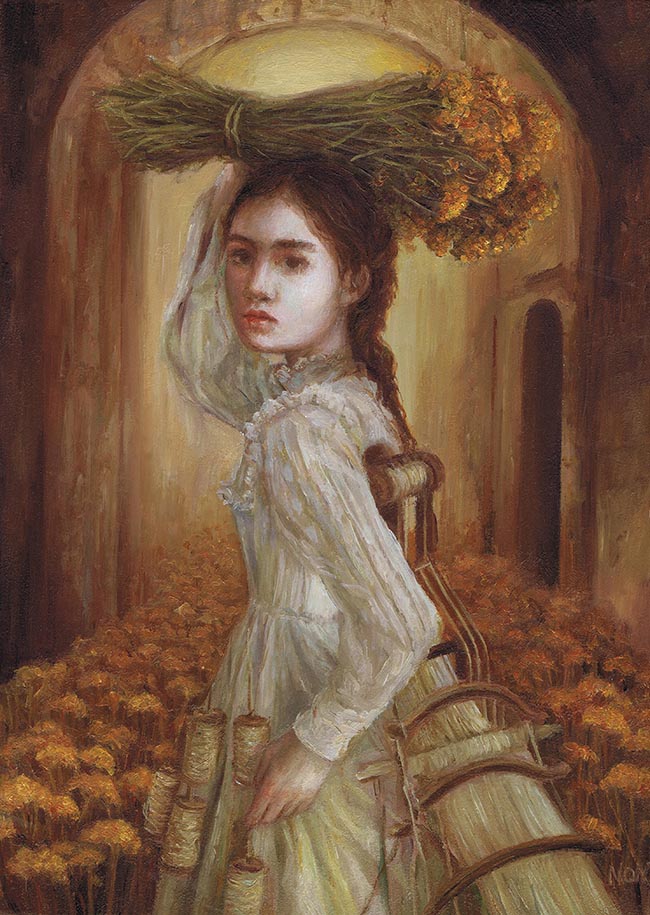 "The Golden House [August]", 5 x 7″
Many things inundate our daily lives. What role do you feel art and the artist still have in today's society?
The role it plays for me is escapism, I love creating art and looking at art, even if just for a moment, it can take you away and show you something beautiful. I recently went to the library and just looked at old paintings in the books. Usually it's on my phone that I see art, it gave me such pleasure just to sit and look.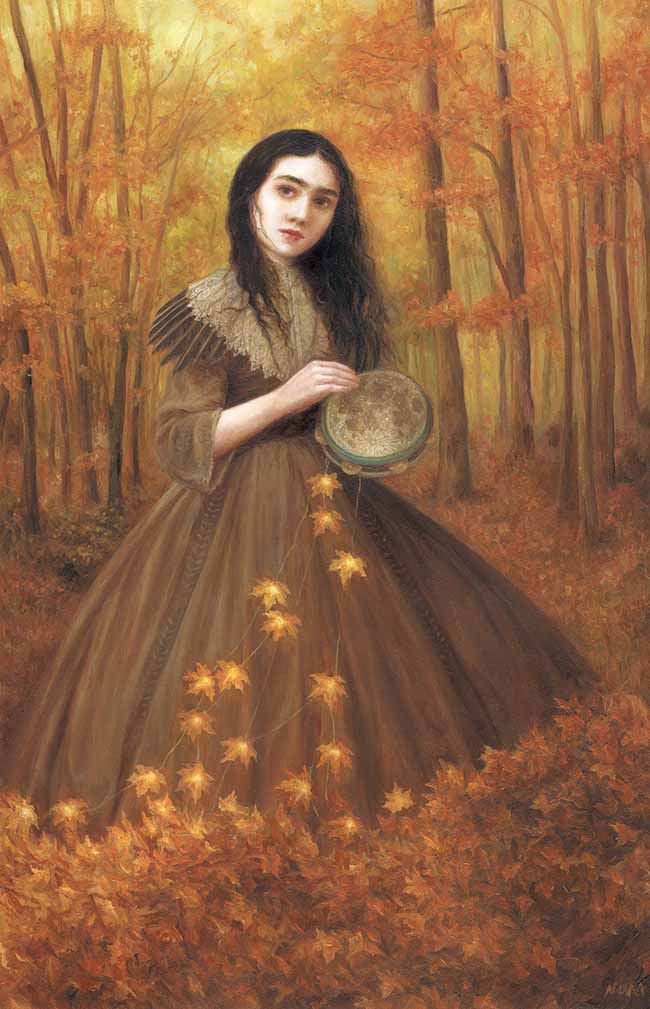 "Leaf Weaver [October]", 9.8 x 15.2″
If you could collaborate with any artist, dead or alive who would it be with and why?
John Everett Millais. It was hard to pick just a one as always, I love his paintings, there is one called Autumn leaves where you can feel the festivity in this simple task the girls together gathering leaves to burn, you can feel the air of the autumn night, the same with his painting 'A Somnambulist'. It would be wonderful to travel back in time and create a scene with him, watching any old the old masters at work would be quite the day.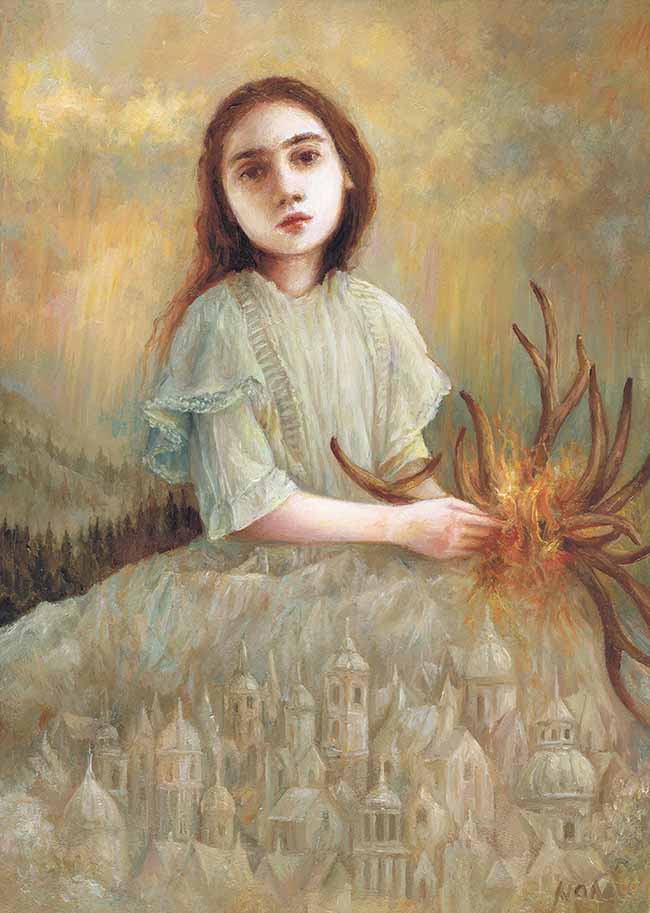 "Winters Sonnet [December]", 5 x 7″
What do you think is the single most important piece of advice you have been given as an artist?
When it is midnight you're tired and you're still painting the same bit or you think I'll just change her eye, STOP! Go to bed and have a look with fresh eyes in the morning or you might find at half past two your cursing yourself for changing it.
Discover more of Nom Kinnear King's work on her Instagram, or Facebook.