Pushing and pulling with the fascinating dichotomies inherent in our existence on this planet, Australian artist Lucy Hardie utilizes the techniques of the Old Masters of illustration while embellishing in more ethereal, romantic and ghostly content to create a mystical and extraordinary style of art that is taking the international art scene by storm. Her flowing flourishes and detailed stippling marks have an effect that resembles collage while showcasing her love of Victorian printmaking and illustration and her fascination with otherworldly nods by using her exquisite technical abilities. You may also remember her work from a previous Beautiful Bizarre Magazine article by Online Editor, Bella Harris.
The great granddaughter of a medium, straddling the borders of the living world and that of the spirits is of great ancestral importance to Lucy. Her pen and ink drawings touch on that infinite beauty and mystery, finding pathways of connection between us, as humans, with mortality, beauty, nature and love.
Evocative and awakening, Lucy's work is imbued with the power of the human experience, and uses emotion to attract, keep and engage her audience. Her technical abilities are meticulous and delicate and recall the work of H.J. Ford, Matthias Grunewald, Ivan Bilibin or Aubrey Beardsley. Rich and decadent, touching on death and sexuality, playing with magic and the veil between life and the afterlife.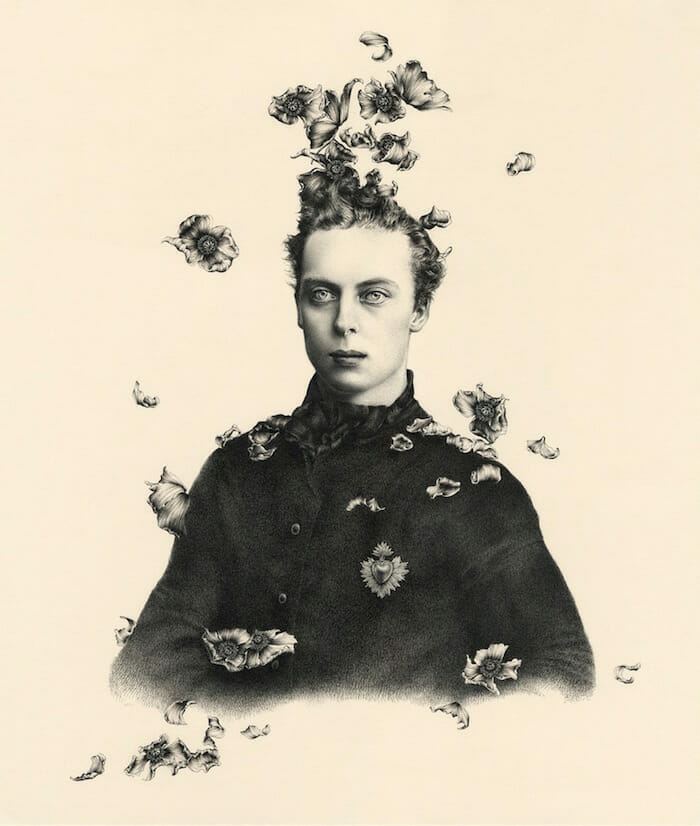 Much of her work invests in the visuals of Victorian portraiture but she emboldens its content with unique embellishments in love, lust, murder or otherworldly apparitions. Captivated by nature, Lucy's work often plays with the representations of plant life, flowers, vines, trees and more. They wrap, wriggle, invade and enchant the subjects they interact with. As if each subject Lucy creates has their own world, spirit and personality, her creations are full of life and exude energy.
Using narrative style composition and portraiture to tell mysterious and magical stories, Lucy's creations fill her viewers with imaginative possibilities at first glance, but her textural and technical qualities push her work into a realm of magnetic force, drawing viewers in deeper and keeping them close as the stories develop in their minds and hearts the longer they stare at the gorgeous black and white works. Utilizing all prospective dualities in our world and in art, Lucy sticks to black ink and white paper, with the occasional gold leaf enhancement, adding more weight and significance to her already fascinating and enchanting creations.
Find magical beings, courteous murders, mourning souls and eternally connected lovers in Lucy Hardie's visual stories, and fall in love with the imagination all over again.