Abend Gallery in Denver, CO, has proven itself a prominent player in the artistic world since its establishment in 1990. Becoming a predominant platform for rising and well established contemporary creators, the gallery have witnessed many of the artists shown in their space being recognized by major American art institutions – and winning many awards. It was exciting news when earlier this year, Abend Gallery unveiled their move to 1412 Wazee Street, not only sharing the space with Gallery 1261 but additionally revamping their business model and opening up to a host of new artists on their roster.
In celebration of the gallery's innovative refurbishment, Abend Gallery are opening their doors to their inaugural group show, Variance. Providing an eclectic mix of styles and genres, Variance displays the best in contemporary and traditional art, delicately amalgamated for the modern audience. Viewers can enjoy landscape paintings by Heiko Mattausch and Chris Charlebois, and melt into the obscure portraitures of Ryan Morse. Ruminate over Nadezda's selection of bold oil paintings, and if you're looking for something a little more surreal, look no further than Shay Davis' 'Lonesome Samarai' and Kierstin Young's mixed media dreamscapes. Rob Rey also shares a couple of his exciting new works from his ongoing Bioluminescence series – and Zack Zdrale's expressive portraits never fail to mesmerize.
Variance at Abend Gallery offers an enticing smorgasbord of artistic delights ready for the tasting, providing a compelling opening exhibition for the gallery's new space and personal image.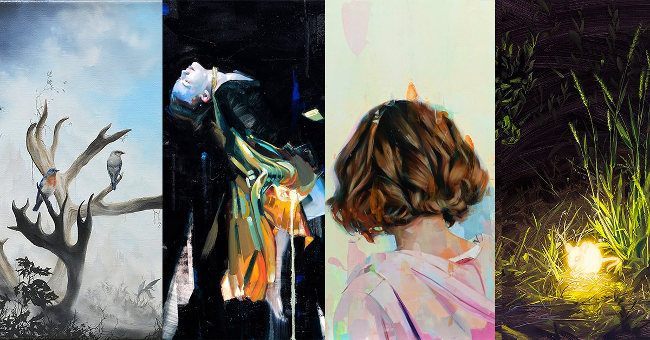 Exhibition Dates:
August 25, 2017 – September 9, 2017
Abend Gallery
1412 Wazee St | Denver | CO 80202
Facebook | Instagram | Twitter
Hours: Tue-Sat, 12 – 6pm
Exhibiting Artists: 
Timur Akhriev, Jaclyn Alderete,  Chris Charlebois, Shay Davis, Alpay Efe, Jessica Gordon, Derek Harrison, Adam Hall, David Kammerzell, Brian Mashburn, Heiko Mattausch, Ryan Morse, Nadezda, Rob Rey, Nick Runge, Daniel Segrove, Hsin-Yao Tseng, Kierstin Young, Michael Van Zeyl and Zack Zdrale.
Press Release:
"By sharing our location between three distinct galleries we have created a space that is ever-changing and always fresh, exhibiting works from artists all over the world whose practices range from traditional painting to experimental new media. This new model allows the gallery to expand its outreach by increasing our visibility in other spaces locally as well as other cities around the US and internationally.
"Variance" here speaks to the multitude of changes happening within the gallery as well as the number of fascinating perspectives from this great group of artists on view. We can't wait to share what we have in store as we continue exhibiting work from some of the most talented artists working today."
For more information contact Abend Gallery via their website.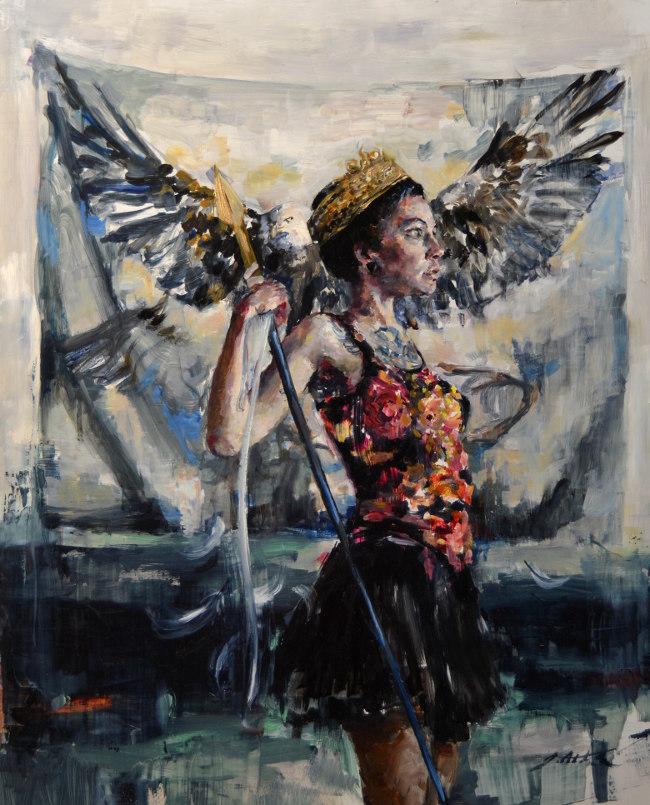 Jaclyn Alderete – Haljoruna Triumph