Mark your calendars because this Saturday, July 8, 2017, Jasmine Becket-Griffith celebrates 'Insectarium' as the spotlight artist at Eight And Sand Gallery! In honor of the group exhibition, Jasmine has created four new original Strangeling paintings sure to dazzle with creepy-crawly goodness. She will be in attendance and bringing additional prints and mini paintings. Don't miss out!
On July 13-15, 2017, Jasmine will debut a "Princess Aurora" painting for Disney's D23 Expo premier Disney Fan Event, a biannual Disney-run convention featuring the top Disney celebrities, performers, exhibits, presentations, breaking news and more. Alongside this darling original painting, prints and merchandise will also be available for purchase at our Trade show booth. If you're in the area, stop by for one of the three autographing times throughout the Disney expo (details below)!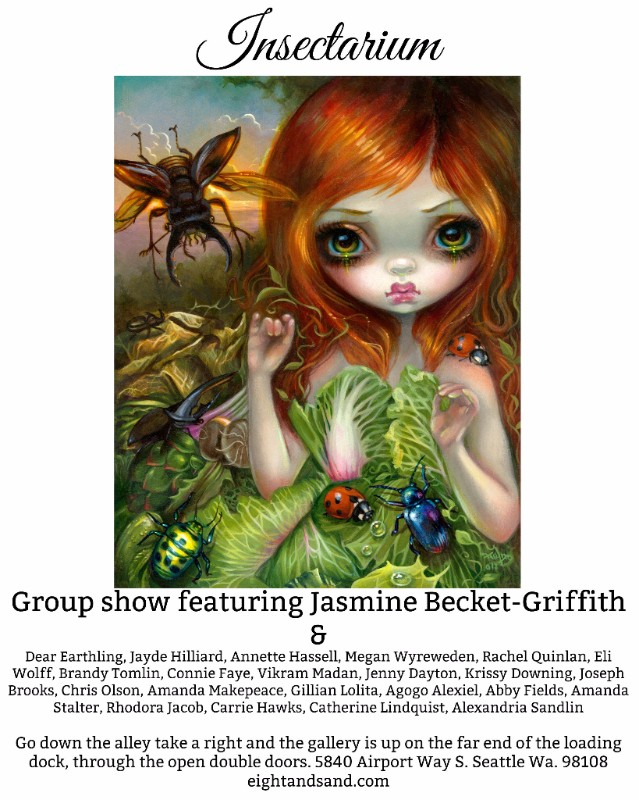 Opening Reception:
July 8, 2017 | 6-9PM
5840 Airport Way S, Seattle, Washington 98108
Insectarium is all things creepy, crawly and probably a little cute too. Artists were asked to create artwork incorporating their favorite or most feared insects. Participating artists are local as well as national. Many artists will be attending the opening as well as Jasmine Becket-Griffith who will be flying in from Florida. She will be doing signings for fans as well so if you have something you would like signed feel free to bring that along with you. Other artists include Alexandria Sandlin, Carrie Hawks, Jayde Hilliard, Annette Hassell and more.

Website | Instagram | Twitter | Pinterest | Facebook
Event Dates:
July 13-15, 2017
Autograph Signing Times:
Thursday, July 13- 11:30am- 2:30pm at the Dream Store
Friday, July 14 – 2:30pm- 4:00pm at Talent Central
Saturday, July 15 – 11:00am- 12:30pm at Talent Central
800 W Katella Ave, Anaheim, California 92802