How does one even begin to describe the stunning oils of Italian painter Agostino Arrivabene? Well, to start you will need to give yourself plenty of time; as well as being a feast of visual complexity, Agostino's works are laden with symbolism and allegory. From the seclusion of his 17th century estate in the countryside near Milan, Agostino delves deep into a vast range of sources for his inspiration, from the ancient Greek literature of Homer to the novels and poetry of Oscar Wilde, the cinematic design of H.R Geiger to the haunting tones of Lisa Gerrard. And to this melting pot of external influences he then adds his own story including his memories of growing up in Catholic rural Italy.  Agostino unburdens himself onto the canvas using classical materials and techniques, rediscovered through painstaking research and then combined with the best of the new, and the result is a body of work that deals with the darkest parts of the innermost psyche and the understanding of our own mortality.
Facebook | Instagram | Tumblr | Twitter
When I look at your works what comes to mind for me is a sense of visual poetry, but with the narrative remaining tantalizingly out of reach. Every time I think I have the full story of one of your works there comes another detail to question that perception. Do you challenge the viewers of your work to find a specific meaning within each piece, or do you see your work as furnishing the stage for the viewers' imagination?
I'm not purposefully creating any challenge: my path as an artist undergoes the urgency to confront the world of Literature as well as the one of the intellect, so there are authors that have accompanied me over time by nurturing me with their teachings, their lives, their imagination, and the strength of their poetry. For instance, Homer with his Odyssey or his Hymn to Demeter, or Ovid and his Metamorphosis. Not to mention Arthur Rimbaud, Charles Baudelaire, Oscar Wilde, and Joris-Karl Huysmans with his book imbued with "anarchic" references to Decadentism and Symbolism. They all introduced me to atmospheres where the boundary between reality and esoterica is very subtle. I also enjoy exploring alchemy through the texts of Paracelsus, which contributes to foster my own imagination as a means to counterbalance my own anxieties and inner demons. In this light, Greek mythology became a necessary language to identify and understand my own life, and the meaning of existence. My obsession for the above mentioned subject, at some point, turned into a desire to feel protected and see the most significant moments of my life interpreted through the lens of gods Hades, Persephone, and Demeter.
While the traditional focus of works featuring symbolism around death, religious and otherwise, has taken cues from earthly decay, your work heavily features undersea life. Is there a particular relationship for you between the oceans and death / suffering?
In 2008 a psychological trauma made me plunge into a dark journey to the darkest world towards an imaginary hell populated by creatures that had to be an exact reflection of each and every sleeping tragedy of mine.  Representing them in the guise of stratified totemic figures allowed me to free the monsters locked in my subconscious, make them more powerful outside of myself, and purge my own wounds in an attempt to cathartically exit the land of the dead. In the painting The Swimmer of Abysses, which I created in different versions and multiple techniques, the protagonist of the composition is triggering a new journey towards another kingdom. A kingdom where the abyss is bottomless and the outside world is weighting on the journey itself, by evoking the way Hercules lost his mind in the underworld, or the story of how Orpheus looked for Eurydice in the land of the dead and failed his mission. Every tragic aspect of the reality we face is like an immersion with no oxygen in an imaginary ocean that is a metaphor for pain and transformation. Unfortunately, nowadays the words "pain" and "death" are covered in warnings and taboos, which leads to a kind of sleep of the human consciousness.
The religious overtones to your work are also a strong feature. Do your beliefs / spirituality play an important role for you in the creation of your work?
I was born in a small Italian town where in the '60s and '70s the sense of Christian and Catholic religion was fostered by mysterious, and sometimes bloody, rituals that, back then, where considered to be necessary to shape the faith of the locals. In Italy, the Christian religion was used to intersect certain aspects of Greek and Latin pagan and non-pagan beliefs; this ambiguity became obvious, to me, during one of my trips to Greece, where I noticed on what extension Orthodox Christian faith is charged with the same mystery the ancient Greeks used to worship their gods.
Any article about your work must pay heed to the extensive use of techniques and materials long out of common use. Do you consider the creation of your colours and temperas an integral part of the creation of each piece, or it is a separate practice for you, part of the preparation but not of the creative process?
I've always loved the painting of the Masters of the Italian and North-European Renaissance. Leonardo Da Vinci was the artist to whom I dedicated my first steps as a young painter, before I started being influenced by 15th century Flemish painters such as Jan Van Eyck. I studied their techniques in ancient books, and after hundreds of experiments I came to figure out their methods and how they changed over time. Teachings that were mandatory in the 1800's, nowadays are often skipped or adapted to more modern needs, however. Although I do not consider myself a Mannerist, I've always created conceptual hybridisations between ancient and contemporary techniques.
There is a clear foundation of classicism in your work, but just as obviously a myriad of influences have gone into the creation of your own style.  Who's work do you feel closest to – who would it please you most to be held to be comparable with?
I do not enjoy making comparisons. The sources I used as references over the years are too vast. I developed my own, metamorphic language, which is in a constant state of mutation.
There have been comparisons made between aspects of your surrealism and that of HR Geiger. Geiger's work was subsumed into the modern consciousness by the design of the Alien science fiction films, what genre do you feel your work would fall into if viewed through a similar lens?
My imagination has been nurtured not only by Literature and esoteric disciplines, but also by cinema. Giger gave a great contribution to cinema with his unique vision, as can be seen in The Cell by Tarsem Singh, Avatar by James Cameron, the great saga of The Lord of the Rings by Peter Jackson, Guillermo Del Toro with the Labyrinth of the Faun, Jodorowsky's filmography, Aron Aronowsky's The Fountain or Noah, and Ridley Scott with Prometheus and Legend – a cult movie that influenced me as a teenager – not to forget Tim Burton). Now I'm working on a series of sketches based on epic works such as the Divine Comedy by Dante Alighieri, which for now are at an embryonal state as an aim to illustrate the whole medieval work of Dante Alighieri, which in my opinion also deserves a decent cinematographic transcription. Another sacred mountain of European epic poetry is John Milton's Paradise Lost.
If there were to be a motion picture interpreting your style who would feature on your ideal soundtrack ~ who has written the ideal musical accompaniment to your work?
Music has always functioned as a background to my work, and has always inspired it. Currently I'm into the work of Johan Johannsson, Lisa Gerrard, Max Richter, Michael Nyman, Olafur Arnalds, and the Sigur Ros.
I have seen it mentioned that you do not place a high value on your formal artistic studies. Do you have any words of advice for any our readers about to embark on fine art studies?
My teachers have been the great Masters of the past. To the new generations I can say, "Do not forget the great artistic heritage of the past! You have to investigate it, live it, and love it deeply to create whatever new is on its way to take form in the future."
Now to the future, what are you working on at the moment, and what shows do you have coming up?
I'm experimenting with theatre and opera. During the past few years I've designed the sceneries and costumes for an opera, Samson and Delilah by Camille Saint Sense. It's a big production that will be performed by a collaboration of several international theatre companies, including the ones of Monte Carlo with the Festival of Orange in Provence, Israel, and Shanghai.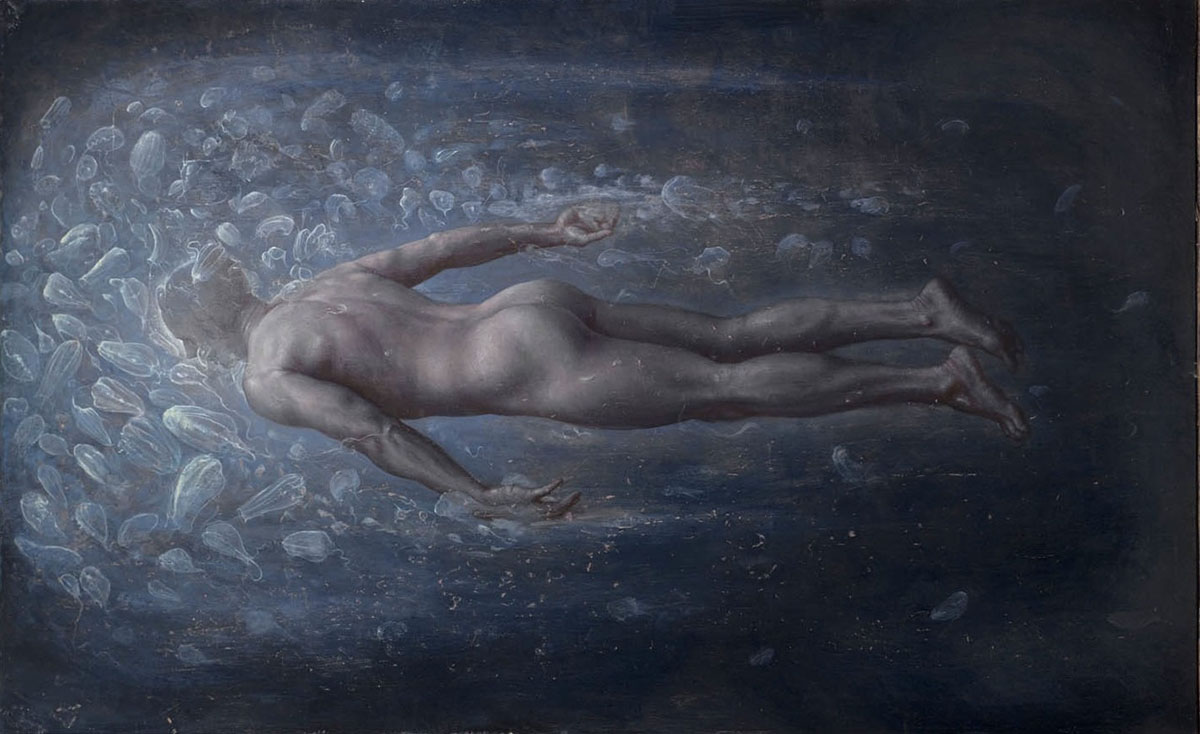 Great thanks to Deianira Tolema for the excellent Italian / English translation of this interview.
Save
Save