Shamelessly mischievous female figures dominate the canvas of Tara Sharpe's paintings. Tara is a "Jack of all trades" with past professions such as a hair salon having effects on her art aesthetic; you can see traces of the hairstyling trade in the extravagance of rendered figures' hair. But her love has always belonged to art. The Florida, US local started art school at the tender age of twelve, and has been exhibiting since 1998. Now based in Arizona, Tara is creating provocative art infused with saturated pinks, blush faces with smeared eyeliner, and runny paint.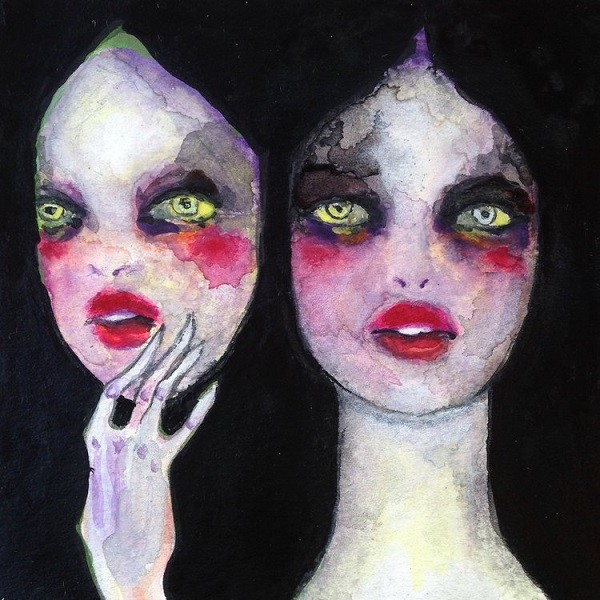 Tara Sharpe's art process involves wearing black vinyl gloves and applying layer after layer of thin, fluid acrylics– to make the paint really drip as she works. Watercolors, inks, and graphite are also utilized; you will notice many watercolor pieces in her portfolio that have similar pink, yellow, purple, and gem tone schemes. Inspiration from mythology and expressionistic artists becomes obvious through her compositions and quick, painterly application of paint. She builds up her layers of pigment very quickly and freely, with copious amounts of energy. Textured paint adds much depth to Tara's work that portrays nude women enjoying the sensual embrace of vines, or portraits set on black backdrops. These fiercely vibrant ladies often are painted with yellow eyes, sometimes lacking an iris and pupil altogether.  A favorite detail of Tara's artwork are the stylistic willowy, wavy fingers. They are quirky and hold a lot of expression. She seems to be focusing on hands more these days, sculpting them and creating paintings of hands alone.
You can keep up with Tara and see where she'll show next via her Instagram. Continue reading for a short interview with Tara Sharpe.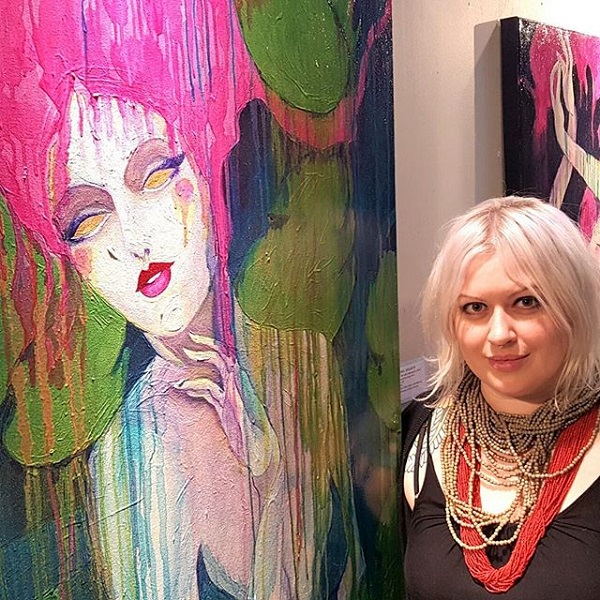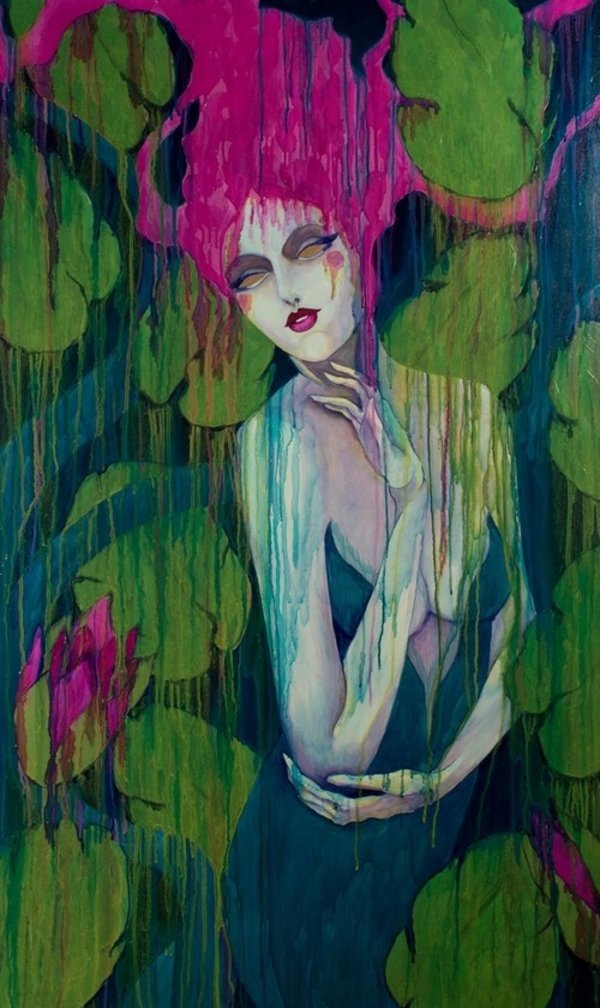 Tell us about the ladies you paint…who are they?
They are concepts, not portraits of actual women and often don't share a physical likeness with the viewer, yet I often hear "This is me.", "This is someone I am close to.", "This is you." Their hands, faces and bodies tend to imply a seductiveness with intense features, the hair or ornamentation is based on shape and composition not realism.
According to your CV, your first exhibit was in 1998. How would you say that your work has evolved since then?
I painted bare breasts frequently in my art that was being exhibited beginning around age 15. This was often an issue in a public art school so I tended to create two versions in the amount of time meant for one. Nude female figures continue to be the majority of my work 20 years later. The colors I have used were always more intense than the reality of a subject, but now my work favors more saturated jewel tones. There are a lot of colors in my current painting but many have become accents or layer builders so the piece reads as a more specific palette. Prior, all these colors would be sharing equal space and would be more chaotic.
I think it's interesting that you describe your work as "violent". Where does that come from?
My figures are not ones of traditional violence; it lies beneath a blend of eroticism and empowerment. The majority of my work is part of an origin story based on an alternate mythology, and shares the same saturation of violence seen in most belief systems.