Get ready to be amazed by Junko Mizuno's cute and contemporary – yet highly accurate – depictions of the Seven Lucky Gods of Japanese mythology! Known for her kawaii, twisted, and erotic pop surrealistic works, the artist presents her latest series of paintings and drawings in her instantly recognizable style. Despite of her usage of muted color palettes and comical forms, she manages to present the characters as forces to be reckoned with: menacing, provocable, and unpredictable deities who will smite you if you do something to displease them. To start the show with a bang, Junko and Gallery Nucleus are going to present a one-time only seven-person live performance accompanied by live Shamisen and Taiko musicians from Japan as well as professional burlesque dancers from across America. It definitely is going to be one of the most unforgettable opening nights of the year.
Opening Reception:
Saturday, December 17, 2016 | 6-9PM

Exhibition Dates:
December 17 – January 8, 2017
210 East Main St
Alhambra, CA 91801
Hours of Operation:
Tuesday – Sunday | 12:00PM – 8:00PM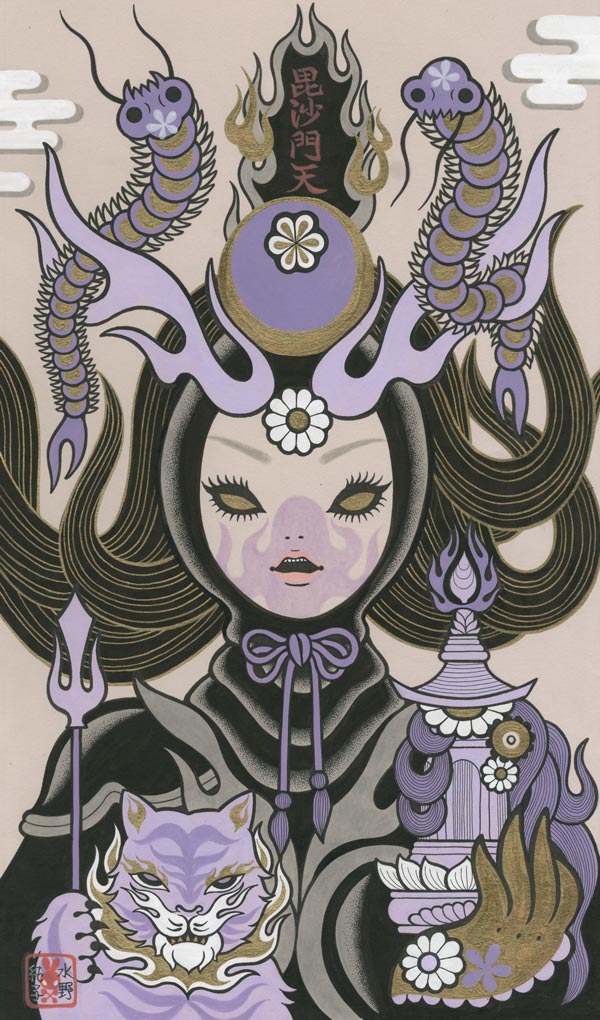 Press Release:
A solo exhibition of Junko Mizuno's latest work, this series continues her exploration of pop and spiritual aspects of Japanese culture with an emphasis on the Seven Lucky Gods. Traditionally six males and one female, Junko has depicted them as an all female ensemble of deities.
A collection of hand-made head dresses and accessories inspired by Junko's paintings and the Takarabune by artist Alston Stephanus will also be on display during the show opening. We'll also have a 7-person performance accompanied by live Shamisen and Taiko musicians from Japan as well as professional burlesque dancers from across America beginning at 7:00pm! This one-time-only performance is not to be missed.
FREE admission, all ages welcomed
FREE drinks and hors d'oeuvres will be available for attendees.
FREE Limited Edition Lantern with purchase of any Takarabune paintings (excludes pencil drawings)
Please RSVP through eventbrite to reserve a position for the live performance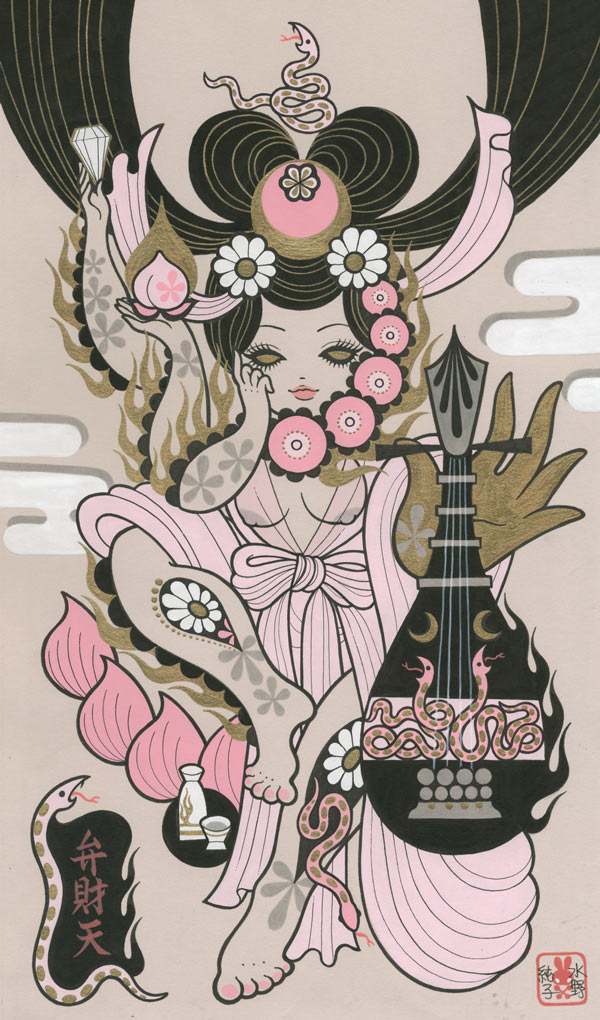 About Takarabune:

The Seven Lucky Gods—or Seven Gods of Fortune (七 福神, shichi fukujin in Japanese)—are believed to guarantee good luck and often have their place in netsuke engravings or in other representations. Amongst the seven, not all the gods are mythical characters, as there is one who is a historical figure.
They all began as remote and impersonal gods, but gradually became much closer canonical figures for certain professions and Japanese arts. During the course of its history, the mutual influence between gods has created confusion about which of them was the patron of certain professions. The worship of this group of gods is also due to the importance of the number seven in Japan, which is supposedly a bearer of good luck. It is known that these deities have their origins in ancient gods of fortune: from the Hinduism practiced in Nepal and India (Benzaiten, Bishamonten, Daikokuten); and from the Chinese Taoism and Buddhism (Fukurokuju, Hotei, Jurojin), except for one (Ebisu) who has a Japanese ancestry.
During the Edo period, it became a popular custom among common people to place takarabune pictures under one's pillow on the second night of the New Year to induce auspicious dreams and resulting good fortune.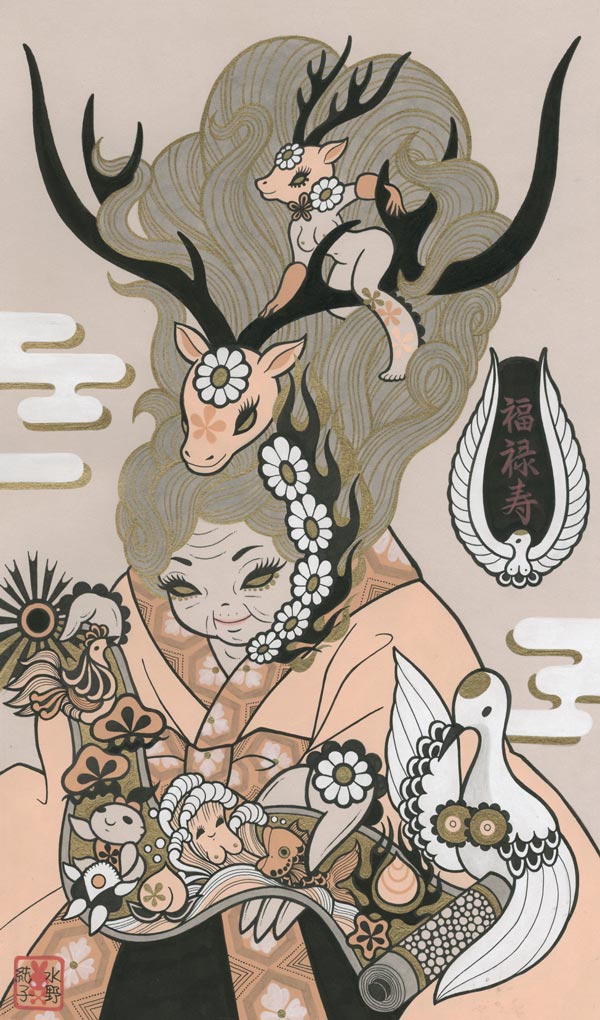 About Junko Mizuno:

Born in 1973 in Tokyo, Japan, Junko is a Japanese manga artist whose drawing style mixes childish sweetness and cuteness with terror and erotica. Her graphic novels are based on old fables such as Cinderella, Hansel and Gretel, and Princess Mermaid (The Little Mermaid). Having exhibited in museums and galleries around the world, she is currently working on more stories, illustrations, exhibitions and designs for various high end fashion.
About Alston Stephanus:
Accessories designer Alston Stephanus is honored to be contributing to Junko Mizuno's exhibition. This will be Alston's first work in a gallery setting outside his native country of Indonesia.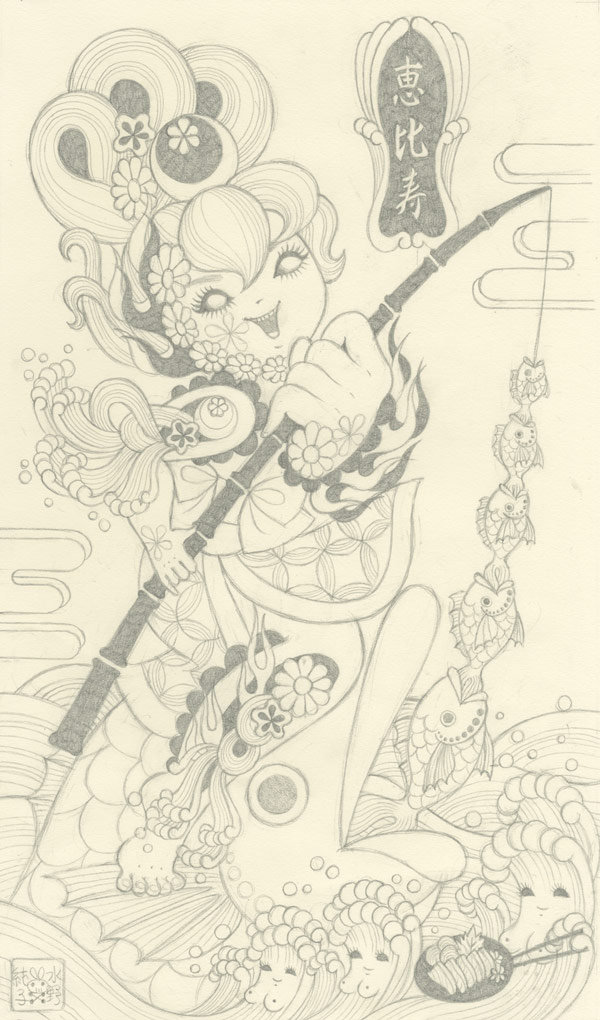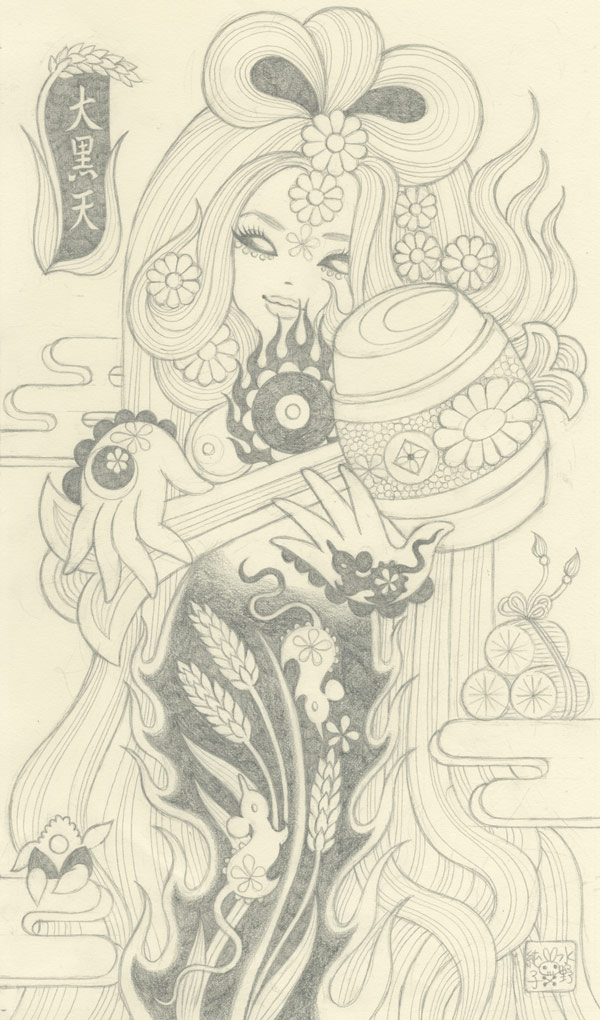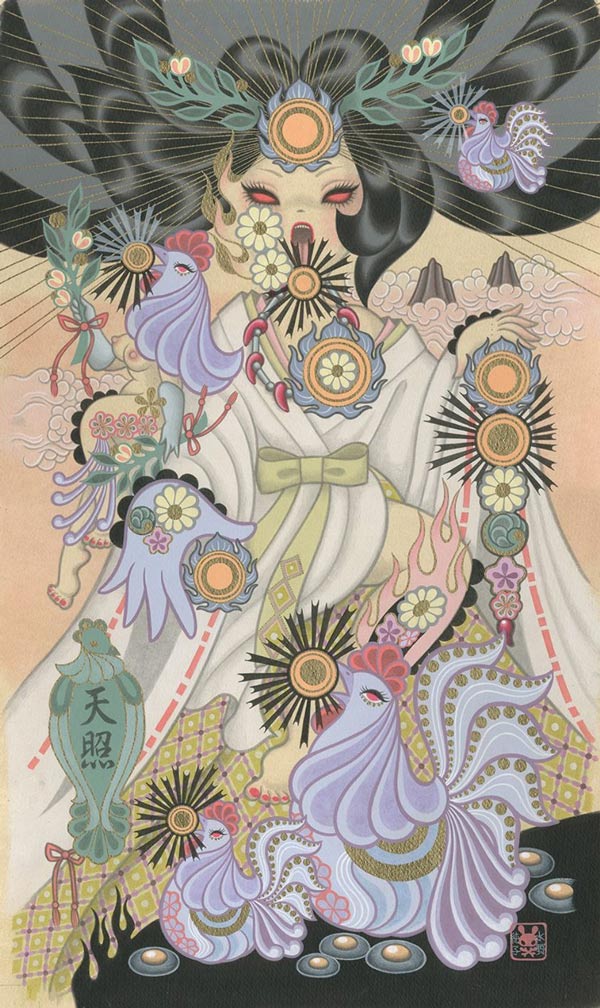 Save
Save
Save
Save
Save
Save
Save
Save
Save
Save
Save
Save
Save
Save
Save
Save
Save