The rise of imaginative realism as an artistic concept has been steady and prevalent – and filling a space allowing the evolution of contemporary art to rejoin with its many-leveled roots. Combining classical painting techniques with postmodern subjects and narratives, imaginative realism earths elements of the unreal. It delves into the unexplored and the secret, sharing images from Inner Visions with an undeniable and fresh vitality – yet, with its traditional techniques, each piece somehow still feels curiously familiar.
Showing at Abend Gallery this October, Patrick and Jeannie Wilshire – Directors of IX Arts, the organization behind the annual symposium Illuxcon – have co-curated a group show of epic proportions to celebrate the best in contemporary imaginary realism. Exhibiting over 70 artists, Abend Gallery will be transforming into its own macrocosm where angels spread their wings, mythical creatures emerge from the dark and the unbelievable grounds itself, quite firmly, within our realm. Coinciding with the eclectic beauty of this group show, up and coming artists will be displaying alongside world-renowned, award-winning painters; Inner Visions at Abend Gallery shares with you an optical delight to stimulate your imagination and broaden the mind's eye.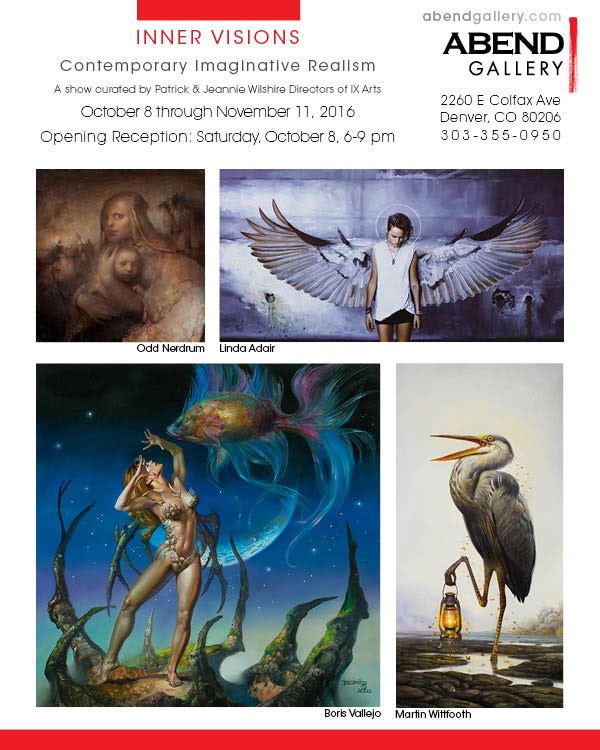 Opening Reception:
Saturday, October 8, 2016 | 6-9pm

Exhibition Dates:
October 8 – November 11, 2016
2260 E Colfax Ave | Denver, CO | 80206
Hours of Operation:
Tuesday -Saturday, 10-6pm
To find out more about Inner Visions at Abend Gallery, contact Christine Serr on 720-404-5074.
Participating Artists:
Linda Adair, Julie Bell, Steven Belledin, Rick Berry, Laurie Lee Brom, Scott Burdick, Armand Cabrera, Jeremy Caniglia, David Cheifetz, Sam Wolfe Connelly, Shay Davis, Jeff Easley, Bob Eggleton, Craig Elliott, Jody Fallon, Fred Fields, Scott Fischer, Marc Fishman, Donato Giancola, Greg Hildebrandt, Steve Hickman, Erik Gist, David Gluck, Rebecca Leveille-Guay, Wayne Haag, Mark Harrison, Michael C. Hayes, Richard Hescox, Luke Hillestad, Kelly Houghton, Bruce Jensen, Steven Kenny, Vanessa Lemen, Travis Lewis, Martin Llamedo, Travis Louie, Don Maitz, Susannah Martin, Brian Mashburn, Menton Matthews (Menton3), Gianni (John) Monteleone, Matt Mrowka, Aaron Nagel, Vince Natale, Odd Nerdrum, Billy Norrby, Tammi Otis, Anthony Palumbo, David Palumbo, Ryan Pancoast, Jim Pavelec, Shane Pierce, Marc Potts, Omar Rayyan, Rob Rey, Tooba Rezaei, Larry Schwinger, Dave Seeley, Tenaya Sims, Britt Snyder, Annie Stegg, Christophe Vacher, Boris Vallejo, Dorian Vallejo, Eric Velhagen, Jeffrey Watts, Michael Whelan, Eric Wilkerson, Jeremy Wilson, Martin Wittfooth, Chie Yoshii, Mark Zug.
Press Release:
'Patrick and Jeannie Wilshire are the Directors of IX Arts, which is dedicated to the promotion, recognition and elevation of the art of imaginative realism.[…] They are the authors and designers of Visions of Never: The Collection of Fantastic Art (2009), The Art of the Dragon: The Definitive Collection of Contemporary Dragon Paintings (2012) and the forthcoming History of Imaginative Realism. They were honored to be guest curators of AT THE EDGE: Art of the Fantastic, which premiered at the Allentown Art Museum in June of 2012. [Most recently they partnered] with Delaware Museum of Art for the first IX Preview Weekend, taking place at the museum [in September 2016].
"Imaginative realism satisfies a dual urge in the viewer," says co-curator Patrick Wilshire. "It meets the viewer's desire for aesthetic quality and appreciation of technical skill, but also provides the opportunity to experience narrative, character and concept within that technically-skilled framework."'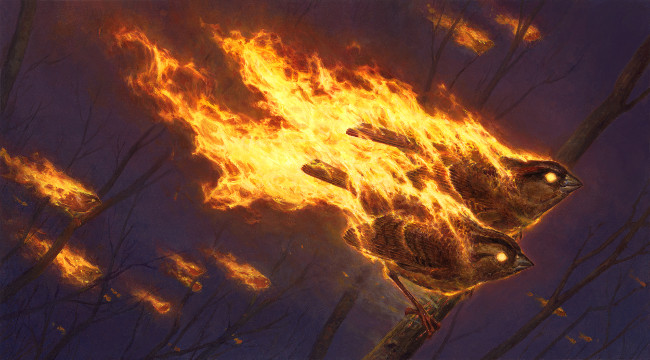 Steven Belledin –  Inferno's Rest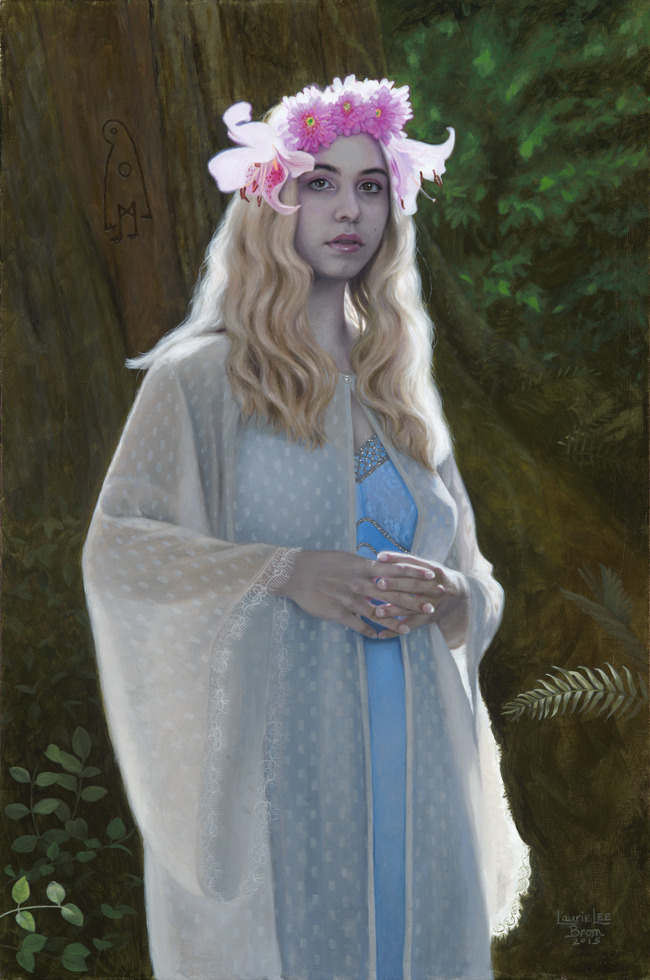 Laurie Brom – Conjurer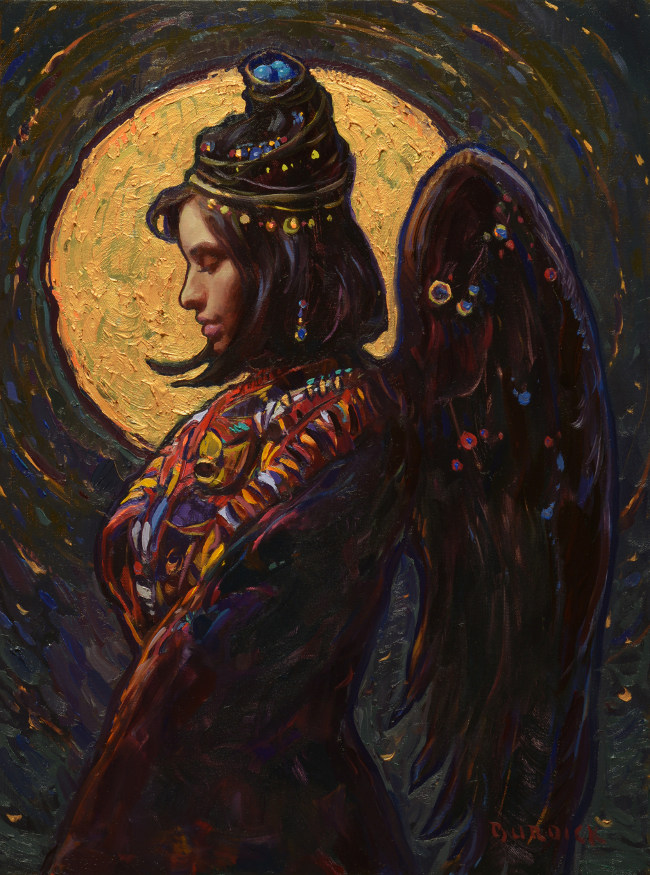 Scott Burdick – Ixtalia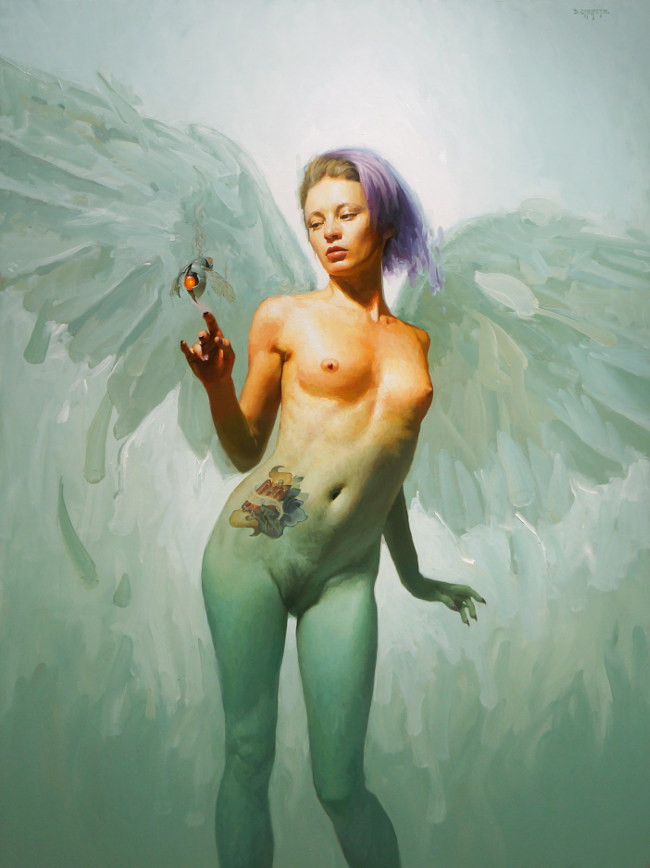 David Cheifetz – Angel of Creation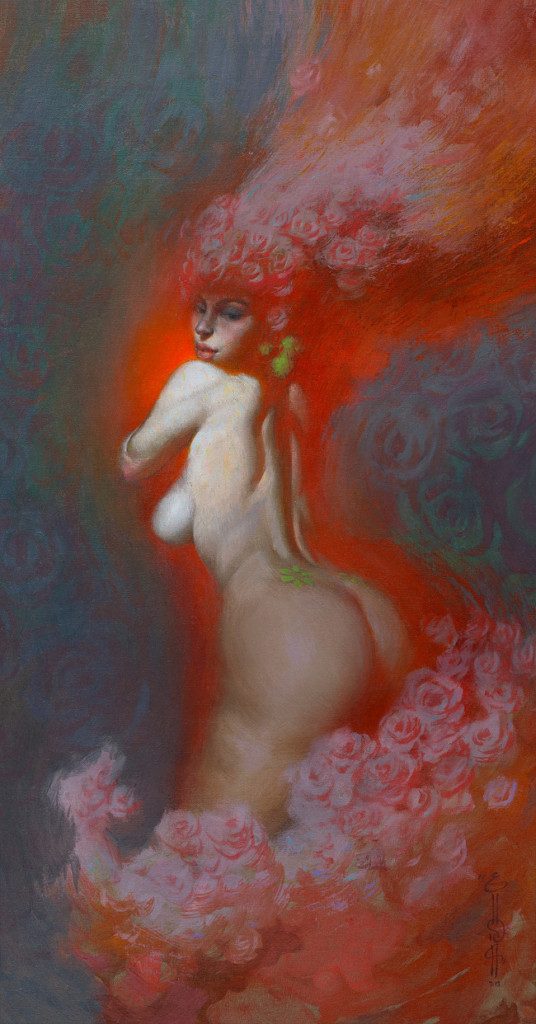 Craig Elliott – Rose Queen
Scott Fischer – Plucked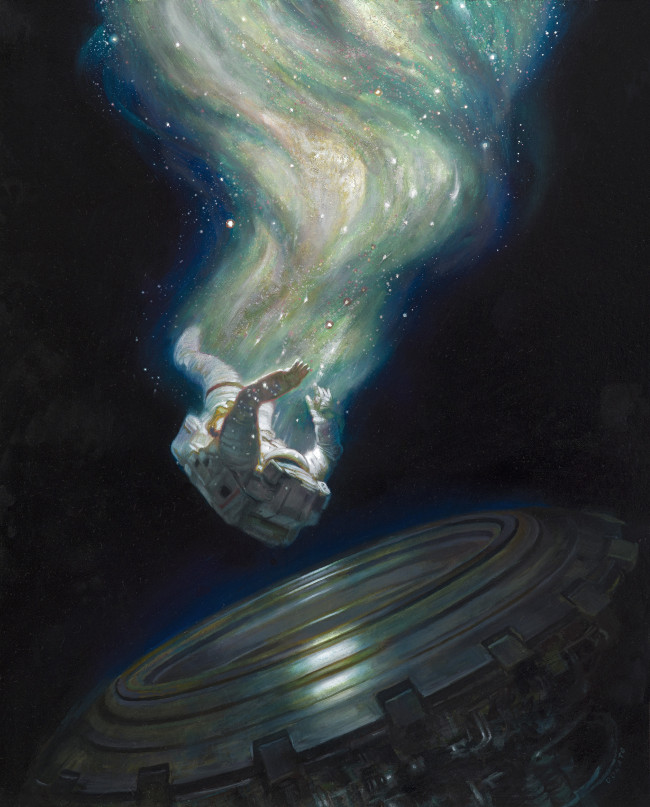 Donato Giancola – Portal Pathways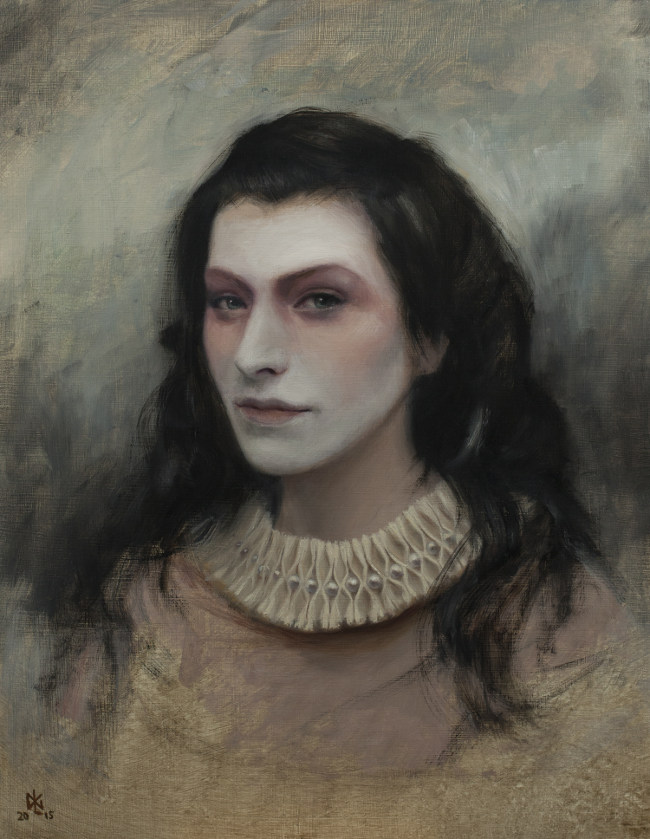 David Gluck – Harlequin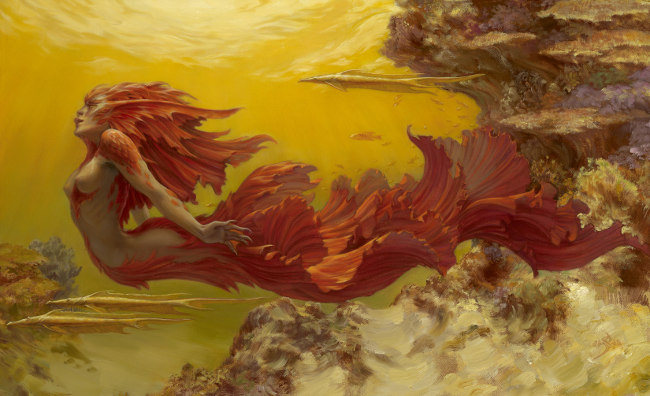 Hickman – Red Mermaid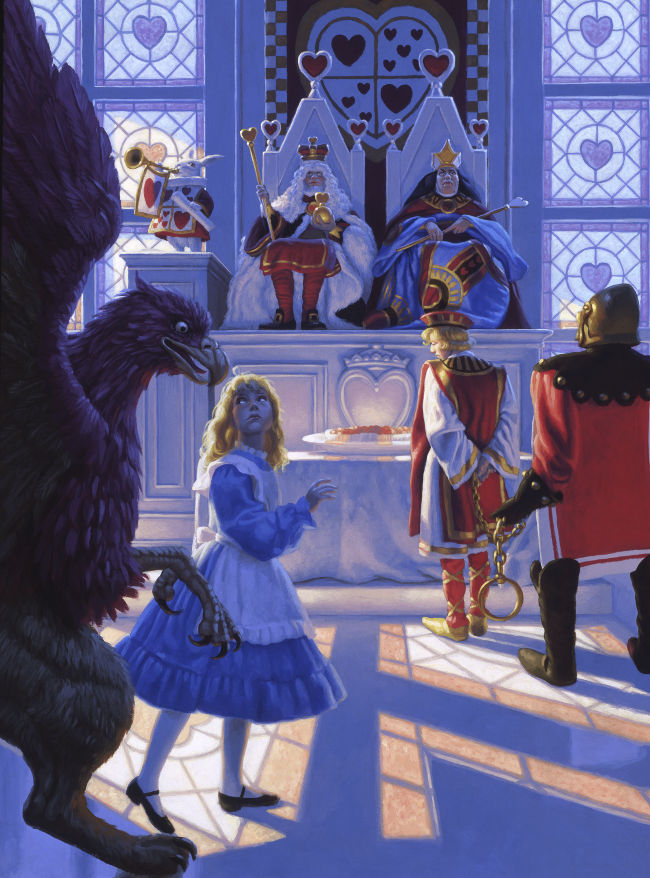 Greg Hildebrandt – Trail of the Knave of Hearts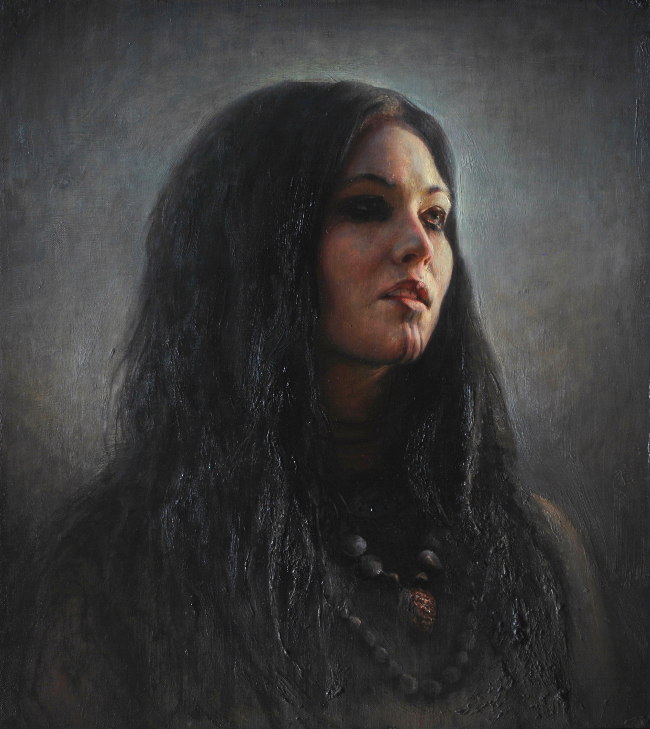 Luke Hillestad – Michelle as Hel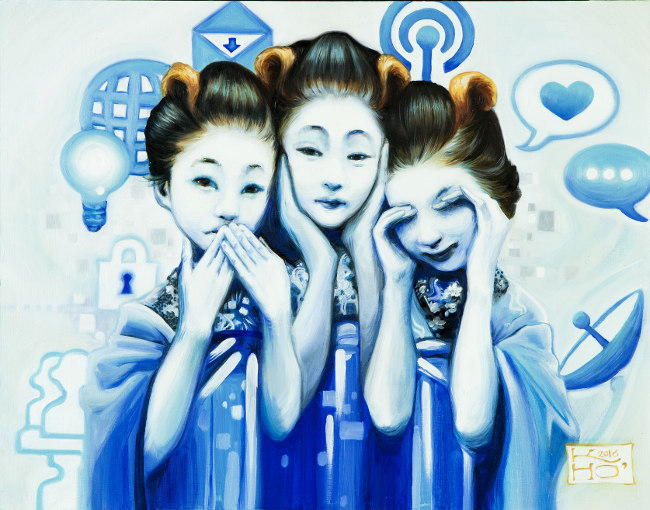 Kelly Houghton – Three Wise Monkeys for Harry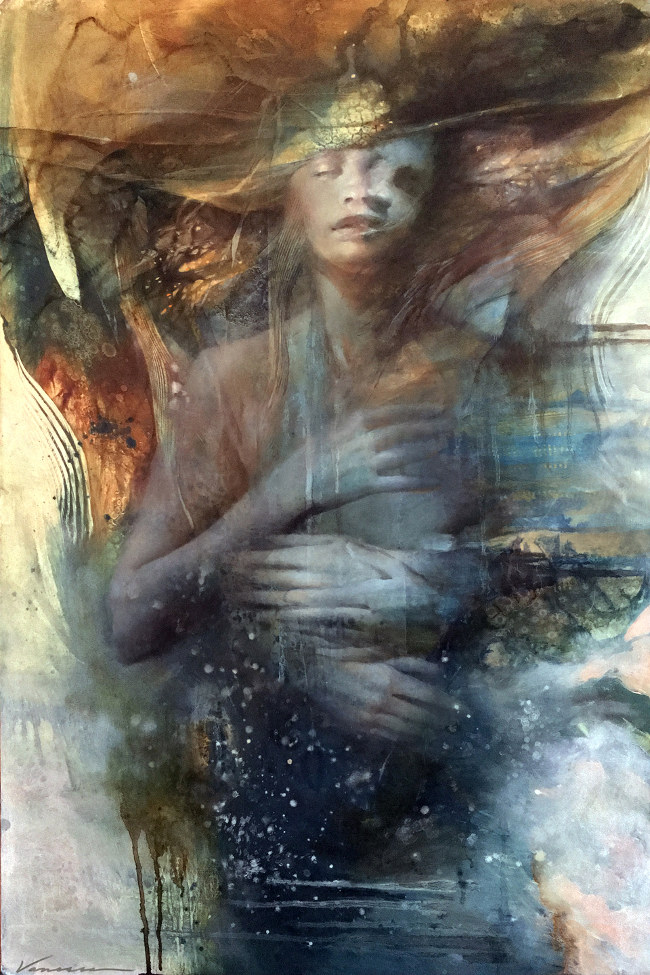 Vanessa Lemen -Hold True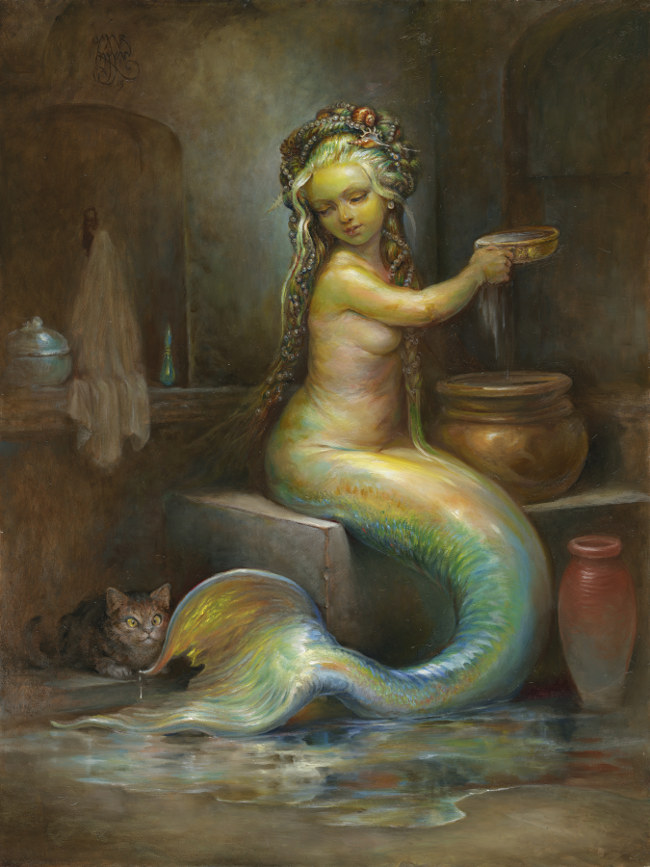 Omar Rayyan – Mermaid's Bath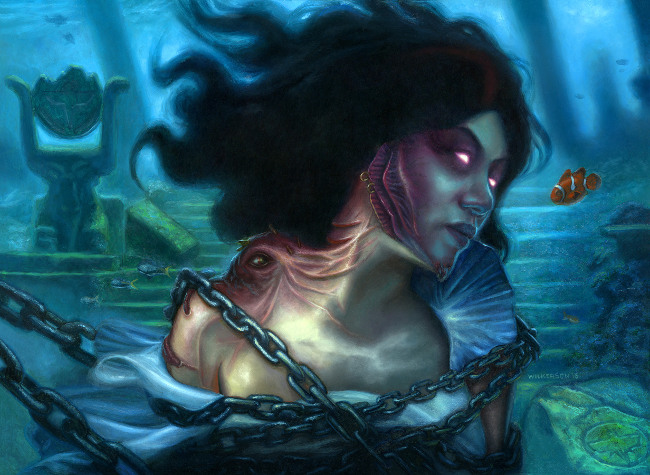 Eric Wilkerson – What Lies Beneath
Save