History, art and alchemy go hand-in-hand in Agostino Arrivabene's enigmatic pairings, coming for the first time to New York this March, courtesy of Cara Gallery. "Hierogamy" imaginatively flutters between spiritual delight and earthly misfortune, darkness and light, love and sacrifice – men and women, as one, in sublime union. The vision of the Hermaphrodite looking straight into the soul and speaking for us all.
Distancing himself from contemporary trends at first glance, Arrivabene creates paintings aiming to decipher the eternal battles of human angels and demons, in a devoted exploration of the universal and the esoteric. Reaching deep into the ancient treasuries, Renaissance, Symbolism and 19th century American Art, and applying less-practiced techniques such as mischtechnik, he lends his creatures a sacred light seemingly flowing from within. It is the road to transcendence, with destination a divine metamorphosis. Visually striking and profoundly philosophical all at once, this is the art of the cocoon and the luminous butterfly.
Opening Reception:
Thursday, March 3, 2016 | 6 – 8 PM
Exhibition Dates:
March 4–April 16, 2016
Cara Gallery
508 W 24th Street – New York | NY 10011
For purchasing information and availability, please contact the gallery directly at [email protected]
Press Release: visit the gallery website for complete overview
The itinerary, put in place by Agostino Arrivabene for his Hierogamy exhibition, denotes the arrival point of a personal and artistic journey that is unique and original, yet at the same time universal. The artist draws from his entire patrimony of shapes and codes to create, through his canvasses, a truly alchemical act that makes the surfaces burst into song, creating a chant that can unite dissimilar notes and turn them into a symphony. To create his personal "Lapis Philosophorum" (Philospher's stone), in addition to the dialogue between the hermetic images of Alchemical Art and the archaic, past languages of European Art, Arrivabene has undertaken candid incursions into G.B. Piranesi's prints of Ancient Rome and into American Art of the 19th century, through the captivating and suggestive romantic landscapes of the Hudson River School art movement.
Arrivabene's approach to painting stems from his artistic influences Gustave Moreau and Odd Nerdrum. He follows traditional methods that include grinding his own pigments and the almost forgotten technique of mischtechnik. In mischtechnik, egg tempera is used in combination with oil-based paints to create translucent layers which, when laid over each other, refract light creating a sense of luminosity. This attention to the minutiae has resulted in Arrivabene's paintings actually embodying a process of alchemical transformation, in which the physical matter of painting itself is transmuted into extraordinary light-filled visions. Investigating eternity, time, the process of change, the rites of transformation, and sacred love and death, Arrivabene utilizes symbols and images that are seemingly distant from the contemporary in order to create art that verges on the philosophical, sociological and even spiritual era. These expressive realities become a form of bulimic nourishment for the artist and are manifested in continuous leitmotifs, or rather "leit-fossils" as French philosopher and art historian, G.D. Huberman would say. The "ethical" quality of his modus operandi turns colors, shapes, symbols and analogical references into the foundations of an artistic event that is not an abstraction from reality, but rather a link to his personal intimacy and to the collectiveness that surrounds him. The title of the exhibition is therefore not surprising. Hierogamy recalls the Alchemic myth of the Hermaphrodite, namely the being that encapsulates all, an entity that encompasses everything.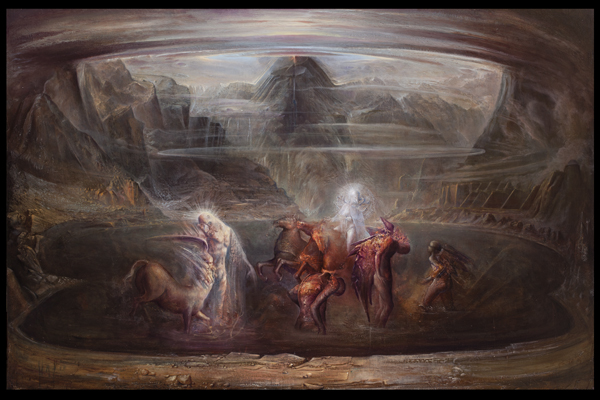 "Albedo" olio su lino cm 135 x 200 x 4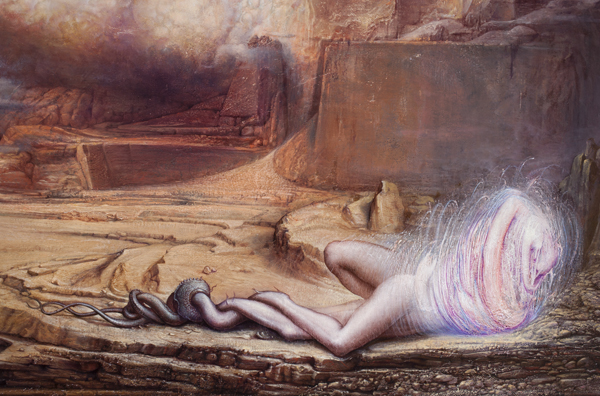 "Cauda Pavonis (Rubedo)" olio su lino cm 135 x 200 x 4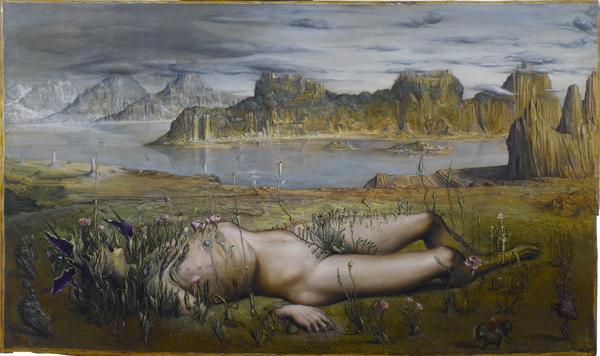 "The Dream of Asclepius"
"Atanor 2015"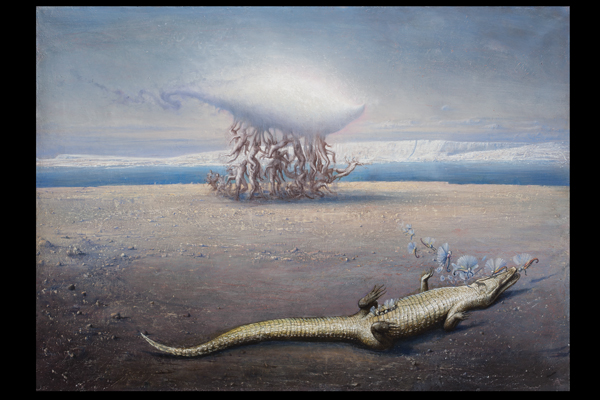 "Materia Prima ( I Nubicoindi )" oil on linen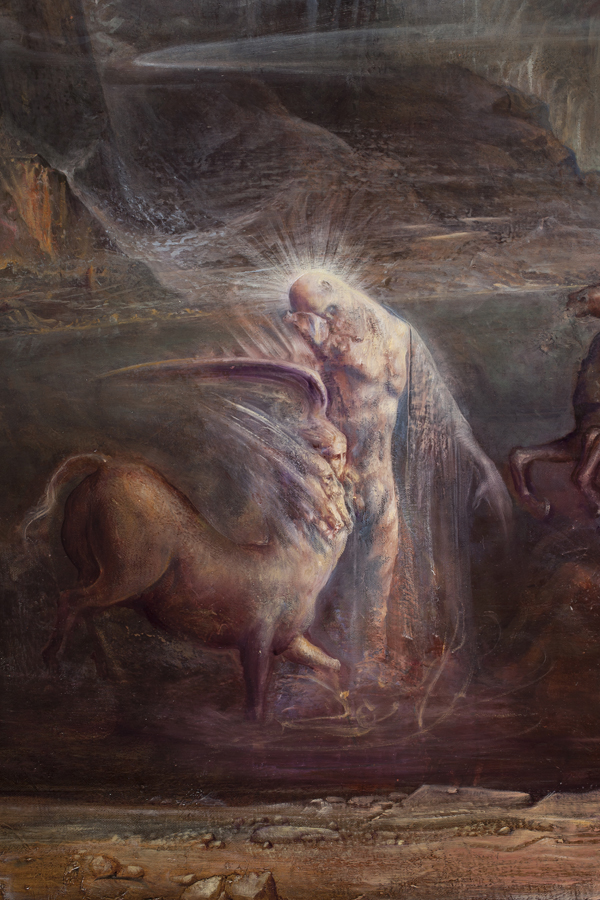 "Albedo (detail)" oil on linen cm 130 x 200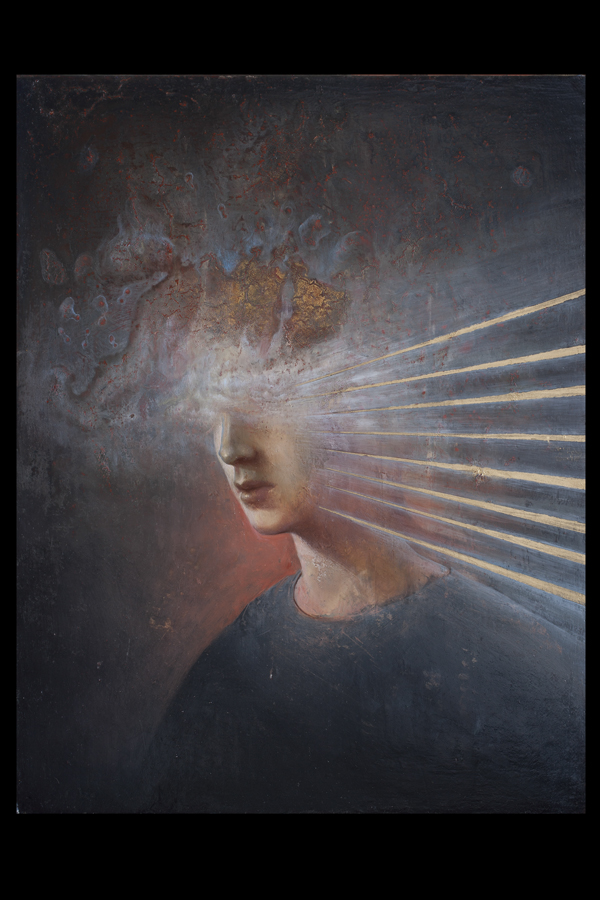 "Andros-Ghinè"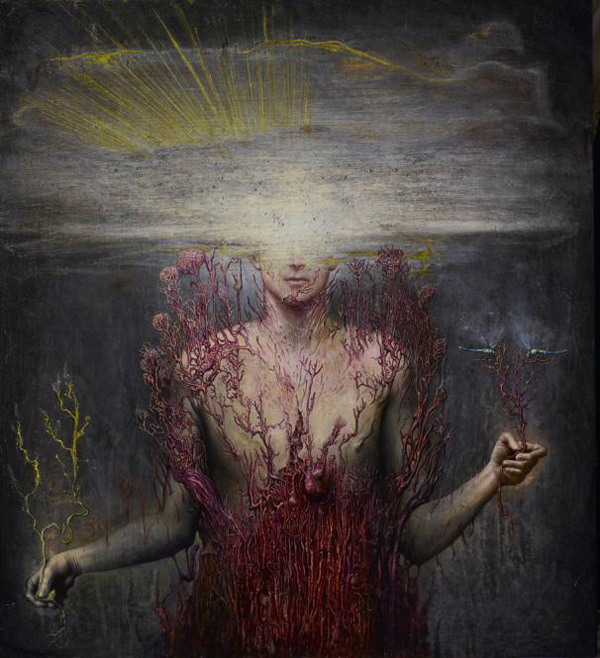 "Amor Vincit Omnia" 2014 oil , gold leaf on woodcm 69×63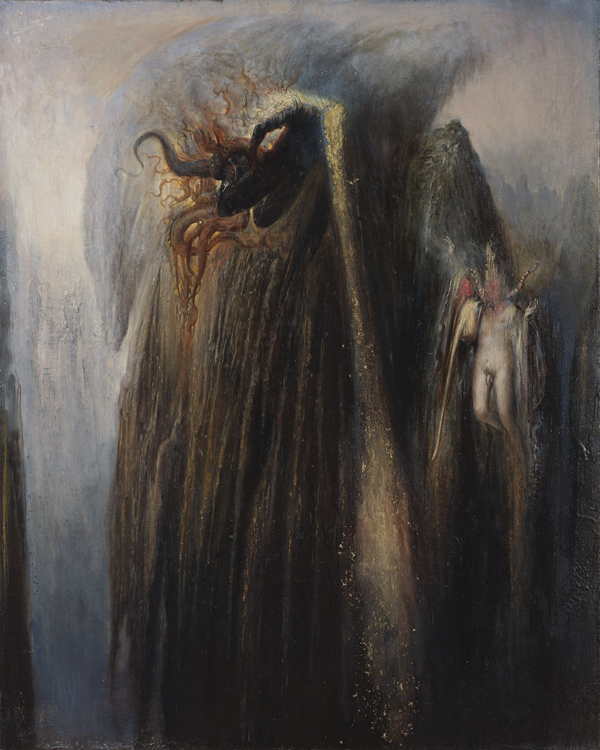 "Theoin" 2012 oil on linen cm 100 x 80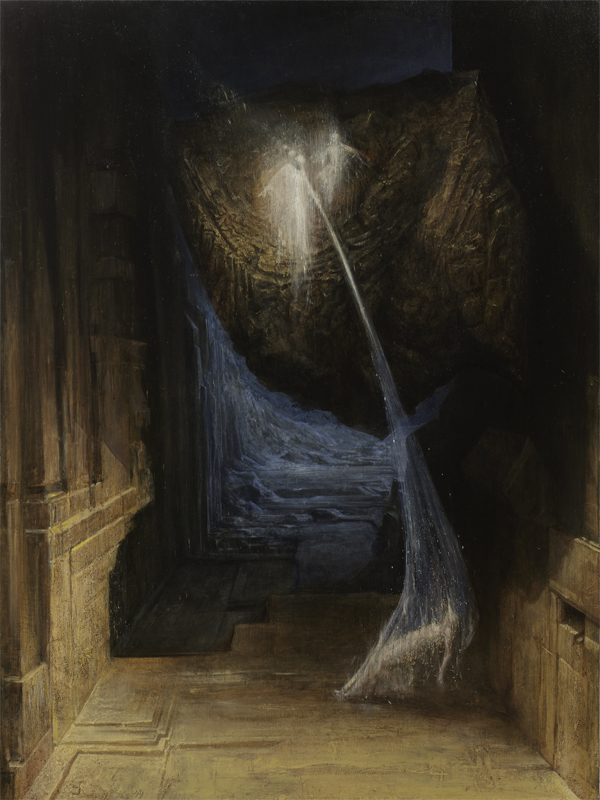 "Theoin" olio oro in foglia su lino 120 x 90 x 4
"Sacrum Facere" oil on linen cm 135 x 191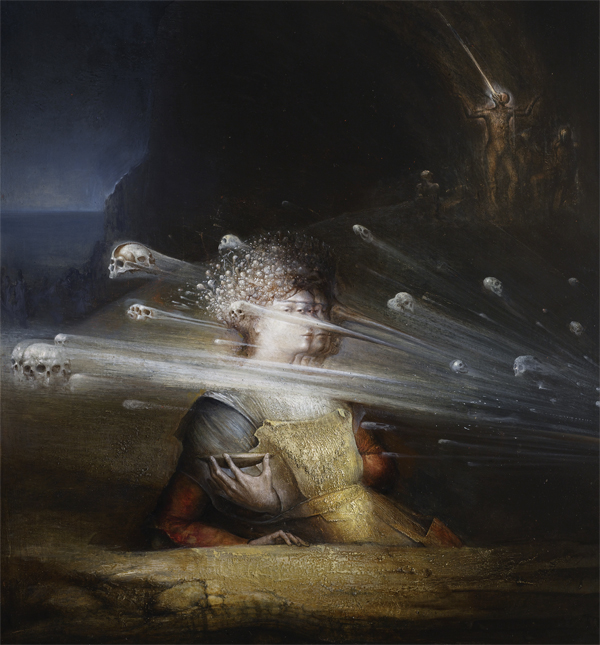 "Metastatic Peresefone" oil on linen cm 88 x 80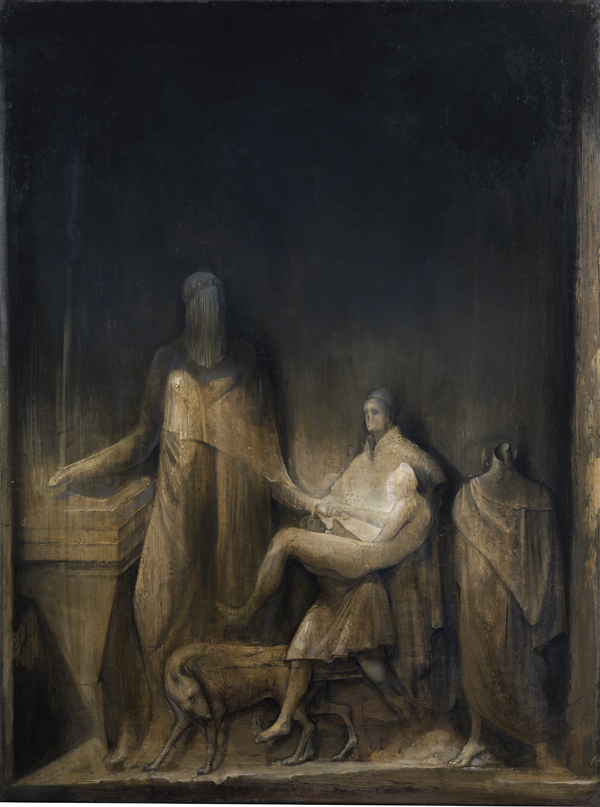 "Mistai" 2012 oil on linen cm 121 x 90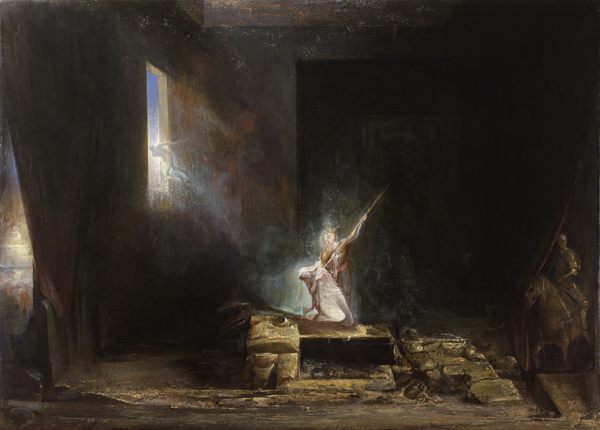 "The seventh room (Exstasi of Saint T … d'avila)" 2012 -2013 cm 166 x 121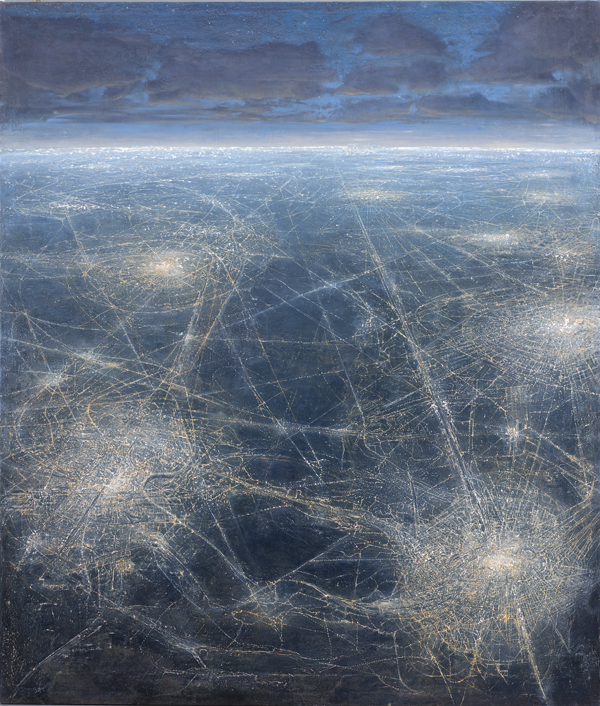 "Ex-stasis II°"II° olio su legno, cm 53 x 41,5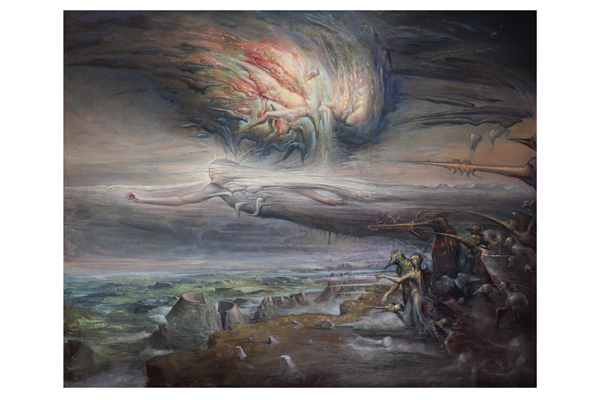 "Ea -Exit"  oil on linen cm 200 x 250