Norwood Club is a private members club in New York City that is geared to the arts community. With that being said, it is nearly two blocks away from where I live and I had only been there once for a beauty launch. A while ago, fellow artist, friend and now turned curator Joseph Grazi gave me a personal tour of his year long curated show titled "Ingenuity" and I could not believe how magnificent the art collection was within this private space.
I was not allowed to take photos as there is a no camera allowed policy yet I can tell you that I was gobsmacked by the artists involved within this curation and spent a very long time admiring their work. Long enough to see that each and every piece was unique to me and visually worked so well together that I stayed for almost three hours admiring the show.
Ingenuity Group Show
Exhibition on view through August 31, 2020
241 West 14th Street, NYC
Press: New York's exclusive arts club, Norwood, inaugurated their latest group exhibit "Ingenuity," curated by Joseph Grazi, on Thursday, September 12th, 2019 with an opening reception at the chic members only venue. Guests and exhibiting artists enjoyed cocktails while viewing the contemporary art at the Victorian-inspired 5-floor Chelsea townhouse.
Norwood Arts club has presented a rotating annual exhibition curated by one of its members in the past several years; this year, the exhibition includes 10 artists: Erik Jones, Jessica Lichtenstein, Dash Snow, Sergio Baralle, Marshall Jones, Alonsa Guevara, Jay Wilkinson, Adam Erick Wallace, Sam Tufnell, and The Untitled's own Indira Cesarine. The exhibit is on view in the main salon until August 31, 2020.
About The Curator
Joseph Grazi is an American artist from Brooklyn, New York, known for using non-traditional and often controversial materials to create a wide and diverse variety or work. Collected internationally by the likes of Cirque du Soleil founder Guy Lalibertè and mega producer Jim Steinman, Grazi's work has been known to illicit controversy and even protest. His work has been featured in major publications ranging from The New York Times and Interview Magazine to Time Out NY and Now This News. Grazi currently still lives and works in Brooklyn, where he also sings and plays guitar in the band Ferrari Truck.
This exhibition marks Joseph Grazi's first solo curatorial effort.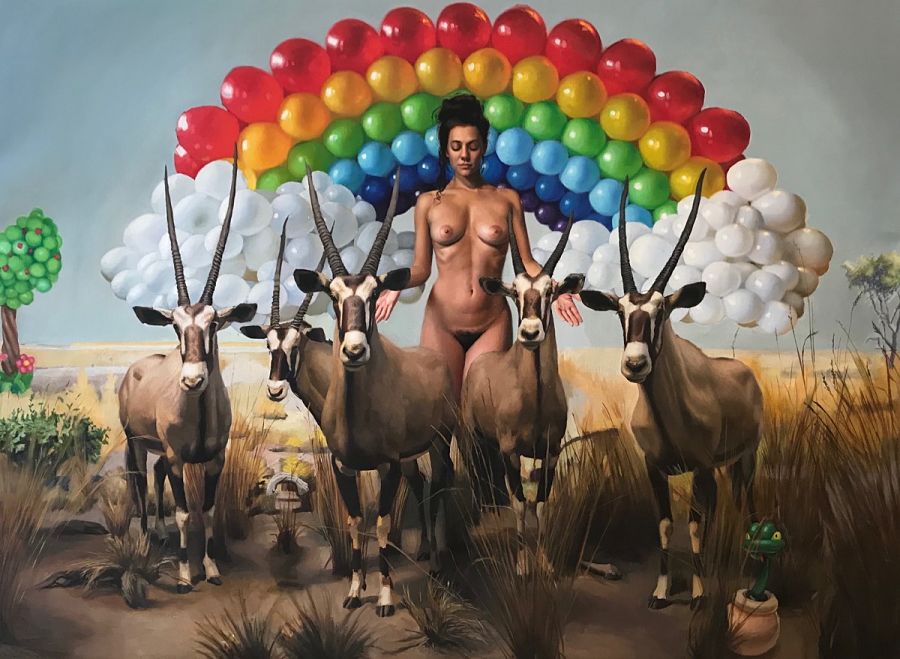 As soon as I walked into Norwood Club I was greeted by a rather large painting by Marshall Jones, which blended realism with bits of modern day trivia. I say that as there are realistic figurative pieces within the composition melded with balloon-like, childhood treasures. I was happily surprised to see the juxtaposition within his work as there were quite a few smaller pieces hidden within the ground floor. Then I was told of the no camera policy and found myself taking in these two beautifully intricate pieces by artist Alonsa Guevara. They were a diptych depicting women and fertility. They were nudes surrounded by fruit and wonderful small creatures. Her style suited the room well as it was realistic, colorful and inviting in the way the two pieces fully complimented each other.
Marshall Jones painting is so very eerie. It's hyper-realistic is most areas and abstract in others which takes such precise decision making on the artist's part. I stared at it for a good 30 minutes deciphering the subject matter. It has a 70's vibe yet the young boy depicted in the painting has an elephant's face. I like it's unpredictable nature.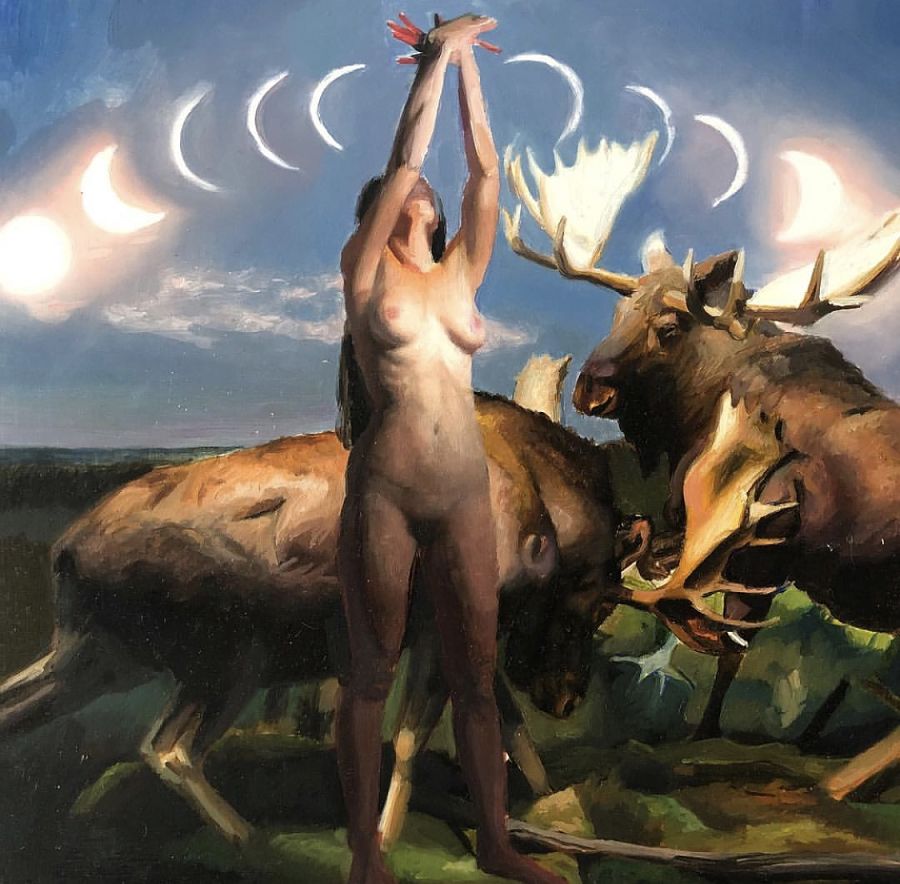 Marshall Jones
Across from Alonsa Guevara's work was a large scale painting by Erik Jones. It was similar to the series I had just witnessed months before at Hashimoto Contemporary in New York. Realistic faces with more abstract bodies. I have loved Erik's work for years and I asked the price of this piece as it's just the right size to go over a bed or sofa. My bed or sofa preferably!
Artist and Gallery Owner Indira Cesarine has quite a few pieces on display as I not only admired her hand welded steel sculpture that I made sure was protecting my back when seated in the large room (it was an eye so I viewed it as a piece of protection), but also her stunning photos that shined so beautifully as they are archival ink on glossy coated aluminum. Everywhere I turned my body, I saw more artwork.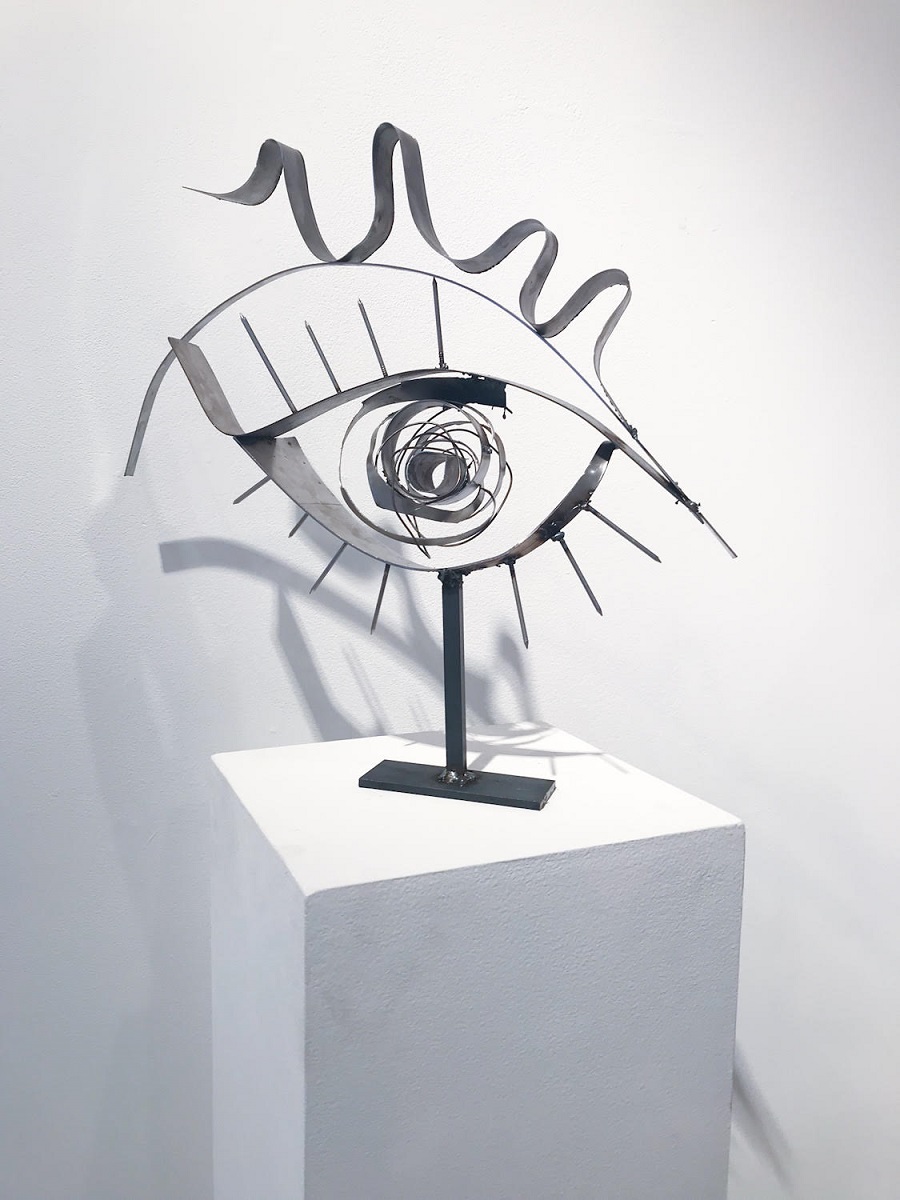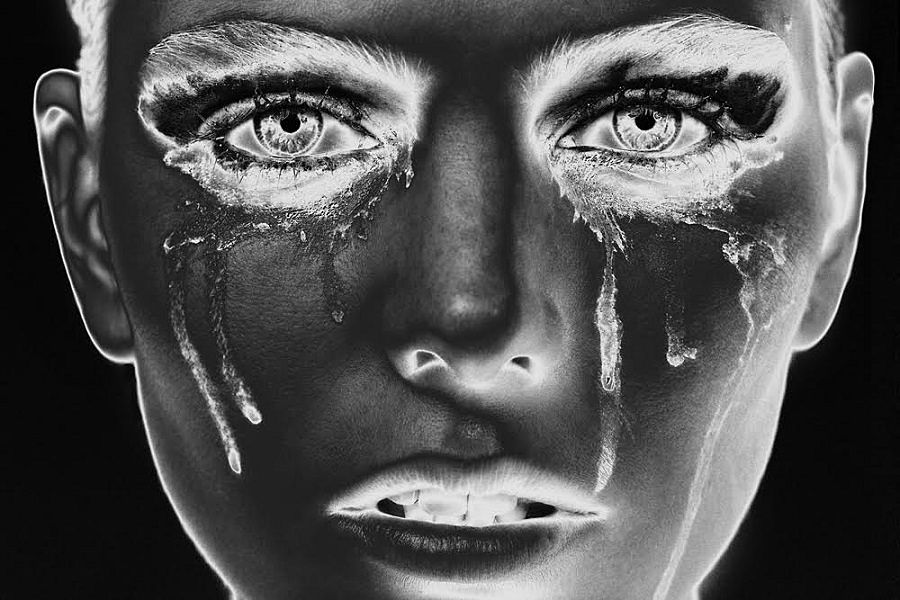 Indira Cesarine "ONLY YOU" Limited Edition Photography Series
Jessica Lichtenstein created an 80″ x 60″ c-print of waterlilies that reminded me of a surreal cotton candy colored lake. The palette was so cheerful and it faced a completely both realistic and abstract piece by an artist I was not familiar with before- Jay Wilkinson. I am so glad I now know the artist's work as I find his choices in both composition, subject matter and color palette wildly fascinating.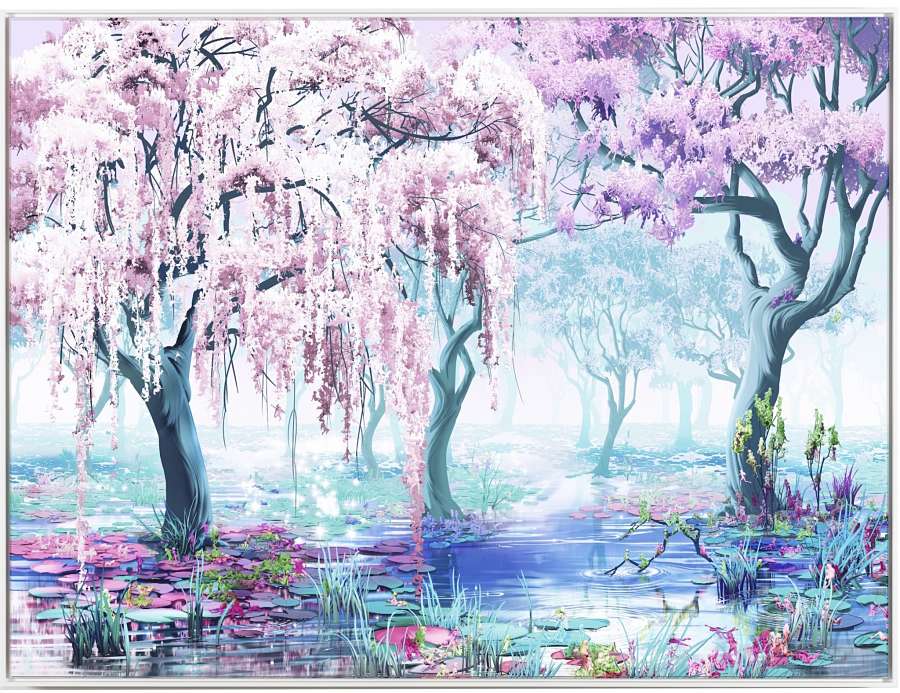 Adam Erick Wallace created these wonderfully large black and white photographs of dancers. I found them calming as there was so much color in the room and they felt a bit soothing to view. I liked the evolution of the dancers movements from one side of the piece to the other. Everything just flowed nicely although they were a bit eerie looking at certain glances.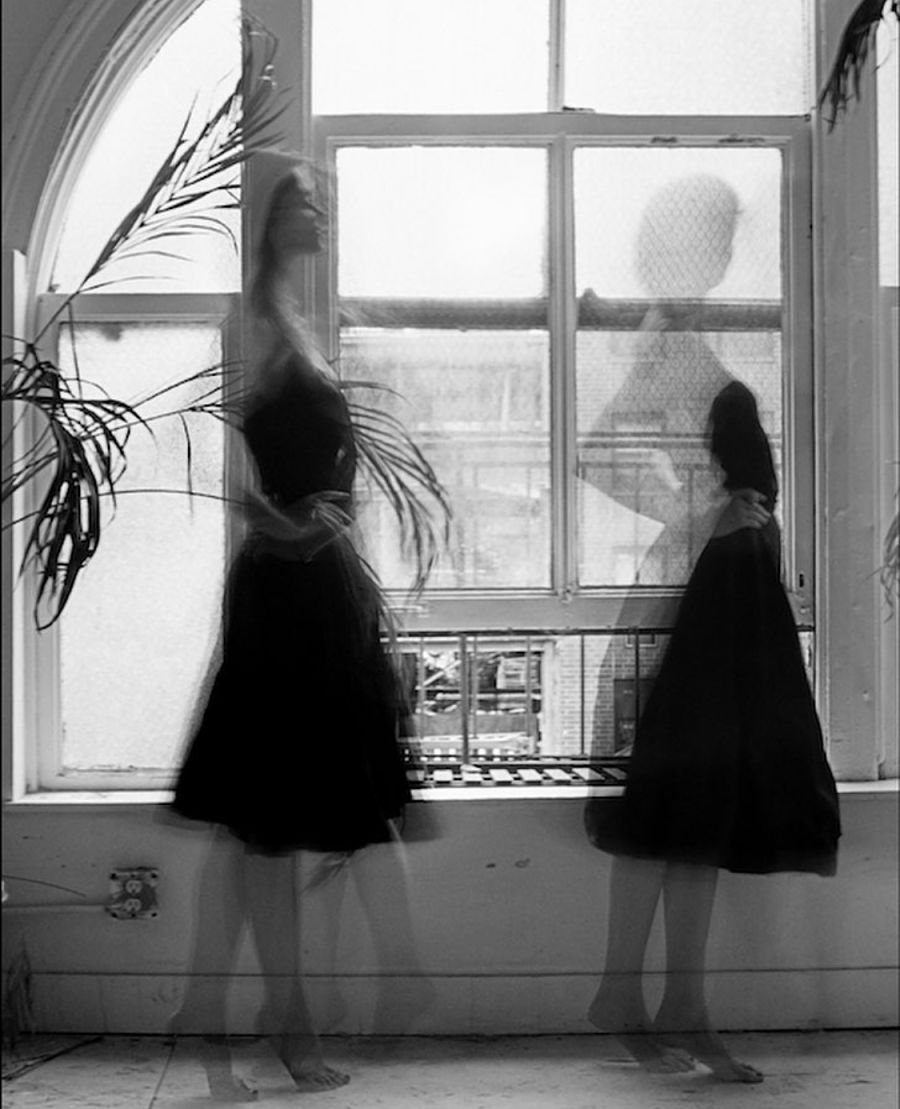 Sergio Barrale's piece was created just for this show and depicted cherubs of different genders and ethnicities. It's titled "Cloud Millennium" and it was nothing like any other piece I had seen Sergio create ever before. The cherubs were painted so realistically and the color palette so vibrant. It is also a 3D painting so it all took me by surprise and I loved that Sergio surprised me so much in doing something completely new. If Joseph did not tell me the piece was Sergio's- I would have never guessed. I appreciate when something like that occurs as it keeps me on my toes. When asked to explain the piece in more detail, Sergio stated "When I was asked to design a painting for the main lounge I took the opportunity of documenting the moment in time that we are in. I pulled from the past medieval canon the cherub, to convey my message. Typically a baby white blonde boy, my painting depicts a multicultural cherub epic of all genders races & colors interlinked into a globulous figure godhead. This painting envisions an equal 2020 millennium with all people accounted for. The topmost Cherub is a Shipibo Amazonian female Cherub that is sending her information (in the form of orb WiFi scientific looking blood cells) to the Cloud. She is calling out to the internet, to the Cloud of WiFi, to humanity a plea for our forests and our air."
Artist and sculptor Sam Tufnell is known for his colorful resin pieces and I especially like his clear skull on display as you can see other pieces nearby in its reflection. I like his welded roses, which are not seen in this current curation, as they remind me of my own personal welding days at Washington University. Now I want to own one.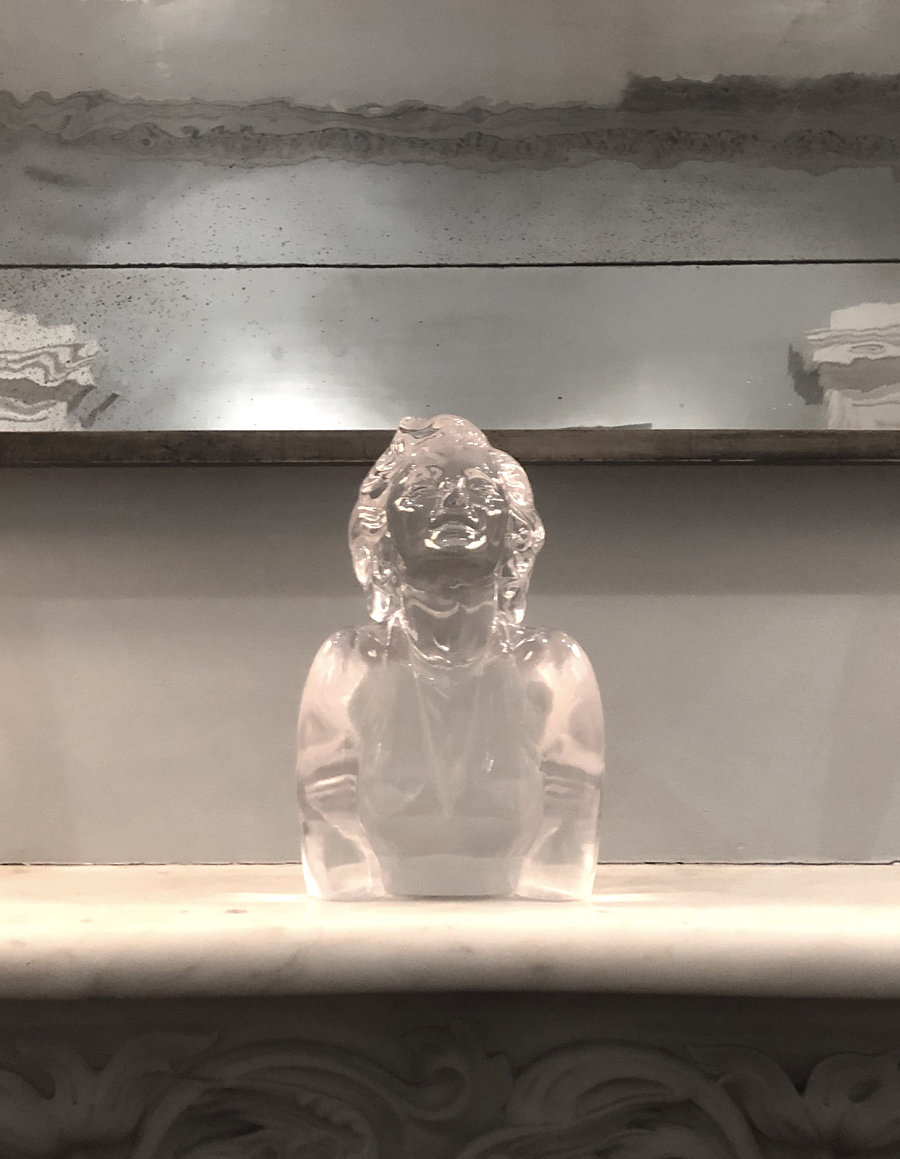 Artist Dash Snow was an artist based in New York City and his piece in the show depicts a nude and has the feel of a documentary film feel to it; like we get to see a moment in the artist's life as he passed away in 2009. It is from the curators own collection and holds special meaning to Joseph. I am so very glad that I had the opportunity to see one of Dash Snow's pieces.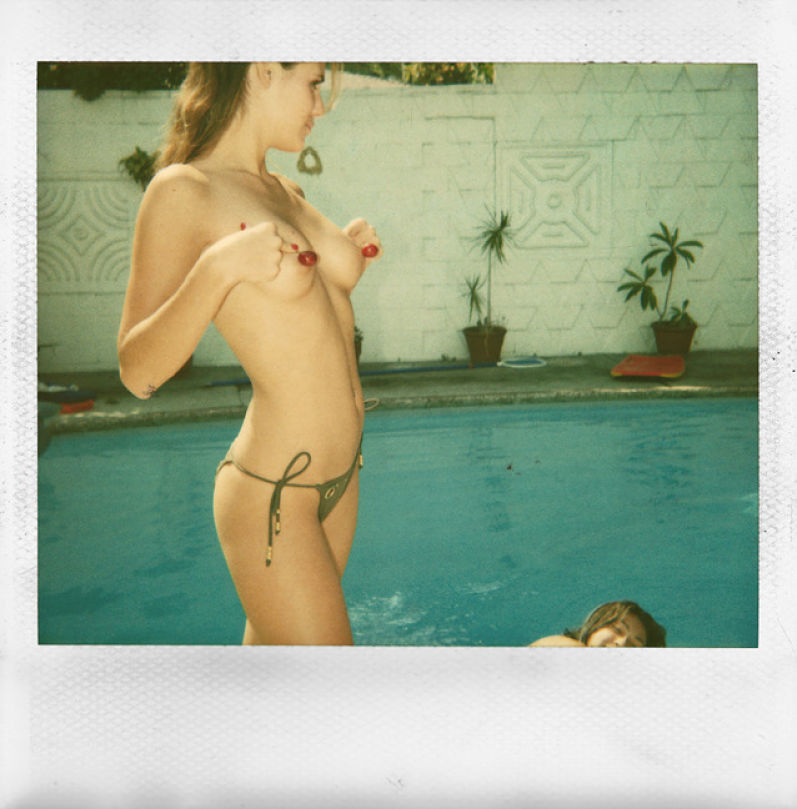 Dash Snow
Speaking with Joseph Grazi
When asked about the theme and choice of artist's, Joseph Grazi stated, "The theme we touched on with the artists was taking the concept of figurative works about femininity and showing them in a super contemporary way. That, and using artists that have both mastered their mediums and pushed them past their boundaries was of interest to me. I took the theme of figurative but contemporary femininity and collected the best examples I could from artists I knew."
On his role as curator, "The club rotates the first floor show annually and chose me as curator this year, as I've been an active participant in their programming and hosting events there for so long, and they've always been a fan of me not just as an artist, but as a curator of people too. When I first started doing events at Norwood, they were mostly music oriented with bands playing, but it was the crowds and people that brought in that Norwood loved as well. Being a native New Yorker I have such a thick Rolodex of interesting people that I love bringing together in one room, whenever I can. So choosing me as curator this year was almost a natural progression (we had always spoken about it, but this year they felt I had really come into my own and they wanted me to make my mark."
When asked how he felt about the role change from artist to curator, Joseph Grazi explained, "Truth is, as an artist and not a curator, I was definitely nervous about saying yes to this great opportunity. But as the show came together- I started to learn so much about the thinking and artistic process of other artists. And putting a show together as an artist but of work that is not my own was very inspiring. Getting so close to other people's works, touching them, arranging and hanging them, really made me think not just about their work, but my own work as well. So the whole process was extremely inspiring to me as both an artist and now a curator."