Take a moment an step into the imagination of a diverse selection of artists, where creativity sparks and wonder ignites our artistic fires. Join Haven Gallery this weekend as they present the exhibitions of Matt Dangler, Kseniia Boko, Carlos Fdez, and Jesús Aguado alongside group exhibition "Her Majesty II".
Fall down the rabbit hole and enjoy each of these mesmerizing collections. From endearing surreal creatures and fairy tales to graphite storytelling and enthralling narratives, there's something for every art lover.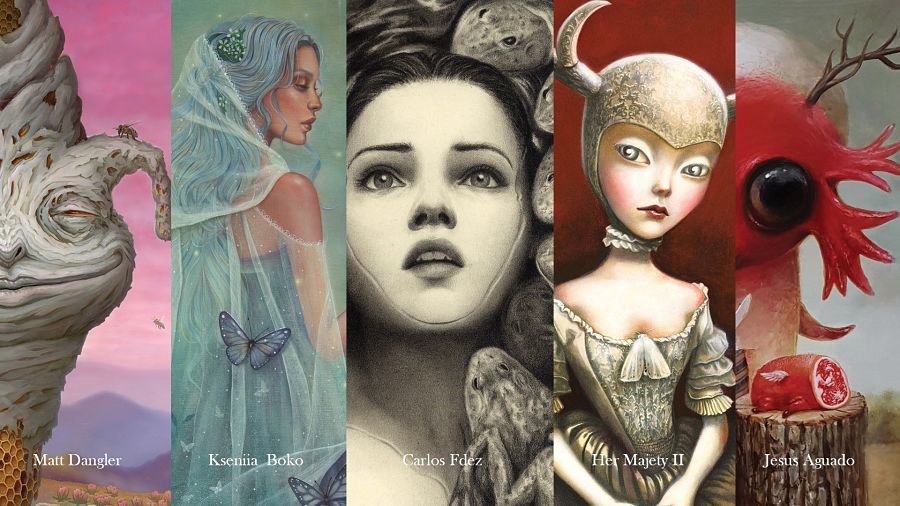 Matt Dangler, Kseniia Boko, Carlos Fdez, and Jesús Aguado + "Her Majesty II"
Exhibition Dates: July 11 – August 9, 2020
** Please note that opening receptions are canceled for the time being and the gallery is closed during the state of New York's quarantine efforts. Haven Gallery will be offering virtual showings and tours of the upcoming exhibitions and are still shipping sold work on schedule **
Haven Gallery
155 Main St., | The Carriage House Square | Northport, NY 11768
For additional information and images, please contact Erica Berkowitz at [email protected]
Haven Gallery Press // "Enchanted Realms", a mini solo show of new work from Matt Dangler. "Enchanted Realms" is Dangler's third solo show at the gallery and will consist of five paintings and three drawings that offer a glimpse into the delightfully charming world unique to the artists extraordinary mind. Join Dangler on his imaginative journey from the familiar to the wonderfully curious as his chimeric beings with their other worldly constitutions, peacefully and meditatively traverse their fecund worlds. Predominantly inspired by nature, ruminations on meditation and the surreal, each work is lush with detail, color and serenity. His playful and sprightly beings express great knowledge and understanding in their warm and alluring dispositions; their all knowing expressions opening you up to a world beyond our wildest imaginations.
About the Artist // Matt Dangler was born in 1984 in New Jersey. He graduated in 2006 with a BFA in Illustration from Uarts, Philadelphia PA, while there he won awards for his representation of the Human Figure, outstanding achievement in illustration, and for demonstrating inherent sincerity, intensity, and dedication to illustration. Dangler illustrated the children's books: "Faeryland" (from Abrams Publishing 2013) written by John Matthews and "The Secret History of Mermaids" (from Templar Publishing 2009) written by Professor Ari Berk. He has participated in dozens of gallery exhibitions, including seven solo exhibitions. Dangler's artwork can be found in private collections throughout the world.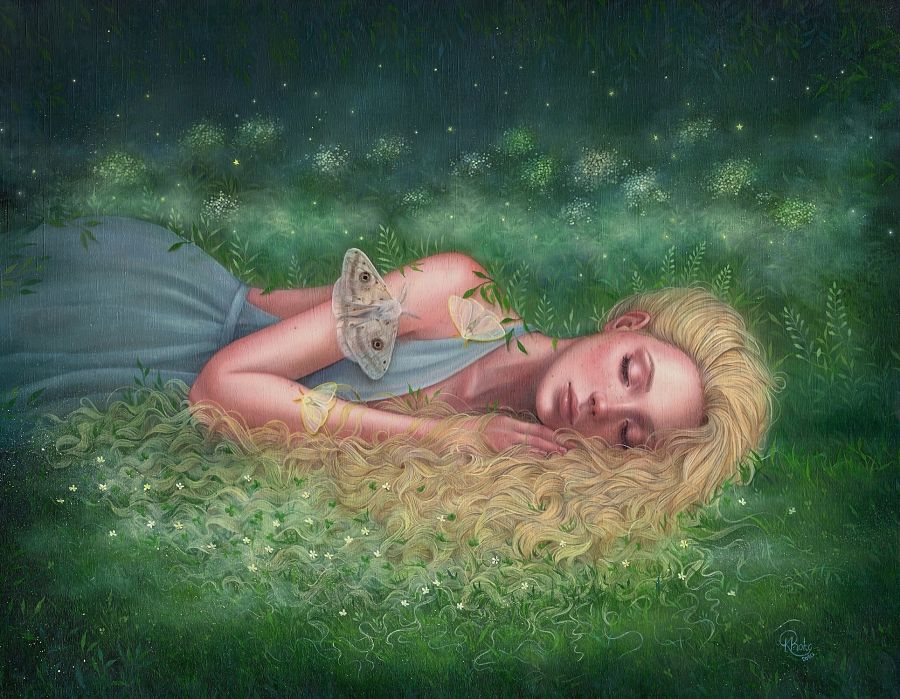 Haven Gallery Press // Haven Gallery is pleased to present Ukranian based artist Kseniia Boko, for her first solo show at the gallery, entitled "Visions". "Visions" consists of 6 new oil paintings that embody her love of everything magical and mysterious. Boko's lush and enchanting oil work provides the opportunity to delve into the world of dreams and imagination, which is divinely illustrated through her use of the female form and natural world.
Boko's palettes are dreamy, her sitters ethereal and her worlds betwixt and between. Sprites of light, stars, energy and magic, envelope her compositions and transport her contemporary deities from the earth bound to the empyreal. Each painting offers a poetic and painterly glimpse of an arcadian world beyond our earthly reveries.
You will fall into a mysterious place where live charming feminine imagery is adorned by flowers, butterflies, and birds. They are filled with secrets that seem to fill the very air of this world. I want my paintings to give the viewer a little fairy tale and to remind them of the beauty around us, and the harmony of the natural world.

Kseniia Boko
About the Artist // Kseniia Boko is a traditional artist living and working in Ukraine. She works primarily in oil paints and creates fantastic pieces featuring mysterious female portraits with fragments of the natural world. She wants to show a harmonious coexistence between humans and nature.
Kseniia graduated from Kyiv National University of Construction and Architecture in 2013 and worked as an architect before serendipitously falling into the artworld. Today she works as a full-time artist.
Haven Gallery Press // Haven Gallery is pleased to present Carlos Fdez, for his first solo show at the gallery, entitled "Lines of Chaos". Fdez is draftsman working out of Spain, known for his meticulously rendered graphite artworks that often intertwine the kingdoms of human and animal in the forms of witty narratives. Often, these stories can be found to represent both an internal and external struggle between the natural and civilized world. Upon further consideration, the interplay between these themes may serve as a metaphor to the emotional and psychological struggles humans face today. A nod to Freudian theories relating to the ego, superego and id, or our impact as a species on the natural world, Fdez's works leave the mind in perpetual wonder and questioning.
Haven Gallery Press // Haven Gallery is honored to present a new collection of paintings from Spanish artist Jesús Aguado. Aguado's paintings are steeped in symbolism and pay homage to historical artworks and traditions. Painted in a classic style, his paintings represent dream worlds, each with a unique narrative and voice. His surreal compositions are a feast for the eyes full of bold colors and a myriad of animals, plants and creatures, blending one world with many others.
About the Artist // Jesús Aguado graduated in Fine Arts and started working for different publishing companies. Several years have already passed and what encourages him most to go ahead is the constant search of new styles and ways of expression through drawing. Keen on comic, he's already been awarded in several competitions (Elgoibar, Tomelloso, Portugalete, Salamanca). His illustrations are recognized by many schoolchildren because they appear in a lot of textbooks. Among other publishing companies, he collaborates with Anaya, Edelvives, Santillana, Siruela, Vicens Vives, Baula, Bruño, Casals, Kumon, Grimm Press (Taiwan) He has also worked for Junta de Castilla y León and Ser Padres Hoy magazine.
"Her Majesty II" Group Exhibition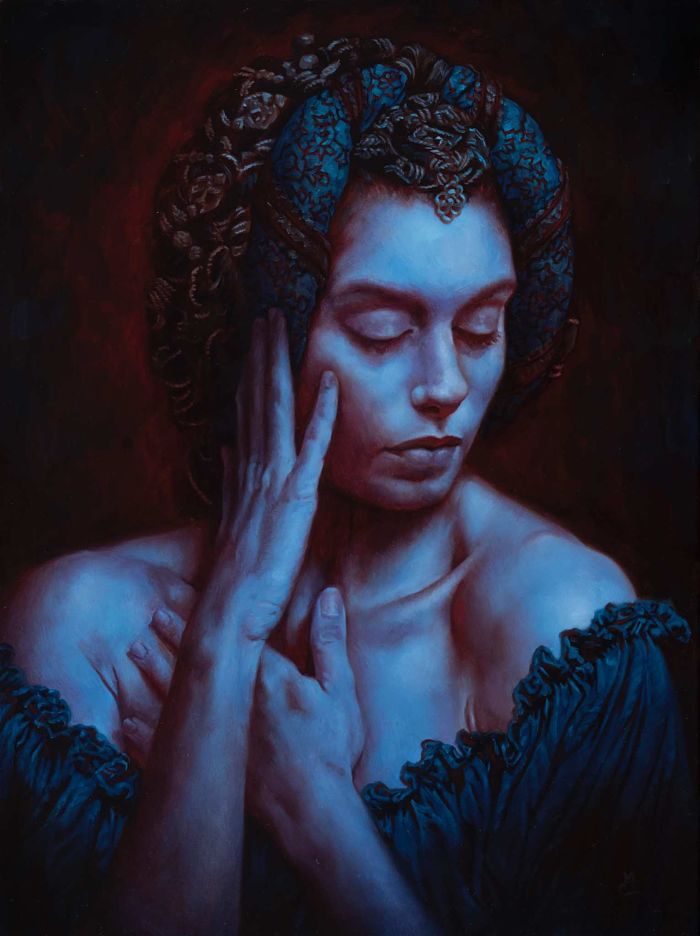 Haven Gallery Press // Haven Gallery is pleased to present "Her Majesty II", a group exhibition of new paintings, drawings and sculptures that focuses on notable women of power, transcending the benevolent and philanthropic to the malevolent and murderous. A look back on women of history whose reigns had a strong impact on concurrent and contemporaneous times.
Participating Artists // Crystal Morey, Martin Hsu, Mandy Tsung, Tom Bagshaw, Eeva Nikunen, Kathie Olivas, Ciou, Nikolas Tower, Lori Nelson, Howard Lyon, Kimera Wachna, Karly Perez, Madame, Lucie de Syracuse, Adiopocere, Omar Rayyan, Thomas Ascott, Orphne Archeron, Jason Mowry, Rebecca Yanovskaya, Zakuro Aoyama, Eeva Nikunen, Hope Doe, Kelly Houghton, Annie Stegg Gerard.
Haven Gallery Social Media Accounts