When you enter Copro Gallery between May 30 and June 20, 2015, be prepared to be greeted by Anthony Ausgang's psychedelic paintings of mischievous cats and walk into Geoffrey Gersten's painted dreamscapes where one's childhood companions live inside of Picasso and Dali's paintings.
Opening Reception:
May 30, 2015 | 8 – 11:30 PM
With live music by CAT MUSEUM feat. Ausgang on guitar
and Cat video by Matt Fielder
Exhibition Dates:
May 30, 2015 – June 20, 2015
Bergamot Station, 2525 Michigan Ave. T5, Santa Monica, CA 90404

Anthony Ausgang is an LA based painter known for his psychedelic paintings of wide-eyed cats with mischievous glints in their eyes. In this solo exhibition, his trademark cat characters have become more surrealistic and mind-bending than ever. Displaying perfect blends of playfulness and terror, his newest collection of paintings and drawings will lead us into unforgettable candy-coated hallucinatory day trips to the whimsical parts of our psyches.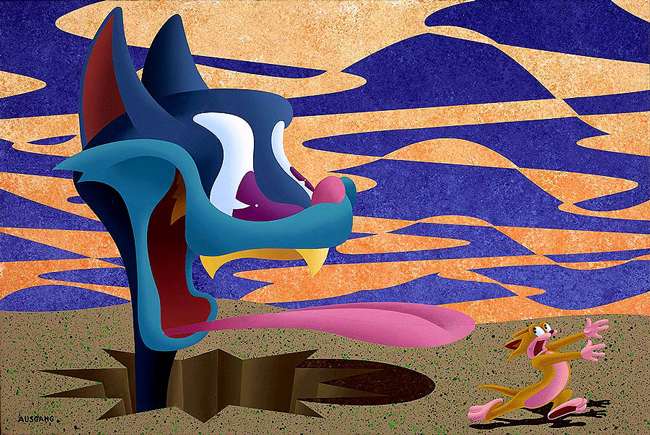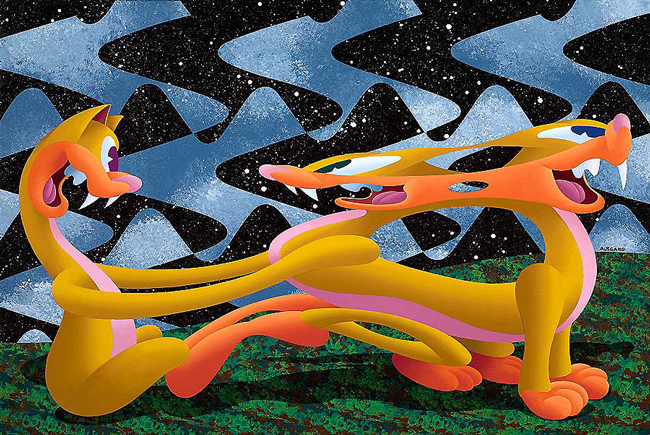 For this solo exhibition, Geoffrey Gersten painted a series of dreamscapes where Mickey Mouse and stuffed bears have to brave firing squads and battle tanks, and where people are physically bombarded by iconic characters and imageries. Just like MK-Ultra (CIA's mind-control research program that began in the 1950s), innocent-looking childhood companions (such as Mickey Mouse, stuffed animals, and toy soldiers), ubiquitous logos (such as the Klondike bear and Obey Clothing's logo), and well-known artworks (such as Picasso's Guernica and cubist portraits) involuntarily shape people's thought processes, beliefs, and values. Through his newest body of works, Gersten is sending us whimsical and visually striking invitations to fight these seemingly innocent but powerful things that actually have the power to tell us what to do, what to want, and what to think.