Mahlimae is a group of art dolls created by Nicole Watt in the middle of the wilderness in Tasmania, Australia. These small imaginary beings look as if they came straight out of a long forgotten magical forest. Lovely and eerie, with sad innocent eyes, Mahlimae dolls have captured many people's hearts since 2011.
Nicole Watt is a self-taught mixed media sculptor with a degree in Psychology. And, the name Mahlimae is the amalgamation of her two daughters' middle names: Mahli and Mae. She started making dolls when she was pregnant with her youngest daughter and wanted to create special keepsakes for her.
All Mahlimae dolls are carefully hand-sculpted and created using gathered natural materials. And, their exquisitely simplistic, adorable, and quirky designs are inspired by ancient folklore. Inexplicably beautiful, their subtly expressive faces – made using tattered fabrics – radiate their longing for connection.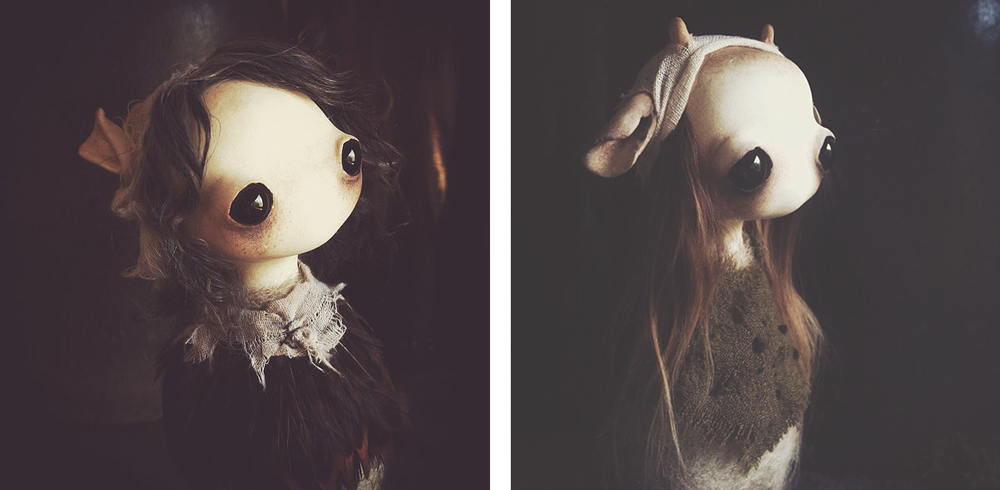 "Sewing was one of those skills I seemed to spontaneously and quite mysteriously acquire upon having children. I have however, always been a dreamer – one of those people with a wild (some would say odd) imagination full of magical places inhabited by some strange but loveable characters. I have countless art journals filled with whimsical creatures and the stories that illustrate their existence; often inspired by the Tasmanian wilderness in which I am lucky enough to live.
Mahlimae is the means through which I attempt to bring some of these quirky characters to life through fabric, narratives and watercolour illustrations. I like to think time has started to shape a unique Mahlimae 'style' which, if I had to describe it, would be a little asymmetrical, a lot quirky and always brimming with my heart and soul."