There is a dreamer in all of us, like pages of a story that guide the framework of thought; our creative expressions refine the edge of our soul. Akin to nature's song, environmental themes embrace imagination, and Tracie MacVean, communicates the composition of her many ideations as she continues to draw parallels between humanity and our place within the natural world. Evoking imagery that marries a visual narrative of earth and her wildlife counterparts, symbolic nuances propel the viewer's interpretations.
Utilizing various mediums that are representative to her artistic voice, there is a palpable sense of our coexistence and complex relationship with nature within the layers of Tracie MacVean's creativity. Delve deeper and come with us as we take a closer look at her inspiring work as a muralist, foraging and experimenting with fungi and spore prints, giving seminars, and her exciting new beginnings.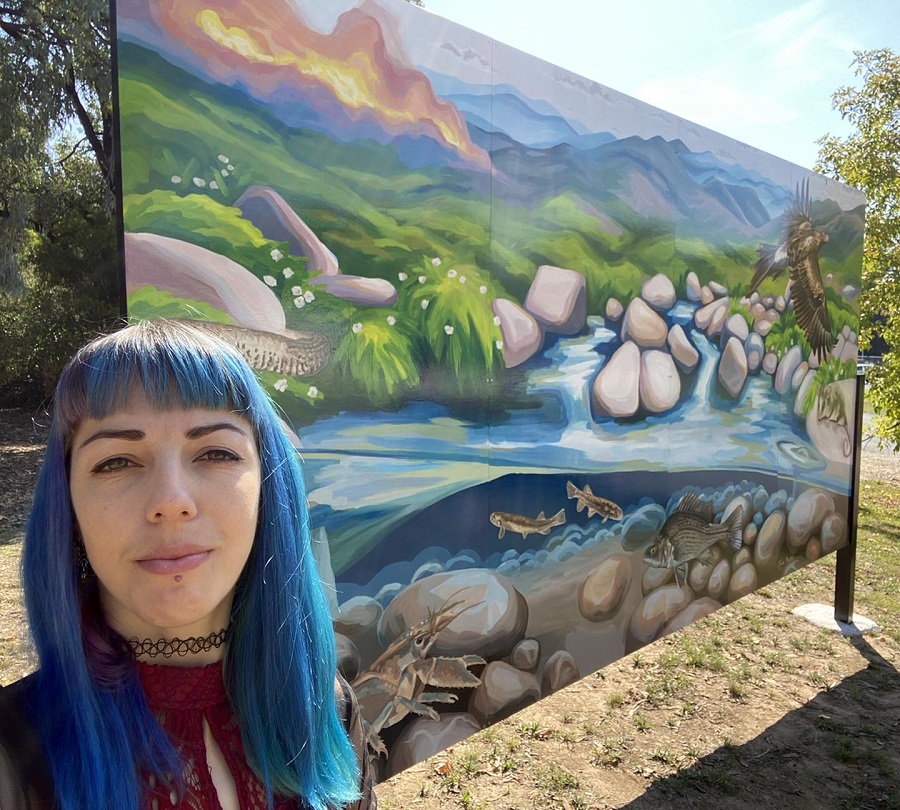 The truth is that we are part of nature as anything else, we are made up of the same elements and our bodies can tune into the same vibrations, but ultimately, WE are nature.
Exclusive Interview with Tracie MacVean
Tracie, you recently shared that you were commissioned by Gulbali Institute and subsequently spent three months creating a mural representative of the Australian Alps, which serve as a sanctuary to critically endangered wildlife. Will you share with us, in detail, how this project came to realization, the achievements and challenges you faced, and the ways this experience has changed your creative direction?
This project came about after completing several other large murals of native threatened species and getting my name known within the local landcare and conservation groups. The mural of the Australian Alps is the second mural I completed for the university, the first being of the critically endangered Stocky Galaxias. This mural is on the side of a shipping container that has been converted into a refrigerated aquarium to breed Stocky Galaxias.
After this project, the Gulbali Institute asked me about doing a larger mural to encompass more species and their habitat. I think the hardest part out of these larger murals is trying to find the right photos for references that clearly show the subject (be it an animal or part of a landscape) that also work with the other references.
For example, trying to combine imagery of a Stocky Galaxias, Macquarie perch, Alpine spiny crayfish, Alpine she-oak skink, Mountain pygmy possum, wedge tailed eagle, and to fit all these animals into the landscape! I went through several designs before finally getting one that was suitable, before even starting the actual mural.
Since then, I have done another similar mural for Holbrook Landcare. This mural came with its own challenges including working on a less-than-ideal surface and extreme weather conditions, both of which stretched out the timeframe beyond my expectations. My latest mural is perhaps my favourite and most pleasurable, of a squirrel glider. It was commissioned by Wirraminna Environmental Centre.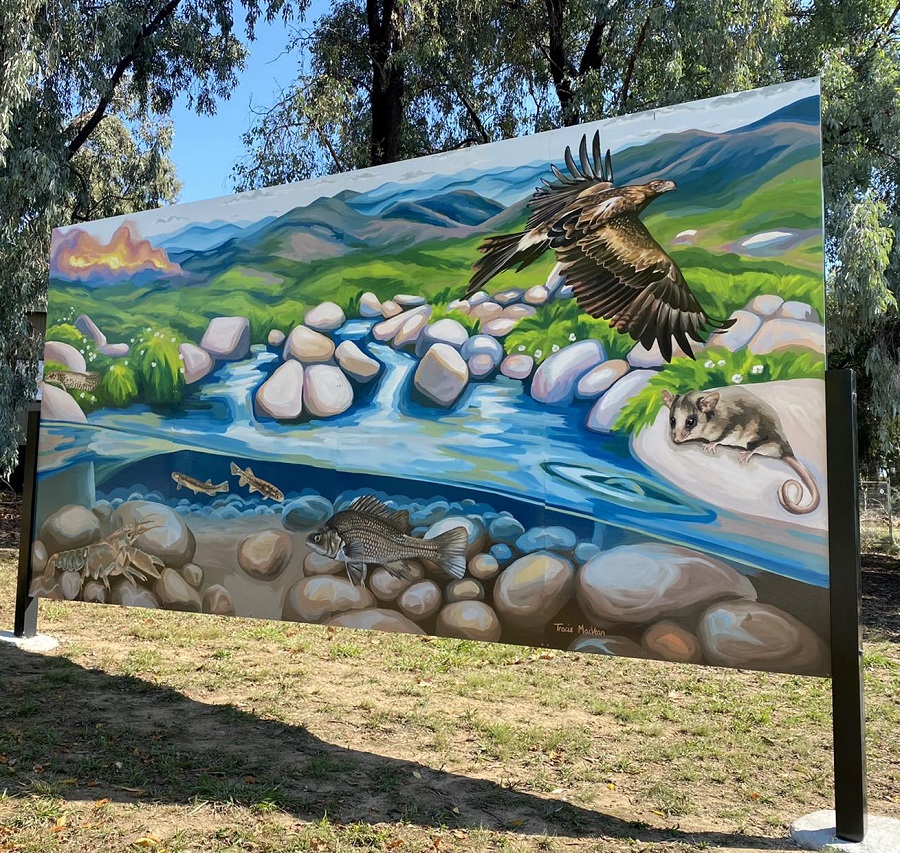 Environmental themes play a significant role in your paintings. You've stated that you "portray nature and our ecosystem as a figure that we can directly relate to and understand expressions". Why is this important to you?
I love painting the human form, particularly in emotive positions and expressions, so it makes sense to use this to express environmental concerns. For a while, I was using the human form as a substitute where native animals should have been; fragile and exposed or shown symbolic of all humanity and its power over nature.
creating spore prints can help further identify a mushroom by determining the colour of the spore en masse. It can also be used to grow the mushroom in a lab setting, or create a form of art…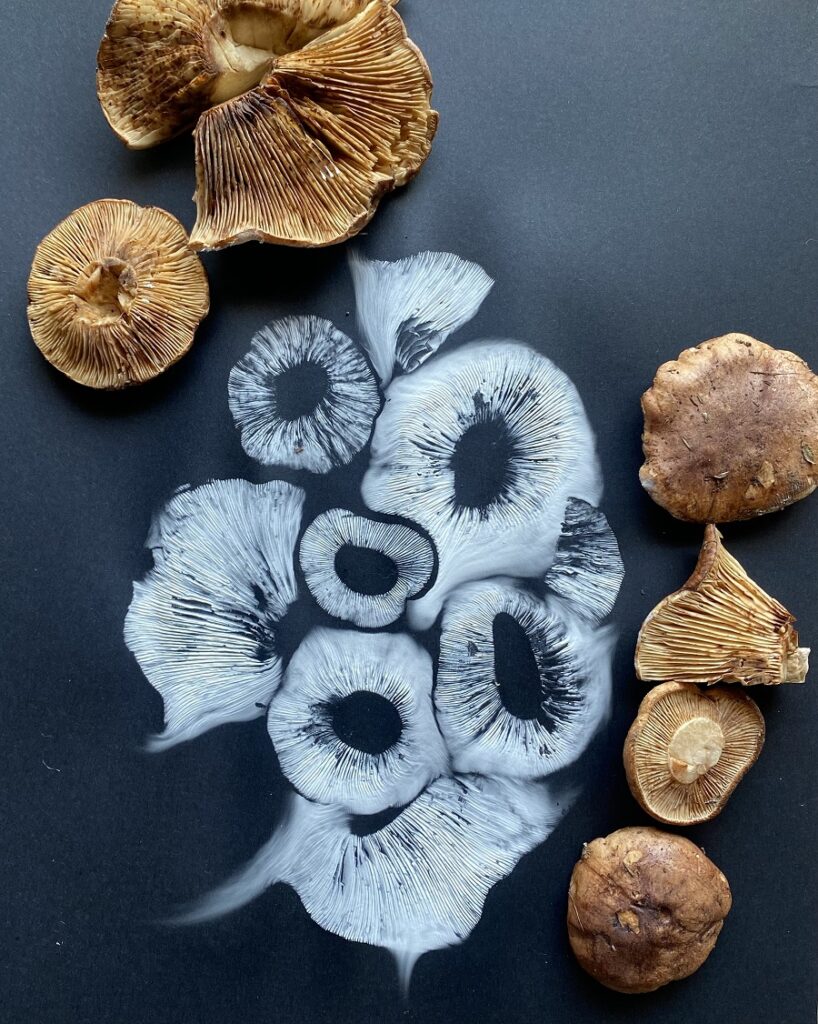 Alongside your mural work, you've been busy researching fungi, giving seminars, and spending time in the bush. If we were at one of your seminars, what knowledge would we gain?
I cover so many topics in my seminars! Most of the presentation is about the anatomy of fungi and the basics of how to identify them. So when I say anatomy, I'm talking about the parts of the fruiting body you see above the soil eg. stipe, cap, gills, annulus, plus the underground mycelium which is the main body of the fungus. Just this can get pretty in-depth once you start realizing the massive variety of fungi!
Then I talk about the major fungal groups eg. Agarics – which include your common button mushrooms from the supermarket, Boletes – which have pores instead of gills, Toothed fungi – which have downward pointing 'teeth' instead of gills, Shelf fungi which usually grow on trees, Corals, jellies, clubs and cups, which all look like their name, and Truffles, earthstars, puffballs, stinkhorns.
Throughout all this I point out which are edible, medicinal, psychoactive or toxic.
I also talk about the roles fungi have in nature, how to create spore prints and the basics of how to grow mushrooms. A lot of the people that come to my talks want to learn how to forage safely.
All the material and images in my presentation are my own. I know where and when I took each photo so it has been great to observe the changes of fungi throughout the seasons.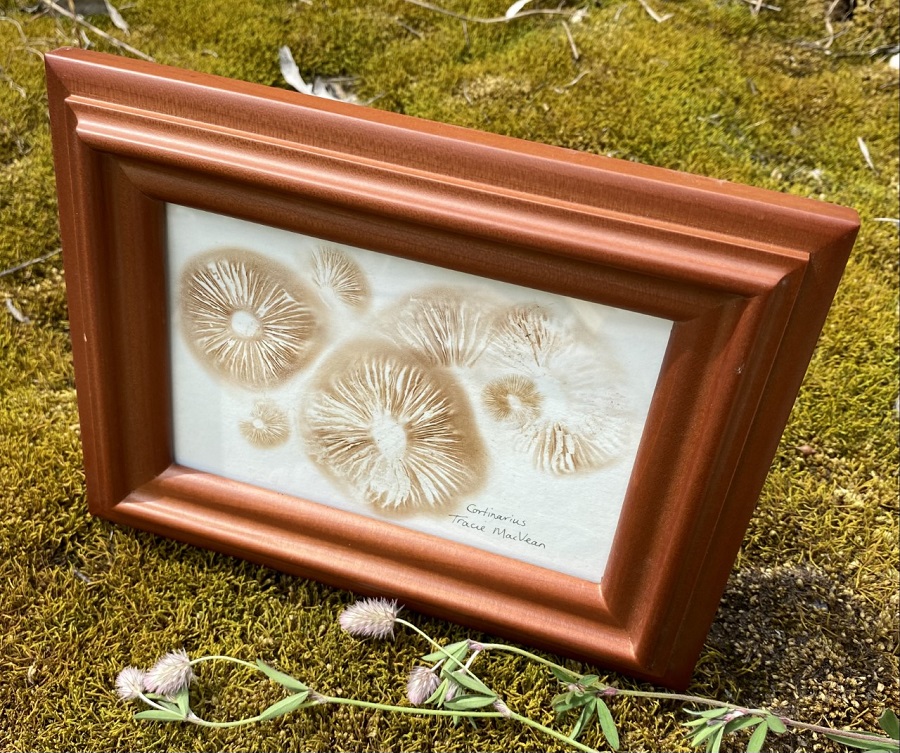 Similarly, through this new artistic endeavor, you're creating spore prints – a visual expression where mushrooms actually create the art. This is fascinating! Can you please take us through your step by step by process from foraging to fruition to help us gain further insight?
So creating spore prints can help further identify a mushroom by determining the colour of the spore en masse. It can also be used to grow the mushroom in a lab setting, or create a form of art like I have been doing.
The spore is the powdery substance that fungi create which acts a bit like a 'seed' of the fungi. I create my spore prints by collecting mushrooms, cutting off the cap and leaving it on paper. After anywhere between 6 and 24 hours, I lift off the cap and a print has been left. I play around using different types of mushrooms, all of which have different coloured spores. You can get really creative by the way you place them on paper, for example if you prop up one edge of a mushroom you get a very different print.
If you imagine you have a mushroom (eg button mushroom from the supermarket) which sits perfectly flush against the paper, you will get a dark brown detailed print that shows the delicate gills. In contrast, if you were to use an oyster mushroom which are usually odd shapes and don't sit flush against paper, you'll get a white print with swirling patterns where the spore has drifted in the air current.
What has nurtured this newfound creativity and artistic journey the most? What sparked your interest in fungi as an art form?
I think curiosity has nurtured this newfound journey the most. When I'm in the bush and come across a mushroom, I simply have to know what it is. Then that just sends the ball rolling as it's usually not that simple!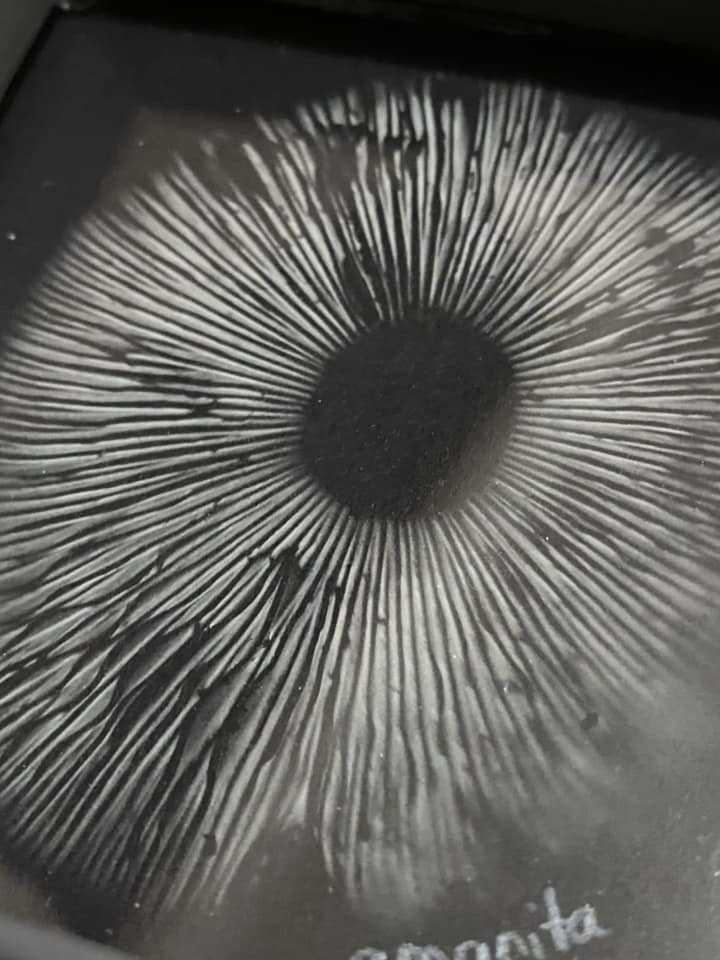 What has been your most memorable moment (thus far) as an artist?
Probably my past two exhibitions in Melbourne. One was titled Anthropocene in 2021, held at Brunswick Street Gallery, which really highlighted the environmental issues and the endangerment of native species. The other was titled Macrocosm in 2022, held at BlackCat Gallery (now called SOL gallery) which expressed the wonder and awe felt thinking about the cosmos as whole and our place here on Earth. These works blended nature and fantasy together to create a sense of the 'whole' and that we are all interconnected; created by the same matter that created our earth, solar system and universe.
The presence of social media is seemingly a pivotal mainstay for personal brands and business owners. What role do you feel art and the artist have in today's society – particularly online and while trying to conform to algorithms? How are you growing with its changing times?
Social media, in particular Facebook, has been really great for my artistic career. I get a large portion of my commissions and sales through social media. I feel all my hard work from 10 years ago has finally paid off as I now longer feel I have to 'advertise' doing portraiture or classes to make money. Work just seems to come my way now and every now and then I'll make a decent sale!
Facebook is great for connecting with my current audience but I've had alot of support from the Australia online art gallery called BlueThumb over the years in regards to sales.
I used to really stress about posting, keeping on top of the algorithm, scheduling etc, but now I just post when I have something exciting I want to share, which realistically is maybe once a month considering most of my projects are extremely time consuming. But I do add to my story almost everyday and every few months I'll make a timelapse or video and add it to my youtube.
Will you tell us about your plans for the rest of the year and what you hope to accomplish… what do you see on the horizon?
Definitely more mushroom talks! I don't enjoy public speaking at all but talking about mushrooms and/or art is a whole other world! I get so passionate and feel such a thrill talking with people that are interested in fungi. I have so much I want to say! I would like to travel, even just interstate, and do these seminars.
I also have quite a few different mushroom grows underway from gourmet to medicinal so that's going to be an exciting challenge.
Art wise, I have just been approached to do a 26 metre long mural. Nothing is confirmed yet but I have an idea of doing several massive birds in flight. I would actually love to do some wedge tailed eagles and other Australian native birds of prey.
Besides that, I'm hoping I will have more spare time to do my own painting and expand on my environmental works and really push my technical skills. I've got so many great photos of mushrooms so perhaps some realistic oil paintings!
---
About Tracie MacVean //
Two of my great passions in life are the environment and painting. Through painting I question our role in relation with nature as I seek to spread the awareness that the natural world is threatened both directly by human abuse and indirectly by overpopulation. It is obvious that we – modern society – have become increasingly detached from nature and in order to secure a place for future generations (all species alike) it is vital that we tune ourselves in with the environment and regain greater awareness of our planet and thus take better responsibility of it.
Environmental themes have always dominated my paintings yet a passion for the human form is ever present. I portray nature and our ecosystem as a figure that we can directly relate to and understand expressions. Often the human form is depicted as a substitute where native animals should be, fragile and exposed, or shown symbolic of all humanity and its power over nature. These paintings expose the fragility and grief our Mother Nature endures.
The truth is that we are part of nature as anything else, we are made up of the same elements and our bodies can tune into the same vibrations, but ultimately, WE are nature.
Tracie MacVean Social Media Accounts