This Saturday, August 26th, Corey Helford Gallery will proudly unveil the latest series of new works from issue 31 cover artist Camilla d'Errico! A multi-talented creator, Camilla is revered as a Pop-Surrealist painter, illustrator, character creator, and comic artist. Her latest selection of works share her alluringly colourful signature style, yet they also imbue her experiences within this latest chapter of Camilla's life.
Downtown Los Angeles art space Corey Helford Gallery has built a worthy reputation as one of the best galleries for New Contemporary art, and Camilla's solo show, "Nurtured by Nature", promises not to disappoint.
Over the last 20 years, the Italo-Canadian artist has distinguished herself as one of the breakthrough artists in Pop Surrealism's New Figurative movement through her ability to seamlessly weave manga and western styles with surrealist elements, wrapping it together with an extensive emotional palette.
Opening Reception: August 26, 2023 | 7:00 pm – 11:00 pm (free entry)
Exhibitions Dates: August 26 – September 30, 2023
Corey Helford Gallery
Main Gallery, 571 S Anderson St (Enter on Willow St)
Los Angeles, CA 90033
(310) 287-2340
https://coreyhelfordgallery.com
Visiting Hours: Tuesday-Saturday, 12:00 pm – 6:00 pm
For inquiries, contact the gallery via [email protected]
Camilla d'Errico: in her own words
"Moving away from the city was a big turning point in my life, marked by many losses, including my freedoms during the pandemic, my furbaby companion Loki, and a part of myself." Explains Camilla d'Errico.
The losses left holes in their wake and the grief changed my perspective. The healing process that followed, I would describe as 'nurtured by nature,' because I reconnected with the incredible world around me, up in the Pacific Northwest.
"Moving out of the city and into this community mindset struck me in an unexpected and fulfilling way. It highlighted how disconnected and restricted our lives can become when we're isolated from the natural world. With this new collection, I'm bringing the great outdoors inside to celebrate its beauty, which I feel lucky to experience daily in my own backyard. We only have one world to share, I want viewers to appreciate and cherish everything we have. To connect to it, protect it, and leave our natural world in a more nurtured state than how we found it."
About Camilla d'Errico:
Residing in Vancouver Island, BC, Camilla d'Errico's original works have not only become highly collectable, but have also been seen on toys, clothes, accessories, and more. In addition, d'Errico's been published by Random House, Boom! Studios, Image Comics, Webtoons, and Dark Horse, with self-publishing roots for her literature-inspired series Tanpopo. Her unique style bridges cultural and geographical boundaries while remaining totally relevant to today's varied audience. Ever the prolific artist, d'Errico lives the double life of comic artist/creator and New Brow painter, while expanding her horizons to include fashion, merchandise, and customized collectible art toys.
Open to the public and free of charge, "Nurtured by Nature" will debut on Saturday, August 26th from 7:00 pm – 11:00 pm in CHG's Main Gallery. The show will take place alongside a solo show by Luke Chueh in Gallery 2. Both shows will be on view through Saturday, September 30th.
About Corey Helford Gallery:
Established in 2006 by Jan Corey Helford and her husband, television producer/creator Bruce Helford, Corey Helford Gallery (CHG) has since evolved into one of the premier galleries of New Contemporary art. Its goal as an institution is supporting the growth of artists, from the young and emerging, to the well-known and internationally established. CHG represents a diverse collection of international artists, primarily influenced by today's pop culture. Collectively, their artists encompass style genres such as New Figurative Art, Pop Surrealism, Neo Pop, Graffiti, and Street Art. Located in downtown Los Angeles in a robust 12,000 square foot building, CHG presents new exhibitions approximately every six weeks.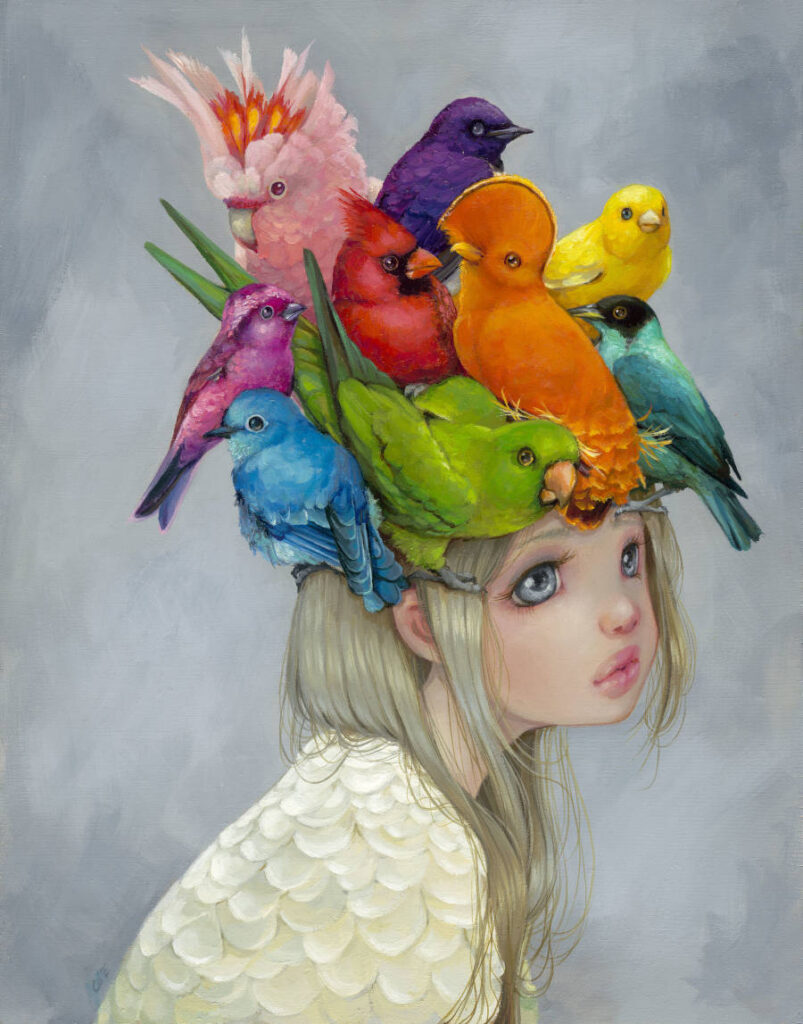 Corey Helford Social Media Accounts