Women of all kinds stand tall and proud gazing with a centuries old strength only understood through the female gaze. The power and dominance they radiate is inherently feminine and is a force to be reckoned with. These women invite you to soak yourself in rich colours, drape yourself in their culture and allow a tidal wave of divine feminine energy to wash over you in 'Radiance: Cultivating Feminine Forces'.
This joint exhibition is brought to you by the brilliant and fiercely feminine minds of Katira and Lucy Lucy in collaboration with RED Gallery. Their combined collection of over fifteen oil, acrylic and mixed media artworks explores the culture and diversity of womanhood in all its glorious sensual beauty. Join them in bringing an unstoppable feminine force to the masses.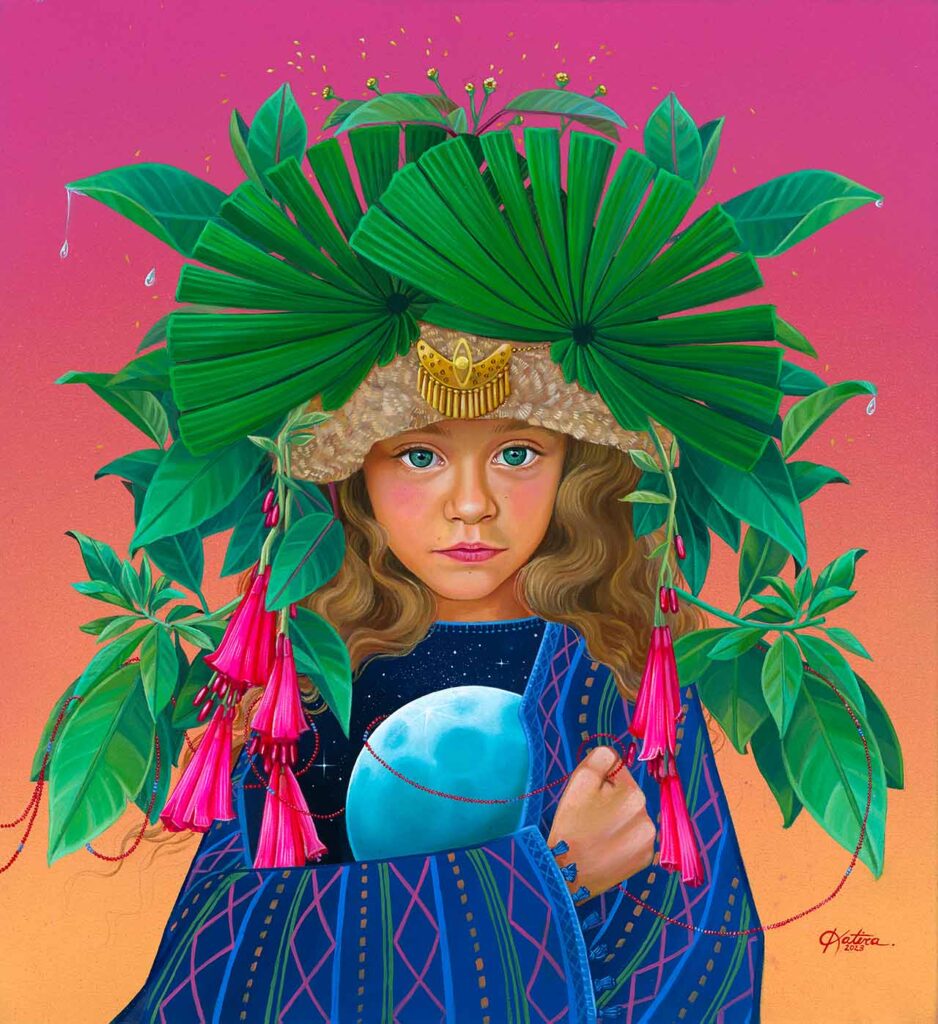 Katria and Lucy Lucy: "Radiance: Cultivating Feminine Forces"
Opening Night: Friday, June 2, 2023 | 6 – 8pm
Exhibition Runs: May 31- June, 11 2023
RED Gallery
157 St Georges Rd, Fitzroy North, Victoria, 3068, Australia
(03) 9482 3550
https://www.redgallery.com.au/
Visiting hours: Wednesday – Sunday, 10:30AM – 5:00PM
For enquiries please contact: [email protected] or [email protected]

Press Release //
The exhibition 'Radiance' arises from the interlacing of the artistic expressions of two feminine forces: Lucy Lucy (France) and Katira (Colombia). Informed by their bicultural identities the artists present a new weaving of dreams revealing the unapologetic beauty of the Feminine power. Navigating between Lucy's work, bursting with colours, textures and patterns and Katherine's dream-like compositions, the viewer is invited to explore alternative narratives offering a space for empowerment, evolution, and reconciliation.
This collection hung on the gallery walls feels personally so powerful because they look like wise spirits looking over me. Each of the paintings however also represents an archetype that I could see through my muses.

Lucy Lucy
Exclusive Interview with Katira and Lucy Lucy
Your exhibition 'Radiance: Cultivating Feminine Forces' is about to open, how are you both feeling with such an exciting endeavour on the horizon?
Katira: You know how it feels to climb a large mountain and see the top so close, with a mixture of excitement and exhaustion? This is how I feel right now. This exhibition has been an enriching creative exploration, and I'm looking forward to seeing it all come together and sharing it with our communities.
Lucy: Sharing the adventure with another creative soul and a friend allows me to be less stressed about the revealing of the show. Having another point of view during the creative process is very reassuring.
Femininity, diversity and the power of the feminine force is the core ideology of this exhibition, what does the feminine force mean to you as individuals?
Katira and Lucy: We recognise the Feminine as an energy that has embodied countless faces, lands, and deities around the world. It is an ancient spirit that has a powerful presence in women's experience and that is the essence of a more circular understanding of life. To us it is a layered concept that resonates on personal and collective levels. In this, it is important to recognise that Feminine force is not exclusive to women, as we believe that it has the power to transcend gender barriers and cultural perspectives.
Due to this capacity to interconnect, disrupt and create more shared systems of power, the Feminine has been feared and repressed causing a deep fracture in our history. This is the reason why we also use the phrase 'Cultivating Feminine Forces' in the exhibition. Because we recognise the feminine spirit as a vital force of nourishment able to heal relationships with the land, with each other, and with us.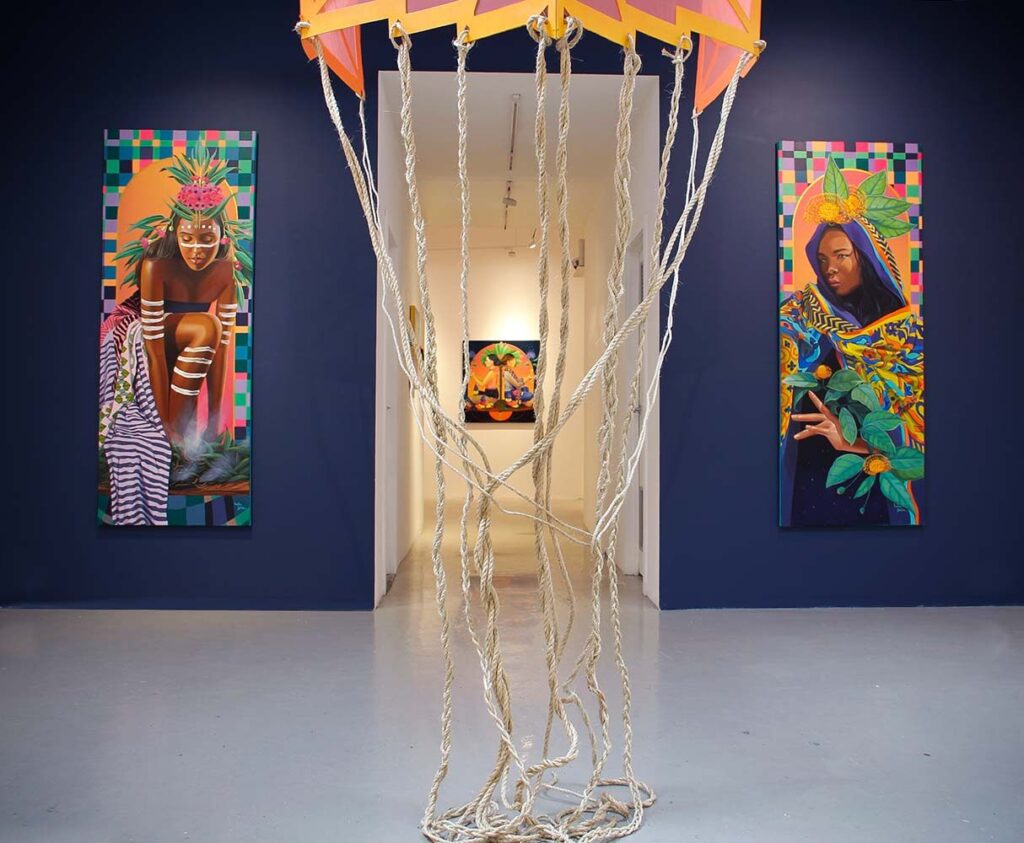 What sparked the idea for a joint exhibition with this theme in mind?
Lucy: Our aesthetics and motivations connect on multiple levels. Plus, the theme of our show "Radiance: Cultivating Feminine Forces" reflects exactly what we are both working on at the moment. After a residency we did together a few years ago we knew for sure that working together was flawless and joyful. And so, it felt totally natural to collaborate on a greater body of work.
A recent study showed that with the world being more and more standardised, colours tend to disappear in our daily lives. Hence, in order to rebel against uniformity and monotony, one has to embrace colours.

Lucy Lucy
So many different kinds of women are depicted throughout 'Radiance', who/what were your muses?
Lucy: All the women I painted are women that I know quite well and who embody fiercely in their own ways this Feminine force. Interestingly, it is the first time I portrayed exclusively existing people as I usually make the portraits up so they can be more of an interpersonal symbol. This collection hung on the gallery walls feels personally so powerful because they look like wise spirits looking over me. Each of the paintings however also represents an archetype that I could see through my muses. Hence I titled them accordingly, like "The Weaver", "The Mind Whisperer" etc.
Katira: The muses for my paintings in this exhibition come from very different connections I have made in recent years. Some are specifically paying tribute to specific communities from my land Colombia, as well as the Australian land. Some arise in the weaving of specific concepts that I am exploring such as reconnection to our natural environment, bicultural identities, and a culture of reciprocity.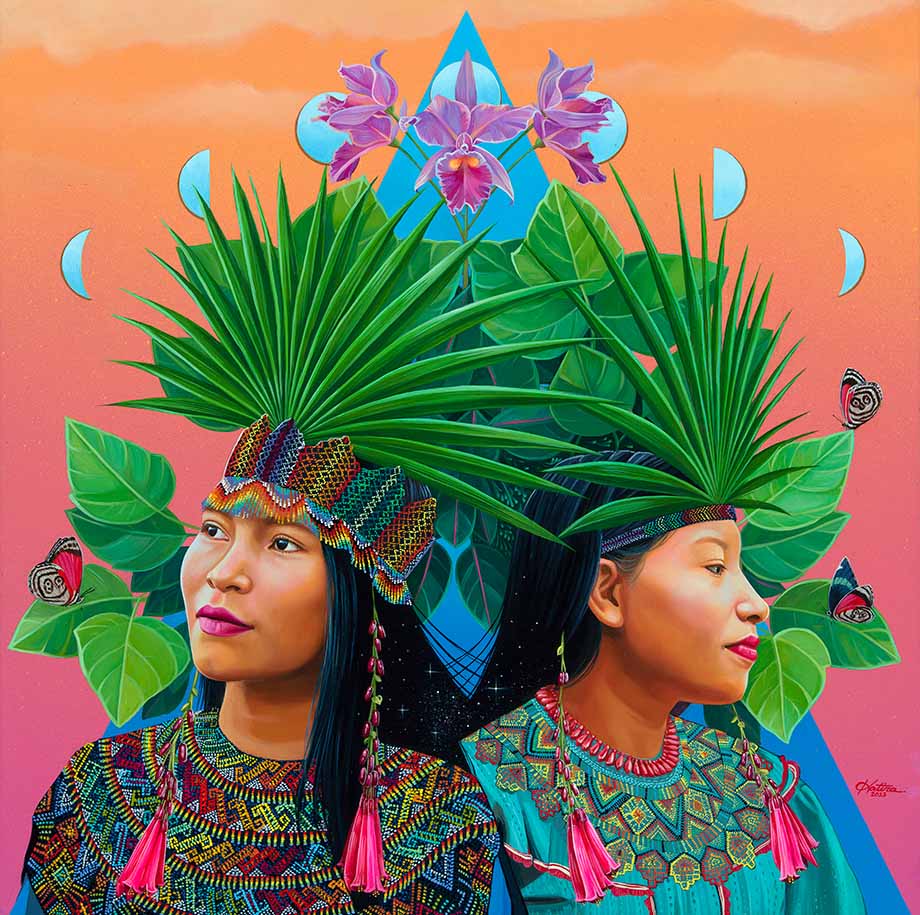 Did you find yourselves being inspired by one another whilst working on the pieces for this exhibition?
Lucy: Absolutely. I actually painted Katherine in one of my paintings for the show. She is one of those wise spirits!
Katira: From the very beginning we maintained an open communication and while our respective visual languages started to flourish, we shared in depth our ideas. In this process we inspired each other, and ended up collaborating in 4 main artworks of the exhibition.
Colour is a huge theme throughout 'Radiance' as you both use such vivid colour palettes. Would you say colour is an integral part when discussing and painting themes such as femininity and diversity?
Lucy: Colours are for me a crucial element in regards to diversity. A recent study showed that with the world being more and more standardised, colours tend to disappear in our daily lives. Hence, in order to rebel against uniformity and monotony, one has to embrace colours.
It also seems that in western societies women adopt colours more easily than men through clothing, make-up, jewellery etc. making them colours a strong symbol of femininity. Though it isn't the case in every society.
Katira: The vibration of colour can create specific energy and stimulate our instinctual responses. For 'Radiance', I explored a colour palette that evokes dreamlike qualities and strikes the viewer with a beam of light. Through this vibrancy the artworks capture diverse feminine energies, cycles of growth, and honour our magical, yet very fragile connection to nature.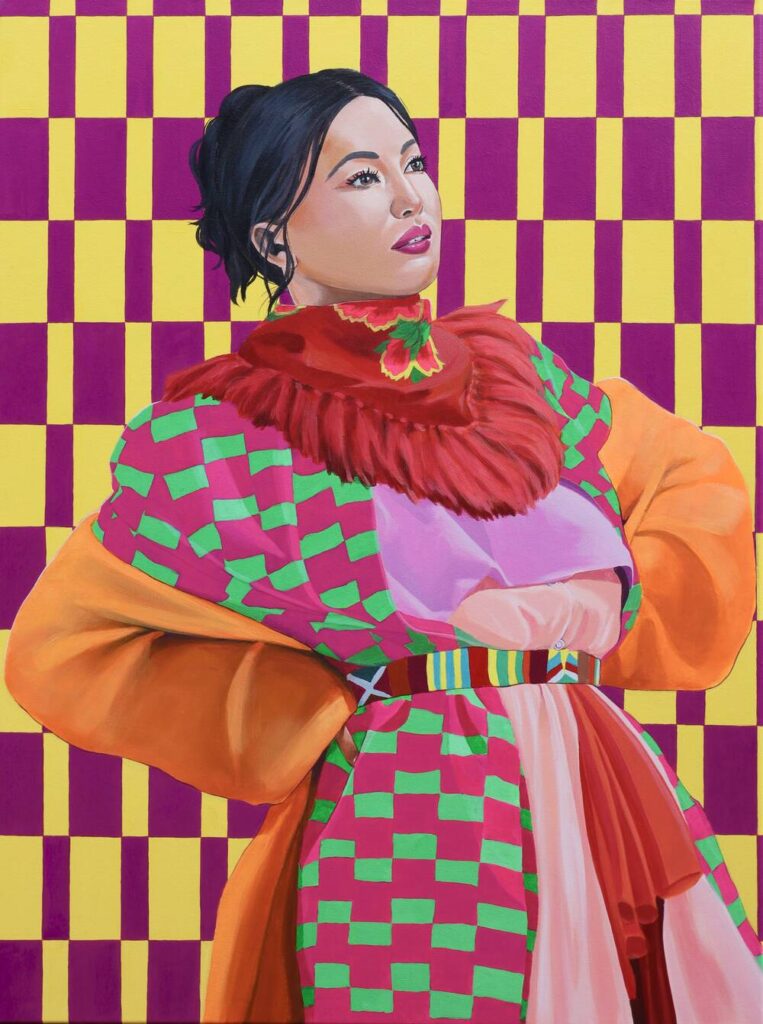 What was the creative process like for creating the works featured in 'Radiance'? Any highs or lows you can share from the time spent working on this exhibition?
Katira: Creating a new body of work is a story full of chapters where you go back and forward deciphering the directions you are taking. It is a restless creative process of failure and discovery. Like any passionate explorer, I felt lost sometimes – but in every artwork I found myself again and again. Overtime, you learn to trust the process and your instinct.
Lucy: We were constantly sharing ideas, work in progress and finished paintings. Once we were in a good flow, we then pushed it to the next level by collaborating fully on the 2 totemic paintings as well as on the installation and video projection. We collaboratively created through our cherished and well known medium – painting – but also in uncharted territory for both of us in building the large crown sculpture and putting up together the video.
The highs were those moments of deep personal chats about the concept and motivations of the show creating a space and state of mind in which ideas germinate making us buzz with excitement even though some of those ideas were way too crazy!
The lows are those moments in between creation, when we had to do so much on our own, relying mostly on ourselves. These moments were however profound for me as they made us feel that we were embodying this force we are painting about.
What do you hope those attending 'Radiance' can take away with them after viewing your work?
Katira and Lucy: We hope to spark curiosity in viewers and inquire: what would it be like if we lived in a world where feminine energy, beyond gender, led us more than it does today? If we embraced this circular energy, could we restore systems of shared power and nurturing authority?
Our work is about restoring this balance and bringing about more collective movements.
We also hope that this exhibition will help us create momentum and growth in our artistic careers by sharing our full, and unapologetic vision.
I absolutely adore the pieces 'Soft Crown for the Singer' and 'Braided' they are my favourites from "Radiance"! I was wondering if you had any favourite pieces from this collection? If so, which ones and why?
Lucy: "Soft Crown for the Singer" is actually Katherine's portrait! It's an extra special piece indeed. I do love those 2 soft crowns as they are mixing my two loved crafts: painting and weaving. The cut-out shape around them radically crowns the artwork making those pieces even more dramatic.
Katira: My two favourite artworks are Ancestral Radiance and Celestial Radiance. I love these paintings, because these were the two collaborative pieces we created where our visual languages combined to create something magical.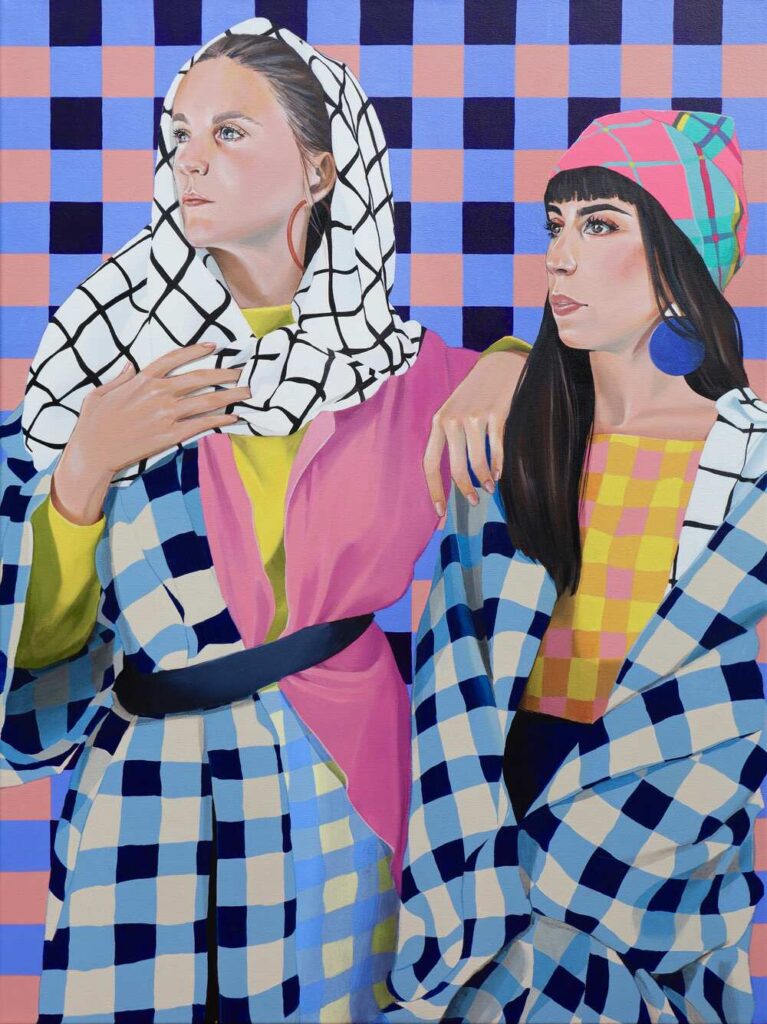 I'd love to learn a bit more about your mural work. How did you guys get started painting murals?
Lucy: I started painting walls with Melbourne based crew AWOL back in 2006 sometimes legally sometimes not. Over the years my practice as a muralist got bigger with a lot more curated opportunities.
Katira: I have always been fascinated by urban culture and street life. I started painting and collaborating on community murals in Colombia, and later I continued working on larger mural projects in Australia.
What is it about mural work that you find to be appealing as artists?
Katira: Murals are mostly exposed in public spaces, and therefore they are very accessible. I love creating work that responds to specific places and communities. It pushes me out of my comfort zone to collaborate, understand the context in which I am creating and connect to very diverse communities.
Lucy: It's so satisfying not just because of the size of the artwork but also because it's different every time in terms of shape, surfaces, environment, access and challenges. After completing a mural, I always have a feeling of accomplishment. I also really appreciate the platform murals offer to tell our stories.
These bodies of work from the both of you feel like sisters, they pair together so perfectly in terms of theme and style! Alongside joint exhibitions would you both ever work on a joint piece such as a mural or a painting?
Lucy and Katira: We already have indeed! We collaborated on 4 pieces for 'Radiance' exhibition- including the 2 main pieces: "Ancestral radiance" and "Celestial Radiance". In the past few years, we have also painted a few murals together. We have a good flow together, so more collaborations to come!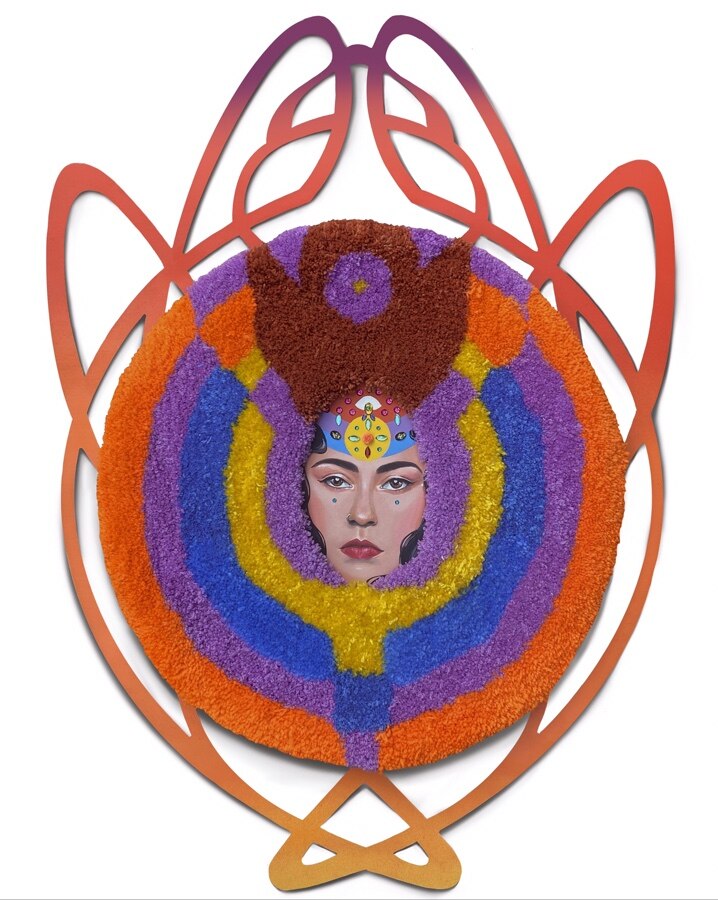 What do you feel you have learned from working on 'Radiance' together?
Katira: We live in an incredibly individualist world, and processes of creative collaboration teach you to listen, exchange ideas and enter into a more collective mindset. This creative journey with Lucy showed me the incredible strength and resilience that arise when you empower each other's full potential.
Lucy: That's a great question! I learned to understand more deeply what I paint. Our deep conversations with Katherine helped me to unravel fully all the unconscious choices and motivations behind my paintings.
What's next for you guys? Any new projects or opportunities in the works that you can share with our readers?
Lucy: Next, I will be painting a mural back home in France, which I am very excited about!
Katira: After Radiance, I have one upcoming collaborative project with a group of 5 other women at Melbourne Museum and a few mural projects lining up! Dear readers, please connect with us via social media. We would love to hear from you and share more art!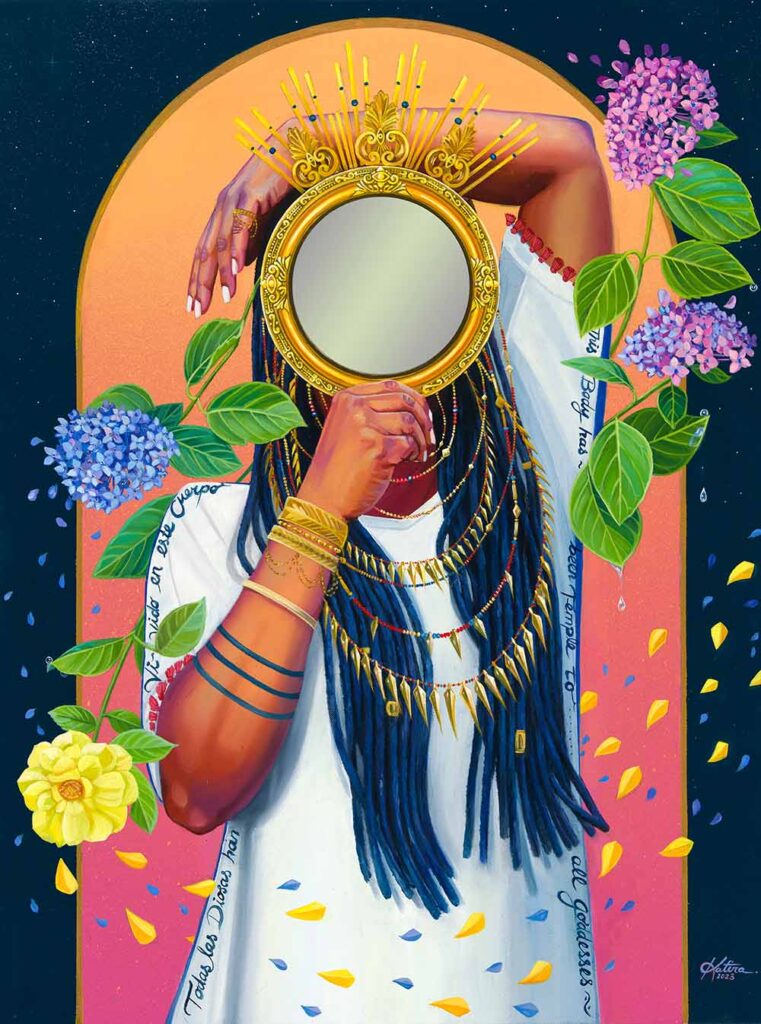 About Katira //
Katherine Gailer (aka Katira) is a Colombian artist currently based in Melbourne, exploring cultural identity, the natural environment, women's empowerment, magical realism, and contemporary design. Her Bachelor of Fine Arts and Master of Arts Management degrees from RMIT University were both awarded with honours. Her practice includes large-scale mural painting, oil painting, illustration, and music. As part of her creative expression, she examines the complex relationships between vulnerability and strength.
Her dream-like compositions celebrate resilience and liberation and clamour for an urgent need to restore the invisible fabric that weaves together humans and nature. Her work challenges social structures and reclaims the space for diverse cultural expression and women at the forefront of social change.
About Lucy Lucy //
Figurative painter, Lucy's paintings capture the evolving folklore of the feminine, exploring the energy through archetypal portraits of women symbolising social change, resilience and reconciliation. Her elegant mélange of colours, textures and patterns inquires subtly about a potential alternative story in which nurturing and caring would be predominantly valued. The joyful clash of energies, influences and styles in her work celebrates the bright and the bold as an art de vivre, cultivating wonder and lightness while taping all at once into a deeper root of the Feminine essence.
French Parisian born artist Lucy Lucy has immigrated to Australia in 2006. Currently residing in Melbourne, she has graciously carved her niche in the Australian urban art community. She has been painting large scale murals for more than a decade, in Australia and in Europe, working in collaboration with city councils, corporate clients and through private commissions.
About RED Gallery //
Operating since 2002, RED Gallery, is one of Melbourne's longest running and most iconic gallery spaces nestled firmly in Fitzroy's dynamic and vibrant Arts Precinct for over 20 years. The gallery has welcomed thousands of multi-modal artists and creative forerunners through their much-loved scarlet doors. The space is synonymous with showcasing some of the country's finest established artists, already well represented in national and international collections, alongside mid-range, emerging and young talent to create dynamic and invigorating creative collaborations.
RED has successfully facilitated over 850 exhibitions in a full spectrum of creative modalities and continues to deliver conceptual appreciations to a broad, diverse and extensive audience. RED is owned and managed by award-winning Art Consults and Curators with over 20 years of international and local industry experience and a passion for creative mentorship and artistic wellbeing.
Katira Social Media Accounts
Website | Instagram | Facebook | Twitter | Pinterest | TikTok
Lucy Lucy Social Media Accounts
RED Gallery Social Media Accounts