What are you doing this weekend? Imagine a landscape where mermaids flutter with butterfly wings while endearing animal aristocrats gather for afternoon tea – a place where time travel and stylized juxtapositions nestle into fairy tales with impossible scenes of moody garden dreams. Every notion is a poetic fantasy that swims through you, deep and diverse. Let your imagination stretch, like a yawn before bedtime, and foster this vivid creativity. Close your eyes and Haven Gallery takes you there as they proudly celebrate exhibitions by Annie Stegg Gerard, Marc Le Rest, Sean Mahan, and Zoe Chigi… where all the wild things feel possible.
Don't miss these beautiful new bodies of work; view them in their entirety alongside all available inventory by visiting the Haven Gallery website! If you still need more, return and reflect upon past exhibitions and see what unfurls within the layers of your imagination.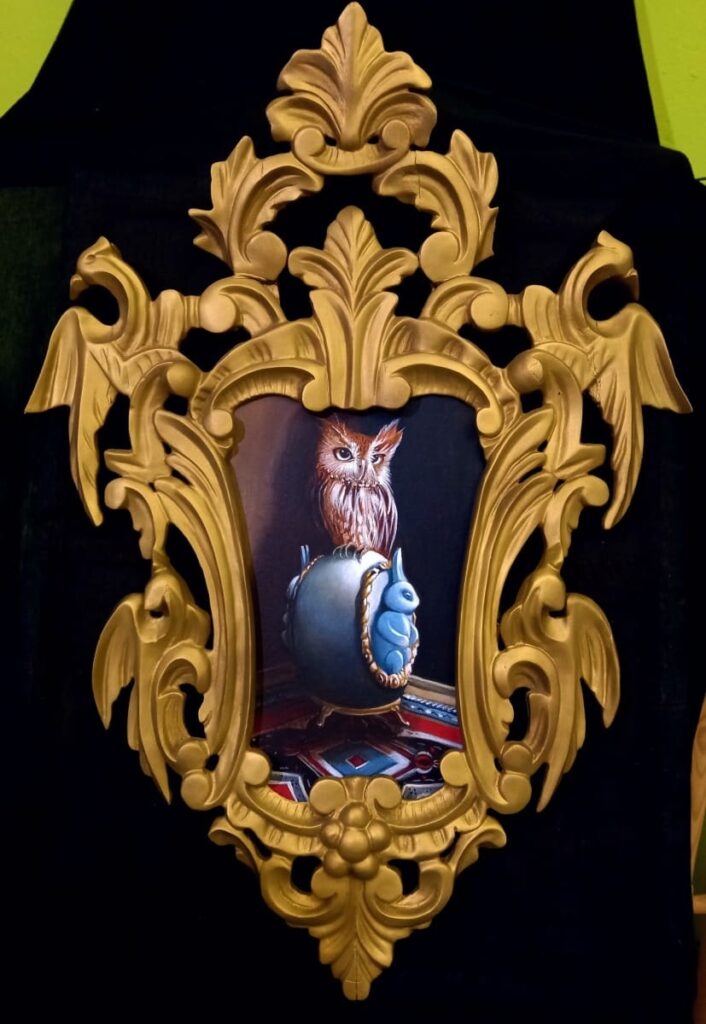 Annie Stegg Gerard | Marc Le Rest | Sean Mahan | Zoe Chigi
Opening Reception: Saturday, February 25, 2023
Exhibition Dates: February 25 – March 26, 2023
Haven Gallery
50 Main St., Northport, NY 11768 | ph. (631) 757-0500
To inquire, please contact Erica at Haven Gallery via email [email protected]
About the Gallery //
Haven Gallery is run by Erica Berkowitz and Joseph Weinreb. The gallery first opened in 2015 in the Carriage House of historic Northport, NY. Within two years, the gallery doubled in size and expanded into the entire Carriage House building. Through their successful in-house exhibitions and presentations at art fairs both domestic and international, Haven opened a secondary location at 90 Main St., in 2020, during the height of the Covid pandemic. It was at that point, that Erica and Joseph knew it was time to find a permanent location for their artists. In January of 2022, they bought the building at 50 Main st., and opened its doors as Haven Gallery's perennial home.
Haven Gallery's focus is on exhibiting emotionally, intellectually and imaginatively driven, representational artwork that connects the audience and artist with universal axioms and passions. We work with both emerging and established artists who transcend their medium and subjects by exploring the world around them as well as the one within themselves.
---
Haven Gallery is honored to present Georgia based artist Annie Stegg Gerard for her fifth solo show at the gallery, "The Garden Beyond". "The Garden Beyond" is a collection of oil paintings depicting mythological beings in lush, verdant forests as they peacefully cohabit the landscape with woodland creatures. Sprites, fae, naiads, dryads, sylphs, fairies and other fabled beings peacefully intermingle with animals, insects, flora and fauna, providing the viewer a glimpse into the worlds existing inside the trees, under the flowerbeds and in the recesses of the shrubs.
Arcadian landscapes teeming with Pre-Raphaelite influence are evoked through Stegg Gerard's imaginative oeuvre of fairy-tale motifs and narratives, transporting viewers into worlds familiar, yet magical. Vast lands we have not visited since our childhood, filled with wonder, story, harmony and companionship amidst all living beings.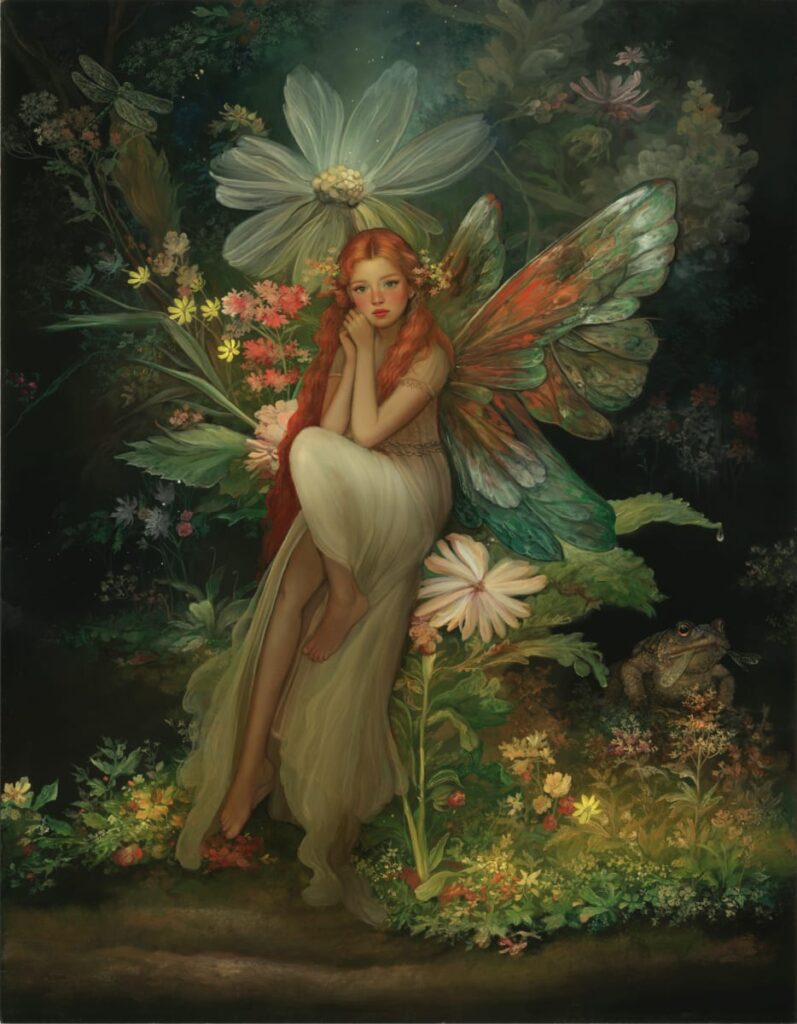 About the Artist //
Annie has a special love for the 18th century Rococo painters who have had a large influence on her own method. Inspired by nature, folklore and mythology, her work evokes emotion and imagination in the viewer. She finds inspiration in their imagination, and the dreamlike palette and lively brushwork that combine to create a wonderful atmosphere of enchantment. She believes that they sought to transport us to different worlds and fantastic places though their works. In her own work, known for it's beautiful, enigmatic figures and lively creatures, Annie strives to depict this same transportive effect to the viewer.
Annie has been exhibiting her work for seven years and has done notable publishing work for clients such as Disney, Hasbro, Wizards of the Coast, Easton press, Ballistic Publishing and more. Her work is found in private collections all over the world.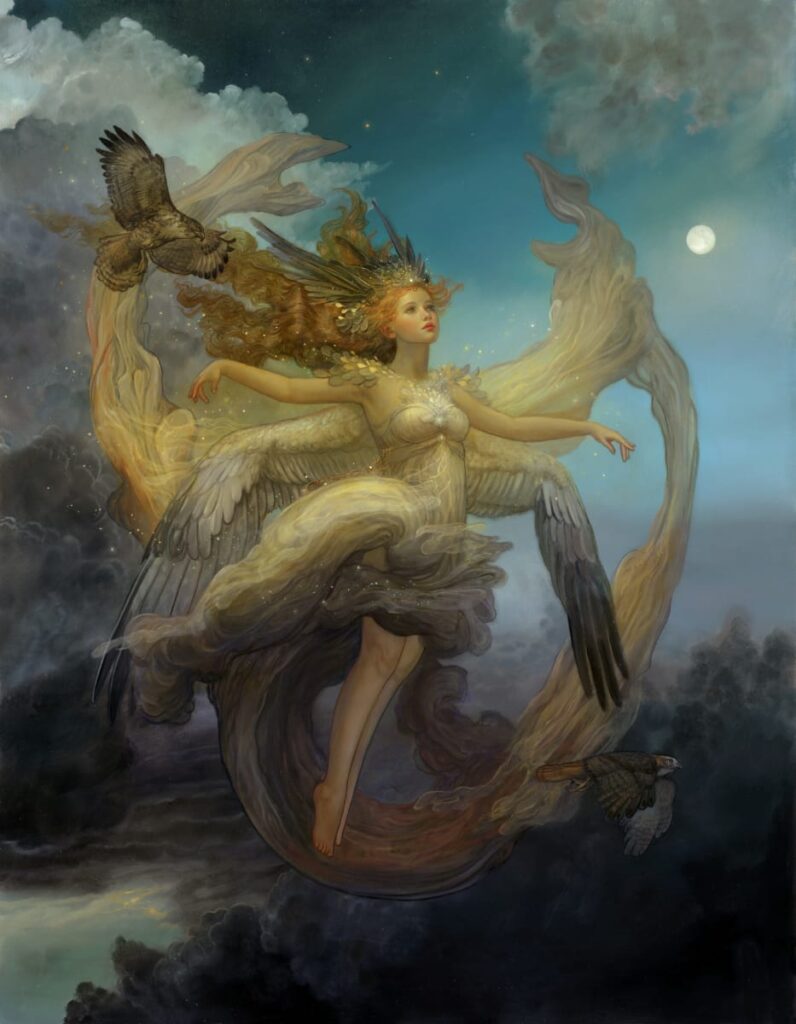 Haven Gallery is pleased to present a collection of fourteen new paintings from French artist Marc Le Rest for his second solo show entitled "The Salon" at the gallery. "The Salon" brings together sitters from different backgrounds, dressed in their best, with a common taste for sophistication, as they unite in space and heart. Adorned in their best garb, representing historical fashions from the west and east, one finds the company of courtesans, bishops and samurai gathered together amicably, uniting not only humans from different cultures and classes, but animals and all living creatures as well.
"The Salon" is a continuation of the artists oeuvre in exploring ornate costumery and regalia, demonstrating a masterful technique, nodding back to Le Rests time in textile design. A noble choice in choosing sitters from the animal kingdom translates an appreciation and respect for all living creatures as they're celebrated and revered alongside their human counterparts.
About the Artist //
Marc is known for his vibrant, grandiose portraits realistically rendered in oil, highlighting fashions through the ages as they adorn and regale his sitters. Highly inspired by historic portraiture, Marc's sitters are poised and noble. They acknowledge the viewer in a bold and resplendent manner evoking royal and aristocratic roots found throughout art historical depictions of the nobility in art. With his professional background in fashion, a remarkable representation of fabric, form, pattern work and texture of the highest class further aggrandize his sitters.
Moreover, an understanding of the identifying attributes of styles, colors and fabrics in fashion to ones social standing or home region, is clearly acknowledged as well throughout the artists paintings. Marc's work demonstrates a strong grasp on history, fashion and art, while gracefully acknowledging nature through his animal sitters, remarking on the influence of the latter, the beauty of all creatures and perhaps, tastefully equating the importance of all life on earth.
Sean Mahan, Somewhere in the Moonlight
Haven Gallery is pleased to present Florida based artist Sean Mahan for his second solo show at the gallery entitled "Somewhere in the Moonlight". "Somewhere in the Moonlight" features eleven new acrylic paintings that play with the idea of perception through the obscurity of reality. Mahan utilizes a realist technique to portray his sitters and their accompanying technologies, yet his surrealistic stylization and play on color manipulate one's perception, ultimately allowing our imaginations to usurp our logic.
Soft gray backgrounds and spotlight effects draw the viewer in, immersing them into the inner ruminations of his females as they engage with their analog devices. Mahan's inclusion of these tools of creative expression serve as a conduit of interpretation, ultimately resulting in visual and audible constitutions open to a myriad of comprehensions.
Nostalgic in its aesthetics, Mahan's work embarks on period imagery and fashions to convey deeper trains of thought. Questioning what one interprets is an exercise harking back to historical Surrealists such as René Magritte, asking the viewer to look beyond one's own concrete understandings, and see beyond, to the multitude of possibilities one may find without the confines of control.
About the Artist //
Sean Mahan is a social realist figurative painter who works with graphite and acrylic washes on wood to depict a sense of wonder about the innate warmth of the human character and its conflict with structures of power and control.
Artist Statement //
When we encounter a space that is somewhat ambiguous and somewhat undefined, our hard-edged understanding loses some of its certainty. The filters we see the world through become more apparent as they act upon the ambiguity around us. For example, in the evening light when we mistake a rope in the grass for a snake, it reveals how we are observing our surroundings with a kind of caution. But we also enjoy the uncertainty of the moonlight because it encourages us to feel open to sense possibility – to develop a filter that allows us to embed a sweetness into the undefined.
In the moonlight we enact a kind of subtractive synthesis – like how a sound-wave, full of rich harmonics passes through a filter to shape its sound. In the same way, our perception acts like a filter. Through careful observation over time, we develop a set of distinctions that open up a wider range of appreciation, thereby cultivating a more focused lens. It's through that lens we may discover that the beauty is situated in the way we are seeing, not in what we are seeing.
While an ambiguous environment can be unsettling, it's also an opportunity for perceiving beauty. We are able to actively filter what we experience, subtracting a vision of beauty from the overwhelming tide of sensory input. Our places of focus, and the set of expectations that have developed through our background experiences, become our lens of understanding.
We can choose to set aside time to bask in the undefined space, and find beauty there through our personal and shared filters. Like moonlight filtering through the blue atmosphere or a radio receiver tuned to receive music. These paintings explore what we might find within uncertainty, somewhere in the moonlight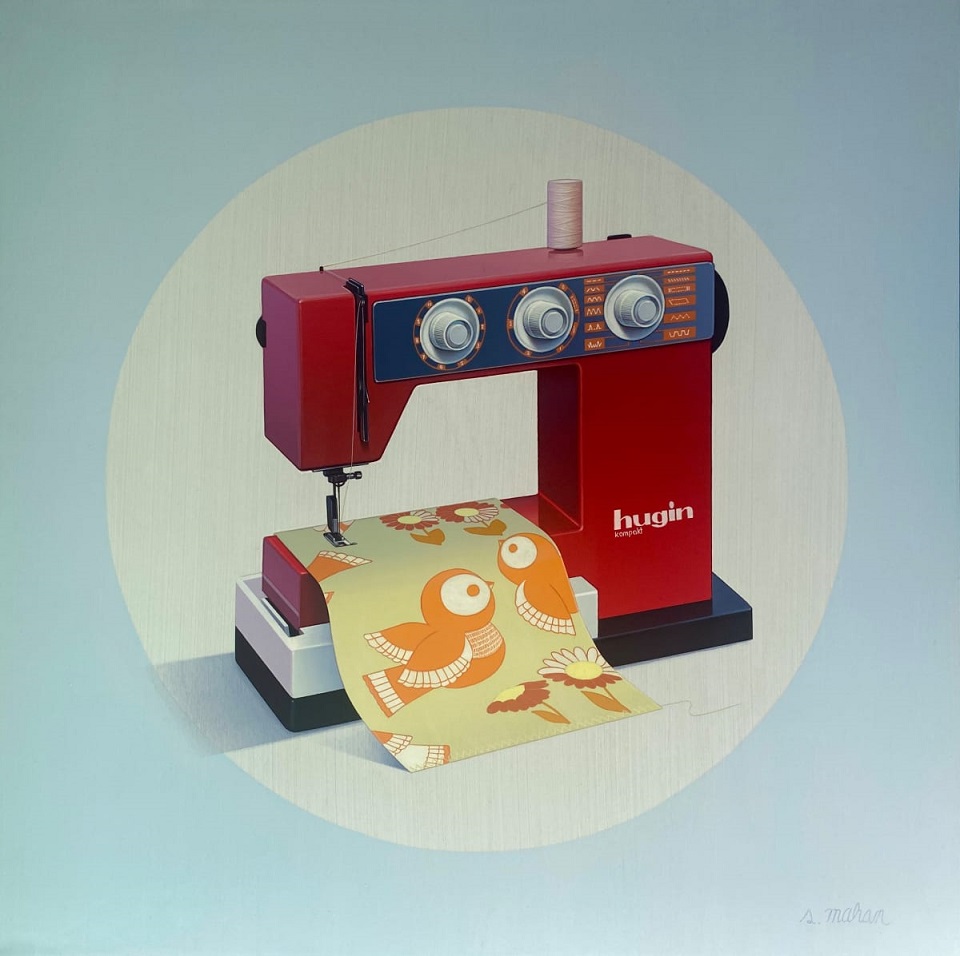 Zoe Chigi, A Curious Collection
Haven Gallery is honored to present Spain based artist Zoe Chigi for her second solo show at the gallery, "A Curious Collection". "A Curious Collection" is comprised of ten acrylic paintings featuring the artists quintessential animal sitters amidst treasures of antiques, books, collectibles and plants, forming their own potpourri of riches. Nodding to historical motifs such as cabinets of curiosities or Wunderkammers, and famed artist Joseph Cornell, whose fine art paid homage to these curiosity cabinets, Chigi's work celebrates historical undertones with a colorful, contemporary twist.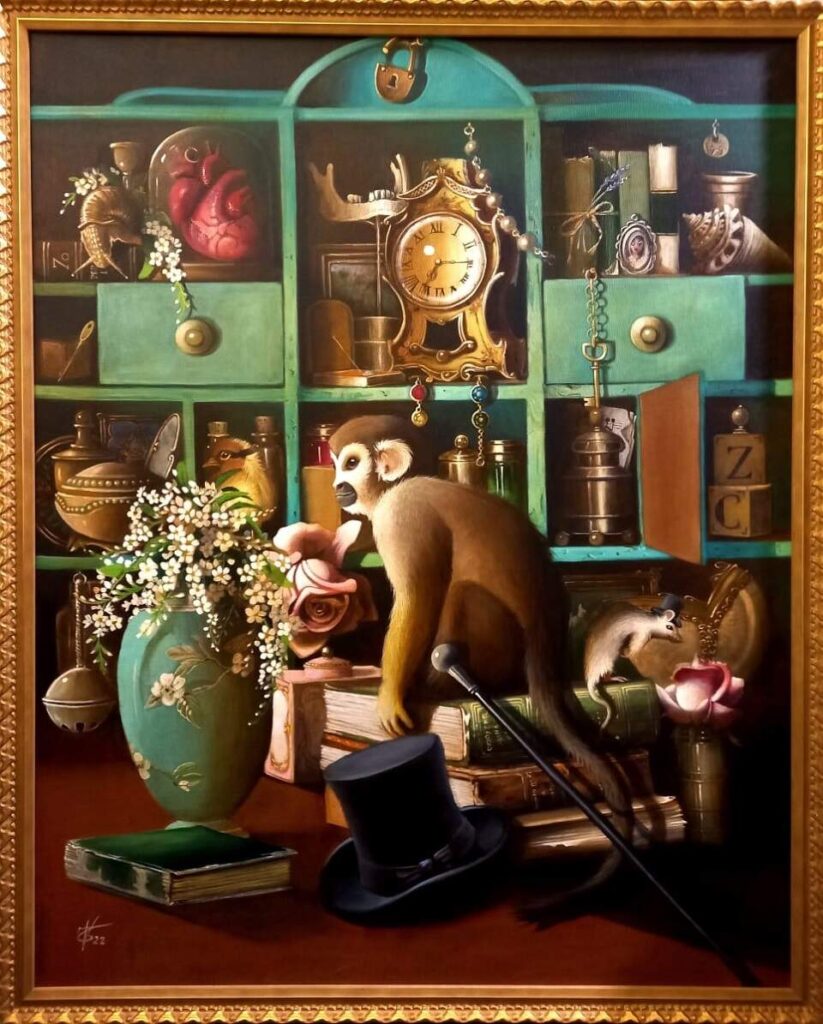 About the Artist //
Zoe Chigi is a free-lance artist based in Barcelona, Spain. She was born and raised in Italy, completing her art education as a graduate of The Academy of Fine Arts in Florence. With her schooling of classical training, she utilizes old master techniques in her works such as underpainting and glazing. Zoe paints with both mediums of oil and acrylic paint. Zoe has exhibited her art at Haven Gallery before in six group shows within the past two years. Her body of work is a perfect example of mixing figurative compositions with surrealist storytelling.
Artist statement //
"My work is quite figurative at first glance but there is a lot of surrealism and modern concepts inside, like keys hidden in a canvas…"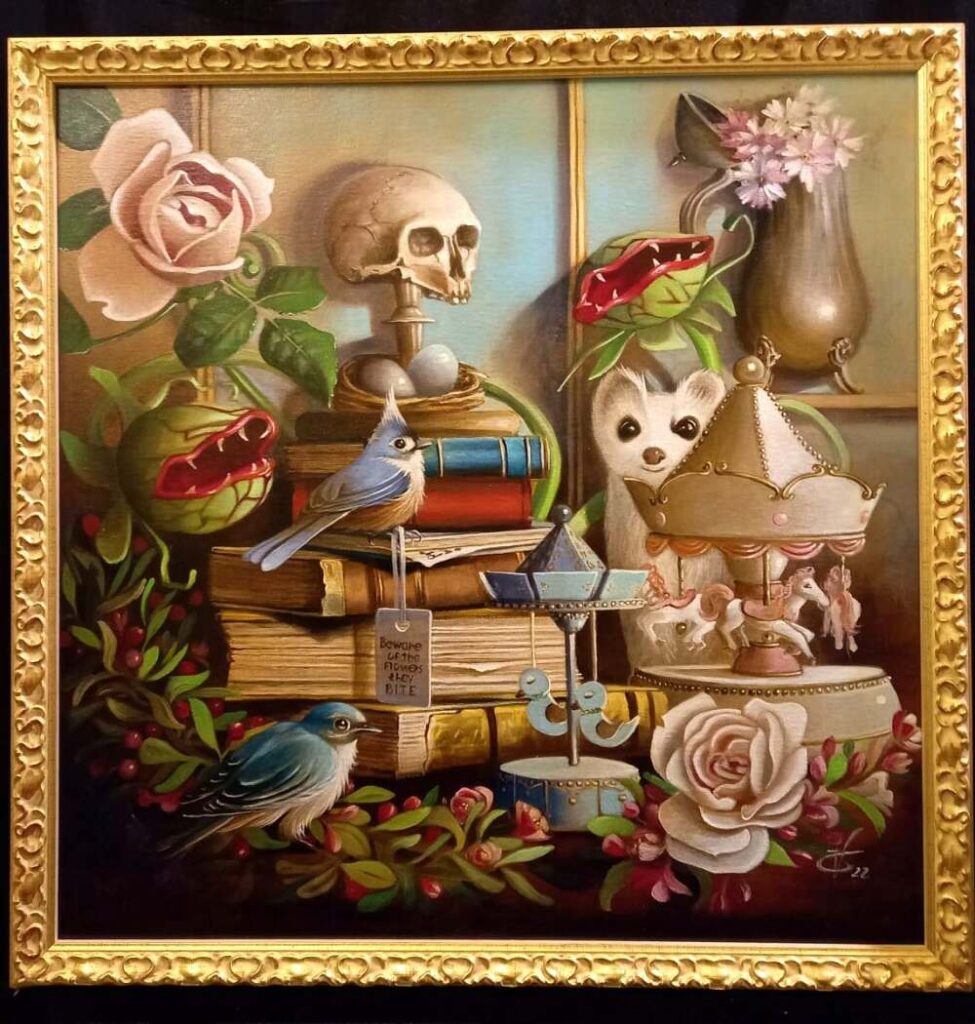 Haven Gallery Social Media Accounts